Tasting Notes: George Heritier
"I could smell wine all the way from the stairway.
It smells SO good!" - Mary Meehan
Saturday Afternoon with Mr. Ridge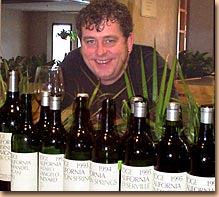 We started around 2:30 Saturday afternoon, with relaxed conversation, euchre and a random sampling of some of Paul Draper's wonderful wines. There were also a few oddballs thrown in for good measure. Canadian Winewanker, Alan Kerr (left), the man who coined the phrase "Mr. Ridge" pauses behind a line up of Draper's delectables.
1996 Didier Dagueneau Pouilly-Fume Silex, 13% alc.: Medium straw; delicious hint of floral over wet stone/bee's wax and what Alan described as "grapefruit/tangerine washed over with a lot of acid." Actually, the acidity has toned down since we last tasted this a few years back, but not enough so that it won't continue to develop and improve for some time yet. Always a Gang favorite!
1997 Ridge Santa Cruz Mountains Chardonnay, 14.4% alc.: Medium gold; toasty oak/tropical fruit nose; rich and intense on the palate with vanilla/pineapple/pear/maple syrup and vibrant acidity. Wonderful and delicious!
1986 Ridge York Creek Cabernet Sauvignon, 13.7% alc.: Dark garnet, only hinting at any rust; rich red currant/cassis/cigar box flavors and aromas; a lovely California claret with a long finish and a nice future. One of my very favorites of the entire weekend. "Leather/oyster shell." - Alan "Pine resin on the nose." - Andy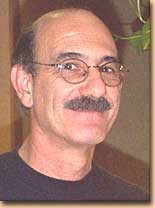 1993 Ridge Evangelo Mataro ATP, 14.7% alc.: Dark garnet; all kinds of Draper perfume over deep dark berry/earthy dark chocolate. Still plenty of tannins and acidity, but this was very well received.
(Dennis Jordan (Pongo), right)
1992 Ridge Pagani Zinfandel ATP, 14.8% alc.: (Poor Mark Horvatich finally showed his face with this in tow, after missing the previous night's festivities, due to a serious case of influenza incoheria.) Dark garnet; a bit of Bret blows off to reveal a huge Draper perfume/sweet chocolate/ blackberry/black raspberry bouquet that doesn't just follow through on the palate, it explodes! Dense and concentrated, with a long, long finish and long, long legs (and it knows how to use them). The favorite of many during this segment of the event, and why not?
1993 Ridge Lytton Springs, 85% Zinfandel, 8% Petite Sirah, 3% Carignane, 2% Alicante Bouschet, 2% Grenache, 14.5% alc.: Dark garnet; almost unfair to taste after the previous wine; rather reserved and claret-like in comparison; perfumed raspberry/blackberry is very nice, if not overly exuberant. We went through bunches of this and the '93 Geyserville three and four years ago. "This was the first Ridge I ever had." - Alan

1994 Ridge Lytton Springs: Gasp! How did I miss tasting this?!
1992 Ridge Jimsomare Cabernet Sauvignon, 13.1% alc.: Dark garnet, and drinking MUCH better than when we tasted it at califusa's Jimsomare bash over a year and a half ago. Not much besides a bit of earth on the nose, and that's the only drawback with this one. Alan described the flavors best: "Lots of cassis/leather/ cigar/eucalyptus/mushroom/truffle; still youthful; it bites." Still, this is delicious, and another big favorite; two bottles were drained!
1995 Ridge Geyserville, 62 % Zinfandel, 18 % Petite Sirah, 15 % Carignane, 5 % Mataro, 14.2 % alc.: Dark garnet, and drinking even better than a bottle tasted in October of last year. Smooth, rich reduced black raspberry with undertones of chocolate. Beautiful Geyserville, and another big favorite.
1995 Ridge Pagani Zinfandel, 82% Zinfandel, 13% Mataro, 3% Alicante Bouschet, 2% Petite Sirah, 15.2% alc.: Dark garnet; riper, more overt than the '95 Geezer; big black raspberry/zinberry flavors and aromas. Interesting to compare these brief notes with equally brief ones from last November.
1996 Ridge Pagani Zinfandel, 82% Zinfandel, 11% Mataro, 4% Petite Sirah, 3% Alicante Bouschet, 14.9% alc.: Dark garnet; almost identical impressions to one tasted last November; not as sewery/matchstick as when first tasted two years ago; a little tighter than the '95; big black raspberry flavors and aromas; needs more time.
1999 Ridge Dusi Zinfandel ATP, 14.5% alc.: Dark garnet; wet dog fur blows off to reveal big sweet overripe raspberry/black raspberry; way too young. Alan Kerr, the man who coined the phrase "Mr. Ridge," was rather put off by the excessive sweet oak, but we'll see what he has to say in a year or so when we re-taste this.
1997 Turley Tofanelli Zinfandel, 15.7% alc. (that's all?!): High octane cough syrup; several people commented on how unagreeable this is and poured it out after one sip.
Almost all of these were very well received, showing once again that there's a reason why Ridge takes up a good portion of the Gang's collective cellar space; they make some of the best wines around for the money, period.
Intro, Page One and list of wines