Tasting Notes: Larry Meehan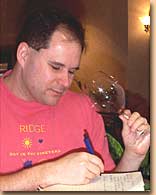 Saturday Night Odd Year Cabernets
We weren't even done with the Ridges (at least I wasn't) when corks started flying out of the Cabs. I was done taking notes, but Larry stepped right in and took over without missing a beat.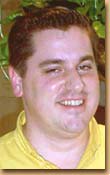 1977 Beringer Napa Cabernet Sauvignon Private Reserve: "Mature plum/prune." - Jeff Witzel (right) "Spicy cedar/ cassis; nice, mature but nothing special." - Larry, Alan and geo "Drying tannins; not a cocktail wine." - Bob G.
Brown Bag 1 (1995 Castello Banfi Excelsus): Barnyard nose; dust and blackfruit; drying tannins clamping down through the finish and hiding any complexity; Euro dirt (a compliment)/active acidity. All the makings of an excellent wine, but needs at least 3 more years…5 would be better. "Bordeaux style." - Sam "Tannic as hell." - Andy
Brown Bag 2 (1993 Ornellaia): Gamy/Brett; fairly rich black/blue fruit; bigger tannins than #1; lead pencil; rich earth ; sweet flavored tannins contrast with hard drying tannins; nice acidity. Re-taste two hours later: no Brett; more floral; smoothing out and more accessible. One of my faves of the night…evolving toward a wine of great balance and character.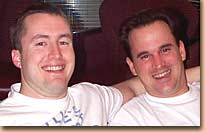 Scott Theide (L) and Andy Keillor
1993 Pahlmeyer (Cabernet blend), 1.5 L, 14.2% alc.: Restrained nose…lots of apparent alcohol … cassis/raspberry/rose petals/cotton candy; prodigious, tannins; hiding plenty though; under performing. "Under whelmed." - geo "Holy shit, is that bad!" - Mark H.
1993 Cornerstone Napa Cabernet Sauvignon Howell Mountain Beatty Ranch, 1.5 L: Slightly astringent nose; slightly gamy; sweet berry fruit; very smooth and rich. As the night went on, I found this wine to get better and better…the nose was more expressive…still sweet and smooth, but complemented well by the structure.

1991 Diamond Creek Cabernet Sauvignon Red Rock Terrace: Lead pencil/chemical/sweet dusty red fruit nose; smooth, elegant refined palate; tannins kick in on the finish; nice, but short of excellent. "Swimming pool nose." - Mike L.
1989 Etude Napa Cabernet Sauvignon: Sweet cherry fruit; fine tannins; sweet on the attack; smooth mouthfeel; "Huge mint." Larry and Mike L. "Some sweet maple under the mint; IMO, a very well preserved '89. Well balanced, showing nice bottle complexities -- pencil, cedar, leather. Quite interesting and enjoyable. "Nose heading towards 'Listerine." - Mike L. "Not impressed; did I try this too early?" - geo

1993 Kenwood Sonoma Valley Cabernet Sauvignon Artist Series, 1.5 L, 13.1% alc.: Rich warm nose; sweet, smooth fruit; drying tannins provide contrast; perhaps a bit hot on the finish. (Second taste next day: Dark garnet; slightly vegetal nose shows cassis/earth and some black cherry lurking in the background; broadens nicely on the palate, with added notes of chocolate and vague hints of tobacco; finish lingers nicely; tannins are smooth and manageable; a nice Cab from a so-so year.)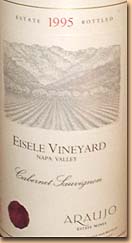 1995 Araujo Napa Cabernet Sauvignon Eisele Vineyard: Toffee/tawny/vanilla nose; very sweet; sweet/smooth attack; tannins on gum line; vanilla finish. My first Araujo did not overly impress -- perhaps too young, but it seemed to lack complexity and interest for me…oak is still quite prevalent.

1995 Leonetti Cabernet Sauvignon: Cavalcade of herbs, spice, vanilla; nose begins to sweeten; sweet, pleasant raspberry cherry fruit; bit of peppery spice on the finish. Sure there is lots of oak showing, but it somehow works for me here…I'd be tempted to hold this for a few more years. "Pickle-like and white pepper." - Mike L.

1993 Caymus Napa Cabernet Sauvignon, 1.5 L: Sweet berry fruit/maple syrup; pleasant across the palate; big nasty astringent tannins. Overall a good wine, but not striking me as anything special.

1995 Quilceda Creek Cabernet Sauvignon, 13% alc.: Black fruits, good balance, nice finish; super with food! My "dinner wine"…it was an excellent choice.

1989 Heitz Cabernet Sauvignon Martha's Vineyard: More mint than eucalyptus; plenty of earth and character; nice complex palate - not a bruiser at all; elegant and quite nice, especially for the vintage. Complete… both sensorily and intellectually satiating.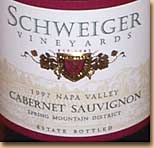 1997 Schweiger Cabernet Sauvignon: Orange powdery stuff on the nose (pixie stix); lots going on in mouth; mobile acids/blackfruit/anise/tar; touch of eucalyptus on finish with nice length. Seems young and volatile -- revisit in a few years. "Orchids." - Mike L.

1997 Vigil Meritage: Cinnamon/nutmeg/X-mas scents…orange candy/sugar plum/sweet fruit cut short by the tannins; starts to lengthen on the palate later; but still quite tannic.
1997 Jones Cabernet Sauvignon: Floral, sweet oak, syrupy nose; sweet plum fruit/hint of orange candy/plenty of acid; smoothing out tannins; long sustained finish; wet rocks/herbal garrigue underneath the fruit; actually pretty interesting in a "Cal" sort of way. This was my first experience with this wine…I think at least 2-3 more years of cellaring will benefit it greatly (as the acids seem to have a tight grip), but I'm impressed.


1991 Beringer Cabernet Sauvignon Knight's Valley: Earthy/lead pencil/ cedar/pepper on nose; smooth/wet/silky in mouth; black fruit/minty herb/earth/white pepper/tobacco; really quite interesting and good!!! Talk about "bang for your buck…"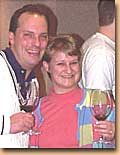 1995 Neyers Napa Cabernet Sauvignon: Wow, lots of alcohol on nose/ palate through finish; tough mix with some semi-searing acidity and rigid tannins; strawberry/cherry fruit reminiscent of cough syrup. Two hours later: knitting together, better composition….rich and jammy, but still a bit much for me. "Not offensive." Kristin Schimeck (with Jim, left).


1995 Chateau Pontet Canet Pauillac: Bordeaux, and proud of it! Earth/black fruit; cherry tannins; light lead pencil; still developing. Later evidence of licorice and tar…needs time, but seems like a very well made wine.
1993 Seven Hills Cabernet Sauvignon:12.5% alc.: Sweet toasty oak; black fruit/tobacco/drying tannins… nice spice on finish…good wine.

1995 Venge Cabernet Sauvignon Reserve: Floral/oaky/medicinal/band-aid-like; sweet blackberry/currant; raging acidity; drying (minor) tannins; showing lots of alcohol. Needs more time?…hmmmm
1995 Saddleback Napa Cabernet Sauvignon: 13.5% alc.: Violets/alcohol/ syrupy black fruit; rich volatile palate. Is it interesting or over the top? I'm leaning more toward interesting, but it is close."Reminds me of Zinfandel" - geo

1995 L'Ecole No. 41 Cabernet Sauvignon Apogee: Sweet/lighter oaking; smooth/balanced/nice pleasant black fruit; not too much of anything, just enough of most. Nice wine!
1997 Etude Napa Cabernet Sauvignon: Violets and earth; a lovely dense perfume; Oreo cookie scents; black fruit/bit of tar, but rich and smooth throughout; finishes with good length and depth…lingering. This seems to be a wine of reasonable balance with plenty of layers waiting to be found. For my tastes, one of the better 97's I've tried.

1995 Chateau de la Genaiserie Les Simonnelles Coteaux du Layon Saint-Aubin "SGN": Tangerine/honey dew scent; honey/sweet white fruit/ peach/maybe apricot; good rich sweetness, but not cloying; nice acidic wash. "Just darned yummy!" - Mike L. -- I'd agree with Mike.
Intro, Page One and list of wines