By George Heritier (geo t.)

BRAD HARRINGTON'S WCWDG GANG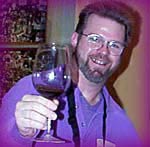 Brad Harrington
Over the past year, Brad Harrington's West Coast Wine Discussion Group has become one of the hottest forums on the web. As the name implies, it was originally oriented towards west coast wines and frequented mostly by west coast posters. Lately however, the ranks of regular contributors have exploded, and any wine from anywhere is fair game for discussion.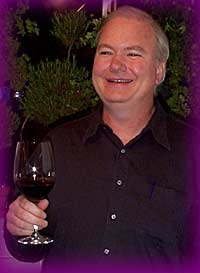 Rod Schiffman, WCWDG Alpha Geek
Several of the regulars from WCWDG met at the Buchanan Grill, just a few blocks from Fort Mason, shortly after the big tasting on Saturday. Among those in attendance were Brad, califusa, Colin Wile, Sam and Jean Leone, Paul and Barrie Pietronico, Rob Adler, Rod and Debbie Shiffman, Dea Freid, hank and Lauren Harris, Mike Officer, Jeff Sullivan, Jeff and Mary Lynne Cuppett, George Palmer, Josh duLac, Scott and Gwen Shewbridge, Milan and Sue, Vince Fritzsche, Jim and Diane Mather, robin g and Long Tom Hill.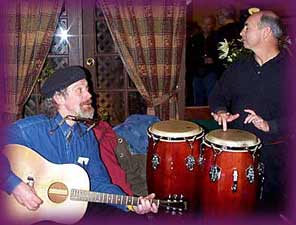 geo t. and Henry (Hank) jammin'
It was a great gathering with good food, and there was a table full of wines. I didn't try half of them and wasn't going to take notes at all; it was a long day, and I just wanted to relax, enjoy putting faces to names and of course jam once again with hank.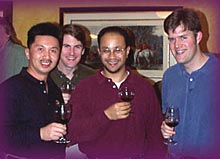 L - R: Robin Gee, Rob Ward,
Josh duLac and Vince Fritzsche
Then, I tasted the 1990 Castello Banfi Summus and had to grab paper and pen. It's a dark garnet showing no brick as of yet, with lovely flavors and aromas of dried cherries/leather/plum with a touch of tar and a vague whiff of smoke. There's good acidity of course, and the silkiest tannins that have crossed this palate in some time. A beautiful, elegant wine, poured from a magnum brought by George Palmer. It was something of a revelation for me, as it was my first "Super Tuscan." I got an extra helping of this while jamming the blues, thanks to Bree.
There were any number of other terrific wines; I was particularly impressed with the '95 Domaine du Pegau Chateauneuf-du-Pape and the '94 Domaine du Cayron Gigondas. But the real treat was enjoying the company of our internet colleagues, as is so often the case.
Thanks to Vince Fritzsche for allowing us to repost his comments and tasting notes which may be found here...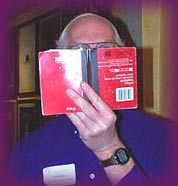 Tom Hill doing his Wilson impersonation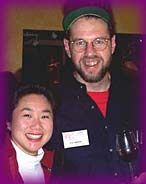 Gwen and Scott Shewbridge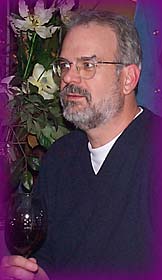 George Palmer





Kim Adams and Milan of Thunder Mountain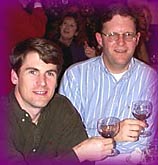 Rob Ward and Jeff Sullivan



Sue Maximovich and geo t.
MORE PHOTOS FROM THIS OFF-LINE MAY BE FOUND ON THE BACCHUS OFF-LINE PAGE - YEAH, IT'S A CHEAT, BUT HEY, WE RAN OUT OF ROOM!