By Vince Fritzsche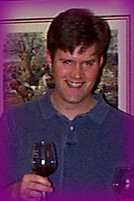 Vince

As posted on Brad's board the day after the ZAP tasting and the off-line...

"Although perhaps I wasn't alone in feeling pain yesterday after Saturday night's offline, I'm still surprised to be the first to post. Here goes...

Wow, what a night. When I heard about the plan to have a big post-ZAP offline, I decided I would skip the general ZAP tasting in order to save myself for the REAL main event. ZAP's too crowded anyway. So when I showed up at the Buchanan Grill, I was clearheaded and ready to go. Unfortunately, my lucidity didn't last. There were simply too many great wines to try and I wasn't about to spit. My notes are based on quick scribbles I made during the event, fleshed out with my thoughts the next day and some comments I heard about the wines from others that I agreed with. Color, when noted, is very approximate given the lighting. Maybe I shouldn't bother, but I do.

The wines:

1996 Flowers Pinot Noir Camp Meeting Ridge: Medium/dark; toasty aroma, jammy pinot fruit; full flavored jammy toasty red berry pinot, clearly CA wine, a bit obvious but well done.

1974 Ridge Zinfandel Geyserville: Had to try the old stuff early, before both of us would be gone. First up, a CA classic. Pale red/pink/orange color; eggy, oxidized caramelized aroma; medium/full body, silky, cedary eggy aged flavor, little fruit, nutty, caramel, porty finish, very nice to try, maybe not the best bottle but a favorite of the night.

1979 Parducci Zinfandel Mendocino Cellarmaster's Selection (something like that) Stinky oxidized aroma; dilute, dry, cracking up, tannic shell on the finish, gives context to the Geyserville, which seemed quite nice in comparison.

1981 Joseph Swan Zinfandel Sonoma: Light red/tan/pink; delicate, sweet red fruit pinot-like aroma and flavor, strangely sweet powdery mid palate and finish, like
Sweet Tart candies, odd. Next day: brick red/pale pink/orange; sweet caramelized aroma, dried flowers, tart cherries, good persistence but fragile aroma; medium bodied, silky texture, sweet/tart red cherries, decent length, drink up but surprisingly nice.

1997 Thunder Mountain Chardonnay Bald Mountain: Pale/medium gold; strong sweet buttery chard aroma; full body, lots of butter, crisp acid but overwhelming corn middle, long buttered popcorn finish, residual sugar? Not my style.

1994 Ferarri Carrano Chardonnay: Pill box, aged chardonnay aroma, quite a contrast to the Thunder Mountain; similar flavor, sort of medicinal, going over the hill.

1996 Cloudy Bay Sauvignon Blanc: Very nice wine here. Pale color; lots of grass, gooseberry, feline aroma; citrusy grassy melon flavor, good length, demands food but quite tasty on its own.

1996 C. Cimicky Signature Shiraz Barossa: Dark purple; nice american oak/corny red syrah fruit; chewy, creamy, sweet oak, red fruit flavor, tarry, nice but a bit too oaky, seems built to drink young.

1996 Majella Shiraz Connawara: Dark color; nice richly fruity, cassis pencil/corn oak aroma; full bodied, strangely tart cranberry/red cherry, corny oaked flavor, not at all as nice are the aroma suggested.

1997 Torbreck "The Steading" Rhone Blend: Dark purple; rich, eggy aroma; lighter grapey/carbonic? flavor, nice cinnamon spice, more blackberry fruit with a few minutes, bright acid, very nice, reminded my of a Qupe wine.

1993 Dehlinger Syrah Russian River Valley: Dark red/purple; very nice rich balanced dark fruit aroma and flavor, oak is well integrated, drinking well now.

1995 Domaine Pegau Chateauneuf du Pape: Medium/dark red; strong beautiful aroma, mineral, red cherry, funk; beautiful flavor, stones, red cherry, dry tannic grip but great persistance, simply delicious and would be wonderful with food.

1994 Domaine Cayron Gigondas: Medium/dark red/purple; greenish, tannic, tight red cherry and mineral flavor, not nearly as open as the Pegau, I was told to try it later to see if it might improve but never got back to it.

1996 L'Ecole Cabernet Columbia Valley: Dark red; oaky, olive, red fruit aroma; red berry herbs and fairly strong american oak flavor, open and tasty but not deep nor especially ageworthy. Next day: dark red/purple; sweet aromatic, sappy cassis, integrated pencilly oak, rich herby dark fruit, bit hot aroma; medium/full body, strong french oak, sappy cassis and herbs, bit piquant, finely tannic, tart red fruit and oak finish, moderate length, not for keeping.

1995 Eberle Syrah Fralich Vineyard: Dark red/purple; strong alcohol aroma; tart cherry, cola flavors, seems thin and a bit off, wanted to get back to this one but
never did. Disappointing.

1996 Cline Mourvedre Contra Costa Small Berry Vineyard: Medium/dark red purple; lots of mint (or eucalyptus, as a few people opined strongly), dark fruit aroma; minty, black cherry, bright acid, smooth and long, lingering mint, typical Cline, tasty but maybe their wines taste too similar.

1996 Page Mill Pinot Noir Bien Nacido Vineyard: Light/medium red; interesting wine, good aromatics, delicate pinot rooty aroma and flavor, elegant but pleasing, I heard one comment that this represented classic Bien Nacido fruit (not sure what that means).

1996 Lewis Syrah Napa Valley: Dark red/purple; initially fruity aroma, nice syrah blackberry, after tasting more american oak was apparent; corny/sawdusty
american oak, dark fruit flavor but not so varietally distinct, too much oak.

1995 Del Dotto Cabernet Sauvignon Napa Valley: Ostentatious label; dark color; corny american oak, dark fruit aroma; american oak, green pepper, herbs, mint, dark berries, interesting but a bit too creamy/crafted, tastes like benchland fruit (Groth, etc.).

1996 Abadia Retuerta Sardon del Duero: Medium/dark red; green peas, oak, green leaves, tart cherry aroma; similar flavor, a bit piquant without much finish, second taste of this wine and I'm equally unimpressed.

1994 Cornerstone Cabernet Sauvignon Beatty Ranch: Dark red/purple; eggy cassis, toasty aroma; chewy cassis, alcohol, bit piquant, good but a bit odd roasted flavor, certainly full and rich with good length, ready to drink.

1996 Elyse Zinfandel Morisoli Vineyard: Medium red; tart cranberry aroma and flavor, nice but lightweight and delicate, lost in the crowd here.

1996 Saddleback Zinfandel Napa Valley: Classic Saddleback; dark color; corny american oak and berry aroma; chewy oak and dark berry flavor, big and full.

1993 Mount Eden Cabernet Sauvignon Santa Cruz Mountains Old Vine Estate:
Dark red/purple; tart red berry cranberry flavor, strong acid, medium body, moderate oak, bit piquant and unyielding, needs time I think but not showing much now.

1997 Domaine Archer Zinfandel Alexander Valley Demostene Vineyard: Amateur wine from ZAP, quite good stuff; dark color; eggy red fruit, full flavored with good balance, nice effort.

1994 Pezzi King Zinfandel Dry Creek Valley: Medium/dark red; nice red fruit aroma and flavor, oaked but restrained, smooth with good length, holding well but probably better sooner than later, my favorite wine I've tasted from PK.

1996 Thunder Mountain Cabernet Sauvignon Santa Cruz Mountains Bates Ranch: Dark color; eggy, green and black olive, dark fruit; olivey, green pepper, leafy red fruit, firm acid but still smooth, curiously eggy (?).

1996 Biale Zinfandel Napa Valley Falleri Vineyard: Medium/dark red; minty aroma, corny oak; toasty oak, red cherry, leafy herb flavors, nice but oaky.

1985 Bonny Doon Le Cigare Volante: Medium red; stinky, bretty, red fruit, cinnamon spice aroma; bit sharp acid, nice red grenache minerally fruit, piquant and showing some age but good length, tasty and holding well enough but ready to drink.

1997 Thunder Mountain Chardonnay Ciardella Vineyard: Pale gold; aromatic, yeasty appley chard fruit; sweet appley, yeasty, full body, toasty apple/yeast finish, nice.

1995 San Vicente Rioja Tempranillo: Medium/dark red; stinky red fruit; nice complexity, sweet red fruit and leaves, modern styled but tasty. Next day: medium
red/purple; greenish leafy herby, eggy sappy cherry aroma; medium body, sulphury dried cherry pepper and tobacco, bright acid, light tannin, medium finish, piquant and bit thin, not for keeping.

NV Lauriston Show Reserve Muscat: Direct from Australia (thanks Colin); pale brown/tan; aromatic, nuts, sweet toffee; viscous, sweet tarry toffee, lots of roasted
nuts and caramel, long, simply beautiful.

1988 Rutherford Zinfandel Vintage Port: Dark color; sweet peppery fruit aroma and flavor, full and delicious, better than I expected, has lots of life left.

1994 Greenwood Ridge Zinfandel Mendocino: Medium red; medium body, tart red fruit, not terribly exciting.

1990 Castello Banfi Summus: From magnum; medium red; aromatic dried flowers and cherries, leathery flavor, medium bodied but nice, wish I'd tried it
earlier.

1992 Quivera Zinfandel Sonoma: From magnum; stinky, odd corn husk aroma; not tasted.

1989 Sky Vineyards Zinfandel: Medium red; red fruit, pepper, toffee aroma; peppery red fruit flavor, holding together but ready to drink.

1991 Storybook Mountain Zinfandel Napa Valley: From magnum; light/medium red; evolved light red fruit aroma; more flavorful on the palate but evolved, oxidized red berry fruit, leather, strong acid, decent length but not as good as I've had in the past, a few folks hated it.

A minor bloody pulpit:

1. The Pegau was my wine of the night. I'm biased towards its Frenchness, that classic minerally/stoney chateauneuf fruit. Didn't notice too much oak on it, though I've read that others have in the past. I don't regret much in life, but I really should have gotten some of this one.

2. The old zins were a treat, since I don't get much opportunity to taste anything past 10 years or so. Bree was correct to remind me about the cerebral (rather than visceral) pleasure of older zins. Still, the Geyserville was tasty and the Swan actually held ok not one but even two nights later - amazing. But it's true, the intellectual experience is paramount here, especially for the woeful Parducci.

3. Corny oak - it's my pitiful term to describe some distinctive scents and flavors of American oak. I think it's the "corn" in buttered popcorn that I found in the Thunder Mountain Bald Mtn Chardonnay (would love input here). But the pure corn (or corn husk) component especially comes through in red wines. I first noticed it in a Clarendon shiraz. While it's not a bad flavor by any means, I think it easily overwhelms the varietal subtleties a given wine. Cimicky, Majella, Lewis, Del Dotto, and Cornerstone were examples here - again, I don't mean to be biased too much here. I just find it obvious, like any fool could toss grape juice in a heavily toasted barrel and voila.

4. Amazingly, my notes remained legible for most of the wines. Yet how could I miss noting all the fine people in the group? I suppose my comments would be woefully inadequate, so I'll just throw one big thanks to everyone (especially Brad) for making it happen. I was really looking forward to the event and it more than lived up to expectations. Hope we can do it again, but why wait a whole year? I'm planning on going to the Rhone Rangers tasting coming up, so hope to see some of you there."

Vince F.