By George Heritier (geo t.)
Russell Bevan aka BACCHUS
Super Bowl Bash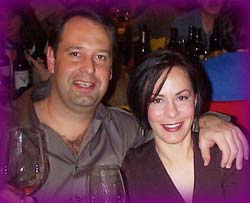 Russell and Victoria
Russell Bevan is, as they say, a real piece of work. An over-the-top extrovert, with the spastic body language of Rodney Dangerfield on amphetamines, he's a man of many contradictions. Never shy about making a spectacle of himself, he can be flamboyant and outrageous on one hand, while being most affectionate and generous on the other.

Bevan is a self-described "very public kind of guy," having attended numerous wine events (festivals, tastings, auctions, etc.) over the years, as well as organizing his Bacchus Wine Tours, which are becoming the stuff of legend. His writing has been featured on the Wine Spectator magazine's Last Call feature and he now pens a wine column for The Star Tribune newspaper.

He seems to be a far cry from his life partner/fiancÚ Victoria, a lovely woman who, though animated and outgoing, always seems to keep a sense of proportion as to her public persona. Being as close as these two are, one wonders if there isn't something a little twisted about her as well, but to this point, this observer has seen no evidence of that.

For all of his Gonzo style, Russell is well thought of by many winemakers, such as Nils Venge, Phillip Togni, and Robert Biale. He has a genuine obsession for fine wine, and I'm sure he's appreciated for at least that alone. If you're a wine lover, Russell is your friend.

This was the 2nd year in a row that Russell and Victoria threw their "Bacchus Super Bowl Bash" at San Francisco's Tuscan Inn, and there was indeed a big screen TV with some kind of sporting event on it. Several of the same people who attended Brad Harrington's offline were here as well. They included califusa, Colin Wile, Sam and Jean Leone, Rod and Debbie Shiffman, Dea Freid, hank and Lauren Harris, Jeff and Mary Lynne Cuppett, George Palmer, Scott Shewbridge, Milan, Jim and Diane Mather, and Long Tom Hill. We were also joined by Dwight Green, Ralph (winesong) Jones, Scott Wilfong, Matt Mabus, Eric Dunham, John Jenesse, and Brian and Louise Kinsella, among others.

The Director and I were especially honored to note that Russell had decorated a large cake with the title of one of our Gang Features, Spinning in Zinfinity. But, I went right for the giant submarine sandwich, since that was serving as breakfast, and I needed something to soak up the Zinfandel.

The wines: The '92 and '94 Screaming Eagle were drained by the time we got there, as was the '86 Chateau Margaux. However, there were still some very interesting things that were available, and since this had been THE Zin-fest, I went for it! Here're the ones I tasted.

1995 Ravenswood Monte Rosso Zinfandel: Dark garnet, with rich extracted raspberry/black cherry; nicely oaked, not at all overdone; very rich, smooth and creamy, with a long finish; luscious!

1989 Ridge Geyserville: Had to agree with Tom Hill; this is in great shape for such a lousy vintage. Dark garnet; not as thick as the '90, but tasty plum/black cherry/hints o' leather; spicy fruit is still primary; very pleasant.

1979 Joseph Swan Sonoma Zinfandel: Wow! Here's another great example of how "Zinfandel doesn't age." Ruby garnet with a hint of rust; cedar/leather/secondary spice over sweet plum/black cherry; there are even some subtle floral overtones here; smooth on the palate with a good finish; wonderful for a 20 year old Zin!

1992 Ridge Lytton Estate Zinfandel ATP: This had some air, so it was even better than the one that Zinvocate opened for the 'deauxnut and this taster. Dark garnet; the nose seems muted, only hinting at the rich plum/black raspberry/black cherry/chocolate/spice on the palate; looong finish; as good as it is, it's not ready yet. Russell got menthol/eucalyptus from this.

1983 Ridge Amador Zinfandel Esola Vineyard ATP: Garnet isn't as rusty as one might expect; label says it's only 12.3 % alcohol...; perhaps the mature nose promises more than the palate delivers, but still, this is nice; cedar/dried cherry/bit o' barnyard; sweet fruit, fully resolved tannins and acidity; a nice 16 year old Zin. From the cellar of califusa.

1991 Ravenswood Dickerson Zinfandel: Dark garnet; rich ripe intense spicy black raspberry/black currant/black cherry; fairly sweet fruit with perfectly integrated oak; still some tannins to resolve, but drinking so well right now; luscious, almost floral.

1980 Preston Sonoma Late Harvest Zinfandel: Dark garnet with a musty note on the nose; somewhat vegetal; sweet (but not too sweet) black cherry/black currant; somewhat port-like; 14.6%. Not bad, but nowhere as good as the Ridge '81 (?) Late Harvest Zin that I was too burned out to take notes on...

1996 Pahlmeyer Napa Merlot (!): Simply the best Merlot I've ever tasted, Matt Mabus described this as showing 5 Asian Spice; I got thick red currant/chocolate with lovely oak treatment; rich and velvet-y. Wish I could linger over a few glasses of this sometime...

Strangely, I tasted more and socialized less this time around, though I hope I didn't actually ignore anyone. Russell and Victoria are to be commended for throwing a bash that more than lived up to the advance billing, and we're especially pleased that they allowed such Gangsters as ourselves to attend at all, since he's commented publicly that we make him nervous.

We intend to do everything we can to maintain that effect on him in the future...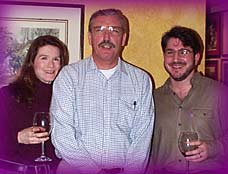 Barrie and Paul P. with Colin from Australia in the middle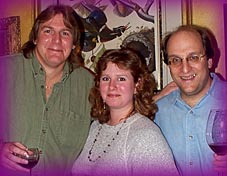 Jeff, Mary Lynne Cuppett and Rob Adler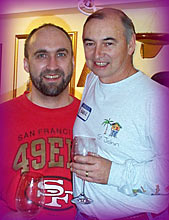 Ralph Jones (RU Jones?) and Henry (hank)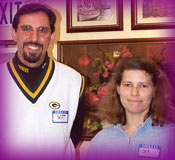 Scott Wilfong and Dea Freid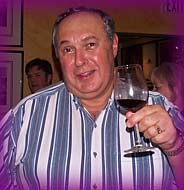 Sam Leone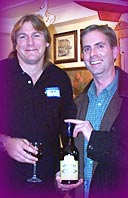 Jeff and Dwight Green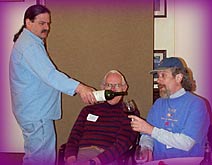 Allan Bree (califusa), Tom Hill and geo t.