By: George Heritier
Australian Tasting Notes by Matthew Cooper
MoCool Graphic by Cindy Baldwin
Page Links At Bottom
MoCool 2000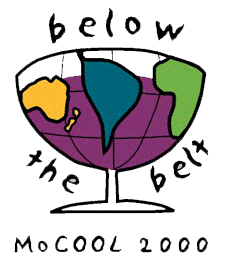 This year's MoCool theme was "Below the Belt," featuring wines from the southern hemisphere. But for me, the Saturday Bar-B-Q (held once again at the home of organizers Joel and Sally Goldberg) wasn't so much about the wines as it was about the people. Yes, there were a series of killer bottles uncorked but this time out I didn't take notes, preferring instead to enjoy the company of the many fine folks we've become friends with over the past few years. Sometimes note taking is just no fun, and I say to hades with it. This was one of those times. Not that I didn't enjoy the likes of the 1975 Henschke Hill of Grace Shiraz, 1990 Penfold's Grange, 1991 Château Tahbilk Shiraz, 1996 Trevor Jones "Wild Witch," and 1995 Clarendon Hills Shiraz, to name just a few. There were also some delicious samples brought along by Matt Cooper that were worth special note.
And the day wouldn't have been complete with another musical jam with my buddy Guido aka Dave Guimond…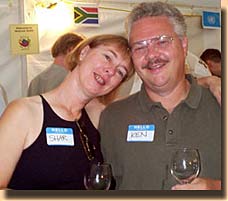 There were more than 130 attendees this year, and the Gang was there in force, of course. Alan Kerr aka Canadian Zinfan and califusa really outdid themselves at the grill and in the kitchen, with a very able assist from Kirsten Van Dam. The Bored Doughnuts were there, along with the rest of the previous evening's crew. And it was especially nice to see Sharlan Douglas aka Chanteuse and husband Ken Hebenstreit aka The Bookseller (left) in attendance.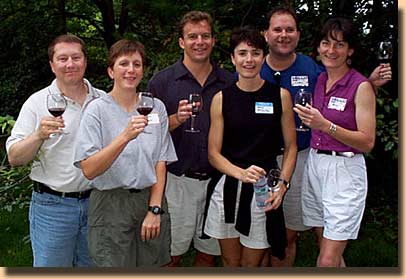 (L-R: Jeff Gillikin, Pam Patt, Jeff Faunce, Amy McClellen, Larry and Mary Meehan)
It was also way cool renewing acquaintances with members of the Toledo Gang (Larry and Mary Meehan, Pam Patt and Jeff Gillikin, Matt Cooper and wife Aimee, Mark Looker (below with geo t. and MoCool server) and wife Rachelle Jacques and Tim Thomas), although we never did find an opportunity to do another Pool Chant.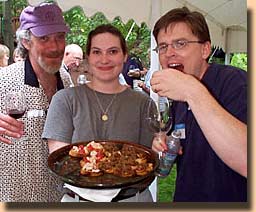 And then there were our friends Deb Wentz, Gene and Katherine Shensky, Bob Henrick (below left), Manuel Camblor, Frank and Linda Baldwin, Frank Joyce and Mary Anne Barnett, Stuart Yaniger , Joe and Andrea Bonk, Mike Brenton and Deb Cole, Manuel Camblor, Alan and Maire Jarvis, Gary and Georgine Kahle, Steve Kirsch, Joe Moorehouse, Joe Pinto, Lew and Nancy Rodrick, Dennis Strzalkowski, and Chris Weber, all of whom we never get to spend as much time with as we'd wish.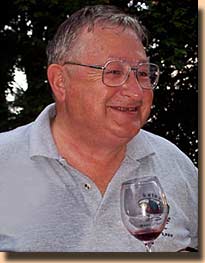 And there were new friends as well; it was most gratifying to hear positive feedback regarding the Gang site from Frank Patterson of Chicago and David Seidman from Arizona, and I had nice chats with both gentlemen. And it was good to finally meet Jeff Faunce and Amy McClellen from the Land of Cleve, who couldn't make Toledo last February.
As always, MoCool organizers Jay and Cindy Baldwin, Joel and Sally Goldberg, Dave Guimond, John and Jennifer Wolf are to be heartily commended for taking the considerable time and effort to make MoCool happen.
Some Special Treats from Down Under
By: Matthew Cooper
(Aimee and Matt Cooper, below)
The two samples I brought were from a new winery called "Lashmar" on Kangaroo Island. Lashmar (derived from Colin's wife's maiden name) is owned and operated by Colin Cooter of Lengs & Cooter fame (L&C wines received some rave reviews by Parker in his last Australian issue). When I told him about MoCool and the theme this year, he thought it would be a great place to introduce his wines to the US. He was kind enough to send me some samples of his newly bottled Kangaroo Island Cabernet Sauvignon and his Three Valleys Shiraz. Neither one of these wines had been tasted in the US until a small group of WCWNers got together and sampled the goods last Friday night. I also brought them to the Saturday picnic for all to taste. Colin was also nice enough to send me some bottles of his 1998 Possum's Kent Park Cabernet Sauvignon ("Possum" is a play off of his uncle's nickname), which he has been making for his family and personal consumption for a few years.

Colin Cooter has been making wines from Kangaroo Island fruit now since 1994, chiefly for his family. After tasting the 1998 Possum's Magic Kent Park Cabernet Sauvignon, I can see why he was convinced to start his own label. 1999 will be Lashmar's inaugural release. 250 cases were made from the 1999 Cabernet Sauvignon harvest on Kangaroo Island. The fruit was grown on the eastern side of the island where the soil is predominantly limestone. Colin was aiming for a more "French"-styled Cabernet Sauvignon as opposed to Cape d'Estaing's (another Kangaroo Island producer) typical, over-the-top, Aussie-styled wine. The Cape d'Estaing terrior is also very different, being located on the northern side of the island and composed of loamy soil. Lashmar's Cabernet Sauvignon was left on the skins for 21 days and aged for 16 months in 100% French oak (he tried a barrel of Hungarian and a barrel of American oak, but didn't like the results). The sample we tasted was bottled only 3 weeks prior to tasting and the wine was showing plenty of signs of bottling shock. Despite this, the wine shows plenty of promise and depth. We will see what happens as the wine settles down and begins to develop in the bottle.
1999 Lashmar Cabernet Sauvignon
Dark ruby in color with a violet rim. The nose was complex and multidimensional, giving aromas of black currants, dried herbs, tobacco and clay. The acid in this wine was immediately noticeable, no doubt a symptom of the bottling. Despite this, the wine was mouth-coating and buttressed by a stiff, tannic backbone. The finish is promising, but cut short by the acid at this point. Needs time to come together before it can be fairly assessed.

I was pleasantly surprised to find that many thought Lashmar's Three Valleys Shiraz was the wine of the weekend (not a bad commentary given the hundreds of wines tasted!). It truly has a character all of its own and stands out when tasted up against other Aussie Shiraz. Only a precious 150 cases were produced. Colin decided to make this wine by blending three separate lots of Shiraz from three different locations in Australia: 58% Eden Valley (chosen for its great perfumed, peppery nose), 28% Clare Valley (thick, used to give the wine structure and backbone), and 14% McLaren Vale (very nice, chocolatey fruit, almost bottled separately). Fermented in new American oak barrels, the result was great, spicy, atypical (for Aus) Shiraz. This sample was showing much better than the Cabernet Sauvignon, perhaps because it was placed in the bottle in mid-March.

1999 Lashmar Three Valleys Shiraz
Dark ruby/purple color all the way to the rim. The nose explodes with the scent of freshly ground peppercorns, sweet red plums and dark chocolate. Sweet tannins and acidity add structure to this wine with the American oak showing itself towards the end of the 25+ second finish. I hope a lot of this finds its way to my cellar!

Lastly from Lashmar, the 1998 Possum's Magic Kent Park Cabernet Sauvignon. Although not technically a Lashmar wine, it was certainly the precursor. This was a very enjoyable wine! The fruit comes from Kent Park, a small block of vines located on Colin's father-in-law's property just off of Antichamber Bay on Kangaroo Island. The wine is the result of 10 year old vines.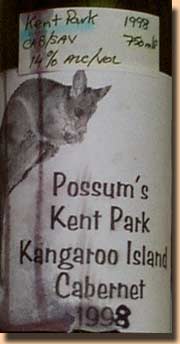 1998 Possum's Magic Kent Park Kangaroo Island Cabernet Sauvignon
Dark ruby in color. Eucalyptus, kirsch and ripe cherries dominate the nose and palate. Not as complex or as full-bodied as the Lashmar offering, but the soft, round tannins make this wine a pleasure to drink. Too bad it is not for sale. If only I had more…

Another winemaker who sent me samples to offer the guests at MoCool was David Anderson at Wild Duck Creek Estates. The maker of the famous "Duck Muck" decided to produce a Cabernet Sauvignon-based wine in the same full-blown, over-the-top style. The result is simply amazing! The fruit for this wine was hand selected and hand picked at perfect ripeness from a small patch of vines. Yields came in at 2 tones/acre. Aged in 100% new French oak barrels and available in only tiny quantities, this wine needs to be tasted to be believed. It was my favorite wine of the weekend.

1998 Wild Duck Creek Estates Reserve Cabernet Sauvignon
Very dark purple/black in color (I would say "opaque" but I could view the sun through it). The wine coated and stained the glass a deep ruby color when swirled. Aromas on the nose were too numerous to list, but I was able to list crčme de cassis, dark cherry jam, ripe plums, raspberry jam, camphor/eucalyptus, leather and minerals. The wine coated your mouth with the first taste and you throat with each additional sip. Highly extracted and full-bodied with sweet, supple tannins and a 45+ second finish. This truly was liquid hedonism and a fun wine to drink by itself. Imagine blending a Bryant, a Harlan and Shafer Hillside Select into one wine.

David has also been experimenting with sparkling Shiraz at his small winery in Victoria. His first release is the best example of this type of wine I have ever tasted (including the legendary Rockford Black Shiraz). It was made in a solera-style, blending vintages of Shiraz from 1993-1997 (30% carry-over in old wood). Some residual sugar remains in the blend, but not enough to be offensive.

NV Wild Duck Creek Estates Sparkling Duck
Very dark ruby color with a beautifully dark red onion skin mousse. The nose is laden with ripe plums, spices and yeast. The effervescence gives an odd sensation to the palate and a makes your taste buds stand up and take notice. Great extraction (which is a hallmark of Wild Duck Creek Estate) with balance is the signature of this wine. Tannins are also present, but the residual sugar tends to hide them well. A very interesting wine.

A Trip to Michigan Wine Country

A Visit to the Bluebird

Last Day