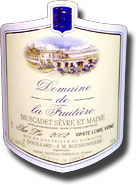 2002 Domaine de la Fruitière Muscadet Sèvre et Maine Sur Lie, $6.59, 12% alc.: Pale straw in color, with green pear, green apple and soft wet stones on the fragrant, if not effusive nose; these impressions follow through with more of everything on the palate. Dry, not terribly complex, but not nearly as austere as these can be either; this is comparatively rich, bold and assertive. With air, it opens noticeably, developing almost floral aromatics; it has more than enough acidity to keep it moving right along, and a finish that lingers longer than any $10 wine has a right to expect. Very nice indeed, and highly recommended; we've gone through more than half case already.

Imported by NWS, Inc., Chicago, IL

2002 Laurent Gregoire Domaine de Beauregard Muscadet Sevre et Maine Sur Lie, $8.99, 12% alc.: A medium straw, this has an upfront stoney, almost funky minerality that gives way grudgingly to green apple and pear on the nose, and then only after vigorous swirlatude. These impressions follow through on the palate with more apparent fruit, a slightly oily texture, good acidity, and like the '99 model we enjoyed a while back, it finishes with a hint of detergent that is more agreeable than it may sound. Between this and the Domaine de la Fruitière noted above, we have the mainstays of our everyday summer whites. It's hard to pick between the two; on one hand, the Fruitière is somewhat richer in fruit, but on the other, I like that almost funky quality of the Beauregard. Happily, we have ample samples of both, so we can opt for whichever one fits our mood of the moment. Tasted thrice with consistent results.

Imported by Weygandt - Metzler, Unionville, PA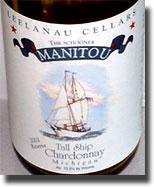 2001 Leelanau Cellars Michigan Chardonnay Tall Ship Reserve, $9.99, 13.5% alc.: This medium straw colored chardonnay may not be one of the best whites we've had so far this summer, but it certainly deserves mention for its very good QPR (quality - price ratio) and appealing character. It features softly herbal nuances over fragrant apple and pear aromatics, with flavors to match, showing added notes of tropical fruit and a hint of canned peas, good acidity and well integrated oak. Medium full bodied, with a reasonably long finish, this is quite simply better than anyone should have had a right to expect from a $10 Michigan chardonnay, but then, Michigan wines keep getting better and better...

1998 Domaine René Michel Viré Clessé, $9.99, 14% alc.: A medium gold colored chardonnay that seems to have been affected with some botrytis, which shows in a somewhat honeyed aspect to the otherwise soft butterscotch, sea air and wet stone aromatics. Flavors echo and expand to include a broader green apple - pear character, giving just a little sweet stuff on entry, then turning dry from the mid - palate on back through the finish. There's just enough acidity to keep things moving along nicely, and for my tastes, this has mellowed into an appealing white that's ready to go right now. Drink, don't hold.

Imported by Hand Picked Selections, Warrenton, PA



A pair from Chassagne - Montrachet...
2000 Marc Morey Chassagne - Montrachet Les Vergers, $39.99, 13.5% alc.: Much as we remember it from our latest Toledo adventures, this medium straw is showing more of the wet stone - mineral character than it did in February, and less of the tropical fruit, vanilla crème; there's still plenty of spicy pear here, along with racy acidity that bodes well for further bottle aging, but the oak is less obvious than it was then. While big, bold and delicious, this will be SO much better with some time in the cellar, and I'll try to keep my hands off for a good five years.

2000 Marc Morey Chassagne - Montrachet En Virondot, $44.99, 13.5% alc.: A pale to medium straw, with matchstick, flint and slate over apple and pear aromatics, this is showing more rich fruit and less of the slate and sulfur in the rich flavors. With zippy acidity and a long finish, it is absolutely delicious, and should only improve over at least the next five years. I'll never go back to California Chardonnay.

Imported by Robert Kacher Selections, Washington D.C.


...a pair from Chablis...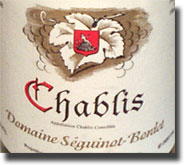 2000 Domaine Séguinot Bordet Chablis, $17.99, 12.5% alc.: This medium straw is one satisfying Chablis, with a minerality that's more reminiscent of chalky wet stone than slate or flint, and these characteristics dominate the rich apple and pear fruit in the flavors and aromas, with a subtle hint of cream underneath it all on the palate. Medium full bodied, with good acidity and good presence, and while it doesn't have the longest finish, neither is it particularly short, and here is where the chalkiness becomes most apparent. The more I taste wines like this, the more I love them. Good value for the money, and one of our go-to house whites.

Imported by J et R Selections, Mount Pleasant, MI

2002 Vincent Dauvissat Chablis "La Forest," $39.99, 13% alc.: This medium straw would probably show best right now with a little time in a decanter before drinking. It shows clean apple and pear flavors and aromas with undertones of minerality and a hint of sea air on the nose, but while it's not exactly one dimensional, there's not a lot of complexity to it either. With a few hours of air, a little cream, chalk and wet stone character starts to peek out, and the wine certainly is a good match for a mixed grill of marinated chicken breasts and zucchini, with a side of basil pesto pasta. Still, it's a little too clean, reserved and well mannered for me at this point, and I'd much rather have the 2000 Séguinot Bordet noted above for so many dollars less. Maybe a few years in the cellar will bring more out in it.

Imported by Vineyard Brands, Inc., Birmingham, AL
...and one from Rully
2002 Jaqueson Rully "Grésigny", $30, 13% alc.: A medium straw with a tinge of lime, this tight, young medium to medium full bodied Rully features restrained toasty oak, pear, canned peas, a sprig of asparagus and a hint of lime in both flavor and aroma. It has zippy acidity and a nice minerality that reveals itself mainly on the finish. A very nice wine, but it really needs at least a few years to soften and mellow some, so be patient.

Imported by Hand Picked Selections, Warrenton, VA


Baby's 1st Arneis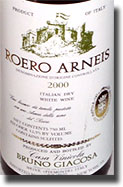 2000 Bruno Giacosa Roero Arneis DOC, $24.99, 12.5% alc.: This medium straw is our first Arneis, and Kim and I were both impressed with the bees wax, quince, green apple and mineral character it shows. Not all that effusive aromatically, the flavors pick things up nicely, with a somewhat oily texture, just enough acidity to keep things moving along reasonably well and a reasonably long finish. All in all, a very nice Italian white that I'd like to get to know better, for a few less dollars; I have no doubt that it would have made a fine match for the mixed grill of marinated chicken breasts and zucchini, with a side of basil pesto pasta, but the bottle was drained before dinner was served, so we had to do with the "La Forest" Chablis noted above.

Imported by Winebow, Inc., New York, NY


Varieties of the Sauvignon Experience
2003 Kim Crawford Marlborough Sauvignon, $14.99, 12.5% alc.: This pale straw shows a tinge of green to its color, and it even smells and tastes green, with a decidedly lime - like component to go along with the explosive cat pee, grapefruit and gooseberry flavors and aromas. This wine is all about big fruit and zesty acidity, with a nice long finish and subtle undertones of earth and mineral. Mr. E, who opened it for me, also described it as "a little green," but he felt that it could use a few years in the cellar, and while that wouldn't hurt it at all, I have a hard time keeping my hands off of this for long. Indeed, we've drank several more of these since late May, and now there's none downstairs.

Imported by R.H. Phillips, Inc., Esparto, CA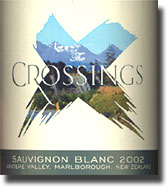 2002 The Crossings Marlborough Sauvignon Blanc Awatere Valley, $11.99, 13.5% alc.: This crisp Kiwi sauvignon isn't quite pale enough to be mistaken for water, but neither does it show all that much color; it's a pale straw at best. The color is certainly no indication of the intensity of the wine, however, as it all but explodes with big cat spray, gooseberry, boxwood, grapefruit, jalapeno and lime on both the nose and the palate. Medium to medium full bodied, sleek, with racy acidity and a nice finish, this is excellent stuff, as good, if not better than the Kim Crawford, and a very good buy at the Costco price listed here. Yum!

Imported by W.J. Deutsch & Sons, Ltd., Harrison, NY

2003 St. Supery Napa Sauvignon Blanc, $11.99, 13.5% alc.: Medium straw, with grapefruit, pear and sweaty armpit "garlic perspiration" aromatics, according to Kim; these are accented with a hint of cream and a certain grassiness. The assertive flavors echo with an herbal note, some fig on the decent finish and good acidity. Quite enjoyable, and a nice alternative to the Kiwis in the same price range.

2002 Honig Napa Sauvignon Blanc, $11.99, 13.5% alc.: Pale straw, with gooseberry, grapefruit, lemon zest flavors and aromas accented with some of that same "garlic perspiration," this medium to medium full bodied sauvignon shows good acidity and decent intensity, but falls off some on the finish. It doesn't have the stuffing of the St. Supery or the Kiwis noted above, and while it's not a bad wine at the price listed here, I wouldn't pay the $14.99 that it seems to be going for in most area retailers where I've run across it.



Two from the Russian River Valley
The following two Russian River Valley chardonnays were tasted in accompaniment to a sundried tomato and chevre roulade of chicken breast, pan roasted Michigan asparagus, garlic cream and parmesan custard with Michigan morels and oyster mushrooms.

2000 Dehlinger Russian River Valley Chardonnay Estate, $23.99, 14.4% alc.: This medium straw colored chardonnay doesn't show much more than a little tropical fruit on the nose; even some air and a slight rise in temperature doesn't unlock the aromatic stinginess. The flavors are more bright and assertive, with ripe pear, tropical fruit, butterscotch, just the right kiss of oak and just enough acidity. With air, notes of canned peas and figs emerge, but for all that, there's nothing special or particularly memorable about this.

2000 Rochioli Russian River Valley Chardonnay Estate, $42.99, 14.2% alc.: Kim likes this medium straw better with the food, and I agree; it has a similar stingy nose to the Dehlinger, with more steely pear, less tropical fruit in the flavors and restrained toasty oak. It shows decent acidity, but not much complexity, nor the longest finish, and once dinner is done, a second glass reveals a rather one - dimensional character, one that is tedious and boring when sipped by itself. And the price is just plain stupid.

We'll give these two the benefit of the doubt, being the products of a so - so vintage, but I will say that I was expecting more from each, and in that regard, was underwhelmed by both. Oddly enough, I should add that the remains of the Dehlinger languished in the refrigerator for the following two days, and when I finally took it out to dump it, I took a short pour, just for the halibut, and was most surprised to find that not only was it not oxidized, flat or otherwise compromised, but it had actually developed a steely, flinty edge that was rather appealing. One might almost have been convinced that this was something from Chablis, rather than the Russian River Valley. Needless to say, I continued to sip on the rest of the half - bottle for the next few hours, marveling at the 179 degree turnaround that this displayed with the relatively short or long passage of time, depending on one's proclivity.

Too bad we had to wait two days for this kind of action to rear its racy head. One would prefer to pour such stuff straight from the bottle. Perhaps we should have refrained from using the Rochioli for cooking in the interim. Who knows what that might have turned into...
Reporting from Day-twah,
Bastardo