Jean-Paul Brun & Clos de la Roilette are Louis/Dressner Selections, Imported by LDM Wines, Inc., New York, NY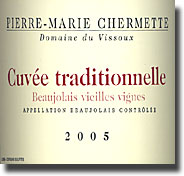 2005 Domaine du Vissoux Cuvee Traditionelle Beaujolais Vieilles Vignes, 12% alc.: Rich ruby red in color, with equally rich black cherry, raspberry and strawberry flavors and aromas; medium full bodied, with subtle earthy undertones, good structure and surprising density and concentration. No wimpy Gamay this, and not hard to see why it's a favorite of Cousin Larry Meehan (who I suspect slipped it surreptitiously into a slot in our cellar in a typical act of kindness that we know and love him for); we like this even better than the Clos de la Roilette noted above, and tasted on the same occasion. At least 3-5 years of aging potential her, and perhaps as many as 8-10. Another glass, please? Find this wine

Imported by Weygandt-Metzler, Unionville, PA

Notes on a couple more Old World dandies, before we cross over to the Americas…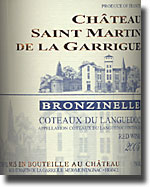 2005 Château Saint Martin de la Garrigue Coteaux du Languedoc Bronzinelle, 13.5% alc., $14.99: We've had a number of vintages of this wine over the years, but surprisingly only reported our impressions on the 2000 vintage, which we quite liked. Since then, a few of them haven't been received quite so well here at Gang Central, as they showed what we considered to be excessive oak characteristics. Happily, such is not the case with the current model; in fact, it's one of the best wines we tasted for this report. Showing deep, dark color and flavors and aromas of black olive, smoky black plum and blackberry, with a somewhat sun-baked character; the black olive sets the tone of the wine for me. Full bodied, well structured, with substantial tannins and good acids, this offers excellent depth and concentration, and while it drinks quite well now, it will easily develop and improve over at least the next five years. Very tasty indeed! Find this wine

Imported by Kermit Lynch Wine Merchant, Berkeley, CA

2003 Finca Allende Rioja, 13.5% alc., $20.99: Deep, dark color, with a rich red currant and black cherry personality laced with a good dose of tobacco and a streak of wood, neither particularly old nor new. Full bodied, muscular and well structured with dusty tannins and good acids. This is some serious wine, and I like it a lot; it's great now and it's only going to get better. Find this wine

A Jorge Ordonez Selection, Imported by Veritas Distributors, Inc., Warren, MI

I've just discovered the wines of Argentine producer Achaval Ferrer in the last month or so, thanks to some promotional material that I received from their local distributor, and as a retailer, the notes and scores caught my attention. We've reported on a number of the wines that come from the eastern slopes of the Andes, mostly with a positive twist, so when I found the two most reasonably priced bottlings in their book (it'll probably be awhile before I try the Altamira, Bella Vista and Mirador Malbecs, which range in price between $75 and $130 per) at our friendly neighborhood Costco, I took the plunge, and I have to admit, they're pretty impressive.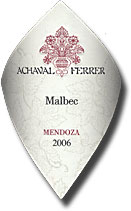 2006 Achaval Ferrer Malbec Mendoza, 13.5% alc., 19.99: Showing a dense, opaque, impenetrable color, with an initially stingy nose that only gives a little oak (3-5 year barrels) and black fruit; tight on the palate at first as well, but the depth and concentration of fruit is undeniable. This really opens nicely with extended air, offering more and more rich black currant and blackberry shaded with mocha, smoke, dark chocolate and a hint of earthy decaying vegetation. Even in its youth (and it will reward patience with five years or more of cellaring), with its substantial body, depth and structure, it already gives some indication of the plush texture that is sure to smooth out with age. I'll buy more of these at this price. Find this wine

2005 Achaval Ferrer Quimera Mendoza, 37% old vine Malbec, 28% Merlot, 25% Cabernet Sauvignon, and 10% Cabernet Franc, 13.5% alc., 38.99: Good dark color, with balsa-like woody overtones to the earthy black currant, mocha and dusty cocoa flavors and aromas. Impressive for its depth, concentration and structure, this is easily a 10-15 year wine, and like the regular Malbec noted directly above, it opens dramatically with air, becoming more than just approachable, as the balsa wood morphs into toasty oak. More than just approachable with some time in a decanter, but its best days are still well down the road for this one. Find this wine

Imported by TGIC Importers, Woodland Hills, CA

As reported not so long ago, I enjoy the organic wines of Sobon Estate, so naturally, I was most interested in trying a new batch, although I'm not sure why most of the 2005s passed us by. Must be a Michigan thing…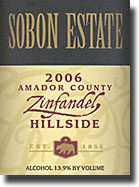 2006 Sobon Estate Zinfandel Hillside Amador County, 13.9% alc., $11.99: Ruby red color, fading at the rim; moderately expressive but pretty nose of raspberry and cherry with a pretty little kiss of sweet oak. Spicy flavors echo and expand on a medium to medium-full-bodied frame with nice concentration, good structure and some earthy underbrush that emerges with air to add a subtle shade of complexity. Not the biggest zin and that's just fine, because the rich fruit carries the day without clubbing you over the head with excess extraction, alcohol and/or oak. Well made, food friendly and downright enjoyable now and over the next few years. Find this wine

2006 Sobon Estate Zinfandel Old Vines Amador County, 14.5% alc., $12.99: Ruby red color, fading at the rim, with a deeper, darker, spicier black raspberry, zinberry nose than the '06 Sobon Hillside Zin; more of the same in the mouth, with undertones of briar and bramble. Medium full-bodied, with rich intensity and good structure (the zippy acidity being even more apparent than the medium tannins). A solid light-heavyweight Amador zin that has the stuffing to drink well for the next few years. Find this wine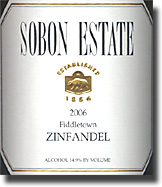 2006 Sobon Estate Zinfandel Fiddletown Amador County, 14.9 % alc., $17.99: Medium dark ruby red color, with a fragrant nose of spicy red and black raspberry with subtle undertones of briar/bramble; flavors echo, more or less, but the fruit isn't as bright in the mouth, and there's more briar and bramble. Kim adds impressions of "peppery and a little hot," and while there is some heat here, I don't find it to be intrusive. Good structure, with ample tannins and acids for at least a few years worth of further development and classic Amador Zinfandel character. Find this wine

2005 Sobon Estate Zinfandel Rocky Top Amador County, 14.5% alc., $16.99: Kim loves the screwcaps on all four of these Sobons, but couldn't finish a glass of this one, calling it "undrinkable." I could, but this, the darkest colored of this group of Sobon Zins, does show excessive oak that gives a vanilla and coconut overlay to the rich raspberry, black raspberry and root beer flavors and aromas. Medium full to full-bodied, with good structure and length, along with nice depth of fruit. Too bad they mucked up an otherwise nice wine with all that oak. Find this wine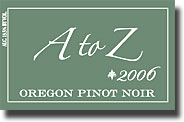 And finally, there's the latest batch of wines from the A to Z Wineworks out of Oregon, who describe their operation as "Aristocratic Wines at Democratic Prices;" we'll withhold comments or speculation, since this is not a politically oriented website, but readers ARE invited to add their own 2 ounces in our "Comments" function at the top of the page, and maybe we'll have some pithy feedback of our own. What did attract my attention to this operation is the broad ranging group of industry pros involved, including longtime Domaine Drouhin manager Bill Hatcher and wife Debra (Veritas, Eyrie and Domaine Drouhin), winemakers (and husband and wife) Sam Tannahill (Archery Summit) and Cheryl Francis (whom we met at our visit to Chehelam Vineyards a while back). Even San Antonio Spurs coach Gregg Popovich is involved in the project.

I like these wines. If they lack that certain something to take them to that next level, at their price point, who cares? They're QPR All Stars in my book.

2004 A to Z Night & Day Oregon Red Wine, 13.9% alc., $15.99: A blend of mainly Merlot, Cabernet Franc and Cabernet Sauvignon, with some Syrah, Dolcetto, Petit Verdot, Nebbiolo and Tempranillo added for complexity, this offers clean dark color and rich, ripe blueberry, cherry and raspberry flavors and aromas. Smooth, moderately structured and just south of going over the top, it is an unabashed drink-me-now kind of red, and a darned good one at that. Find this wine

2006 A to Z Oregon Pinot Gris, 13% alc., $12.99: Medium straw to pale gold in color, with fairly ripe pear, sweet pea and mineral flavors and aromas; medium full to full bodied, with a dense core of fruit and excellent acidity. A solid specimen that saw no oak and a good match for a variety of fish and fowl dishes. Find this wine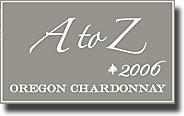 2006 A to Z Oregon Chardonnay, 13% alc., $14.99: Clean medium straw color, with pear and sweet pea on the nose; the pure flavors echo expressively, with a certain steely quality. Good weight and length, excellent cut and concentration, rich, ripe and balanced. A great example of how good an unoaked Chardonnay can be, and a fine match with baked chicken. Terrific QPR (quality-price-ratio)! Find this wine

2006 A to Z Oregon Riesling, 13% alc., $12.99: Pale to medium straw color; green and red apple flavors and aromas with subtle herb, earth and mineral underneath. There's no mistaking this for anything but Riesling, and yet it has a distinctive personality of its own. Medium to medium full bodied, with excellent acids and very good depth and concentration. A to Z's inaugural Riesling release is a winner; another glass, please! Find this wine

2006 A to Z Oregon Pinot Noir, 13.5% alc., $17.99: Ruby red color, almost light enough to read through; pleasant, straightforward Pinot Noir character, with slightly smoky black cherry and raspberry with a little earth underneath. Medium body, moderate tannins, good acids and nice length; nothing flashy here, just an honest, solid, serviceable PN at a fair price that keeps getting better and better with air, so much so that you might even give it 30-60 minutes in a decanter before serving. Find this wine

Reporting from Day-twah,
Bastardo

Other Recent Wine Explorations
More Red Wings & Red Rhônes 2007:
New Wines from Perrin & Fils and More
Champagne Tablas Swan Zin (a real mixed bag of goodies)
Six From Castello di Corbara

Back to the February 2008 Index
Back to the Underground Index

Back to the Top



© George Heritier February, 2008