When Alan Kerr aka Canadian Zinfan comes to town, as he did in mid-May, you can bet that some corks will be pulled, especially from bottles with Ridge on the label, and that's just what happened. Here's the lowdown on what we tasted.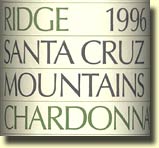 1996 Ridge Santa Cruz Mountains Chardonnay, $24.99, 14.5% alc.: Made with fruit from Monte Bello Ridge Vineyards, this pale gold is still going strong, with big sweet oak over spicy pineapple, pear, honey dew melon, banana and vanilla aromatics that follow through on the palate, where they gain a note of asparagus that gives a slight bitter edge that's much more appealing than it may sound. The wine is very rich and viscous on the palate, with good acidity and a long finish. It'd be fun to try another of these in a few years to see how it's coming along, but alas, this was our last.

2001 Ridge Paso Robles Zinfandel, $25, 14.5% alc.: This dark garnet really doesn't give much on the nose at first; Alan mentioned a "eucalyptus mint thing and some red currant," while Kim added an impression of "a little chocolate." Some Draper perfume starts to come out with extended swirlatude, along with some raspberry and black raspberry, and these all echo in the flavors, along with some peppery notes. It doesn't have the more usual "sunbaked" quality that you get from other vintages of this bottling, nor is there any of the "dustiness" that you sometimes find in these, but there IS a nice viscosity to it, with soft tannins and good acidity, and it's earthier than your average Paso Robles. It's somewhat short on the finish at this point, but otherwise seems pretty much ready to go. It keeps opening and opening with air, and more and more, it takes on that signature character that loudly proclaims it a Ridge Zinfandel. Pretty much confirms my first impression at this year's ZAP that it's somewhat subdued in comparison to the norm for these.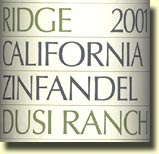 2001 Ridge Dusi Ranch Zinfandel ATP, $25, 15.2% alc.: It seemed only right to try this deep dark garnet along side the Paso Robles, and while it's more aromatic than the P.R., it's still not as effusive as I would have expected. Mr. Kerr observed that it's not as peppery as the P.R. either, but there're plenty of big black raspberry, blackberry, cherry cola flavors and aromas, and again, an earthy undertone to it all, though not quite as strong as in the previous selection. Lush and voluptuous, thick yet elegant, this throws big, viscous legs that crawl slowly down the glass. The tannins are soft and smooth, the acidity is good and so is the finish, and as it opens with air, Alan commented on some "big time chocolate" and "a boot polish thing" going on. This is a very nice Zinfandel that might show better with half an hour or so in a decanter before drinking.

2001 Ridge Lytton Springs, 76% Zinfandel, 17% Petite Sirah, 7% Carignane, $30, 14.7% alc.: This dark garnet was my favorite of the 2001 Ridges being poured at ZAP, and this bottle did nothing to change that opinion. It's deep, dark and not quite mysterious, but it IS aromatic as heck, with "Asian spice and lavender right off the bat," and "the most complex nose of the three," according to Kerr. More in the black than the red fruit spectrum, it's reminiscent of blackberry first and foremost, with black raspberry in support and hints of licorice lurking about. The bouquet really opens up with air, all classic Draper perfume, and in the mouth, it's lush, rich and delicious. As is so often the case, this shows the Petite Sirah and Carignane components quite noticeably, especially after the two 100% Zins from Paso Robles. A deep, extremely well made wine, this isn't a sweet, in-your-face Zinfandel, but rather a wine that should age gracefully into a lovely claret-like red ten or fifteen years down the road. That is if you can keep your hands off now, because it's SO nice already.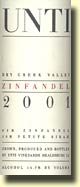 2001 Unti Dry Creek Valley Zinfandel, 90% Zinfandel, 10% Petite Sirah, $21, 14.7% alc.: Alan tried this at the winery his last time out Left, and was so impressed, he bought a case of the stuff, and we can certainly taste why. It features a much deeper darker character on the nose than the ruby garnet color might indicate, with lots of blackberry, chocolate and as it opens, tons of coffee; Kim added an impression of something like after-dinner mints. It's not as thick and viscous as I would have expected from the aromas, but it's still very lively on the palate, being not so very tannic, with good acidity and a nice long finish. Alan mentioned "a little bit of morel mushroom on the palate," and that was just one more element to what has to be one of the finest, more unique Zinfandel experiences we've had at Gang Central in quite a while. Right there with the Lytton Springs as the Wine of the Night on a night when we had nothing but delicious wines.

1993 Ridge Pagani Ranch Zinfandel, 82% Zinfandel, 12% Mataro, 4% Alicante, 2% Petite Sirah, 14.9% alc.: This ruby dark garnet was a gift from Alan Bree, and it's showing just a hint of rust to the color. Kerr immediately commented on "some aquarium and a psuedo-Amarone thing going on" with the aromatics, with "Draper red fruit in the background." He added impressions of "baked red fruit" flavors, and there were indeed plenty of those, with the Draper touch in abundance. These '93 Ridges were pretty right from the get-go, and over the years they've aged very graceful, because this is still a very pretty wine. Neither Kim not this taster could argue with Alan when he remarked," This is the perfect wine; everything is in balance. Maybe not the best wine of the night, but pure, quintessential 10-year old Zin." Thanks, Bree!!!


Alan opened a couple of French wines on night two of our Gang get together, and I followed suit with one of ours.

1999 La Chablisienne Chablis Les Vieilles Vignes, 12.5% alc.: There's "a lot of flinty mineral and pebbles" character to the nose of this medium straw Chardonnay, and some tasty apple and pear as well; on the palate, it has a certain creamy quality to it despite the zippy acidity, and finishes nicely, with a hint of detergent. This is delicious a Chablis, one that we'd be happy to sip again and again.

1990 Domaine de la Vieille Julienne Chateauneuf-du-Pape, 14% alc.: The ruby dark garnet color of this thirteen year old Chateauneuf is showing just a hint of brick, and the aromatics explode from the glass, with sweet cardamom, cola, plum and prune that owe their charm to fruit and terroir, rather than oak. The flavors echo loudly, with tannins mostly resolved and a long, lovely finish. This is yet one more example of why more and more, Chateauneuf-du-Pape makes some of our very favorite wines in the world.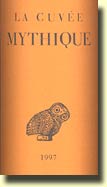 1997 Vignerons du Val d'Orbieu La Cuvée Mythique Vin De Pays D'OC, $14.99, 11-13% alc.: A clean dark garnet, with perhaps only the faintest hint of the rust that is sure to develop as it ages, this is for me, what red wine is all about. Not the greatest I've ever had, by any means, but taken on its own account, it's all that one has a right to ask for from a fine vin rouge. Aromatics of subtle earth, plum and black currant shaded with even subtler leather, underbrush and violets follow through and expand on the palate, opening and becoming more attractive with half an hour of air. The tannins, while fairly unobtrusive, are substantial enough to take this at least a few years further down the road, and the fruit should easily last as long; the acidity is perfectly in balance, and the finish good, if not overly long. The assemblage includes Syrah, Grenache, Mourvedre, Carignan and Cabernet Sauvignon, and while this sees some time in small oak casks, any "oaky" characteristics are well in the background, if present at all. In that sense, I like this wine as much as I do for what it's NOT, as well as what it is. That is, it's not in the "International style," it's not viscous or anywhere near being overripe, and it's not what one might think of as a "Parker-ized wine," although Bobby himself likes these, from what I gather. What it IS, is an honest red wine, very claret-like, and so reminiscent of those that enticed me to become a red wine lover back in the early '70s. This is quite likely a ten-year wine, but to tell the truth, it's drinking well right now, and I must confess to having opened another six or eight since trying it just a few months back.

Imported by Martin Sinkoff Wines, Inc., Dallas, TX


We tasted these two a few weeks before Alan visited, and being from Ridge, they deserve to be noted.

2001 Ridge Sonoma Station, 84% Zinfandel, 8% Petite Sirah, 8% Carignane; $20, 14.5% alc.: Kim's first comment after tasting this ruby dark garnet was, "too much oak!" I have to admit, it DOES show a good dose of sweet oak over spicy raspberry, blackberry and black cherry fruit, but as it opens, these mesh into a nice variation of that Draper perfume theme. There's good concentration here for an S.S., with a few years worth of tannins, zippy acidity and a decent finish, but perhaps it could use a little more oomph on the mid-palate. Or, maybe it'll put on some weight with a little bottle age, as that has been know to happen with these. Kim's criticism softened some as it opened and improved, and I think it's a pretty decent Sonoma Station, all things considered.

2000 Ridge Mazzoni Home Ranch ATP, 47% Zinfandel, 47% Carignane, 6% Petite Sirah, 14.6% alc.: This pretty dark garnet throws an earthy, dusty nose; the Draper perfume is present, if not as effusive as some, with blackberry, black raspberry and a little toasted bread. Flavors echo, but lose a little something on the mid-palate and finish, and some oak-y coconut and a little maple syrup emerge with air. There are a few years worth of tannins and good acidity to this, a decent 2000 that should be better in '05.

We tasted these a few days after Alan left, and they deserve to be noted as well: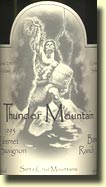 1995 Thunder Mountain Santa Cruz Mountains Cabernet Sauvignon Bates Ranch, $37.49, 12.5% alc.: We opened this in memory of our friend Milan Maximovich, who made the wine and has so recently passed away. We tasted it in its youth, and knew then that it was good for plenty of cellar time; there's still little or no rust to the dark garnet color, and an initial whiff of bell pepper on the nose blows off fairly quickly to reveal a pretty perfume of black currant, plum and black cherries, all with a pretty kiss of sweet oak. The flavors echo loudly with a big hit of earth, and notes of chocolate and olive emerge as it opens. It has a nice balance to it and is an especially fine match for grilled, smoked leg of lamb. Thank you, Milan; we miss you.

2000 Carlisle Russian River Valley Two Acres Red Wine,15% alc.: An old vine blend of Mourvèdre, Petite Sirah, Valdepenas and Alicante Bouschet, this is as dark as you might expect, both in the color and the flavor profile. Good doses of tar and earth obscure the toasty oak somewhat on the nose, but you sure get plenty of black fruit. Some sweet oak and a little cola come out in the flavors, where again, the fruit is deep and dark, and as it opens, you can detect what seems to be a fairly heavy toast on the oak. It opens some with extended air, allowing dense plum and blackberry to emerge and gain some definition, but not enough to mellow the considerable tannins much. The finish is fairly long, if somewhat stemmy. This needs at least five years, maybe twice that, but it has the stuffing to make the wait worthwhile. If you MUST open one now, give it a few hours in a decanter, which should make it considerably more approachable.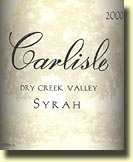 2000 Carlisle Dry Creek Valley Syrah, 15.9% alc.: Wow! What a fruit bomb, in the very best sense of the word! An inky, almost opaque purple garnet to look at, this wine explodes from the glass with beautiful sweet oak, plum and blackberry aromatics that follow through on the palate with a lush mouthfeel and some added fat black cherry. There're tannins here (along with good acidity), but they're overpowered by the immense fruit, and how often can you say that? Tannins become most apparent on the long finish, but even there, the grip loses out to the fruit. It's hard to find superlatives to describe this knockout of a wine!


And finally, I have to make mention of the best QPR red I've run into in the last several months, thanks to my buddies at Cloverleaf Fine Wine and Spirits.

2000 Château Prat-Majou Keim Minervois, $8.99, 13% alc.: According to Hand Picked Selections' Dan Kravitz, "Charles Keim decided about 10 years ago to sell all of his Vin de Pays and much of his Appellation Minervois in bulk and bottle only his best. The wine is mostly Syrah (70 - 100%, depending on vintage, 90% in 2000)." Everything about this wine is deep and dark, from the garnet hue to the flavors and aromas, with characteristics of blackberry and black currant, shaded with hints of earth and tart. Dense and intense, this has the tannic structure to go at least a few years down the road, the acidity to work well with food right now and the big fruit to sip all by its lonesome. It opens nicely in the glass and finishes just as well; excellent bang for the buck here, and one more reason why Minervois have become my go-to wines for $15 and under.

Imported by Hand Picked Selections, Warrenton, VA

Reporting from Day-twah,

geo t.


BACK TO THE INDEX

© George Heritier May 2003