Milan in Santa Cruz - A Remembrance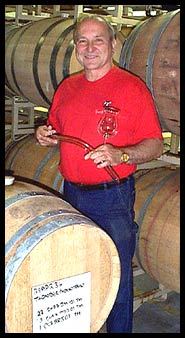 The California wine community lost not only a gifted winemaker, but also a fine gentleman and remarkable human being with the passing of Milan Maximovich on May 11th, 2003. Milan was a chemist, inventor, sportsman and political columnist among other things; he was also a home winemaker for close to 20 years who in 1995, decided to make his dream a reality by turning professional and founding the Thunder Mountain Winery. He was a staunch champion of the wines of the Santa Cruz Mountains appellation, and a longtime member of the Internet wine community, going back to the early days of alt.food.wine, and right on up through the likes of the Wine Spectator Forums, Brad Harrington's West Coast Wine Net and Robin Garr's Wine Lovers' Discussion Group. His insights were always informative and well received, and through the phenomenon known as the "offline," many of us got to know and become friends with him and his family, and we came to greatly enjoy his wines as well. (His plum wines and 1994 Dusi Ranch Zinfandel are the stuff of legend.)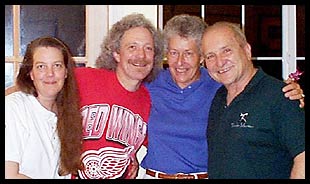 L: Kim Adams, George Heritier, Sue and Milan
During our second trip to California in 1999, we scheduled an appointment with Milan to visit his winemaking operation and taste some of his wares, in order to do a feature for the Gang site. There we met him for the first time, along with his wife Sue and daughter Kira. He was most gracious and hospitable, and Kim and I came away being very impressed with his wines and his philosophy for producing them. Later that day, I included a satirical characterization of him in a serialized "fever dream" that I was posting day-by-day on the major online wine forums, not knowing how he might react to it, but happily, he took it all in good humor, much to my relief. That's just the kind of fellow he was.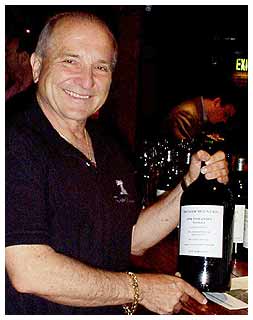 The following evening we enjoyed Milan and Sue's company once again at our Left Coast Correspondent Allan Bree's fabulous "Pagani Madness" offline, and while we had a wonderful time, I missed out on Milan's '94 Dusi Zin mentioned above, but not his delicious '97 Santa Rosa Plum Wine. The following year, Milan brought a double magnum (left) of the Dusi to Bree's "Jimsomare" offline, and I finally got to taste just why folks had been raving about it, but this time I missed out on the Plum Wine. Go figure.

(Incidentally, Josh du Lac couldn't have known just how prophetic his words would prove when later on during the Jimsomare affair, he commented to Kim, "You know, there's a lot of love in this room." As it happened, that was the night when Kira Maximovich and Jon "Big Dog" Cook first met, sparking a romance that led to their marriage earlier this year. Jon now serves as Kira's assistant winemaker at Thunder Mountain.)

Milan Maximovich impressed so many people who had the pleasure of making his acquaintance, including Allan Bree, who remembers fondly:

"I can't remember exactly when it was that I met Milan, but I'm pretty sure it was at the Ridge tasting room at the lower winery.

We were both frequent visitors, and I recall finally asking Connie Hillis (longtime Ridge employee): "Who is the fellow over there pouring from the little bottle?" She, of course, introduced us, and I marveled that this home winemaker didn't think twice about pouring his barrel samples right next to Monte Bello. He graciously and cheerfully offered me a pour. I was impressed - not only by the wines, but by the man.

I suppose my fondest memories would be a series of the following snapshots:

Eating Milan's exhaust as I chased his white Corvette up Monte Bello Road. I finally caught up with him and passed him (in the parking lot).

The first offline I ever attended - Milan made me feel right at home, and was so happy to share the 1976 Bates Ranch Cabernet he had brought from his cellar.

The last day of the second Bacchus tour, and Milan pouring his 1994 Dusi Ranch Zinfandel from a six liter gollybum. He was appropriately proud of that wine - it was my wine of the day, and outshone some stellar Zins.

And of course, the incredible 1997 Thunder Mountain Plum Wine - one of the most profound wines I have ever tasted. Other worldly.

There is more - much more. . .

Milan - my life is better for having known you."
Indeed, so many of our lives are better for having known Milan. His enthusiasm was contagious, and he was never too busy to take the time to answer wine-related questions, whether they came from real friends or virtual acquaintances and strangers. He was known for his generosity in opening his wines at both offlines and smaller, more intimate gatherings. Not only was he a true renaissance man, he was also a helluva nice guy.
With love, Milan.
George, Kim and Bree