To Burgess and Beyond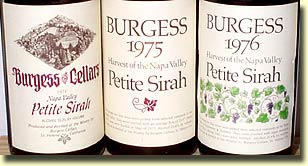 Someone once said, "People who collect Petite Sirah are dweebs with too much cellar space."
Now, whether they really feel that way or just said it to get a rise out of someone, I don't know. Actually, I can see both sides of the issue here. On the one hand, given enough time, Petite Sirah can develop into a wonderful red wine, as was borne out by a number of old Freemark Abbey and Ridge York Creek bottlings tasted recently. On the other hand, you'd better have the space in the cellar to dedicate some time to them, because they can be frightfully tannic and take many years to come around. These are NOT your average easy to drink when young wines, but that never stopped Kim and me.


Accolades for Gang of Pour site








Back in the late '70s, we cut our wine teeth on the Zinfandels and Petite Sirahs of Burgess Cellars. Burgess has always been best known for their Cabernet Sauvignon, but these "lesser" varietals were to us then what Mr. Ridge is now, stylish, luscious and seductive reds that we just couldn't keep our hands off of. I actually preferred the Petite Sirahs slightly to the Zins, for some reason. Maybe because there was just so much intense round fruit packed in every bottle, you could ignore the tannins and still get immense pleasure from them, and that's just what we did. We drank all we could buy, until we could buy no more. We were tannin pigs and proud of it!.
Then, one day while we were stocking up on the '77s, we were shocked to find out that it would be the last vintage of these, because the vines had all been ripped out and replaced with Cabernet Sauvignon. We had no idea at the time that those vines were extremely old, with ever dwindling yields, and had become infested with phylloxera. All we knew was that our favorite wine would be no more.
Flash forward 20-some years later, when we got an email from our Left Coast Correspondent Allan Bree, telling us about a mini-vertical ('74-'76) of Burgess Petite Sirah that was available from an online California retailer for what seemed the ridiculously low price of $18 per bottle. We purchased them immediately, and had them shipped to him for safekeeping, planning to drink them with him during our May visit. In the meantime, Allan took the liberty of setting up an appointment with founder and owner Tom Burgess himself, to open the wines and share them with him.
And so we drove up Deer Park Rd. on Howell Mountain to Burgess Cellars late in the morning on May 13th, armed with three venerable old wines and fixin's for a wine friendly lunch. The Gang was all there, Bree, Alan Kerr, Kim and this taster. From the small parking lot of the winery and tasting room, you can look up and see old vine Cabernet Sauvignon on the mountainside above. Or you can look down and see even more old vine Cab, along with a reservoir far below and Spring Mountain across the valley.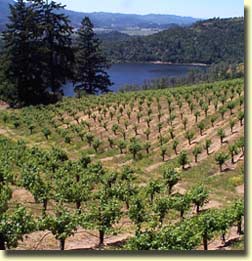 The view from Burgess Cellars.


We were met by Team Burgess, that being Tom Burgess himself, Catherine Eddy and Bill Sorenson, and we chatted briefly in the parking lot, while taking in the marvelous scenic view. Tom told us a bit of the Burgess history, having bought the old Souverain winery from a corporate entity in 1972, after that concern had purchased it from Souverain only a few years previous to that. Bill is the only winemaker Burgess has ever had, compounding his value back then, because as Tom put it, "Not only did he make beautiful wine, he was the best concrete finisher I could find!"
Because of a brisk wind that would likely impair the evaluation of the wines' bouquets, Tom led us into his lovely home's dining room, which interestingly (and perhaps a little ironically) was situated directly above where the Petite Sirah vines had once grown.
Lunch consisted of fresh baked bread, ham, smoked turkey, pastrami, two varieties of spicy mustard and port pepper pate. Tom suggested that we start with "a little Zinfandel to open up our eyes with."
1999 Burgess Cellars Napa Zinfandel, 14.2% alc.: Dark garnet, with dark plum, blackberry and chocolate flavors and aromas, and beautifully rich fruit. Tannins are in check, with good acidity, and little brambly hints come out with air. Made "from vines down toward the reservoir and over toward Pope Valley, two different locations; about the same amount of production from each area, but when you add in a little Petite Sirah from towards Pope Valley, you probably get a little more from the eastern side. With a little luck, you get maybe 15 tons from each area. It's about 10% Petite Sirah." – Tom Burgess
We then move on the stars of the afternoon, tasting from youngest to old.
June 2002