"But cry for yourselves, my gauchos, if you're not able to join Sally and me for an Argentine wine dinner at Casa Goldberg, 7 PM on Saturday, January 4.
Corks will fly on a number of bottles that accompanied us back from the Andes a couple of years ago, plus a few others acquired in the States. Malbec is likely to be the primary subject of the evening's deliberations, but we'll also sip some other varietals along the way. As for the food -- lots of beef. Lots of beef, and not very many vegetables. This IS Argentina we're talking about..."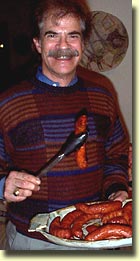 So read a most intriguing email we received from MoCool Emeritus Joel Goldberg (right, with a big plate of chorizo) sometime in mid-December, inviting us to what was sure to be an interesting and unusual fete at Casa Goldberg, to say the least.
We arrived at the home of our hosts at the appointed hour, where we were greeted by Joel and Sally, along with fellow guests Mike Brenton and Deborah Cole, and the Healds, Ray and Eleanor. We were soon thereafter joined by Rich and Karen Brown and Sally's parents, Joy and Louis Rome, and with that, we got right down to sampling the food and drink. We started off with some bubbles, along with a picada spread featuring sopressata (a thinly sliced Italian-styled salami), heart of palm, proscuito, Por Salut (not Port Salut!) cheese, olives, chips, and duck and Armagnac paté.
NV Fresco Brut, Bodegas Chandon, 47% Pinot Noir, 42% Chardonnay, 11% Semillon, 12.3% alc.: The ripe pear flavors of this pale golden bubbly from Chandon's Argentine operation seems to reflect the Semillon in the blend, and there's a nice touch of yeast and a hint of smoke to go along with it. There was plenty of spritz in the mouth, despite a so-so bead from the first bottle poured; a second bottle looked considerably livelier, but both were pleasant and refreshing.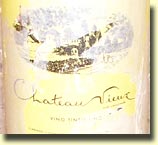 1968 Chateau Vieux, Bodegas Lopez, Mendoza: You couldn't make out much on the label of this rusty ruby garnet; a field blend of whatever, it spent several years in large wooden foudres before bottling. The wine was drinking better than anyone expected however, as the medium bodied, slightly oxidized black cherry and red currant flavors were fairly round, with good acidity and seemed less maderized than the somewhat sherried stewed prune nose. An intellectual experience and then some, this was likely made from overcropped, underripe, flood irrigated flatland fruit, according to Eleanor. Amazingly, it didn't suck.
1998 Syrah, Bodega Escorihuela Gascon, Mendoza: This slightly cloudy dark garnet, a Catena project, was an experimental wine made by one of the few women winemakers in Argentina, Estela Perinetti. It featured earthy, smoky plum on the nose, with some added black cherry and a note of something like rhubarb on the palate, and had a decent finish. Not too tannic and medium full bodied at best, this was an interesting, fairly tasty and not necessarily unsuccessful Syrah, and a good match with Sally's marvelous empanadas (beef tenderloin meat pies, shown below and right, with their creator)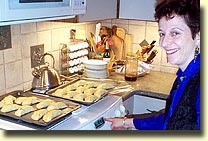 with a spicy Chimichurri dipping sauce. (Joel told us that Estela says that she has to be twice as good as the male Argentine winemakers just to get by, and that they hold a lot of resentment towards her.)
The Wines
NV Fresco, Bodegas Chandon
1968 Chateau Vieus, Bodegas Lopez, Mendoza
1998 Syrah, Bodega Escorihuela Gascon, Mendoza
Vina Tacama Seleccion Especial"
1998 Seña Cabernet Sauvignon, Mondavi / Chadwick, Aconcagua Valley, Chile
1996 Catena Alta, Tikal Vineyard (Rows 80 through 120), Bodega Esmerelda (Catena), Mendoza
1995 Catena Zapata, Estiba SF (San Felicien Gran Reserva), Bodega Esmerelda (Catena) Mendoza
2000 Catena, Lulunta Vineyard, Nicolas Catena, Mendoza
1997 Rutini, Bodegas La Rural (Catena), Lujan de Cuyo
1997 Catena Alta, Angelica Vineyard (Rows 30 through 160), Bodega Esmerelda (Catena), Mendoza
1999 Yacochuya, Michel Rolland, Cafayate
1999 Cobos, Marchiori Vineyard, Paul Hobbs, Mendoza

Rich Brown's mystery wine – Vina Tacama "Seleccion Especial," Peru: Joel described a lovely liqueur fruit on the nose of this dark garnet, and I got some plum and black cherry as well. The flavors echoed, but weren't quite as appealing, having plenty of tannins and good acidity, along with a decent finish. Rather Grenache-like, along the lines of a big southern Rhône, this was actually a blend of Petit Verdot and Tannat. Interesting stuff, and who would have thought you could say that about a Peruvian red?!
1998 Seña Red Table Wine Aconcagua Valley, 90% Cabernet Sauvignon, 5% Carmenère, 5% Merlot: Kim and I really enjoyed this dark garnet Mondavi – Eduardo Chadwick collaboration when we had it only a few weeks before, but some of the others present on this evening were less complimentary. Kim noted a "sweaty armpit, piney nose," while Eleanor described "a little bell pepper, even jalapeno," which she attributed to not quite ripe fruit; "even Eduardo admits it," she said. Joel said this had "very noticeable flaws," and the consensus was that it's a really good $20 wine (he got in on the same closeout that Mike Brenton turned us on to), but $65? No way. Nevertheless, Mike and this taster like the stuff better than most of the rest of the attendees, and we even took a second pour later in the evening to prove it.
At that point, we were summoned to the dinner table, where the real feast began in earnest, with a succulent succession of beef tenderloin kabobs á la Ray Heald, short ribs, skirt steak and Chorizo sausage, accompanied by Chimichurri sauce, cilantro rice, and a green salad with vinaigrette dressing. Oh yes, and there was also a steady succession of fine Argentine wines!
1996 Catena Alta Cabernet Sauvignon, Tikal Vineyard (Rows 80 through 120), Bodega Esmerelda (Catena), Mendoza: "So young," Joel exclaimed about this deep, dark garnet, and indeed the tannins were formidable, but so was the fruit, showing flavors and aromas of deep, rich cassis and plum, with just the right kiss of oak. Rich, round and delicious, the finish was somewhat indeterminate, because of both the aforementioned tannins and that hot, spicey Chimichurri sauce! This one's on the way up with plenty of years of improvement ahead of it.
1995 Catena Zapata Cabernet Sauvignon, Estiba SF (San Felicien Gran Reserva), Bodega Esmerelda (Catena) Mendoza: Fragrant, floral and of course, dark garnet in color, this was all about silky, refined elegance, with its lovely cassis and red currant character, and Kim mentioned a note of Pine-Sol®, of all things. There were still some good tannins present, but not as much as in the Catena Alta, making for one promising Cabernet that's more than approachable already.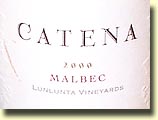 2000 Catena Malbec, Lunlunta Vineyard, Nicolas Catena, Mendoza (courtesy of the Browns): This dark garnet showed a big kiss of oak, but not too big, making for flavors and aromas reminiscent of chocolate, cassis, plum and some nutmeg, according to Kim. It wasn't too tannic, and more chocolate emerged with air; it paired well with the skirt steak. Very nice.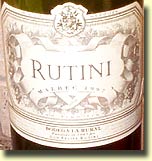 1997 Rutini Malbec, Bodega La Rural (Catena), Lujan de Cuyo: Eleanor commented on a nice note of anise in this one; otherwise, it had a harder edged cassis and blackcurrant personality than the Catena Lunlunta, not being as rich and round. It's good with food though, and like its predecessor, worked well with the skirt steak.
1997 Catena Alta Malbec, Angelica Vineyard (Rows 30 through 160), Bodega Esmerelda (Catena), Mendoza (courtesy of the Healds): A slightly cloudy dark garnet, with a deeper, darker character than the last two, this was like chocolate, red currant and cassis on the nose and the palate. Not to tannic, with zippy acidity and a nice finish, it was also skirt steak friendly; my final written comment was simply, "Yum!"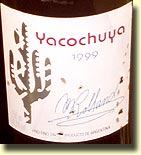 1999 Yacochuya Malbec, Michel Rolland, Cafayate: This inky garnet showed more restrained oak than the Angelica, with cassis and black currant aromatics that carried over into the fairly tannic flavors; a bite of the skirt steak brought out some oak and chocolate, and took this up a notch. Louis opined that it was "just on the verge of being corked," and there WAS just a hint of that wet cardboard thingie going on, so Joel opened another, and it seemed even more so. This one needs time, but it'll be worth it, if yours aren't corked…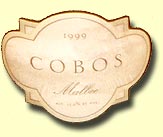 1999 Cobos Malbec, Marchiori Vineyard, Paul Hobbs, Mendoza: This one showed the most oak of the lot, with a rather odd initial impression of big milk chocolate and wet dog fur. As it opened, plenty of red currant and black cherry came to the fore, along with more chocolate and some vanilla. It wasn't fat, but rather big, rich and smooth, and although the tannins needed some time yet, this was already drinking well.
Postre (dessert) consisted of assorted alfajores (chocolate covered cookies) and Dulce de Leche ice cream, topped by warm Dulce de Leche and Grand Marnier sauce, along with yerba mata, a slightly smoky, seriously tannic tea, and even I had to partake, contrary to my usual reticence toward such after dinner sweets, and I was not unhappy that I did.
This was a wonderful opportunity to experience some of the food and wines of Argentina, a region that Kim and this taster have precious little experience with, and for that we are most grateful. The food was excellent and the wines were all interesting at least, with the Cabernets and Malbecs being downright delicious. (The wine industry is one of the very few profitable segments of an otherwise bankrupt Argentine economy, and it would appear to be so for good reason.) While those showed noticeable levels of oak, all seemed to be in judicious proportion, with the possible exception of the Cobos Malbec, and even that was well received.
It was a wonderful evening, and our thanks go not only to Joel and Sally for the marvelous hospitality and generosity, but to all the attendees for their contributions, and their friendship as well.

January 2003