THE EVENING WRAPS UP . . .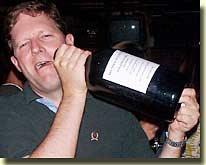 Jeff Sullivan likes Milan's Dusi Ranch Zin too!
I finally got a taste of Milan Maximovich's 1994 Thunder Mountain Dusi Ranch Zinfandel that was such a hit at Pagani Madness last summer. (It got sucked down while hank and I were jamming.) A slightly cloudy ruby dark garnet, it shows deep raspberry/black raspberry/black cherry nose that more than echoes in the flavors and is a very impressive effort from a winemaker who had yet to turn pro when he made this. His plum wine was also a MAJOR hit on this evening, but it "evaporated" before I finished tasting the Jimsomare.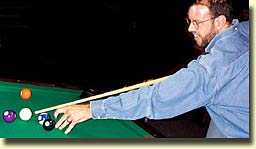 Scott Shewbridge calculating his angles on one of many pool tables provided at Redbird Brewing Co.
The Director thought that a good dessert wine was in order for this occasion, so we brought along two bottles of 1983 Chateau Climens Sauternes-Barsac. I didn't get a sip from the first one that was opened, but was told that it may have been a little off. Not so with the second, though; this medium gold was an absolute beauty, starting out with toasty vanilla/apricot and opening with air, as its temperature came up. Scott Shewbridge let loose with a stream of impressions that included "honey wax/raisin/orange petal/toast" and "finishes with a bit of bitterness." He then went on to note a "resin-y/pitch-y/pine-y" quality, all without the aid of his trusty slide rule.
At one point, well into the evening, The Director was sitting and chatting with Josh du Lac, and he stopped, surveyed the scene for a moment and commented, "You know, there's a lot of love in this room."
I can't think of a better way to describe the spirit of the evening; Bree really outdid himself with this one. Thank you again, my friend!
And thanks also to all who attended:
Paul & Barrie Pietranico, Jeff & Marylynne Cuppett, Dianne & Jim Mather, Rob & Ilene Adler, Milan, Sue, Kira & Scott, John & Deb Kiger, Bob Peterson & the vivacious Kim, Dave Wright & Pam Mallett, Julie & Manrique, Sean and Davie, Dave Janelle, 9-ball, Barbara Jackson, Scott Shewbridge, Josh du Lac, Vince Fritzsche, Tom Leaf, Bruce L., Dea Freid, Jon (Bigdog) Cook, Larry Stein, Russell Briggs, SF Joe, Erik Wiberg, Frank Joyce, Morgan Ong, Sharyn Goldie, and Jeff Sullivan.
ROAD TO JIMSOMARE FRONT PAGE | THE JIMSOMARE ZINFANDELS

THE JIMSOMARE CABERNETS | TOP OF PAGE
---