Alan's September 4th and 18th, 2004 Vintages Release Tasting Notes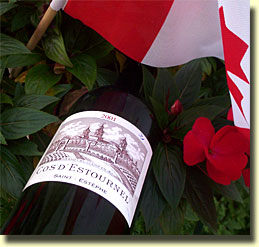 Having missed the last tasting, thanks to a quick jaunt to Vancouver with my mum, I
was eager to see what the board has to offer this month. The good news is September's release seems pretty spectacular, at least judging from the wines I tried. I would like, operative word being like, to buy every wine from Bordeaux that I sampled. The 2001 Cos d'Estournol, in particular, is just amazing.

I have in the past made mention of the food pairing suggestions that accompany wines in the catalogue. I don't always agree with them, but more often than not, these suggestions are most helpful to the consumer. However, there is one this month that is bizarre. It accompanies the Amity Vineyards 2002 Pinot Blanc (pg 48), which I unfortunately did not get to taste. The catalogue descriptor on the wine reads as follows:

Amity's Pinot Blanc is LIVE certified and salmon safe. Although LIVE (Low Input Viticulture and Enology) is not officially an organic designation, it is a voluntary organization that promotes sustainable agriculture and recognizes wineries and vineyards for their efforts to produce wines in an environmentally aware manner. Salmon safe means that Amity Vineyards does what ever it can to protect salmon habitats from chemicals and problems caused by soil erosion.

Food match: grilled salmon

Ok, onto the vino.

Wines to be released on September 4th


268391 Pinot Noir 2003, Niagara Peninsula, Henry of Pelham, $19.95.
A wine with a soft brick red/rose colour and a nose that reveals pretty floral notes, some strawberry and a touch of vanilla. Although it is the wine of the month, I might put this down for a year or so just to mellow out the discernable, but non – offensive tannin.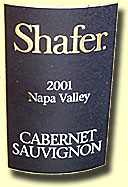 346270 Cabernet Sauvignon 2001, Napa Valley, Shafer Vineyards, $79.95.
This dynamic nose of coffee, butterscotch, blackcurrant and black cherry shows a different persona on the palate. Here it comes across as elegant, rich, silky and complex. It is showing lovely flavours of dark raspberry, cassis and chocolate. Its texture is creamy, and the kiss of oak in the finish is not over blown. I don't think this is meant for the long haul, it is pretty damn good right now.

716431 Cabernet Sauvignon Reserve 2000, Sonoma County, Geyser Peak, $55.95.
July's catalogue advertised this same wine priced at $22.95, only when it arrived on the shelves, it was in fact the "California" AVA bottling. This time around it is the real
McCoy, of course at the more realistic price. Nonetheless, it is a nice wine, very dark and purple, and showing quite well. It is touch herbaceous on the nose, yet there is plenty of plum, red currant and blackberry that dominate. The palate is fruit focused, but well balanced with refreshing acidity.

599902 Old Vines Zinfandel 2000, Sonoma Valley, Sebastini, $23.95.
This shows a nicely ripened nose showing no sign of over maturity. I have found some
Sebastini wines to be over the top. It has lots of blackberry, sweet briar, black
raspberry and a trace of Thai basil. The finish is quite toasty and maybe too sweet, at
least for my taste. However, good Zin at this price is hard to find and I am looking
forward to trying a bottle of this again.

717355 Pinot Noir 2001, Seven Springs Vineyard, Williamette Valley, St Innocent, $25.95.
The initial nose of violet and plum soon develops into dark fruit. The palate is full of
rich cherry, a touch of earthy beet, potato skin and vibrant acidity. The finish is spicy,
but also a little hot.

947879 Cabernet/Merlot 2000, Margaret River, Vasse Felix, $24.95.
This is a little disjointed right now. It has some odd stemmy notes along with sweet
glycerin, bold currant and cherry aromas. The mid – palate is tight and globby. Although it finishes with a silky dusty note, it is quite tannic.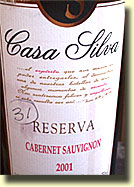 619734 Reserva Cabernet Sauvignon 2001, Colghagua Valley, Vina Casa Silva, $14.95.
This generously priced wine delivers an atypical, but robust nose of floral tones, minty mouthwash, elastoplast and straw. The palate has lovely layers of currant, creamy blueberry and eucalyptus. It is full bodied right through to the finish. At this price, try it.

963058 Chateau Cos D'Estournel 2001, St Estephe, $139.95.
If I were rich, I would have so much of this in my cellar. However, reality sucks and I won't. Then again, maybe this is the rainy day I have been saving my pennies for. I am really surprised at how much depth this wine is showing already. It exudes aromas of mocha, blackberry, clove, dried thyme, liquorish, cardamom seed and toasty vanilla. Although I am sure it will close down shortly, it is so enjoyable in its current state.

928382 Chateau Lynch Moussas 1996, Pauillac, $79.95.
If it were not for the inflated asking price, I would buy as much of this as I could. Sadly
this sells for as low as $24.99 US, south of the border. It really is too bad because I
really love it. It tosses out from the glass that alluring Bordeaux nose of compost, peat,
and burnt underbrush combined with a bowl of freshly gathered summer fruit. I think this wine is just starting to hit its peak. The fruit controls the palate and the dusty finish
shows chocolate and smoke. It will also hold and may get even better for a few more years to come.

701359 Crozes Hermitage 2001, Les Launes, Delas Freres, $22.95.
A wine that does little to excite me. Although it has pleasant notes of chocolate and dark fruit, the palate is surprisingly sweet and lacks oomph.

998708 Saint Joseph 2000, Duc De Caderousse, Ogier and Fils, $29.95.
This nose shows complex aromas of coal dust, burnt wood, plum, liquorish root and black pepper, but the palate really does not do the nose any justice. It has pleasant fruit, a touch of funk, hints of spice, but it really disappoints overall due to its lighter
character and finish.


Wines to be released on September 18th

Y693887 Cabernet 2001, Hundred Tree Hill, Redbank Winery, Victoria, Australia, $19.95.
Here is an upfront wine that offers aromas of mint leaf, pinecone, blackberry and currant. It is a bit low on acid, rendering it a trifle flabby, but the rich core of blackcurrant fruit is full of flavour. The tannins are gentle enough to make this a pleasant sipper.

981183 The Dead Arm Shiraz 2002, McClaren Vale, South Australia, D'Arenburg, $49.95.
As much as I often "whine " about the high prices we have to pay compared to those found in the US, this is certainly a pleasant exception to the rule. I have spotted this wine wearing a price tag at almost double the asking price, given exchange rates and taxes, in America. The 2002 vintage is as good a wine, if not better, than any previous Dead Arm I have tasted. Its nose radiates rich black fruit, mint, eucalyptus, violet and aniseed. The mid – palate is full of strawberry compote, red currant, and black fruit, all beautifully balanced. Although it is delicious right now, I would expect this to improve with age for quite some time.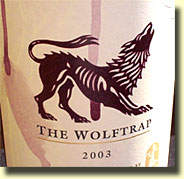 626333 The Wolftrap 2003, Western Cape, South Africa, Boekenhoutskloof, $13.95.
Here is a genuine quaffer with a nose that abounds with heaps of red berry, blueberry and a trace of lavender. A secondary layer of nutmeg and Vietnamese iced coffee aromas adds another level of interest. It is simple and clean on the palate with a friendly finish.

989517 Chateau Canon La Gaffeliere 2001, St Emilion Grand Cru, $119.95.
This is a tightly wound wine that takes forever to release its profile of liquorish,
roasted venison, coffee and cassis. This is not going to drink for quite some time. The
chalky chocolate tannin does become quite astringent in its lengthy finish. Here is a
potentially great bottle of wine. Judging from what I tasted today, the 2001 is a vintage
overshadowed by its predecessor.

733410 Chateau Clarke 2000, Cru Bourgeois, Bordeaux, $43.95.
A wine that shows a leathery, tar and leafy structure with some stewed plum, sage and currant. It finishes well with a creamy texture that emphasizes the fruit. It is nice, but
the board has released better deals from this vintage.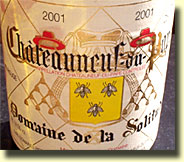 984419 Chateauneuf de Pape 2001, Domaine la Solitude, $36.95.
Here is another wine that is soon to go into hibernation. There is lots of pleasant red berry fruit with a touch of boot polish, leather, chocolate and vanilla bean. It has great
balance, a solid structure, but the mid – palate is closed. Sleep on this one.

989061 Chateauneuf de Pape 2001, Domaine de Grand Veneur, Les Origins, Alain Jaume, $29.95.
This has a richer and more intense nose than the Domaine la Solitude and yet it is priced way lower. I am looking for a catch, but I can't find it. It is full of dark fruit, pine
needles, blackberry, liquorish candy and cherry brandy. It is astringent, fleshy and needs to find a cozy spot in the cellar to rest for a decade.

927335 Barbaresco 1999, Bricco Speessa, Fratelli Grasso, $64.95.
There is plenty of sweet red currant and raspberry fruit, clean acidity and a trace of
stewed plum, but little else.

606194 Le Serre Nuove Dell'Ornellaia, Bolgherei, Estate bottled, Ornellia, $54.95.
Although I think this is kinda pricey for a "secondo" vino, it is quite a stunning bottle
of wine. Its dark dense colour is the first clue to the depth of intensity it carries. The
layers of mineral, pinecone, black fruit and thyme second the motion. It has excellent
balance, but the waves of tannin on the finish suggest, like its big brother "Ornellaia"
says, leave me alone for a long time.

995910 Amarone Della Valpolicella Classico 1999, F. Illi, $38.95.
A pleasing initial aroma of sweet dried fruit leads to a layer of red currant, cedar, black olive and cocoa. It has a nice silky chocolaty texture on the tongue and a slight note of
tannin on the finish.

Cheers,
CZ

Alan Kerr's Home Page and Main Index