Part 1 | Part 2
I recently made a spur of the moment decision to hit the west coast and see what all the hype about Vancouver is about, try a restaurant or two, and if time permitted, tour and sample the wares of British Columbia's illustrious wine industry.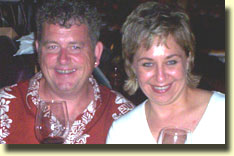 Michelle McQueen (at right, with Alan) is one of several Vancouverites who posts regularly on the wine boards. Not only is she an eminent ambassador of west coast wines, Mishy has a passion for wines from the old world as well as the new. She and I have been exchanging emails and the odd bottle of wine for a couple of years now, and I was really excited to hook up with her. When she offered to organize an offline tasting, it was an offer I could not refuse.
We met for the first time earlier in the week, and took the opportunity to enjoy a fabulous curry at Vij's restaurant in downtown Vancouver. I had recently watched an episode of Christine Cushing Live on the Food TV Network, where Vij's Chef/Owner, Vikram Vij, demonstrated a sampling of his artful and innovative Punjabi cuisine. All I can say is if you love curry as much as I do, a visit to his flavour emporium is a must.
I would define this style of curry as "nouveau", being a far cry from the violently heat driven Vindaloo variations I remember, gulping down, with pitchers of sweet "Spanish Sauternes", in England's curry capital city, Birmingham. Johnny Cash's "burning ring of fire" in those days had true meaning!
Instead, Vikram serves Indian food with attitude. The Bengali Mutton Kebabs are irresistible as are the lamb Popsicles, sitting in a tasty fenugreek curry cream sauce. Indian restaurants generally do not serve there lamb medium rare, but here they here do!
The food flows from the immaculately spotless open kitchen at a respectable pace. The talented, all female kitchen staff perform their tasks in a practiced and perfected manner. However, be prepared to line up if you are not in for dinner before six. It is a popular spot, where locals and tourists alike form a line up seven days a week.
Vij's is located at 1480 W. 11th Ave, Vancouver, 604-736-6664. Click here for more information, a few recipes, menus and then some.
Alan Kerr's Home Page and Main Index