Alan's October 2001 Vintages Release Tasting Notes
Release date October 6, 2001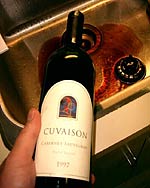 1997 Cuvaison Cabernet is by no means a stellar bottle of wine and in fact at $48.75 I believe it is over priced. It is fairly full bodied; brimming with fruit and holds a decent belt of tannin but for my tastes it is a little too heavy on the oak. It did however manage to send a chill down my spine. Twenty years ago I shared a bottle of this with my neighbor, a fellow wine geek wanna be, named George Obminski. The 77 rendition was one of the first Vintages (or "The Rare Wine Store" as it was known in those days) selections that we ever tried. I recall that as we carefully eased out the cork, the anticipation of what lay ahead was tremendous. Never before had either one of us seen tartaric acid like what was adhered to the bottom of the cork. I can't remember who won the coin toss to decant it but looking back I do remember we both enjoyed it immensely. Was it a truly great wine? Maybe not. George and I have consumed many wines since that memorable occasion, some amazing ones and some that were not. More importantly the whole enjoyment of wine has secured and bound our friendship for this long and I know it will continue to do just that for many years to come.
Here are a few random samplings from the October catalogue including a couple from Beringer's release scheduled for the 20th.
430991 CHARDONNAY 1998 $ 19.95, St. David's Bench, Niagara Peninsula, Château des Charmes, Ontario
Deep yellow green colour, toasty coconut oak and ripe pair aromas dominate the nose, decent acidity with a big spicy finish of over ripe honeydew melon and peach. The only negative point to this wine was a slight bitter tone, which I hope will soften given a little time. Otherwise it was lovely.
430546 SAUVIGNON BLANC 2000 $ 12.95 Niagara Peninsula, Henry of Pelham, Ontario
I always enjoy Pelham's value focused Sauv Blanc's and the 2000 vintage is no exception. This viscous wine offers grassy and gooseberry notes with candied grapefruit zest. A core of lovely racy acid flows so well with the underlying fruit. It is a deal at this price and wines like this do pair so well with so many different styles of food.
959098 CHARDONNAY 1999 $ 23.85, California, De Loach Vineyards
I initially had a problem detecting anything other than fuzzy peach skins from this wine. It just seemed really closed when I first poured it. Fortunately there was plenty to rave about once I tasted it. Heaps of banana skin, canned pineapple, apricots and an enticing kiss of lime zest. I found the level of oak was barely noticeable and what was present was in prefect harmony with the other components.
971754 SAUVIGNON BLANC 2000 $ 19.85, Sonoma County, Kenwood Vineyards
This was interesting, displaying its aromas of Asian green tea, Thai basil and citrus peel. A solid core of acid, a touch of gooseberry and toasted almond flavours lingered on the finish.
942466 CHARDONNAY 1999 $ 16.75, Madfish', Margaret River, Western Australia, Howard Park Wines
Light gold/green colour, aromas of citrus and toffee and hints of freshly baked peach cobbler. Nice and creamy without being overblown. Clean and refreshing in the finish.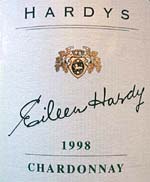 500991 CHARDONNAY 1998 $ 27.95, 'Eileen Hardy', South Australia, Thomas Hardy & Sons
At the outset I thought there was little to get excited about this wine. Then beneath the dominant toasty oak aroma came layer after layer of rich apple, peach and Anjou pear. The vanilla tones turned the citrus flavours into that of lemon meringue pie. It was chewy well balanced and simply delicious.
937565 MARSANNE 2000 $ 13.40, Thomas Mitchell, South Eastern Australia, Michelton Wines
Easily one of thee top QPR wines of the release. There is not a lot of this coming into the system so shop early if you want some. Rich yellow/gold colour, little acid in the slightly oaky nose. Lots of lovely cooked apple, fig, hints of lychee fruit, honey, a touch of orange preserve and faint hints of liquorish. A little fat in the mouth but overall a pleasing bottle of wine, especially if you are bored with drinking the endless supply of none descript Chardonnay that one can so easily find in today's market.
704460 RIESLING 2000 $ 13.35, Private Bin', Marlborough, South Island, Villa Maria Estate, NZ.
Although this Riesling is listed in the catalogue as being extra dry, there is an inner core of sweetness that is really hard to ignore. Over all it is a pleasant wine that offers clean simple apple and lemon flavours with a candyfloss finish.
966820 SAUVIGNON BLANC 2000 $ 16.95, Marlborough, South Island, Forrest Estate Wines
Wow, a winner for sure. Loads of grassy, mint, basil leaves and honey flavours. There was a petrol element in both the nose and the finish too. It was powerful, zesty and full of zip. Lovers of full-blown Sauv Blanc will be in awe. A decent price for a great bottle of wine.
328559 CHARDONNAY 1999 $ 12.80, 'Cathedral Cellars', Coastal Region WO
(KWV), South Africa
How a wine can be barrel fermented in new French oak and sell for this price beats me. I was not bowled over from what I detected in the nose. I found odd aromas of tar, walnut oil and slate. The medium body exhibited some nice fruit with traces of marmalade and spicy clove. Wine access really touted this wine and at this price I will buy a bottle to try again.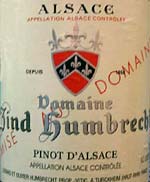 932426 PINOT D'ALSACE 1999 $ 25.95, Domaine Zind-Humbrecht
One of the best Pinot Bancs I have ever tasted. Stunning depth and concentration. Lots of lovely citrus, spice and lamp oil aromas oozed out from the glass. At first I thought it was fat and slightly disjointed but this wonderful tingle of clean acidity carries right through to the ultra long finish of cider apples and tangerine. Yum!
714949 MONTAGNY 1ER CRU 1999 $ 25.40, 'La Grande Roche', Maison Louis Latour
This had some strange funk when first poured. However it was clean, simple and showed hints of cooked apples, pear and mineral. Nothing really special here though.
948182 MUSCADET DE SÈVRE & MAINE 2000 $ 11.90, 'La Griffe de Bernard Chéreau' Sur Lie, Chéreau-Carré
Yeasty, very crisp, good citrus flavours, a dozen or so iced Malpeques would augment its high acid flavours.
737874 MERITAGE 1999 $ 29.95, Niagara Peninsula, Daniel Lenko
Tasted this wine with the Gang at the winery in the spring. It still shows wonderful plum, chocolate and blackberry flavours. The nose is really intriguing offering spice, lavender, black olives and dark couvature chocolate.
346262 MERLOT 1998 $ 59.95, Napa Valley, Shafer
A plush polished wine with a silky texture and firm tannins. Super concentration of blackberry fruit, ripe blueberry, fleshy plum and toasty oak ran through to the finish. It's just that $60.00 price tag that killed it for me.
700575 MC2 1999 $ 14.80, Coonawarra, South Australia, Rymill
Good blackcurrant fruit blows through the dusty tannic nose. Nice chocolaty mouth feel with some red berry flavours too. Did fall short on the finish. Might be nicer in a decanter for a few hours.
977231 SHIRAZ 1999 $ 16.95, Omrah, Western Australia/McLaren Vale, Plantagenet
Hints of toffee and liquorish on the nose, nice blackcurrant, touch of pepper and menthol aromas. The palate had a lovely refreshing streak of acidity. I picked up a weedy tobacco element on the finish that I didn't care for.
314146 SHIRAZ 1998 $ 15.90, E&C of Seaview McLaren Vale, South Australia, Edwards & Chaffey
This had a murky colour and nose full of plum and funk. I found a layer of sweetness then another of dried out fruit. A little disjointed and not a style for me!
939827 MERLOT 1998 $ 14.65, Marques de Casa Concha, Rapel Valley, Viña Concha y Toro
I liked this but it is not what I would expect a Merlot to taste like. The colour was really dark garnet. Aromas of liquorish root, green tea, tobacco, leather and blueberries were prominent on the nose. The mid palate had a solid core of black fruit, lively acidity and black liquorish candy. Nice wine and worth buying. Drinking well now too as there was little evidence of real any tannin present.
516393 POSTUP POTOMJE 1999 $ 12.95, Dingac-Postup Region AC, Vinarija Dingac
I was looking forward to trying this, being a possible relative of Zin and all, but sadly it was horribly corked.
971531 CHÂTEAU LA BARONNE 1999 $ 13.85, Montagne d'Alaric, Non filter, Corbières AC, Suzette Lignères
Wow, there is a lot going on here for fourteen bucks. The nose is full of tar, vegetation, mushrooms and forest floor. Where's the fruit? It was in there but really concealed for now. After removing the dense layer of tannin that had adhered to my teeth, I found flavours of coffee, damson dry plums and pepper. Even the biting acidity couldn't tame the tannic structure that over powered everything this wine had to offer. I am going to buy some just to see what happens!
951665 MERLOT 1999 $ 11.75, Domaine des Aspes, Vin de Pays d'Oc, S.A.R.L. Vignobles Roger
All I have to say about this wine is if you are value conscious and only intent on purchasing one wine from this release, this is the one you want. From start to finish it had a sweet creamy blackberry jam quality that was kept in line by crisp tannins that bound everything together quite nicely in the surprisingly long finish.
957282 CHÂTEAU DE L'ENGARRAN 1999 $ 14.35, St. Georges d'Orques, Coteaux du Languedoc AC, S.C.E.A. de l'Engarran
The tasting notes in the catalogue are spot on, reading "Aromas of garrigue, red cherry, elderberry, smoky bacon and plum. Dry, ripe, medium-bodied and mellow. I have to agree with the statement except to add I did find it finished rather quickly."
733964 CHÂTEAUNEUF-DU-PAPE 1999 $ 27.70, Ancien Domaine des Pontifes, A. Granier, Prop-Récolt
A bargain for lovers of Châteauneuf-du-Pape. It was medium bodied, somewhat sweet, gave faint hints of terrior, very fruit forward and slightly spicy. Excellent balance and although considerably tannic, it is drinking well already.
986059 CAIRANNE 1998 $ 14.95, Réserve des Voconces, Côte-du-Rhône Villages, Cave de Cairanne
Lots of blueberry and sweet blackberry, very pretty, well balanced and much fuller than the light colour actually suggests. Drinking nicely but I do not believe this is one for the cellar.
303529 CHÂTEAU ST-DIDIER-PARNAC 1999 $ 12.95, Cahors, S.C.E.A. Château St-Didier-Parnac
Inky and opaque, a little vegetation, chunky plum, cherry cola and a touch cedar made up the nose. It was a tannic wine but all the crisp fruit flavours shined through into the finish. This could be one of those wines you pull out in five years and go "wow I don't believe I only paid thirteen bucks for this."
989814 DOMAINE BERTHOUMIEU 1998 $ 14.40, Cuvée Tradition', Madiran AC, EARL Didier Barré, Vigneron
An inky dark densely coloured wine! Once I had peeled the coating of tannin from my teeth I found it to be fruit driven, mostly plum with some damp forest floor elements as well. There was an odd metallic element to it that seemed out of place to me. It was a big solid wine and maybe in time it too will be a winner.
980946 BARBARESCO 1996 $ 34.65, Antiche Cantine dei Marchesi di Barolo
Quite a blast of stewed fruit compote that homed in on raspberry, rhubarb and red berries. There were hints of spice, anise and tobacco aromas that harmonized nicely in the mid palate. Lovely creamy oak finish that captured a little chocolate and red berry coulis.
705699 DOLCETTO DI DOGLIANI 1999 $ 12.80, Torralta, Uve Provenienti da Agricoltura Biologica. Cantine Bricco Rosso
This reminded me of sticking my nose into a bag of "Liquorish Allsorts" candy and inhaling deeply. Also lots of sweet plum, spice and pepper. I like this wine a lot because of the clean balance of fruit and acid it displayed on the finish.
378257 BRUNELLO DI MONTALCINO 1995 $ 49.65, Castello Banfi
An odd blend of chocolate, compost and faint fecal aromas, nice blend of cassis, plum and sweet cinnamon basil in the mid palate, ultra long smooth finish. Great wine!
933317 CHIANTI CLASSICO 1998 $ 23.55 Fontod
An agreeable blend of red and black fruits with hints of tar, cinnamon and black olive.
985507 AMARONE 1997 $ 38.95 Della Valpolicella Classico, Villa Girardi
Lovely sweet black cherry, with hints of maraschino, marzipan and sweet chocolate. Over all I found this wine a touch on sweet side for my palate. Other people at the tasting were impressed.
950519 CABERNET SAUVIGNON 1993 $ 28.95, Reserva, Penedès Jean Leon
Really great Cabernet at this price can be a rarity but this is worth checking out. It is dense and chewy, full of cherry, currant, plum and earthy flavours. A healthy whack of oak but nothing that over powered; just enough to leave a creamy toffee aftertaste in the mouth
968164 'MARQUÉS DE VARGAS' 1997 $ 28.50, Rioja, Bodegas y Viñedos del Marqués de Vargas, S.A.
This wine gave out a myriad of pleasing flavours. It was dense, full bodied and quite mind blowing. Aromas of coffee, plum, blueberry, inky cassis and chocolate. Wines like this are really worth seeking out.
A few samplings from the Beringer/Blass release.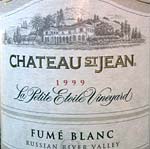 977512 FUMÉ BLANC 1999 $ 25.50, La Petite Etoile Vineyard, Russian River Valley, Chateau St. Jean
I know this may not be true varietal style but I happen to like this full fat, multi dimensional style of sauvignon Blanc. It was full of green honeydew melon, fig and citrus both on the nose and palate.
552893 VIOGNIER 1998 $ 28.50, Napa Valley, Beringer
California Viognier is unique. This was laden with rich aromas and flavours of spice, honey, stone fruit, orange zest and honeysuckle. Interesting indeed
939066 SYRAH 1998 $ 27.00, Paso Robles, California, Meridian
Rich voluptuous and racy! Full bodied and balanced Syrah like this is a treat. Black cherries plum, vanilla, smoked meat and thyme all combined nicely right through the lengthy finish.
Cheers
CZ
Alan Kerr's Home Page and Main Index