Alan's May 8th and 22nd, 2004 Vintages Release Tasting Notes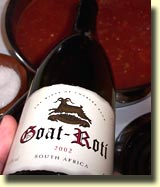 This month's tasting landed slap bang in the middle of exam week at school, so my notes were hastily scribbled. May has little, from what I tried at least, to create mass frenzy on release day. However, as always, there are one or two wines that stand out from the crowd. There are still tickets available for the Classics Tasting at the London Club, scheduled for May 4th. Click here for more information.

Once a year, Windsor, Ontario plays host to the All Canadian Wine Championships. On Sunday, May 16th, 2004, there will be an opportunity to sample dozens of wines from all corners of the country, including gold medal winners and the best of show awardees. This event runs from 2:00 pm to 5:00 pm at Radisson Riverfront Hotel in Windsor. Admission is $20.00 Cdn in advance of the date or $25.00Cdn. at the door. For more info or to order tickets email: bevcarnahan@hotmail.com



May 8 Release


718940 'GOATS DO ROAM' RED 2002 $11.95, Western Cape, South Africa.
I have enjoyed previous vintages of the wandering herd and I fully intend to enjoy several bottles of the current vintage over the next few months. It is far from elegant, but it offers instant reward by featuring lots of sweet red fruit, a faint hit of licorice and warm spicy finish.

943175 GOAT-ROTI 2002 $ 19.95, Western Cape, South Africa.
This supercharged sibling of the previous wine is a blend of Shiraz, Grenache, Carignan and Viognier. On the nose I find layers of violet, animal skin, dark blackberry, cake spice and coconut milk. On the palate the wine comes across as being ripe, rich and chewy. It is fruit laden, but well balanced with some lovely floral tones on the long finish.

998617 CHÂTEAU BRILLETTE 2000 $ 39.95, Moulis Cru Bourgeois.
Upon my first approach to this wine, it seemed tight and reluctant to release any aromas. Now some earthy, coffee grounds, red fruit and blackcurrant notes are clearly apparent. It is a medium bodied wine that is pleasant at best. With age it may shed some of its tighter characteristics, but the core of fruit may not last.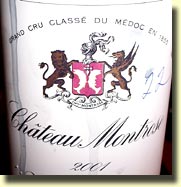 979880 CHÂTEAU MONTROSE 2001 $ 94.95, St-Estèphe.
After all the pomp and circumstance of the 2000 vintage in Bordeaux, I know little about the quality of the 2001's. If the Montrose is any indication of the caliber of this vintage, then I am impressed. Although it is so youthful, already it is displaying great potential. I note rich blackcurrant, stewed plum, dark chocolate, morel mushrooms and espresso on the nose. Its low degree of acid amplifies the fruit on the palate. It finishes long, but the dark chocolate tannin tells you this is a keeper for many years to come.

748814 'LES GARRIGUES' 2001 $ 16.95, Coteaux du Languedoc, Domaine Pierre Clavel.
Although this has jumped in price by two bucks from lasts year's release, I liked it enough to warrant buying a bottle or two. It has a wild outdoor character on the nose that comes across as a mix of aquarium and moss covered stones. However, the beautiful layer of blackberry and red berry fruit takes control of the palate. The tannins are soft and silky which makes it a pleasure to drink now, but give it a couple of years and it might get even better!

927368 BARBARESCO 1999 $ 49.95, Silvio Grasso.
This has an interesting nose of mint, various dried herbs, cherry brandy and plum. On the palate, the wine appears sweet and polished, but the finish is drying out while displaying a high degree of overwhelming red currant acidity.

927665 BARBARESCO 1999 $ 83.95, Sori' Paitin.
Here is a completely different profile to the previous Bararesco. It emits mineral, slate, sweet cherry, plum, fresh thyme and lavender from the glass. It is chewy, rich and fruit laden. However it is also full of mouth coating chocolate tannin that sent my mouth into convulsions. I would love to try this several years down the road.

927418 BAROLO BRICCO BOSCHIS 1999 $ 67.95, Fratelli Cavallotto.
Given the price of this wine, I do expect a little more oomph. It is pretty, but it is mostly fruit mixed with a touch of coffee and dried leaves. It has a dried fruit flavour on the finish and there is little evidence of any tannin to warrant long term cellaring.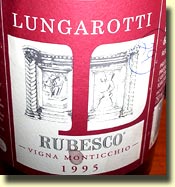 'RUBESCO VIGNA MONTICCHIO' 1995 $ 39.95, Rosso Riserva, Torgiano, Cantine Lungarotti.
This enticing nose offers floral aromas of violet and rose petal. A secondary layer shows liquorish, toffee, red fruit, compote, plum skin and milk chocolate. The palate is high in red fruit acids, but the rich silky chocolate tannin controls them perfectly. I liked it.

315648 'GRAN SANGRE DE TORO' 2000 $ 14.95, Catalunya, Miguel Torres.
My initial thought on this nose is straw and rhubarb, but there is also plenty of appealing stewed fruit, plum and sweet cherry. It is a medium bodied wine that has character, is drinking nicely and is well balanced.



May 22nd Release


954156 CHÂTEAU VILLEMAURINE 2000 $ 49.95, St-Émilion Grand Cru.
A deep and complex nose of seawater/seaweed, cigar leaf, red and black fruits and mineral. I tasted this last year and I was disappointed, but I am happy to say it has improved somewhat with a year in the bottle. The tannins are still repressing the fruit, but the fruit is maturing and is more apparent than last time tasted.

728451 VACQUEYRAS 2000 $ 21.95, 'Montirius'.
This is big and rather oaky at first. The vanilla and smoke do give way to reveal a layer of harsh alcohol, black fruit, sweet black cherry, sage and liquorish. Its plush texture coats the palate is full of sweet oak, dark fruit and toffee. I really think this needs time to come together and tone down the expanse of the creamy vanilla and the high degree of octane.

964049 CHÂTEAUNEUF-DU-PAPE 2000 $ 31.95, 'Domaine Pontifical'.
Now we are talking about some serious Southern Rhone. This wine exudes white pepper, milk chocolate, black raspberry, wild mushroom and cherry. It has amazing balance, its fruit takes full control, but all the earthy notes let their presence be known. The finish is brilliant.

460410 PINOT NOIR 2001 $ 15.95, Trocken, Königschaffhauser, Steingrüble, Coop Königschaffhausen.
I admit it is rare for me to pour a German red wine, but this was placed in front of me and I was told to try it. I'm glad I did, as it turns out to be a pleasing sipper, if slightly chilled, and should help pass time on a hot and lazy sunny afternoon. It has sweet strawberry, sweet cherry and barnyard straw aromas. The fruit is complemented by a clean streak of pleasing acidity. All in all it displays good varietal character.

967208 AGLIANICO 'CONTADO' 2000 $ 21.95, Molise, Di Majo Norante.
I know nothing of Italy's region of Molise, but with this wine, that will change. I couldn't resist the charm of the black fruit, caramel, nasturtium leaf, vanilla and spice on the nose. The richness of the palate is intense. It offers a chewy combination of plum, raspberry, blueberry and chocolate. It is tannic, but the tannins are non offensive. The balance in the finish is exceptional.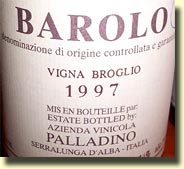 922039 BAROLO VIGNA BROGLIO 1997 $ 59.95, Palladino & C.
This opens with heady aromas of coffee beans, cigarette tobacco, rhubarb, red cherry and cinnamon. It is well balanced on the palate, but a layer of dusty tannin creeps across the tongue to blanket all the other components. I did get a stemminess on the finish, but that could be from the excessive degree of tannin.

315838 'MAS LA PLANA' 1997 $ 38.95, Cabernet Sauvignon, Penedès, Miguel Torres.
Oh yummy, this rich red explodes with freshly roasted coffee beans, anise, plum, lavender, currant and dried sage. The palate shows much more fruit, but it is still very tightly wound. Its finish is black fruit, blackcurrant, mineral stone and couvature chocolate.



Some Sweet and Sticky Offerings from May 8th


972109 'SOLERA 1847' $15.95, Oloroso Dulce, González Byass.
The colour spectrum of this wine in the glass is amber/yellow. The nose is full of hazelnut, caramel, treacle and medicinal notes. It is sweet, but not at all cloying. At this price, you bet I am going to buy a bottle.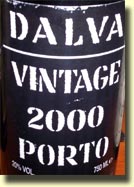 998559 'DALVA' VINTAGE PORT 2000 $69.95, C. da Silva Vinhos.
Presently this is about as clumsy as a wine can be. It is dangerously youthful and it actually hurts inhaling its heady and alcoholic aroma. It is full of raisins, Dutch Liquorish, dense chocolate brownie and plum. Acids are rich and so are the tannins. Down the road it should be a classic bottle of Port.

943050 VINTAGE FORTIFIED SHIRAZ 2001 $17.95, McLaren Vale, South Australia, d'Arenberg Wines.
I am not really sure exactly what to make of this. It really needs the alcohol and fruit to harmonize, because now it simply tastes like the two components were mixed together last week. It has body and structure with lots of concentrated fruit, but it is far from my liking right now.



A Sweet Sticky from May 22nd


995886 VINTAGE PORT 1982 $ 89.95, Wiese & Krohn.
This is showing signs of its age. The rim has a slight amber tone and the centre of the glass is quite light. The flavour however, is pleasant. It is mildly sweet with hints of chocolate, stewed plum and cinnamon. Not a big wine, but nonetheless quite pretty.

Cheers,
CZ


Alan Kerr's Home Page and Main Index