Alanís March 2002 Vintages Release Tasting Notes
Release date March 9, 2002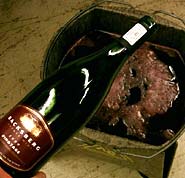 I am happy to start this preamble with some great news for residents of London and those living in close proximity to the Forest City. Aficionados of vino are to be privy to a prerelease tasting of wines from the classics 2002 spring/summer edition catalogue. This debut event will be held at the "London Club" which is located at 177 Queens Avenue, in downtown London on Wednesday, May 8, from 7:00 p.m. to 10:00 p.m. Ticket holders will be able to taste and even purchase from approximately 5 dozen selections from the upcoming Spring/Summer 2002 edition. Sales of wines at the event will be based on a first-come, first-served basis. Tickets for this event will go on sale starting March 11. They will cost $75.00 per person and are limited in quantity. To purchase tickets, call VINTAGES Customer Service at (416) 365-5767 or toll free at 1-800-266-4764. Vintages web site should be posting some info soon so you can check their site at www.vintages.com. The London Club is a formal environment so business attire is suggested. Marchís release fits into my usual mood at this time of the year. Now that the excitement of Canadaís two glorious gold medals in Hockey at the winter Olympics is winding down, until some warmer weather arrives, everything is kind of hum drum. To add to this feeling of discontent, the flu bug, that up until now I had managed to avoid, just found a nice cozy spot to go forth and multiply inside my body. Consequently my palate was not up to tasting a full flight of wines so I just picked a few I thought I would like to takes some notes on. There were a few nice surprises, especially from the South African release, scheduled for the 23 rd, but truly stellar wines were few and far between.

990440 CABERNET SAUVIGNON 1998 $ 32.85, Sonoma County, Kenwood
I generally love most wines from this producer but this was a little heavy on the oak for my tastes. There were lots of plush berry flavours but over all it was a trifle too sweet and cloying.

704387 MOURVEDRE 1998 $ 27.50, 'Ancient Vines', Contra Costa County, Cline
Deep ruby red colour. The lovely wafts of blackberry and raspberry fruit and hints of gentle oak on the nose carry right through to the finish. It also offered up interesting flavours of sage, plum and a faint twist of ground pepper. Finish was full of chewy dusty chocolate and it had a perfect balance of fruit and acid. Lovely wine.

718114 ZINFANDEL 1999 $ 23.60, 'Incredible Red', Bin 110, Peachy Canyon
Light but bright cherry red colour, red currant and blueberry aromas with some spicy elements too. Mid palate seemed hollow and slightly high in acid. Touch of burnt caramel on the finish. There are better deals to be found at this price

983742 PETITE SIRAH 1999 $ 9.75, Baja California, L.A. Cetto, Mexcio
I have always missed tasting this on previous releases so I made sure to try it. I am glad that I did as It was vibrant and full of plumy fruit with a touch of violet/lavender aromas. It had a rustic and fleshy mouth-feel that echoed the plum and licorice flavours. Quite tannic and spicy on the full-blown finish. One really canít go wrong if you buy this and get change from a ten-dollar bill.

702688 'CLANCY'S RED' 1999 $ 23.95, South Australia, Peter Lehmann
A very pretty muscular wine full of red and black fruit aromas with traces of anise and eucalyptus. Well balanced, drinking nicely now. Loved the kiss of fruit in the finish.

215665 SHIRAZ 1998 $ 22.80, 'Brokenback', Hunter Valley, New South Wales, Tyrrell's Vineyards
This did not seem to be as powerful as the 97 released last year but nonetheless it is a good value, full flavoured bottle of wine. There was a hint of port like character to the nose. It was fruit laden but also exhibited some leathery and mineral tones. Quite chewy, needs time to let the cloak of tannin on the finish settle down a bit. Good juice.

738120 CHATEAU HAUT SELVE 1998 $ 21.90, Graves
This wine started out nicely with some interesting coffee bean, blackcurrant and sweet vanilla. There was plenty of chewy tannin to suggest aging but all the finish echoed was the blackcurrant that had now become lean and a little acidic.

738773 CHATEAU ROC DE BERNON 1998, Puisseguin-St Emilion
All I could get from this, and I was not alone with my assessment, was wet wood, sulfur and harsh green pepper aromas. The mid palate showed nothing better but the finish had traces of black cherry in it.

708750 'CUVäE EXCELLENCE' 1999 $ 14.75, 'Mas des Bressades', Costieres de Nimes, Cyril Mares
A very fruit forward wine that was full bodied and spicy. Lots of plum, black cherry and chewy strawberry flavours to play around with. Flavours of blackberry, licorice and walnut shell were noticeable in the long and pleasing finish.

984419 CHATEAUNEUF-DU-PAPE 1999 $ 29.80, 'Domaine de la Solitude'
I couldnít find any comparison to the tasting notes from Robert Parker that accompanies this wine on the Vintages web site. I quote "The 1999 Ö is a deep ruby/purple colored classic with tremendous concentration, an opulent texture, hedonistic, levels of glycerin, superb purity, gobs of fruit, and a mouth filling, rich style. Its low acidity as well as the vintage's precocious nature suggests drinking over the next 12-15 years is warranted."

I swear the eminent Mr. P was drinking a totally different wine than the one I did. Not that I did not enjoy it I must say but it was in a state where current drinking would be recommended. It had the aromas one finds in a freshly prepared berry coulis with some plum and sweet chocolate. There was a hint of prune, pepper and nice bright degree of acidity. Go figure huh!

703090 CROZES-HERMITAGE 1998 $ 21.95, 'Les Meysonniers', M. Chapoutier
This appears to have shut down substantially as all I could detect was heat, tannin and pepper. On the palate the fruit, mostly cooked rhubarb and raspberry appeared acidic. I went back later and re-tasted only to find the same result. Again I was not alone in this assessment.

722058 SYRAH 1999 $ 11.50, 'Domaine du ChÕne', Vin de Pays des Collines, Rhodaniennes, M & D Rouviere
Wow, this was fun. All sorts of stuff on the nose including shoe polish, cedar, leather, black pepper, blackberry, cherry and roasted cocoa bean. Quite full-bodied, a power packed chewy mouth feel that although comes across as a little clumsy, it should not be missed.

728410 SAINT-JOSEPH 1999 $ 24.65, Domaine Perrin
Quite lovely and should show well for a few years to come. Bacon fat, sweet spices, pepper and plum all are prominent on the nose. The mid palate is a harmonious blend of velvety raspberry and blackberry. Good length with plenty of dusty chocolate tannin.

981407 'SASSOALLORO' 1998 $ 29.95, Toscana, Biondi Santi
I was told to try this and I am glad I did. This held the most interesting bouquet of the day. It featured pinecones, sour cherry, forest flower and wild mushrooms. Quite silky in the mouth with heaps of red currant and luscious stewed berry and plum flavours.

708917 'FAKRA' ROUGE 1995 $ 19.95, Kfardebian Valley, Lebanon
I expected more than just one red and one white when Lebanese wines are featured on the front cover of the catalogue. Even worse this wine didnít exactly excite me. It had a mix of sweetness and red fruit acid on the nose. The alcohol was noticeable and easily overpowered the raspberry and sweet spices flavours.

725887 CABERNET SAUVIGNON RESERVA 1997 $ 17.50, Navarra, Palacio de La Vega
A mix of chocolate, plum, sweet red fruit and herbes de Provence.

Cassis seems to show on the mid palate that carries through with good acid levels into the finish. Nice wine.

A few wines from the South African release slotted for the 23 of day of the month.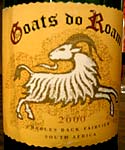 718940 'GOATS DO ROAM' 2000 $ 10.90, Western Cape WO, Fairview/Charles Back
Well fusion food is currently hot so why not fusion wines? After all, is this not a South African copy of Randal Grahamís Californian copy of wines from the Rhone? Actually it is quite an amusing name and it is decent bottle of wine especially given the price. The blend is Syrah, Grenache, Mourvedre, Carignan and Cinsault, plus some Pinotage added for good measure. It was full bodied, layered with chocolate, creamy berry fruit and a lovely long crisp finish that echoed plum, pepper and raspberry. This is really worth buying!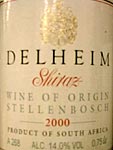 959080 SHIRAZ 2000 $ 16.85, Stellenbosch WO, Delheim Wines
Dark as squid ink, Lovely aromas of coffee, mushrooms, pastry spice, baked ham, blackberry and black cherry. Very full-bodied, beautifully balanced and although quite tannic, it releases its dense fruit flavours willingly. Should not be missed!

444638 PINOTAGE 2000 $ 15.80, 'Bay View', Western Cape WO, Longridge Winery
To be frank, I rarely enjoy Pinotage as I have this aversion to the funky clove/cigar box funk that I often find in them. This was a nice surprise however. It had the dusty clove, coffee and wild mushroom aromas but lots of plummy fruit and nice clean acidity in the finish.

728345 PINOTAGE 1999 $ 14.60, Estate Bottled, Paarl WO, Backsberg Estate Wine
The nose of this wine has to be one of the funkiest I have ever encountered. Burnt rye toast, burnt rubber, smoked bacon, old motor oil and something that smelled like the aroma that emits from the bottom of a rabbits cage. There was a little plumy fruit on the palate but all the other un-pleasantries covered it up. Best avoided.

743476 PINOTAGE 2000 $ 19.95, Basket Pressed, Stellenbosch WO, Clos Malverne
Now this was much better. Pleasing aromas of coffee, cinnamon, cloves, stewed plum and milk chocolate. Nice mix of fruit and tannin with a finish of sweet

Cheers
CZ

Alan Kerr's Home Page and Main Index