Once upon a time there was a wine I liked. In fact I raved about it on the last release. It was not a cheap wine, but I felt it was worth every penny. In fact I said, "simply put, this is my favourite wine of the day and I need to buy some!"

Well, simply put, I would have loved to, but I couldn't. Not a single bottle made its way down the highway to London, except the one shipped for the pre release tasting. The very same bottle I liked so much, I told my friends, who told their friends, who told their friends; well you know the theory here.

So I went on line to see if any stores in the area had acquired any. After all I was willing to drive over hill and dale to find me some of this.
Well it turned out, the bulk of this wine (it was the Alexandre Syrah from Casa Lapostolle in case you are wondering) went to Ottawa with the remainder distributed through the GTA. Did the collapse of Paul Martin's government recently warrant such a wine to soften the blow of his caucus's defeat? Maybe Jack Layton and Stephen Harper are both thinking about stocking up for victory celebrations once our Christmas election is complete.
I tried contacting stores that listed stock in Toronto to see if I could get some shipped to London, but no one I spoke to was willing to part with a single bottle. I even offered to use my credit card, so the particular store would get the cash sale, a practice I have employed on other occasions, yet it proved fruitless. "Can't do that, consultant is not here right now, I don't think we are allowed to do that" were a few of the responses I received.
Finally I found a consultant in Ottawa nice enough to part with some and the Syrah in question is now finally in my possession.

These notes are from the last release of 2005. Happy holidays to all!



588475 VEUVE CLICQUOT-PONSARDIN ROSÉ RÉSERVE BRUT CHAMPAGNE, $87.95
A nice degree of foam, it shows a spicy nose of red currant, rhubarb, strawberry and toast with amazing balance and good structure. Personally I would shy away from the board's suggestion of serving this "perfectly wonderful libation with roast leg of lamb or roast beef." Instead I would opt to go with more traditional fare.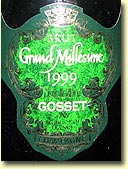 596973 GOSSET GRANDE MILLÉSIME CHAMPAGNE 1999 $84.95
This is a delicious combination of roasted almond, creamy toffee, tart au citron and lime zest. It is a blend of 56% Chardonnay and 44% Pinot. More importantly, it is drinking wonderfully.

642470 DUVAL-LEROY 'CUVÉE DESIGN PARIS' BRUT CHAMPAGNE $57.95
Here is an interesting blend of mandarin, nectarine and apple with subtle notes of ginger and cake spice. It offers excellent structure on the palate and delivers a nice toasty finish.



989137 POL ROGER 'EXTRA CUVÉE DE RÉSERVE' CHAMPAGNE 1996 $69.95
A touch sweeter on the palate, and again I note that roasted almond along with a deeper note of nutshell. Apples, honey butter and citrus make up the palate on this lighter style of bubbly.


264879 SUMAC RIDGE 'STELLAR'S JAY' BRUT 2001, Méthode Classique, Okanagan Valley, British Columbia $19.95
BC terrior comes to the surface of this well rounded bubbly. It has earthy, yeasty and straw aromas that lead to rotting apple, cherry and red berry flavours on the palate. I liked this.

301655 DOMAINE CARNEROS BRUT 2000, Methode Champenoise, Napa Valley $27.95
Another wine showing earthy and bread dough aromas along with notes of honeydew, vanilla, baked pear and apple. A rich ripe and creamy palate and a well balanced finish. It too is very tasty.

349688 KRUG 'GRANDE CUVÉE' CHAMPAGNE BRUT $214.95
The little drop left in the bottle is enough to show me what this wine is all about. It is ripe, elegant and full of honey, white peach, vanilla, ginger and nectarine. It fills the palate with its depth of concentration. The acidity is clearly detectable in the finish. I would like to find this in my stocking on Christmas morning.




145169 BOLLINGER 'LA GRANDE ANNÉE' CHAMPAGNE 1997 $129.95
A lovely wine showing notes of baked apple, a trace of caramel, ginger crème brulee, pea shoots, geranium and toast. The palate show finesse and the finish is long.



356501 LANDMARK 'OVERLOOK' CHARDONNAY, SONOMA, CALIFORNIA, 2003 $39.95
A sweet nose of canned fruit, mandarin and candied grapefruit peel. It is toasty and full, but the finish soon pales.


933044 CALERA PINOT NOIR, CENTRAL COAST, 2001 $31.95
It has been a challenge to find decent Pinot at a reasonable price in Vintages for a while. This is not cheap, especially when one can find it south of the border for $15.00, but it is quite tasty. It's full of lively red cherry, strawberry, red fruit pie and allspice flavours. The fruit is solid, the acids are fine, but the finish shows a touch of heat.

719211 CLINE 'ANCIENT VINES' ZINFANDEL, CALIFORNIA 2004, $24.95
Zin has also been in short supply in vintages for the past few months and although this too can be found across the border for much less, I will buy a couple to satiate my fix. It is full of sweet red berry, leafy tobacco, with a pinch of cinnamon and clove. The texture on the palate is leathery and the finish reminds me of red berry ripple.

189795 JOSEPH PHELPS CABERNET SAUVIGNON, NAPA, CALIFORNIA, 2002 $74.95 Napa Valley
A big wine full of mint, red berry, plum, coal dust and black fruit. The palate offers sweet ripe fruit. The oak is unresolved which should change with time. The tannins are soft and dusty.

674531 VIRGIN VINES SHIRAZ, CALIFORNIA, 2004 $14.95
This shows lots of sweet plasticy black fruit on the nose, sweet and globby on the palate with a bitter note on the finish.

948992 HEDGES 'CMS' CABERNET/MERLOT/SYRAH, COLUMBIA VALLEY, WASHINGTON, 2003 $17.95
A forceful nose of spicy oak with notes of bacon, black currant and lots of chewy stewed fruit on the palate. It is clumsy at this point, the tannins are tight and it needs time to soften and come together. The price is fine for something that can age for a year or two.

315176 CONCHA Y TORO 'DON MELCHOR' CABERNET SAUVIGNON,
PUENTE ALTO, MAIPO VALLEY, CHILE, 2001 $49.95
The nose is weedy and vegetal. It is full of bell pepper, rusty iron, candle wax, canned peas, cedar and bitter chocolate. Either I don't get this wine or this is a flawed bottle. I hope to taste it again.

KIM CRAWFORD SAUVIGNON BLANC. MARLBOROUGH, NEW ZEALAND 2005 $19.95
A lovely expressive wine full of grassy citrus aromas with underlying notes of petrol, canned beans, lime leaf and tangerine. It clicks on the plate leaving a long finish of vibrant acid, solid fruit and lime zest.

328559 CATHEDRAL CELLAR CHARDONNAY, COASTAL REGION, SOUTH AFRICA, 2003 $13.95
This might be worth trying again. It has a nose of unripe honeydew melon, apple and baked pear. The palate shows notes of fruit and lime. The finish shows some nut and marzipan flavours.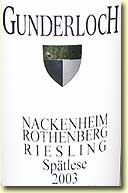 724922 GUNDERLOCH RIESLING SPÄTLESE, RHEINHESSEN NACKENHEIM ROTHENBERG 2003 $37.95
Wow! Sweet layers of cake spice, honey, banana chips, mango and mineral with beautiful acidy and balance. Wow!
710657 JOSEPH DROUHIN PULIGNY-MONTRACHET, BURGUNDY, 2002 $57.95
Another interesting nose this time featuring almond, grapefruit, pear, wet stone and citrus. The palate is medium bodied, well balanced and elegant. The finish is long showing fruit, candied lime peel and delicate oak.

713354 TRAVAGLINI GATTINARA, TUSCANY 2000, $32.95
A funk laden nose of dried cherry, lavender, leather, cola, nutmeg and a nice streak of high acid red fruit. The tannins are solid suggesting it lays down for a while.

651141 PIAN DELLE VIGNE BRUNELLO DI MONTALCINO, ANTINORI, TUSCANY, 1999 $61.95
Earthy and leathery aromas with notes of pipe tobacco, prune, anise, blackberry and couvature. It is medium bodied showing a nice concentration of dark fruit, organic matter and oak.

Cheers
CZ
Alan Kerr's Home Page and Main Index