Chile is the word of the month. The weather has turned nasty and it is freakin "chilly." Fortunately there are some stellar wines from Chile to lessen the harshness of the inevitable upcoming harsh winter nights.
563197 JACKSON-TRIGGS 'PROPRIETORS' GRAND RESERVE' MERLOT 2002, Niagara Peninsula, $23.95
A dark ruby purple rim, with lots of dark fruit aromas, a touch of chocolate and coffee. The palate is fruit laden, rich and clean. The finish shows enough tannin that suggests a rest in the cellar.
724336 PETER LEHMANN 'MENTOR' 2000, Barossa Valley, South Australia $39.95
I rarely get overly excited with Australian blends, but this mix of 80% Cabernet Sauvignon, 16% Malbec and 4 % Merlot is really tasty. The colour is dark and inky. Strange smells exude from the glass such as beet, iodine and liquorish root. However, they are soon followed with a rich layer of blueberry pie, black fruit and chocolate. Fine stuff indeed.
457986 LEASINGHAM 'CLASSIC CLARE' SHIRAZ 2001, Clare Valley, South Australia $59.95
The funky pooey smell that first attacks the nasal passage soon gives way to show plenty of creamy dark fruit, sugared rose petal, eucalyptus and mint. There are plenty of raspberry and cherry flavors on the palate and the finish has all the rich fruit, plenty of tight tannins and a twist or two of black pepper.
692343 OYSTER BAY MERLOT 2004, Hawkes Bay, North Island, New Zealand, $18.95
A real disappointment, it is dry, somewhat vegetal, the fruit is pale and syrupy. Overall it is a lackluster wine.

590414 OYSTER BAY PINOT NOIR 2004, Marlborough, South Island, ML $25.95
Maybe the Merlot was a bad bottle as comparing the quality of this to the latter is like night and day. It offers aromas of damson, plum, cedar, and cherry pie filling. It is balanced, has a good solid structure and a long creamy finish.

595280 PORCUPINE RIDGE SYRAH 2004, Coastal Region, Boekenhoutskloof, South Africa, $13.95
This nicely priced wine offers up aromas of milk chocolate, earthy wet clay, moss and wet leaves. There is fruit too, in the form of black candy, with a layer of toffee on the finish. A little too sweet for me, but it is tasty.

947929 CASA LAPOSTOLLE 'CUVÉE ALEXANDRE' CABERNET SAUVIGNON 2003, Apalta Vineyard, Colchagua Valley, Chile, $31.95
One of several great wines from Chile, this Cabernet just reeks of mineral, blueberry pie, dark berry coulis and plum. It has great concentration and balance on the palate, lovely black fruit acids on the finish along with chocolate and dusty cocoa. It is really very tasty right now.

459206 CASA LAPOSTOLLE 'CUVÉE ALEXANDRE' MERLOT 2003, Apalta Vineyard, Colchagua Valley, $31.95
This comes across the palate as being a touch sweeter than its bigger bro, but it too shows depth and concentration. Its principal flavours are currant, milk chocolate, plum and cake spice. Again, I would crack one of these anytime, but I think it can hold for a while as well.
627331 CASA LAPOSTOLLE 'CUVÉE ALEXANDRE' SYRAH 2003, Requinoa Vineyard, Rapel Valley, $33.95
Simply put, this is my favourite wine of the day and I need to buy some! It is redolent of Cote Rotie with its inky mineral and bacon fat aromas. Structurally it is sound. The blackberry and plum flavours on the palate are rich and solid. The long finish combines organic matter, fruit and sweet dark couvature. wonderfully well.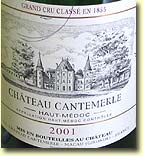 677872 CHÂTEAU CANTEMERLE 2001, HAUT MEDOC, BORDEAUX $43.95
A lovely nose of leafy organic matter, walnut shells, coffee grounds, lead pencil and solid polished fruit. The palate is teased with a creamy texture that turns to a rich and vibrant layer of fruit. Good acids and plenty of fruit in the finish.
193102 CHÂTEAU ROQUETAILLADE LA GRANGE 2001, GRAVES, $20.95
I really can't say too much about this wine. It does nothing to excite, it is really light and leaves little in the finish to remember.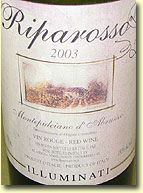 328997 ILLUMINATI MONTEPULCIANO D'ABRUZZO 'RIPAROSSO', Abruzzi, 2003 $12.95
This seems tight at first; there is sweet oak and chocolate on the nose and rich layer of sweet fruit on the palate. It is by no means a great wine, but for the price it is a deal.
739920 GIACOMO ASCHERI BAROLO VIGNA DEI POLA, PIEDMONT, 1999 $44.95
I get some dried mint leaves, a touch of coffee grounds and red currant on the nose. The colour is an amber tone of ruby. There are subtle notes of currant and black cherry on the palate, but little else is there to support.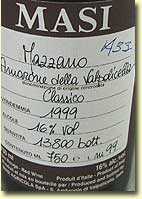 738 955 MASI 'MEZZANELLA' RECIOTO DELLA VALPOLICELLA 1999 VENETO, $69.95
An absolutely stunning and delicious bottle of wine that features succulent aromas of coffee, toffee, rich sweet blackcurrant, blackberry ripple, damson and fig. It is not overblown, but it's carefully crafted, polished and elegant. The finish has a wonderful combination of fruit, vanilla and chocolate.
608471 CASA DE SANTAR TINTO SUPERIOR 2001, DÃO, PORTUGAL, $15.95
Initial aromas of rotting fruit soon give way to dark berries, cough lozenges, white mushrooms and coffee. The palate is creamy and full of blackberry and a trace of tarragon. Lovely acidity and a decent finish.
976910 BODEGAS ONTAÑON CRIANZA 2001, Rioja, Spain, $15.95
A light ruby red wine with lots of polished red fruit, slightly sweet on the palate and a rather lackluster finish.

Cheers
CZ
Alan Kerr's Home Page and Main Index