Alan's
December 4th and
18th, 2004 Vintages Release Tasting Notes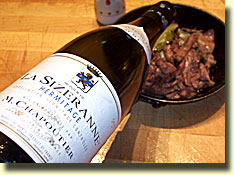 In readiness for the upcoming season of festivities, Vintages has a mega release of goodies scheduled for this month including lots of bubbly. First of all, I would like to jump back to last month's release, as there was one wine I did not get to taste, but should have, a Prosecco from Foss Maraï. I did share a bottle with a friend last week and I was blown away by how nice it was. It is one of the creamiest and richest Proseccos I have tasted, packed with mineral, floral aromas, lemon peel, Anjou pear and cream soda. As there is plenty of this sparkler available in London, and I assume elsewhere in the Province, I strongly recommend trying it if you find it. It is packaged in a rather tacky blue, bowling pin shaped bottle, but don't let that put you off, it is good!

Last month, my rant on the excessive amount of tax I paid bringing wines across the border from the US into Ontario generated an email from one Duncan Gibson, the Research Analyst of the Wine Council of Ontario. Mr. Gibson respectfully requested I clarify one point. I had quoted a customs officer who stated, "The level of taxes is in place to protect Ontario's wine industry." I made mention of this because I knew the officer in question was clearly wrong.

So, just to make this clear, Mr. Gibson went on to say, "The high level of taxes is NOT there to protect the Ontario wine industry. If you crossed the border from the US in to Manitoba, Quebec, or anywhere else in Canada, you would pay similar amounts. The NAFTA does in fact apply here in two ways. Wines brought in to the province/country cannot be subjected to Duty (which is as you mentioned - Duty was nil). Domestic wines must not have any tax (or other) advantages over Imported wines, i.e. taxes must be assessed equally on ALL wines. The GST/PST/excise/markup etc. that you were required to pay on "importing" the wine in to the country is exactly the same as what exists on all wines sold through the LCBO or winery retail stores."

Bottom line here, as far as I am concerned, is if the LCBO offered a decent selection of Zinfandel on the shelves in the first place, I wouldn't have to buy it from the US.

As the holiday season is here. I would like to wish joy, happiness and many great bottles of wine to all.


December 4th Release: Sparkling Wine


650762 'PR

É

STIGE' ROS

É

BRUT 1996 $62.95, Champagne Tarlant.
This has some unexpected notes of earthy mushroom and moss; it is the 50% Pinot Noir coming in to play I suspect. There is a secondary layer of over ripe apple, stewed fruit and red currant. The palate is spritzy and quite full, but the finish is rather tart.

145169 'LA GRANDE ANN

É

E' CHAMPAGNE 1997 $124.95, Champagne Bollinger.
This sparkler, being oak aged, offers up a nose of buttery vanillin and toasty yeast. There are plenty of other goodies lurking in the background, such as mineral, lime oil, citrus and gooseberry. It is quite full-bodied, yet elegant, with just a trace of sweetness on the finish. Quite lovely.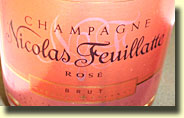 915934 ROS

É

BRUT $45.95, Champagne Nicholas Feuillatte.
A rather diverse nose that presents hints of Asian spice, wet leaves, red currant and under ripe strawberry. It is medium to full bodied and finishes with a pleasing creamy/foamy texture.

384529 'SPECIAL CUV

É

E' BRUT CHAMPAGNE $69.95, Champagne Bollinger.
Although this wine comes highly touted in the catalogue, I find this particular bottle just lacks oomph. Although there are hints of marzipan, fig, and pickled ginger to the nose, the palate is light and that is echoed on the quickly fading finish.

642470 BRUT CHAMPAGNE $57.95, Champagne Duval-Leroy.
If you are looking for a unique and funky bottle of wine to give as a gift this season, then this could be worth considering. The bottle depicts hand painted scenes of Paris, including the Eiffel Tower, Notre Dame Cathedral, Arc de Triomphe and other such touristy spots. More importantly though, the contents of the bottle deliver a decent bubbly with aromas of apple, white peach, spearmint, mineral and limestone. The texture on the tongue is pleasing, leaving a slight tingle from the fruit focused finish.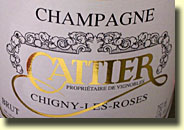 919464 BRUT PREMIER CRU $35.95, Chigny-l

è

s-Roses, Premier Cru Champagne Cattier.
A foamy glass full of scents of yeasty baked bread with crisp green apple and lime zest. Some cherry and berry flavours run across the palate. It is medium bodied and quite graceful.

597849 BRACHETTO D'AQUI $16.95, F. Lli Gancia & C, Italy.
This is a bit of a shock. It is very sweet; the colour is a mix of dark pink/red/crimson and the aromas focus on grapey tones, stewed fruit, particularly rhubarb and an odd note of coffee. I just find it way too sweet for my tastes.

692582 CLASSIC VINTAGE BRUT 1999 $49.95, Green Valley, Sonoma County, Iron Horse Vineyards.
Although these wines had been open for a while, as I pour the Iron Horse into my glass, it still delivers the perfect amount of foam. There is a pleasing touch of hay/straw to the nose. It is spritzy on the tongue, reflecting flavours of almond, apple and lemon. The finish does fall a little flat, but the fruit is still discernable.

479758 ROEDERER ESTATE BRUT, $36.95, Anderson Valley, Mendocino County, Roederer Estate.
Having stood on the roof of this winery, admiring the view of the Anderson Valley, with a glass of Brut in one hand and this stellar rose in the other, I must confess I am inclined to be a trifle biased when it comes to Roederer's Californian wares. Sadly though, it seems to me that the price of this wine has increased over the past few years. I swear it was not that long ago when I used to fork over $25.00 for a bottle. Still, this rose exhibits the faintest trace of pink colour. The nose has wonderful aromas of toast, roasted almonds, honeycomb, rose petals, red berry and sweet malt bread. The palate contains a touch of sweetness and the finish has a refreshing hit of citrus.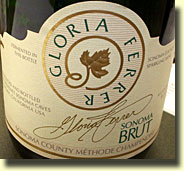 192898 'SONOMA' BRUT $27.95, Sonoma County, M

é

thode Champenoise Prod. & Btld. Gloria Ferrer.
The heady nose throws out aromas of lemon, lime and white peach with a touch of apple in the background. It has good foam with a nice creamy texture on the palate and the finish echoes its creaminess with enough citrus flavour to balance.

720623 SPARKLING CHARDONNAY/PINOT NOIR, $27.95, Southeastern' Australia, Greg Norman Estates.
I pick up some strange aromas, such as sulphur, wet fur and earth on the nose. Fortunately, the palate does not repeat these traits; instead there is a pleasing hit of candied citrus peel, sour kiwi, and apple. It finishes with a nice creamy texture.

December 4th Release: Red Wine


539098 CABERNET SAUVIGNON 2000 $124.95, Napa Valley, Far Niente.
This dark and dense wine exudes heady aromas of cooked black fruit jam, raspberry, blackcurrant, and cigar box. It is forceful and silky, almost sweet on the palate, as it echoes all the fruit from the nose. The finish has a creamy texture with a pleasant hit of black fruit acid.

727925 'CAIN FIVE' 2000 $99.95, Napa Valley, Cain Vineyard.
I find this to have lots of herbaceous notes along with tobacco, leaf and cigar aromas that currently over power the fruit. On the palate, there is a dose of plumy and black raspberry fruit. It has a creamy texture, but it is not a blockbuster like other vintages I have tasted. The finish is quite tannic and does shut the wine down.

985176 ZINFANDEL 2001 $36.95, 'Big Break', Contra Costa County, Cline Cellars.
Oh my god, this is brilliant. I think this is one of the better Cline Zinfandels I have tasted. Its rich nose bowls me over with the degree of intensity and balance it shows. There are red and black fruits, licorice, hints of flint, traces of plum, dark chocolate and cardamom. The extraction of fruit is amazing and the balance of dark fruit acid is wonderful.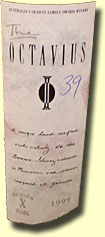 589580 'THE OCTAVIUS' 1999 $99.95, Old Vine Shiraz, Borossa Valley, South Australia, Yalumba, Oz.
This is the only down under wine, from the massive amount on the release, that I had the chance to taste. I did like it until I arrived home and checked the price. Ouch! However, here is a stunning bottle of wine. It has all those invigorating things good Australian wines can offer. Tons of mint, eucalyptus, creamy Pina Colada, sweet black cherry, vanilla, blueberry coulis and dark chocolate mousse waft from the glass. It is considerably tannic right now, but nonetheless, highly enjoyable. This will benefit from time in the cellar.

680140 CH

Â

TEAU ROC DE BOISSEAUX 2000 $38.95, St-

É

milion.
Here is a nicely fused wine that offers aromas of smoky bacon, rosemary/thyme, butterscotch, red fruit and violet. It is quite rich and chewy and finishes with dusty chocolate centred tannin.

708313 HERMITAGE 2001 $74.95, 'La Sizeranne', M. Chapoutier.
Here is another wine that, although it is actually showing well, really does need time to settle. There is a preliminary blast of blackcurrant and black berry fruit. In the background I find coal dust, mineral, leather and cured meat. The tannins do take their toll on the finish, but it is really good stuff.

972281 'LES MEYSONNIERS' 2001 $23.95, Crozes-Hermitage, M. Chapoutier.
I really liked this baby brother of La Sizeranne and given the asking price, this is truly a deal. It too needs time to let the iron/mineral and dusty tannin notes to soften. Beneath the aromas of lavender, underbrush and sage sit heaps of lovely sweet berry and black liquorish candy flavours.

709584 BRUNELLO DI MONTALCINO 1999, $64.95, Tuscany, Az. Agr. Coldisole.
This is not really showing much at this stage. There is some pretty dark fruit on the nose, a little earthy wet leafy thing going on and some silky tannin on the palate.

651141 'PIAN DELLE VIGNE' 1999 $61.95, Brunello di Montalcino, Marchesi Antinori, Tuscany.
This Brunello, at three bucks less than the Coldisole, delivers a nose full of dark berry, mineral, mushroom powder and allspice. It is hard and tight on the palate, it finishes hard, but the fruit it there.


December 18th Release


349662 PROSECCO DI VALDOBBIADENE BRUT $17.95, Veneto, Nino Franco.
As much as I luv Champagne, this past summer I have really come to appreciate the wonderful charm and the good value that Prosecco wines can deliver. This rendition has a nose full of banana, sandalwood, pear and nectarine. All these aromas drift across the palate to produce a pleasing creamy finish to the wine. Good stuff.

718452 CABERNET SAUVIGNON 2001 $51.95, Napa Valley, Chateau Montelena.
A pleasing wine that is nicely balanced and although it is hardly a monster, it offers enticing scents of blackcurrant, dried morel and dark cherry fruit with a trace of earthiness.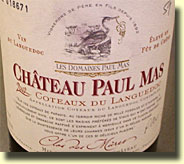 642546 CH

Â

TEAU PAUL MAS 2002 $19.95, Clos des M

û

res, Coteaux du Languedoc, Paul Mas & Fils.
This wine combines dark fully ripe fruit, pinecone, mint, tar and white pepper. The palate is already exploding with fruit; the finish shows great balance and has great length. Good stuff indeed.

711317 CH

Â

TEAU DE BEAUCASTEL 2001 $84.95, Ch

â

teauneuf-du-Pape.
Here is a rock solid wine with a core of blackberry, plum, thyme, leather, garrique and couvature. The palate is rich, ripe and creamy. Although black berry and blueberry fruit take control on the palate, there is so much more going on underneath. It is tannic and even though I could drink it right this minute, it is best left alone for several years to evolve.

957282 CH

Â

TEAU DE L'ENGARRAN 2001 $17.95, St. Georges d'Orques', Coteaux du Languedoc.
Lots of sweet candy fruit, raspberry, black berry and cola notes on the nose. The plate is strong and well balanced, showing the fruit flavours that now combine with creamy milk chocolate. A good value here.

708826 BARBARESCO 1996 $29.95, Produttori del Barbaresco, Piedmont.
This is showing a few tell tale signs of its age. The colour is light and starting to turn amber. The nose is interesting, expressing dried fruit, mushroom, dank soil and star anise. It gives some bright flavours of red currant and cherry on the palate until the veil of tannin shuts it down. I was surprised to see the relatively low price of this once my Vintages catalogue arrived. A good wine for academic purposes and it could be a fun wine if sipped soon after opening.

362277 AMARONE DELLA VALPOLICELLA CLASSICO 1997, $106.95, Bertani, Veneto.
Holy cow, this combination of ultra dark fruit, sweet black licorice, toffee, stewed plum, porcini mushroom and chocolate simply rocks. It is so harmonious and complete; I want to consume this in large quantities until the cows come home. One can, I think, although it has tannin, the mouth feel is silky and simply delicious.

All the best for the season!

Cheers,
CZ


Alan Kerr's Home Page and Main Index