Alan's November 6th and 20th, 2004 Vintages Release Tasting Notes
There are times when the reality of being passionate about wine and residing in Ontario hits one with a force similar to being whacked in the chest with a magnum of bubbly.

Case in point.

I recently crossed the border into the US to embark on a road trip to Chicago. The burly American border guard didn't blink an eye when I declared I had thirty-seven bottles of wine in the trunk.

"Any food from Canada?" he asked in a gruff and slightly intimidating monotone voice.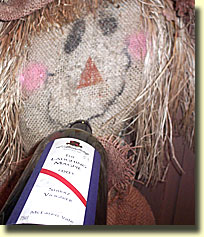 "No" was my reply.

"Any cigars?"

"Nope."

"Have a safe trip," he said, and off I went.

I understand the taxes applied to wine when crossing into America are seven cents a litre rendering it hardly worth the paper work.

On my return to Canada, things were not as simple. I had one full case of wine along with a receipt for $124.00 US. I declared all my acquisitions to the Customs official as he typed in my license plate into his computer.

"Are you aware you are only allowed to bring back one bottle of wine if you are out of the country for longer than forty eight hours," he asked.

Not wanting to piss off the man, I diplomatically stated, "Actually, I am aware, but with all due respect, I believe I am allowed to bring in two bottles duty free, as the amount changed from 1.14 litres to 1.5 a couple of years ago."

I could tell he was not impressed, but nonetheless, the customs declaration he handed me allowed a two-bottle exemption, not one. I gave the slip to the secondary inspection crew who told me to take it inside to the cashier.

Once inside the building, the young lady behind the counter was kind enough to drop the two most expensive wines from the total and after conversion to Canadian funds, I was to pay taxes on $125.19 CDN. The duty was nil, excise tax was $3.84, GST amounted to $9.03, Provincial sales tax took $21.62 and the Provincial liquor mark up was a whopping $51.10. All this made a nice round total of $85. 59.

In other words the total tax amounted to 68.36% of the purchase price.

"Holy &%$#," I said out loud.

"The level of taxes is in place to protect Ontario's wine industry," said a customs officer standing close by.

Well excuse me, but Michigan, along with every other state in the union, has a wine industry to protect yet, the duty I didn't pay on thirty-seven bottles I had taken into the States days before didn't seem to alter the US economy or devastate its domestic wine industry.

So much for the North American Free Trade Agreement; it simply doesn't seem to apply in cases like this. The irony here is that the wine I took to the States was Canadian and it was Californian wine that returned home with me

To add further fuel to my frustrations, after Manchester United recently bestowed a glorious pounding upon their arch rivals, Arsenal, in the English premier (soccer) league, I called a mate of mine in the UK, who just happens to be an Arsenal fan, with the intent to ridicule him. His wife Fiona told me that Gordon was on his annual excursion to France with his mates, with the objective of procuring as much wine as they can fit into the back of his van to stock up for the Christmas holidays. Brits often make this cross channel pilgrimage to acquire booze from super mega stores in Northern French cities, as the wines are dirt cheap and the duties payable upon their return to the UK are nonexistent.

Just venting, thanks for listening, here are a few notes from this month's release.


November 6th Release
461699 BACO NOIR RESERVE 2002 $ 24.95, Niagara Peninsula, Henry of Pelham.
Here is a wine from the excellent 2002 vintage that has a dark dense purple/inky colour, a nose of dried meat, lather, spice, dark fruit, mocha and coconut. Solid flavours on the palate reveal that there are plenty of tannins to allow it to age.


222877 CABERNET SAUVIGNON 2001 $99.95, Napa Valley, Caymus.
A sweet and enticing nose of plush blackcurrant, mocha, plum and cedar. It initially seems to have far less oak than earlier vintages, but toasty vanilla is more than just noticeable especially on the finish. A second pour reveals an increase in the degree of tannin along with streaks of dark chocolate and thyme. The fruit is pretty solid so it should hang around for a number of years.

985408 CABERNET SAUVIGNON 2001 $59.95, Sonoma County, Arrowood.
I find this particular sample of Dick leans towards the overblown side. It is rich in spice, black pepper, cherry and plum, but the degree of alcohol seems high to me. Maybe it needs time. This is the first instance that I have not been overly impressed with an Arrowood wine. I should mention, in the wines defense, that other people present did have better things to say than I.

992529 MERLOT 2001 $79.95, Napa Valley, Duckhorn.
Now this wine, I would have no problem sipping all night. Its initial dusty leathery nose soon gives way to blackberry fruit, couvature, lavender and violet. It really has that Euro thing going for it, in that the earthy mineral, even wild mushroom flavours explode all over the palate and combine with the rich ripe fruit in the finish. Its good stuff.

713040 'THE CUSTODIAN' GRENACHE 2000 $20.95, McLaren Vale, South Australia, d'Arenberg.
Well this puts a tilt in the kilt. It is a beautiful combination of pristine acids, sweet cherry, licorice, candied fruit and cake spice. It displays excellent balance on the palate and its rich velvety finish hangs around for quite some time. I am buying a few bottles to keep me warm during the oncoming cold winter nights. If you follow guru ratings, Mr.P, bestowed 90 points upon this wine. At just over twenty bucks, I don't think one can go wrong.

622571 'CLOS DE LOS SIETE' 2002 $19.95, Mendoza, Bodega Monteviejo, Argentina.
Although I did not taste this at the release, my good buddy Joe opened a bottle for me to taste at Thanksgiving. I am impressed with its boldness and super concentration of both fruit and mineral. The heady fruit aromas are primary, then the appealing scents of milk chocolate, violet, slate and coal dust seep through. It continues to expand as it sits in the glass. I think this will age gracefully and the good news is, it is the wine of the month and consequently, there will be plenty to go around.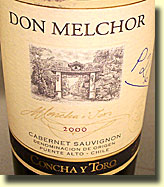 315176 CABERNET SAUVIGNON 2000 $49.95, 'Don Melchor Private Reserve', Puente Alto Vineyard, Maipo Valley, Viña Concha y Toro, Chile.
Here is a glass of essence of blackcurrant with lots of dried fruit, dark bitter chocolate, moss and minerals. Although the fruit displays power on the tongue, it's a monster that needs to recline and sleep for several years to soften those tannins.

640987 CABERNET SAUVIGNON RESERVE 2002 $14.95, 'Terrarum' Maipo Valley, Viña Morandé' S.A. Chile.
The initial sweet and silky texture is pleasant at first, but I find the level of acidity to be low rendering a rather unexciting wine. It has some pretty currant flavours and a touch of earthy mineral, but little else.

606970 CHATEAU LA TOUR DE MONS 2000 $42.95, Margaux, Bordeaux.
There is some plum, lead pencil and minty red fruit on the nose, but this is one tight wine that is hard to assess at this stage of its life. A second sip some forty-five minutes later reveals the same thing; the astringency is still overpowering.

694125 CLOS DU MARQUIS 2001 $49.95, St-Julien, 2nd wine of Chƒteau L'oville-Las Cases, Bordeaux.
Another wine with an intense nose that features blackberry, blackcurrant, thyme, Thai basil and vanilla. It too needs to rest, but I would crack a bottle despite the cloak of tannin because the fruit runs across my palate leaving a layer of silk on my tongue.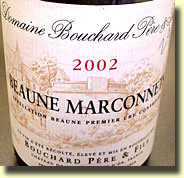 608489 BEAUNE MARCONNETS 2002 $49.95, Bouchard Père & Fils.
Good French Pinot is rarely cheap by any means, and given the quality of the vintage, I guess this is a reasonable price. It offers a rich ripe nose of black cherry, stewed plum and wet hay. It is medium bodied, nicely balanced and the finish is pretty intense. It is one of he better wines I have tasted from this producer.

971341 'LES GRANDS AUGUSTINS' 2003 $18.95, Vin de Pays d'Oc, Tardieu-Laurent.
I usually try to stick a few Grands Augustins away each time it is released as it generally offers a decent bang for the buck. This 03 is already showing some good potential from its typically perfumed, almost new world nose. The colour is inky; the chunky fruit is multidimensional and coal - esque. There is enough mineral and coal dust elements to stimulate the buds. Its chewy creamy finish features blueberry and blackberry fruit. That heatwave during summer of 2003 in France is going to produce some stellar stuff.

928028 BRUNELLO DI MONTALCINO 1999 $46.95, Fattoria dei Barbi.
If aromas of charcoal, rotting fruit and swamp water appeal to you, then this is a wine to buy. Now there is also plenty of dark cherry, black raspberry and toasty vanilla to overcome the organic aromas, so don't be concerned, it is tasty. I think its drinking quite well as the finish offers lots of fruit, dusty chocolate tannin and clean acidity.

728816 CHIANTI CLASSICO 2000 $34.95, Querciabella.
I find a nose of toffee, blackberry and tart plum. The mid palate is full of cherry and anise. There is a note of clove on the finish.



November 20th Release


903245 'CARDINAL ZIN' 2002 $26.95, 'Beastly Old Vines', California, Bonny Doon.
This does pack quite a punch, although one of the tasters present did feel it is not up to the quality of previous vintages. I get intense aromas of black raspberry cordial, blackcurrant, cherry and chocolate. It is sweet, but the dark fruit acids balance well. I will buy a bottle just to try it again and see how it tastes on its own.

930206 CABERNET SAUVIGNON 2000 $99.95, Napa Valley, Grgich Hills.
This is well balanced, pleasing and has a decent concentration of dark fruit and sweet red cherry. There is evidence of vanilla, almost too much for me, which does impart a nice creamy texture. However, given the recent boost of our Canadian dollar, the asking price for this wine is simply absurd.

936971 'THE LAUGHING MAGPIE' 2003 $25.95, Shiraz/Viognier, McLaren Vale, South Australia, d'Arenberg.
Right off the bat I have to state I have no vested interest in this winery, but maybe I should. I simply have a tremendous degree of adoration for most of the wines d'Arenburg produces. This is another fruit bomb that has balance, richness and beautifully integrated tannins. It is lush, the fruit is mostly dark berry and the acid level is perfect.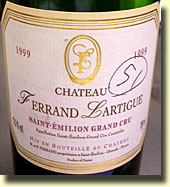 604009 CHATEAU FERRAND-LARTIGUE 1999 $53.95, St-

É

milion, Bordeaux.
I like this style of wine because it is a mix of old world tradition and new world oomph. It has plenty of ripe cherry, raspberry and chocolate aromas that do carry through to the finish. There is also an under - layer of earthiness and smoked meat.

598011 CHATEAU LANESSAN 1995 $36.95, Haut-M'doc, Bordeaux.
The Vintages catalogue states "This delicious, fruit-forward Haut-M'doc is now at its prime. Pull the cork, decant it and enjoy it over a leisurely gourmet dinner."
I have to strongly disagree with such tattle. Its nose carries dark soil, a trace of currant, lead pencil, carbolic soap and a trace of spearmint. However, on the palate things are not so pretty, the tannin is still intense and the fragile fruit is fading. I really think it's over the hill and already sliding down the other side.

608679 POMMARD 2002 $52.95, Clos de la PlatiŠre, Prince Florent de Merode.
This has lots of pretty clean flavours, but it misses something on the mid palate. The nose is great and so is the after taste. It shows a degree of elegant fruit, mostly cherry and plum on the finish along with a dose of silky tannin.

986786 TIGNANELLO 2000 $89.95, Marchesi Antinori.
I am surprised at how well this is showing. I expected a tannic monster. It is full of spice, hickory smoke, cigar leaf, thyme and morel mushrooms. There is a deep concentration of fruit that is presently overshadowed by the organic aromas. I believe this will evolve into something very tasty indeed.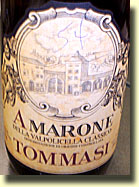 356220 AMARONE 2000 $49.95, della Valpolicella Classico, Tommasi.
This has a raisin - perfumed nose with dried leaves, dried porcini, a trace of cardamom seed, chocolate and sweet red cherry. There is no over ripeness, the balance is on and the finish is clean.

726679 PERIQUITA CLASSICO 1995 $26.95, Vinho Regional Terras do Sado, Jos' Maria da Fonseca.
The colour shows its maturity with a hint of bronzing at the rim. Its nose gives off some stewed red fruit, dried fruit, wild mushroom and cola notes. Not one to age, but simply open up and enjoy.

Cheers,
CZ


Alan Kerr's Home Page and Main Index