I really can't see the merit of this. Ice wine, when well made, can be excellent. It introduced Niagara to the rest of the world as serious viticulture area, but really, is Ice wine worth this much? I for one think not. I suppose if $30,000.00 is like pocket change to a Middle Eastern businessman, hey why not. The reality is few of us can afford to do that and I can't see these wines moving too quickly. However, should you want a stocking stuffer for next Christmas, here is the link to the collector's page of the DeMaria website.

January 20th sees a couple of nice wines to hit the shelf, but they are few and far between. Here are a few notes.
027433 ANGELS GATE CABERNET FRANC, NIAGARA PENINSULA 2004 $18.95
The fruit aromas of plum and strawberry are overpowered by vegetated notes of cooked Brussels sprouts and green bell pepper. The palate shows some sweetness, more of the bell pepper and a touch of chocolate. Find this wine

996777 MALIVOIRE PINOT NOIR, NIAGARA PENINSULA 2004 $27.95
Trying to find aroma and character is hard; the wine is tight and closed. Sweetness really shows with the first glass and it carries through to the finish where it couples with a layer of silky tannin. Acids are nicely balanced. It is light to medium bodied at best. It carries 14.5 degrees of alcohol, maybe it needs time to develop and show what it is made of. Find this wine

643460 JACKSON-TRIGGS PROPRIETORS' GRAND RESERVE MERITAGE OKANAGAN ESTATE, B.C. 2004 $20.95
An astringent wine, tightly wound, concentrated, so disjointed, but so full of promise.
It reeks of black fruit, vanilla, smoke and spice. Should be worth trying in a few years, the price is fair and the vintage is well touted. Find this wine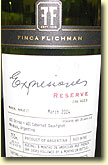 017111 FINCA FLICHMAN EXPRESIONES RESERVE SHIRAZ/CABERNET SAUVIGNON, MENDOZA, AREGENTINA 2004 $15.95
I often buy Flichman's wines as they are prime examples of good QPR wines. This one is no exception. It has a lovely perfume of black fruit, underbrush, tar, dark berry pie and black pepper. At this stage is a touch heavy on the oak, at least for my tastes, but given time, that should subside. The finish shows plenty of tannin, coffee and middle Eastern spice. Buy some now and see what happens to this on a warm summer night with a barbeque full of glistening coals and a plump rib eye. Find this wine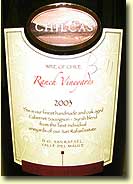 016055 CHILCAS RANCH VINEYARDS CABERNET SAUVIGNON/SYRAH
SAN RAFAEL, MAULE VALLEY, CHILE 2003 $12.95
A nose of Ribena, eucalyptus, and mint. The palate is rather one dimensional; it is solid, fleshy and has good acidity. There is as a cloying texture on the fruit driven finish. Hey, the price is right, a year might soften the feel and who knows what else might happen.
Find this wine


009142 BABICH BLACK LABEL SAUVIGNON BLANC, MARLBOROUGH, SOUTH ISLAND, NZ 2005 $17.95
Plenty of alluring notes of caramelized pear, kiwi, passion fruit and red grapefruit zest. It is not overly acidic, it is dry and the finish is clean and refreshing. Very tasty. Find this wine




012278 LETH GRÜNER VELTLINER BRUNNTHAL, LAGENRESERVE, DONAULAND, AUSTRIA, 2005 $17.95
Grüner Veltliner, now here's a mouthful of flavour. It shows aromas of banana peel, fennel, white peach unripe mango and sawdust. The palate is full, well balanced and clean. It offers a nice change from the "usual suspects." Find this wine

938712 JOSEPH DROUHIN RULLY BLANC, BURGUNDY, 2004 $26.95
A nose of earthy doughy/bread like aromas with a back drop of pear peelings, dried herb, apple and nectarine. The finish is clean and delicate. Find this wine

711325 PATRICK COULBOIS POUILLY FUMÉ LES COCQUES, LOIRE VALLEY 2004 $24.95
Notes of musk melon, wet stone, moss and citrus all combine to create this appealing nose. The palate does not reflect the aromas, instead it releases bone dry flavours of lime, lime and more lime. I could not drink this on its own; shellfish in a Thai broth might do it a favour. Find this wine

712638 DOMAINE DES ASPES VIOGNIER, VIN DE PAYS D'OC 2005 $14.95
Always a good value, showing aromas of honeysuckle, earth, and white tree fruit. It is pleasantly fat on the palate. The finish is a touch lighter than previous vintages. Find this wine

653139 CHÂTEAU DE LA RIVIÈRE, FRONSAC, 2001 $30.95
Coffee grounds, wet moss, plum, tobacco and blackcurrant are the primary notes on the nose. The palate is showing well, the finish is mostly black berry fruit and cassis. Find this wine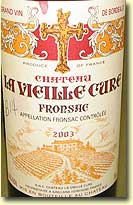 947127 CHÂTEAU LA VIEILLE CURE, FRONSAC 2003 $41.95
A deeper more sophisticated nose than that of its neighbour offering layers of dried blackcurrant, cassis, coal dust and chocolate. It is nicely balanced, rich, a little dusty on the finish and quite tasty. I bought a case of this winery's joice back in the nineties when the price was seriously much lower than it is today, and I experienced it bottle by bottle as it gracefully aged. Sadly it is a little too dear for me now. Find this wine





10736 DOMAINE CAPMARTIN MADIRAN CUVÉE DU COUVENT 2002 $16.95
A wine based on one hundred percent Tannat. It is dark and inky. The nose is full of acetate, dark cherry, tree bark and blueberry. The palate is tight and tannic. Tastes of plum and currant are besieged by an army of astringent tannins. Needs many years of slumber. Find this wine

013979 MUKUZANI, TAMADA WINERY, GEORGIA 2002 $12.95
Burnt rubber, balsawood and dried herbs, which come across as sweet and flabby on the palate. Best leave this one on the shelf. Find this wine

013961 KINDZMARAULI TAMADA WINERY, GEORGIA 2004 $14.95
I really can't find a reason to justify the purpose of this wine. It reminds my of dreadful beginner days of wine drinking back in my teens. Find this wine

012310 GRAF KÁROLYI PRIVATE COLLECTION CABERNET FRANC, HUNGRY 2002
Aromas of bell pepper, forest floor a touch of cherry and little else. Find this wine

972588 A. MANO PRIMITIVO, PUGLIA, ITALY 2003 $15.95
Although this is a good example of primitivo, I am still bowled over by the "Gladiator" Primitivo from the previous release. If you can still find this wine, buy it. Anyway, this rendition is also good, but much softer, sweeter, plusher and more elegant. It carries aromas of red currant fruit, cherry cola and strawberry. The finish is sweet, almost too sweet for my tastes, but it is still good. Find this wine

476598 ALLEGRINI LA GROLA, VENETO, 2003 $26.95
Smoky notes of bacon rind, black olive, white pepper, cassis and blackberry with a touch of vanilla. A well balanced, fruit laden palate and a plump finish. Consistently good year after year. Find this wine

A couple of wines from the South African release.



596981 JEAN DANEEL SIGNATURE CHENIN BLANC, STELLENBOSCH 2005 $19.95
Most impressive! A hint of raisin, mineral, stewed apple, lime and white tree fruit. The palate is ripe, rich and well balanced. The finish lingers long with notes of tangerine, Seville orange and honey. Brilliant. Find this wine

561142 CATHEDRAL CELLAR SHIRAZ WESTERN REGION 2002 $16.95
Here is a lot of bang for the buck. Tons of dark fruit, pine cone, coconut cream and white pepper. The fruit on the palate is really dense, one dimensional, but a nice dimension! The finish is sweet creamy and full of cherry and blueberry. Find this wine

To conclude, a couple of Scotches.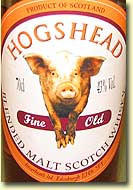 595595 HOGSHEAD FINE OLD BLENDED MALT SCOTCH WHISKY $51.95
Rough and harsh, huge legs, blasts the palate, burns the cheeks, very peaty, full of smoke and painful.

243808 THE ORIGINAL OLDBURY SHEEP DIP SCOTCH WHISKY $34.95
Something named after a trough full of water treated with insecticide and pesticide that poo encrusted sheep wander through does not have appeal to me, but nonetheless, it is far less painful than the Hogshead, showing a nutty caramel, a touch of citrus and a pleasing sweetness in the finish.
001362 GLENMORANGIE 15 YEARS OLD HIGHLAND SINGLE MALT $118.95
Single-malt whiskies are not for the faint of heart. They are intense and they, as wines do, express individuality and reflect the region they are produced in. This example is warming, creamy, full flavoured and powerful. If I were to drink Scotch, this would be on my list.

Cheers
CZ
Alan Kerr's Home Page and Main Index