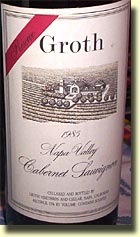 Years ago, I was enjoying lunch with a friend in the Chinatown section of Windsor, Ontario. Once fed, we decided rather than head straight back to London, it would be fun to cross the border and check out some of Detroit's purveyors of fine wine and see what we could procure. At this point in time, L.C.B.O's tax grab at the border was not as restricting as it is today.

Once across the bridge, we drove around the Motor City with no fixed route in mind. Any building that supported a neon sign or placard complete with the word "wine" was fair game to be ransacked. Now if one considers the risk factor of buying wines improperly stored in variety stores and wine shops, we were taking a gamble. However, we did well. Of the three dusty upstanding half bottles of '78 Beaucastel, that we each paid $6.00, one ended up being slightly over the hill, while the other two were surprisingly pristine. We hit a few serious wine shops too, and one in particular, The Merchant of Vino, a spacious and well-stocked store in Rochester Hills, proved a worthwhile stop.

As we diligently scrutinized the shelves, Parker and Wine Spec literature in hand, a salesperson appeared and inquired if we needed assistance. During the subsequent conversation, we learned that the entire state of Michigan had been allotted a mere two cases of the just released, and highly touted, Nils Venge crafted 1985 Groth Reserve Cabernet Sauvignon, upon which Mr. P. immediately bestowed 100 points after his first sip. We also learned several of these bottles had made their way downstairs to the seller's cellar!

At that time, during my preliminary wine drinking days, I happened to be very fond of Groth's regular Cabernets so I made the decision to try my best to acquire a bottle of the Reserve. Now, thirty-five bucks back then was a lot for me to spend on a bottle. However, I wanted one and I lost all sense of dignity; in fact, I was pathetic. I groveled, begged and pleaded with the man to part with one meager bottle instead of holding it for his regular cliental. My actions finally paid off; be it out of sympathy or "I gotta get rid of this guy," I got one. That bottle evolved in my cellar until a couple of weeks ago.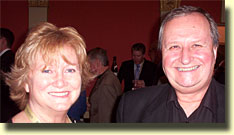 The first true friends I made when I arrived in Canada were Gary and Maureen Bell. Gary has been known to acquire more than his share of high end Californian Cab. On one of many trips to the Golden State, Gary acquired an 85 Opus. Years ago we devised a plan to pop the corks together when these babies celebrate their twentieth year.

Hence, with a combination of sincere friendship, great wines and some premium Albertan lamb racks, there is a formula for a memorable event.

Here are a few notes.

1990 Beringer Private Reserve Cabernet Sauvignon: This submits a dark and inky rim showing no sign of its age. It is huge, tightly wound and very tannic, even after hours in the decanter. The fruit is buried. It offers aromas of Oolong tea, Dutch Liquorish and toasty Vanilla. It is taut and harsh on the palate, and its tannin creates layers of dryness on my teeth. The finish is astringent, and any fruit is buried by the toasty elements from the wood. Maybe we cracked it too soon, I don't know.

1992 Beringer Private Reserve Cabernet Sauvignon: Of all the Beringer wines tonight, this shows the most fruit, although it is still tightly wound and tannic. The plum and currant notes from the nose are lush, rich and show several layers of complexity as they run across the palate and into the finish. Hopefully, the wine will find its equilibrium before the fruit starts to fade. My favourite of the Beringer boys.

1992 Diamond Creek: This is showing a similar rim to that of fine old Bordeaux. It has lost its depth of colour, and the edge is showing a nice rusty/orange hue. The nose has notes of cherry, cigar leaf, Kirsch, blackberry and currant. After a while, it develops some meaty aromas of cooked smoked bacon, along with stewed fruit. On the palate it is surprisingly lighter than I expected although it is fairly viscous. Its fruit is quite dominant on the palate, the acids are in harmony and it is showing little, if any, tannin. I like this wine.

1994 Far Niente Cabernet Sauvignon: As the three of us had once toured and tasted at Far Niente, we figured a trip down memory lane might be in order. This has a huge monster nose of sweet oak, tons of plum, essence of blackcurrant, dark sweet cherry, forest floor and vanilla. This has to be the most voluptuous and mouth filling wine of the night. As big as it is, I find nothing is over the top. I would say this is as ready as it needs to be. Highly enjoyable stuff.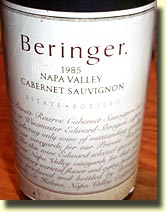 1985 Beringer Private Reserve Cabernet Sauvignon: This is the darkest wine of the three 1985s. It is dark from centre to rim. From the get go, it presents aromas of plum, ripe cherry, blackcurrant, some solid, earthy notes and cedar. It is dense on the palate, and it could still go on for years. As it sits in the decanter, smoke and toasty oak seems to dominate the nose. After a couple of hours, I note hot pepper and alcohol aromas. The fruit is still there, but barely, as it struggles to be noticed. There is a little too much wood and excess tannin in this wine for me.

1985 Groth Reserve Cabernet Sauvignon
This shows a splendid dark ruby garnet colour that shows little, if any sign, of its age. Its fragrant nose gives off a multitude of aromas, featuring pond water, morels, sheep poo, prune, green olives, dried porcini, sage, beet and cola. I am not finding too much fruit here in the first glass. Nonetheless, I persevere, and find some secondary aromas of white truffle, anise and coal dust, along with hints of black fruit and rhubarb. After an hour in the decanter, the wine develops a layer of iodine, moss and aquarium aromas. A quick swirl exposes pepper, cooked rhubarb, blackcurrant and sweet toffee. This is a very complete wine. The balance is excellent; the flavours are clearly multidimensional and enticing. The finish has great length and a wonderful equilibrium between organic and fruit flavours. Brilliant! (Editor's note: Click here for Alan's notes on another great old Groth Cab.)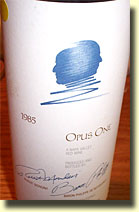 1985 Opus One: As I had the honour of opening the wines, I was concerned here, as the cork was crumbling at about the same rate as my nerves. It totally fell apart and eventually most of it ended up in the wine. After a quick filtering to try and remove all of the floaty bits, the wine appears to show no signs of ill effect from its decrepit stopper. The rim is brick red and the centre glistens with a light ruby/garnet hue. Its initial nose exhibits dust, spearmint, black olive, cherry, thyme and cedar. It starts out being quite elegant, but it soon shows a meaty/fleshy note on the palate along with sour cherry, sweet blueberry, spice and some resolved cocoa powder like tannin. At this point in its life, it appears to be in fine shape. After a few hours in the decanter, its density increases quite substantially and the nose now offers rich dark cherry, orange zest, black pepper and red currant. The finish is rich ripe and cloying. I really like this wine too.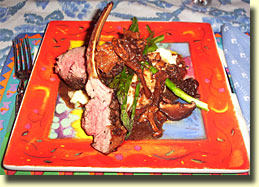 We drank the three 85's with the rosy red lamb racks, some garlic mash and an assortment of shrooms. It is tough for me to say which is the better as they both offer such diverse styles and varying degrees of drinking pleasure. Gary's closing statement was, "If one is to compare these wines to those of Bordeaux, the Groth has the power and structure of a great Latour while the Opus has the elegance of a Margaux."

I can't disagree with that.
Cheers
CZ
Alan Kerr's Home Page and Main Index