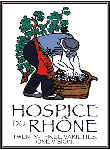 By califusa
Hospice du RhŰne is our kind of wine event.
There are lots of things it isnít. It isnít the New York Wine Experience Ė no tuxedos, no limos, no glitz, no glitter.
It isnít Russian River Barrel Tasting Weekend Ė no packed parking lots and crowds ten deep at the tasting tables.
It isnít San Francisco. It isnít Los Angeles.
This is Paso Robles, folks, this is Wine Country without the Napatude.
We didnít play croquet here, or golf, or tennis, or polo. We bowled.
We didnít meet any celebrity winemakers here. We got to spend time with John Alban, and Mat Garretson, and Yves Gangloff, and Michel Chapoutier, and Chester Osborn Ė all friendly gentlemen creating wines of the highest order.
And, we tasted some of the finest wines produced on three continents.
"The Ninth Annual Hospice du Rhone international celebration of Rhone wines will be held May 31 through June 2, 2001. We will again return to the California Mid-State Fairgrounds in Paso Robles." Mat Garretson