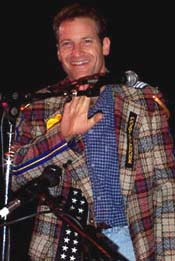 John Alban in the
"Coat du Rhône"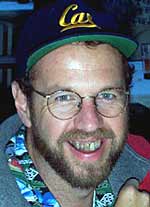 Scott Shewbridge of wineresearch.com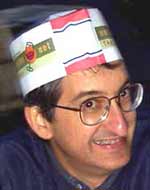 Bernard (Bernie) Roth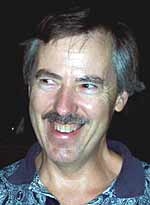 Jim (Vegas Jim) Cross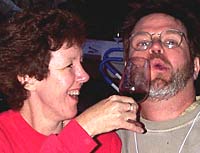 Maureen & Brad Harrington
(FEED ME, I'M YOURS)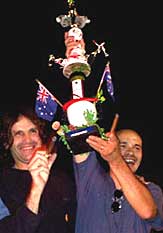 Yves Gangloff and Francois Villard "stole" this year's bowling trophy from Bill Wathen's team. Isn't it a beauty?
By George Heritier

The final event of Hospice du Rhône is the Farewell Barbecue and Brew, held shortly after the Grand Tasting in the Fairgrounds Park. Here, attendees gather to say good-byes, enjoy a barbecue prepared by Villa Creek, slosh down draft beer from the local SLO Brewing Co. and observe the presentation of the Rhône-N-Bowl and Old Bridge Cellars Shiraz/Syrah Trophies and the coveted Coat-du- Rhône. Besides the beer, many opened bottles from the Grand Tasting were placed on tables throughout the picnic area for consumption. Mat Garretson also made a point of bringing Vicki Carroll and her assistant, CiCe Timmermans onstage for their richly deserved kudos for their terrific work in organizing the event. (Vicki's husband, Howard was too shy to step up with them, but was praised nevertheless.)
And then, there is the irreverent music of HdR's "house band," The Austin Lounge Lizards", known for such titles as "Teenage Immigrant Welfare Mothers on Drugs," "Highway Café of the Damned," "Shallow End of the Gene Pool," and "Jesus Loves Me (But He Can't Stand You)."
It was a fitting end for a wonderful weekend. And on top of it all, we had the opportunity to spend time with some old friends, such as Henry (hank) and Lauren Harris, George Palmer and his friend Mary, Brad Harrington, Bruce L., Scott Shewbridge, as well as new ones, including Jim Cross, Pamela Mallett, David Wright, Dan Fredman from The Grateful Palate, Stephen Bozeman and his friend Kim, Bernie Roth, Mel Hill, and Brad's better half, Maureen Harrington.
We could go on and on about what a terrific festival Hospice du Rhône is, but perhaps it would put things in better perspective to quote someone who's attended most, if not all of these, that being the venerable Long (and boring) TomHill:

"This year's HdR was probably the best one ever. Mat had an executive director, Vicki Carroll, to help with the details. As best I could tell, the execution of the event was absolutely flawless. Taking Mat out of the loop was probably the best thing that could have been done. It gave him the time to focus on the big picture. Everything about the venue was perfect. The Grand Tastings had plenty of room and no high temperatures like last year. The seminars were universally highly informative, very well moderated, and terrific wines to display the points.
And, of course, my major complaint: it appears, once again, that the bowling scores were manipulated so that the Only-The-Rhonely team didn't win the trophy again, despite our obvious superior athletic skills.

Hats off to Mat Garretson, Vicki Carroll, John Alban, and all the others working behind the scenes that made this year's HdR such a seamless event. It's easily the best single wine event I go to each year. I'll go again next year, for sure. If you've never attended this before, you are really missing out."

Well then, there it is. We couldn't have said it better ourselves!