Storyline by
George Heritier

On to the aperitif
tasting notes

On to the Dominus
tasting notes
On to MoCool '99
Saturday picnic
and
tasting notes

On to MoCool '99
Sunday
"Taste the Terroir"
Cabernet Shootout
intro
"Taste the Terroir"
tasting notes

All content
© Gang of Pour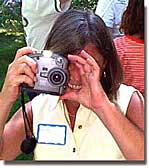 Linda Baldwin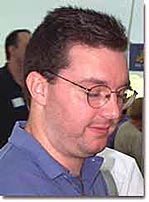 Matthew Cooper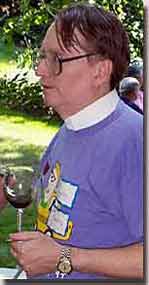 John Trombley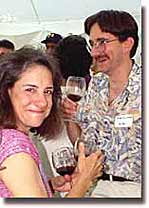 Deb and Guido

I have a private theory that the MOCOOL organizers have some secret agreement with that retired weather wizard, Bob Henrick. This was the third consecutive Saturday Picnic that The Director and this taster have had the pleasure of attending, and the sun has shown gloriously each time. Bob Henrick has also been at each of these events. Hmm...

We hit the scene at Sally and Joel Goldberg's at 3:30, tip-toeing past the Mark Horvatich tasting-within-a-tasting taking place in the dining room. We made our way down to the back yard, and immediately got into the swing of things; there were already a couple dozen tasters and a veritable plethora of Cabernet Sauvignons placed for consideration on the row of tables under the bigtop. Online winos would continue to arrive over the next two hours as we sipped and schmoozed.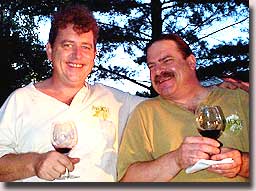 (L-R) Alan Kerr & Allan Bree
The Gang was well represented on this fine day. Indeed, Canadian Zinfan and califusa were responsible for the magnificent dinner that was served. They looked a bit haggard at the end of the day, after serving upwards of 100 hungry Cab-hounds, but they got to sample some killer wines from various sources. Of course, the Bored Doughnuts were in attendance, with Marc Fairoth riding shotgun, and Mike Brenton/Zinvocate and Deb Cole/Wine Syrahn were there too, along with the ubiquitous Dennis Strzalkowski.And what MOCOOL would be complete without Guido/Dave Guimond singing his topical Second Coming of Bacchus, the hit of last year's Saturday MOCOOL Picnic, as well as some old and new compositions.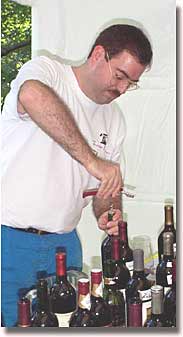 Mike Conner uncorks at the California table
The quality of the wines on hand was extremely high this year. Designate Cabernet Sauvignon as the theme, and you just know you'll taste some heavy hitters. But for me, the biggest treat is the people. Renewing acquaintances with folks like Bob Henrick, Mike Conner, Mark Horvatich, Alan and Maire Jarvis, Frank and Maryann Joyce, Robin Garr, Tamara Real, Wayne Hicks and Jill Reike, Joe Bonk, Nancy and Lew Rodrick, Gene Shensky, and Dana Burton is what it's all about. And we also took great pleasure in finally getting to meet Frank and Linda Baldwin, Manuel Camblor and his friend Camilo, Amee and Matthew Cooper, Kosala, Len Meltzer, Joe Moorehouse, John Trombley,Ted Richards, Peter Curran,and Rudolph Erasmus. Rudolph traveled all the way from South Africa to attend MOCOOL!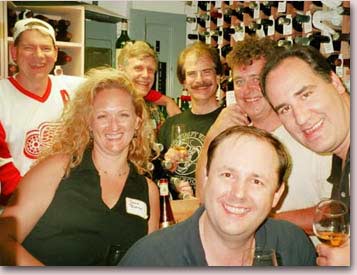 Stuffed in Joel's cellar!
Back row L-R: John Wolf, Mike Brenton, Joel Goldberg, Alan Kerr. Front row L-R: Dana Burton, Mark Horvatich, Joe Pinto
photo courtesy of Mike Brenton
As for the wines, I had two clear favorites, and they were on the opposite ends of the Cabernet spectrum.
---
1982 Chateau Grand Puy-Lacoste Pauillac : This rusty garnet has everything you'd expect from a great mature Bordeaux, with beautiful, refined cassis/leather/cigar box flavors and aromas. This is like silk on the palate, and I could have sipped on it all afternoon.
---
1996 Joseph Phelps Insignia: Wow! A real fruit bomb! Like a reduced raspberry sauce; the 'deauxnut compared this favorably to Araujo. I can see why Joel Goldberg says he ALWAYS buys some of this each vintage.
There was a close third though, and it's one of the Overberg's favorites.
---
1988 Groth Napa Cabernet Sauvignon Reserve: This dark garnet with a hint of brick was poured from a 3 Litre bottle, and it still evaporated in about an hour! It has the big herbaceous nose that is the hallmark of this producer; some people don't care for it, but I have no problem with it whatsoever. The big sweet cassis/red currant/hint o' bellpepper flavors are delicious and this is drinking so well right now.
---
The rest of the wines that I tasted were by no means also rans; indeed, this was a delicious exercise in high quality. Here are some notes on the others that impressed us.
1987 Joseph Phelps Insignia: Dark garnet with some brick, this didn't show much on the nose, but had plenty of intense cassis/red licorice flavors.
---
1990 Chateau Beycheville: Though this still has years of life ahead of it, it has big ripe fruit, with plenty of plum/cassis characteristics. BD called it a "tannic beast," but I found it quite approachable.
---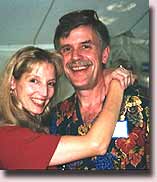 Deb Cole and Mike Brenton
1994 Chateau Souverain Alexander Valley Cabernet Sauvignon Winemaker's Reserve: Mike Brenton and Deb Cole brought this and the following wine to try side by side, and it was an interesting comparison. This one has a bit of a bellpepper on the nose, but the flavors are all big, rich, round, ripe plum/black currant.
---
1994 Chateau Souverain Cabernet Sauvignon Winemaker's Reserve: Even richer, riper and more delicious than the previous selection, this features lovely sweet fruit, with plum/red currant/raspberry flavors and aromas. Big and bumptious.
---
1995 Saddleback Napa Cabernet Sauvignon: Dark garnet, with a beautiful nose featuring rich sweet oak/spicy red currant/black cherry that follows through on the palate. Though there are still significant tannins, it is very approachable, with a smooth velvet-like texture.
---
1993 Etude Napa Cabernet Sauvignon: This was one of those that I didn't want to taste, because it smelled so good. Rich red currant/chocolate/raspberry/blueberry flavors and aromas, with some tannins that can still use a few years to soften.
---
1994 Plumpjack Napa Cabernet Sauvignon: Lots of red licorice on the nose here, with plump plum/currant/raspberry/licorice flavors. Very tasty, and a little different than many of the other Cal Cabs.
---
1993 Silver Oak Alexander Cabernet Sauvignon: One of the tasters refers to this as "Silver Joke," but even he had to admit that it was drinking quite well on this occasion. Sweet oak/dill over big red currant/raspberry, with fairly low acidity, it's a smooth operator.
---
1984 Joseph Phelps Napa Cabernet Sauvignon Eisele Vineyard: Manuel Camblor pulled the corks on this and the following two for comparisons sake. It has a somewhat vegetal nose, with cassis/plum/green olive flavors; Bob Henrick said it tastes younger than the next two, with more in your face fruit.
---
1986 Joseph Phelps Napa Cabernet Sauvignon Eisele Vineyard: This has softer, prettier fruit on the palate, with chocolate/red currant flavors, but has a funky, slightly fecal note on the nose.
---
1987 Joseph Phelps Napa Cabernet Sauvignon Eisele Vineyard: The best of the three in my book, with no off notes, and some tannins yet to resolve; nice cassis/Cab flavors and aromas, with a hint of mint. Thanks Manuel!
---
Once again, the MOCOOL organizers really outdid themselves with this year's Saturday picnic. The Goldbergs, Baldwins, Wolfs and Kahles work extremely hard to ensure that the festivities run smoothly, and everyone has a fabulous time. Little wonder that this has become one of, if not THE most popular offline gathering of online winos in the world. Of course, it never hurts to have a weather wizard working for you. >;^)>
On to "Taste the Terroir" - Cab shootout competition held on Sunday