By George Heritier (geo t.)

8TH ANNUAL ZINFANDEL TASTING
(Spitter courtesy of Shon, Bohemian Cellars Winemaker)
Fort Mason, Festival Pavilion, San Francisco, California - January 30, 1999: Up bright and early, we drank plenty of Peet's French Roast, didn't shower and hit Highway 1 at around 10 AM. This was the big Kahuna, the tasting of barrel samples from member wineries that is so big, they have to put it in a VERY LARGE Pavilion. There are upwards of 190 producers in ZAP, and most would be pouring today.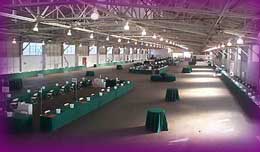 The Trade portion of the tasting goes from 10 'til 2:30, then they let the hordes of Zin-fanatics in and things get a little crazy, or so I'd been led to believe. Even at this early hour, there were a LOT of people here. Festival Pavilion looks as though it can easily contain two football fields with room to spare; the scope of this event is simply a marvel. The crowd would grow throughout the day, but despite what we'd heard, the quarters never actually became claustrophobic.

Bree and 9-Ball are ZAP volunteers, and in fact, co-chaired the Wine Sales Committee, so we only saw them occasionally throughout the day. Madame and I simply wandered at first, stopping to greet people we were already acquainted with like the Nachbaurs, Nils Venge, Duane Dappen and of course Delia and Ken, our friends from Ridge.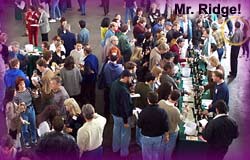 We lurked in the "R" area, waiting for Paul Draper like groupies at a Who concert, and when he arrived shortly afterwards, we elicited some interesting comments regarding the '97 vintage for Ridge Zins and that so-called "Draper perfume."
Of course, it was a special treat to spend a little time with Mr. Ridge himself. He might not stand out in a crowd if you don't know who he is, but listening to him speak about his wines, one gets the sense that here is a man who is extremely centered and focused. I won't deny a certain bias, but I came away from the ZAP experience being most impressed with this man who makes the wines that many of The Gang love above all others.

We continued on from there, and I had yet to taste a drop; frankly, I couldn't even handle the thought yet. I munched on some of the bread and cheese situated strategically about the Pavilion in anticipation of the coming onslaught.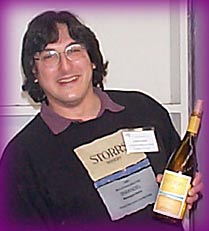 Jason Brandt Lewis
We passed by the Storrs station, and of course had to stop and say hello to Steve Storrs and Jason Brandt Lewis, who had a bottle or two of Storrs Chardonnay stashed beneath the table for a refreshing palate cleanser.
Adam Lee
Continuing on, we met several folks for the first time, like Siduri's Adam Lee, who were helping their friends from Saxon-Brown (whose Casa Santina Maria is a very nice Zin, but $35 per?), and in turn directed us to the Bohemian Cellars station. There, Madame had a taste of their '97 Alexander Zin and pronounced it delicious, while I explained my condition to Shon, the winemaker. He said, "Hey, I may have one spitter left!"

Horror of horrors! Here I was face to face with the unthinkable! I had never spat wine in my life that wasn't corked or Scuppernong, and our very Gang motto says so. However, I knew I'd never make it through the day otherwise, so I accepted the bright red plastic cup gratefully, along with a taste of his wine, which more than lived up to Madame's positive assessment.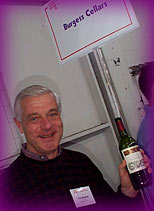 Tom Burgess
We thanked Shon and company for their hospitality and moved on; our next stop was at Burgess Cellars, for old times sake. There was Tom Burgess, in a very upbeat mood, pouring his '96 Napa, so we told him how we cut our wine teeth on his wonderful Zins and Petite Sirahs back in the '70's. (Unfortunately, Burgess stopped making P.S. around the '78 or '79 vintage, and for some reason the Zins lost something; every one we tried from the '80 vintage on just wasn't as good as they used to be. Eventually, we stopped trying them.) He was pleased to hear about our history with his wine, and poured us a glass of his '96 Napa. We took a sip, and looked at each other with some surprise; this is a solid tasty Zinfandel, in a lovely creamy claret style. His Amador bottling was also quite pleasant. Kim preferred it while I liked the former.

After that, there was only one thing to do, and that was head right back to the Ridge station! I'd made up my mind beforehand that I wasn't even going to try to take notes on all the wines I'd be tasting this day. I don't do well with small pours and quick takes, so I felt that general impressions would have to be the treatment. Besides, most notes would have been "bright spicy zinberry and sweet toasty oak," which would get old really quick. I can say though, that the four '97's that Paul, Delia and company were pouring were simply delicious. I tasted the Geyserville and Lytton Springs first, and they rock heavily. We couldn't get at the Nervo or Dusi right away, because of course, Mr. Ridge draws a crowd. However, subsequent sips showed that these were very tasty as well. The Dusi, in particular is a real doozie, with what Canadian Zinfan would call a sunbaked quality to it. Serious, serious stuff.

We had a particular must-do on our agenda, so we moseyed on over to the Home Winemakers' Area, to see if we could find Mike Officer and get a taste of his Carlisle Cellars Zinfandel.

I remembered Mike from the early days of the Wine Spectator Forums. His posts were always informative, and he obviously knew what he was talking about. Unfortunately, he got tired of being harassed by one particular malcontent, and disappeared. However, he began to show up on Brad Harrington's West Coast Wine Discussion Group, and I discovered that he'd just gone commercial with the '98 vintage, making his wine at Adam and Dianna's Siduri facility in Santa Rosa.

Mike wasn't at the station, but his wife Kendall and their '97 Dry Creek Valley and Russian River bottlings were, and we found the wines to be rich and delicious. They pushed all the right buttons for me when it comes to Zinfandel. We have also put up a profile on Mike and Kendall's Carlisle Cellars.

We continued to wander and sample; here's a short list of some other things that jumped right out at us:

The '97 Turley Hayne explodes from the glass with huge fruit in the signature Turley style, which I'm quite fond of, but have never purchased. Turley's wines have been criticized for being too over-the-top, but I don't have that problem with them. I just can't get my hands on any at their release price, and I'm not about to let some speculator gouge me.

Duane Dappan's '97 D-Cubed Napa Zinfandel is absolutely delicious, even richer and more concentrated than the previous efforts we've tasted. Yumm!

We've never had access to Eberle wines in Day-twah, so I made a point of stopping for a taste or two. Both the Sauret and Steinback are rich, creamy and delicious.

Surprise! The '97 Saddleback Napa is big, extracted and killer. Nils Venge and Mary Pisor have done it again. (Later that day, we'd be somewhat surprised to discover that Mary would be leaving Saddleback to take a position with Plumpjack the following week.)

The '97 (and a '98!) Biale Zins are terrific across the board, with what I'm coming to recognize as that distinctive silky Biale style.

Others that stand out in the memory include the Dashe '97 Russian River, the '97 Rosenblum Annette's Vineyard and the '97 Ravenswood Tedelschi.

We couldn't even begin to taste most of the wines being poured, of course. The number of wineries represented at ZAP is mindboggling. We missed several notable producers all together; Martinelli, De Loach and St. Francis come to mind. The Director was smart and took a rest around 12:30, but I kept wandering, tasting and meeting virtual friends such as Brad Harrington, George Palmer and the irrepressible Colin Wile, who traveled all the way from Australia to attend ZAP. Finally, at around 3PM, I was limping around, sore, tired and sick of tasting wine! One nap-n-snack later, I was somewhat refreshed, and sat and actually DRANK a nice glass of the Ridge Dusi, looking out at Alcatraz, chatting with Rod and Debbie Schiffman and Sam and Jean Leone, who we were meeting for the first time.

I asked califusa for his thoughts regarding the ZAP tasting, and he had this to say:
"Well, from the standpoint of a volunteer, I was simply delighted. Each year, we seem to be challenged with at least one nightmare area. Last year the bathrooms went (if you will pardon the expression) buns up. The year before, it was registration.

This year, however, I could discern no outstanding problems. I'm sure that individuals may have had problems here and there, but overall, I was quite pleased. I think some of the improvement was due to extending the hours of the trade portion of the tasting, which seemed to relieve the congestion at the start of the public portion of the tasting.

Or perhaps, after eight years of doing this, we're finally getting our act together. And, perhaps those who attend this event have come to know what to expect.

What is most fascinating, however, is that this tasting has become a destination event for winelovers across the country and around the world. That may be the most gratifying part of it all."
Some Thoughts Re: the '97 Vintage
Almost all of what we tasted at this year's ZAP was impressive. There were very few dogs that we tried, but again, we didn't come close to trying even half of what was being poured. And, while I might be able to comment on the last several vintages of Ridge Zinfandel, I would not presume to make a judgement on the '97 vintage as a whole, which is mostly what was offered for tasting. I simply don't have the experience with the myriad of producers (much less vintage to vintage comparisons) to give any kind of competent assessment.

We have some friends who do though, so I polled them for their comments and opinions. Here's what they had to say.
Long (and boring) Tom Hill: "The '97 Zins were being given a lot of favorable talk by the winemakers after the crush. When I tasted thru all the Rosenblum '97's last October, I thought they were very good; but not mind-blowing. His Contra Costas were less successful than his others. At ZAP Saturday; again the '97's did not show a mind-blowing superiority over previous vintages. Probably better than the '96's, but that wasn't obvious in THAT venue (that's a hard venue to get a lot of detail in). And.... the crop level was up by a sizable factor (15%-25%) so that HAS to produce a bit more diffuse wines; but again that wasn't obvious at ZAP; I didn't see any of what I'd call dilute, washed-out wines.

So, as in any vintage, you should try the wines first & then buy what you like. Always good advice. My suspicion is that the '98 vintage will produce more truly great Zins.... and more badly inferior ones. But just a guess."

Mike Officer: "I tasted a number of '97s that had problems with fermentation.
Although some have suggested this was a result of late or over application of fungicides (to battle El Niņo), my guess is that sugars simply got away from some wineries.

Are the '97s great across the board? No. But then again I don't think that can be true of any vintage. There will always be successes and failures in a given year. However, '97 is certainly very good and one from which I look forward to drinking wines. I went into ZAP suspect of the high
yields but tasted many concentrated, full-blown zins."

Milan Maximovitch: "I believe '97 is a mixed vintage for zins, with a number of very nice but very few, if any, great examples of the variety. There were also a relatively large number of wines with high volatile acidity, high hydrogen sulfide, and high acetate levels presented as quality wines. There was a general lack of exciting varietal character, even in many big-name wines. Simple, alcoholic wines are a far cry from great wines, which may or may not also have high alcohol.

I thought the showing at ZAP for the 1997 vintage was not up to that of the 1996, let alone the 1994, a great Zin vintage. That said, there are a lot of nice wines and a surprisingly large number of significantly flawed wines being offered at equally surprisingly high prices."

Califusa: "I think 1997 will be a difficult vintage to categorize. Some folks will produce wonderful wines because they were not greedy, and dropped fruit to maintain concentration. Others yielded to the temptation of a huge crop, and may produce good, but not great wines.

I also consider the vagaries of barrel tasting - the Biale wines were a bit more impressive several months ago than they were at this tasting - were my initial impressions wrong? (I don't think so.) The Ridge wines showed better this January than they have in the last three years. Does this mean the 97 vintage is better than the 94 or 95? I don't think so either.

I guess what I am trying to say, is that I find it very difficult to draw conclusions about a vintage from one tasting. I yield to those whose palate and experience are sophisticated enough to extrapolate from this snapshot what the impact of this entire vintage might be.

Me? - I'm just the Left Coast Correspondent - I calls 'em as I tastes 'em."
Kim and I were almost overwhelmed by the scope and breadth of the ZAP Festival. At almost every turn, the wines, food and presentation were top-notch. ZAP has evolved from humble beginnings to become one of the worlds major wine events, and Madame says we'll be back next year.

Who is this taster to argue?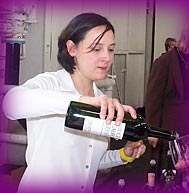 Delia Montesinos,
Retail Sales Manager,
Ridge Vineyards

You will need the free Real Audio plugin in order to hear the Draper interview. You may download it at Real Audio's site.
This RealAudio stream is provided by Arts Wire whose server space is provided by the Master of Arts Management Program of Carnegie Mellon University.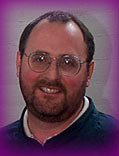 Jeff Gaffner Owner/Winemaker Saxon-Brown


Shon, Bohemian Cellars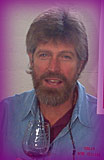 Larry Turley

Tom Hill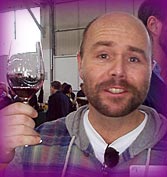 Mattman

Matt Mabus graciously allowed us to repost his ZAP '99 tasting notes.
Check 'em out!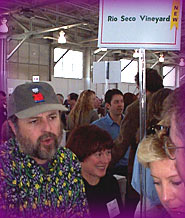 Larry, Dr. Fermento