By Mike Officer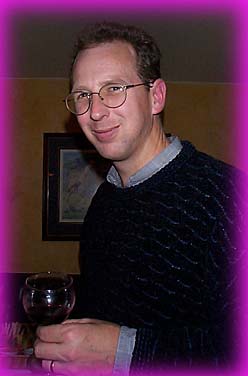 Mike Officer
"In 1987 I moved to San Francisco. In the year before, I happened to make the acquaintance of Fred Peterson. He and his partner, Bill Hambrecht, owned the Norton Ranch, now owned by Ridge and called Lytton West. About this time, I was unsure about my career choice as a software engineer and started to contemplate alternatives. I wanted to do something about which I truly felt passionate. Of course, by this point I was extremely passionate about wine. Wine making then? Sounded good but I thought I better give it a try before making any major decisions. So, with Fred's Norton Ranch as my grape source, I tried my hand at 5 gallons of zin. It was exciting to make but the results were less than stellar. I dumped the whole carboy a year later. Ditto for '88. '89 I skipped due to the horrible weather that decimated the zin crop. '89 was a great year for other things though. I married my best friend and college study partner, Kendall Carlisle, who I had fallen madly in love with 9 years earlier. Like wine, some things take a while to mature! In 1990, I was able to get enough grapes from the Grist Ranch in Dry Creek, also owned by Fred and Bill, for a full 60 gallon barrel. The results showed promise.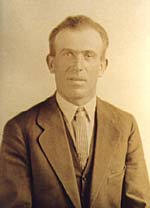 Alcide Pelletti
After living through the Loma Prieta earthquake in the Marina district of San Francisco, Kendall and I decided to buy a house on more stable ground. Or at least not landfill! In early 1991, we bought a new house in northwestern Santa Rosa in Sonoma County. We picked a model that had a north-facing garage with a little nook. "This will be perfect for your winemaking!" exclaimed Kendall. We loved the location too. Just a few minutes away by bike were some of the best zinfandel vineyards in Sonoma County - Belloni, Papera, Pelletti, Montafi, Frati, etc. I was mesmerized by the old vines. I know it sounds corny but I really felt their craggy old arms were reaching out to me. I was astonished by the pull I felt. Wouldn't it be a dream come true to own one some day?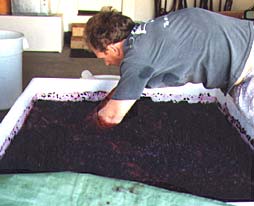 Later that year, after settling into our new house, I made another barrel of zin from the Grist Ranch. In '92, with the help of some good friends, we made 5 barrels - zin and cabernet sauvignon from Norton Ranch, zin and petite sirah from Teldeschi's and zin from Gambogi Ranch. The wines seemed to be getting better and better and I was enjoying it more than ever. The following year, we again made cabernet from Norton, petite sirah from Teldeschi, and zins from both Rue Vineyard on Wood Road and Rossi Ranch in the hills west of Kenwood. In '94, it was cabernet from Caldwell Vineyard in Napa, petite sirah, valdiguié, and carignan from Teldeschi's, pinot noirs from Carneros and Russian River Valley, and zins from Rossi Ranch and Montafi Ranch. '95 was similar with some zin from Teldeschi replacing the Carneros pinot and skipping the carignan. By this point, we had outgrown the nook and had taken over the garage with equipment and barrels. I had 28 "members" in what had become the Carlisle Cellars Home Winemaking Club. We picked Kendall's maiden name as there wasn't a whole lot you could do with "Officer". All costs and wines were split 28 ways and many of the members helped out during harvest or bottling. In '96, I decided I just wasn't interested enough in making cabernet and decided to stick to making zins and petite sirah. These were the varieties that excited me most. By 1997 we hit 300 cases and crushed 6 tons. By now, I realized I had answered the question. Yes, wine making as a career was something in which I was interested! Our '97s were better than ever and I realized it was time to fish or cut bait. Kendall and I made it our goal to crush commercially in '98.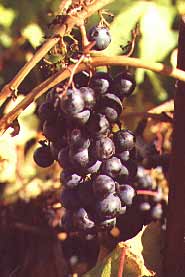 Zinfandel


The market for zin grapes, however, had changed dramatically over the last six years. Where I used to be able to buy zin from almost any great old-vine vineyard, it was no longer the case. The public (probably frustrated by the skyrocketing prices of cabernets) had discovered what a bargain zinfandel was. Hence, demand was higher than ever. We paid $900 a ton for Gambogi Ranch zin in 1992. In 1997, the going rate was $2000 a ton. Too many wineries were chasing too few old-vine vineyards. It was becoming more and more difficult to obtain the best grapes. I could see that the only way we could guarantee ourselves grapes commercially would be to either own or long-term lease the vineyards. From a qualitative standpoint, it's also the ultimate situation for a winemaker - to be in direct control of the grapes from which he or she makes wine.

But before buying or leasing a vineyard, I thought I better have some idea of how to take care of one. I needed a quick, hands-on education. With some persistence, I found an owner of a small, run-down, two-acre, old-vine vineyard who was willing to let me use it as my classroom. It was overrun by small oak trees, poison oak, and blackberries, not to mention weeds. With a lot of sweat, some help, and several cases of poison oak, I got the vineyard cleaned up. What was billed to me as zinfandel turned out to be only 8 vines of zinfandel! With the help of Andy Walker and Rhonda Smith of UCD, we determined that 74% of the vines were mourvèdre, 10% refosco (a.k.a. mondeuse), 9% petite sirah, 4% valdepeñas, 2% alicante bouschet, and the remaining 1% a mix of zinfandel, syrah, and folle blanche. I had to honor the remaining year of an existing contract and sell the grapes to Sean Thackrey in 1997 but I crushed all the fruit for ourselves in 1998. More on that later.

Having gained a small amount of viticultural experience, in late 1997, Kendall and I decided to look for some acreage, hoping to plant a vineyard. We made an offer on 8.5 acres on Wood Road - no vines but certainly plantable and in the right neighborhood. But for some strange reason, we didn't feel right about the purchase. We started to wonder, if we did buy it, would a great old-vine zin vineyard come on the market soon after? (Like this happens everyday! Not!) We didn't want to end up kicking ourselves for buying the wrong property. So, we made a list of some of our favorite zin vineyards and asked our agent to go cold calling.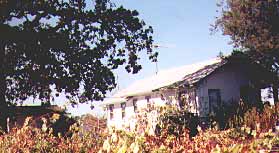 Her first stop was the late Alcide Pelletti's ranch, now owned by his daughter Barbara. Lo and behold, she had been contemplating selling and had the listing papers sitting on her desk. With a lot of patience and some generous help from both of our parents, five months later we closed escrow on Pelletti's ranch on June 9th, 1998. We were now the proud owners of over 10 acres of old-vine zin planted in 1927!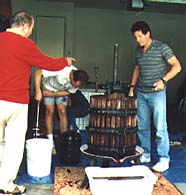 That brings me to our first commercial harvest. We certainly picked a tough year to start! It was the first time I never received grapes in September. Finally, on October 1st, I got a call that one of the vineyards I had contracted for grapes, George St. Clare Vineyard in Alexander Valley, would be picked the next day. Hmmm... I didn't think the grapes were ripe yet and had to wonder if the picking date had anything to do with the forecast of 2+ inches of rain for October 3rd and 4th. The next day I went up to the vineyard to make sure the grapes were in good shape. They weren't. Some clusters were still underripe; others had rot. I took a sugar sample and got 22 brix, hardly what one would call ripe. My mind started spinning. If it dumps rain as forecasted, I can pretty much kiss the year good bye. I decided to go over to Ray Teldeschi's ranch in Dry Creek to see my designated zin block for comparison's sake. It had just been picked! Now my mind was really reeling! I left a message for Ray and went back to George St. Clare's place. At this point, it was looking like these could be the only grapes I get. I decided to take two tons of George St. Clare rather than 4. Uggg! Back at Siduri's facility where I was custom crushing, 5 of us spent about 6 hours sorting every cluster. It was grueling, messy work. We ended up throwing out over 25% of the grapes. The hard work paid off however. Sugars in the tank hit 24.5 brix and while not in the ripe jammy style I prefer, the wine turned out nicely.

Ray Teldeschi called later that evening and apologized for picking my block. Seems several wineries in the valley were panicking about the weather and wanted their zin picked before the rain arrived. My block got picked in the mayhem. Not to worry, he said. He had two small blocks left planted in a steep ravine. I went up the next day to look at them. I liked them even better than the original block! The rain never materialized and the weather turned warm, dry, and windy.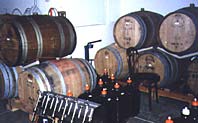 In the mean time, the broker for the George St. Clare zin felt so bad when I described how much we had to throw out that he agreed to sell me one and a half tons of one of my favorite zin vineyards in Russian River Valley, the Montafi Ranch. As a home winemaker, I had fallen in love with this vineyard. In the fermentor, the color is always the most intense vibrant black/purple. Just looking at the stuff gets my heart racing! Also, the juice typically has the most intense blackberry/eucalyptus aroma, no doubt from windblown resins off the nearby eucalyptus trees. The grapes were picked on October 7th in fine shape at close to 26 brix. Acids, pH, everything was textbook.

We picked Ray's zin the next day, October 8th. At this point, sugars were so high (27 brix) that I opted to take 3 tons of zin and 1 ton of petite sirah. The petite sirah was at 22.5 brix but had great flavors and low acid. By crushing everything together, the sugar ended up just below 26. When I can, I prefer lowering sugars with other grapes as opposed to adding water (which technically is illegal anyway).

Coming next on the 18th was petite sirah, from Ray's home ranch again. These vines are so old and virused that they barely produce any fruit. In fact, they produce so little fruit that Ray has been slowly ripping them out, block by block, and replanting. It tears me apart to see him doing this but he says the vines are no longer economically viable. He feels that his new plantings will produce grapes every bit as good. Ray is a great grower with a wealth of experience and knowledge but I have a hard time believing this. So, I've convinced him to keep a small amount of old-vine petite on the condition that I will buy some of the young vine fruit when it becomes available. I will make each lot as best I can and we will see if the young vines produce a wine as good. Frankly, I'm skeptical but willing to give it a try.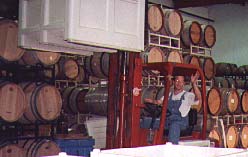 Harvest was going well and other than having to learn how to drive a forklift and use bigger equipment, the transition from home winemaker to commercial was going smoothly. Then, a rude awakening. My biggest lot of zin was to be 5 tons from the Occidental Vineyard. I was really excited to get this, as I'm a firm believer that the best zins comes from vineyards that are just barely able to fully ripen their crop. Thinking that this would be my flagship zin, I had two stainless steel tanks made just for this lot. I had met with the owner and vineyard manager earlier in the spring. Five tons? Not a problem they said. In fact, they offered me more if I wanted it. I asked if we should get an agreement in writing. No, they've never had contracts in writing. They said they were men of honor and integrity and lived up to their words. I bought it hook, line, and sinker. As harvest approached I began calling both of them to work out the details of picking. I left numerous messages. I finally spoke to the vineyard manager who said everything was still a go. I continued going out on a weekly basis to sugar sample. I knew we were close. After crushing the petite sirah on the 18th, I went out to sample again. They had just finished picking! I panicked. Surely there must be some other block with 5 tons left. I ran the entire vineyard looking for more zin but alas, 5 tons were not to be found. I found the owner. He seemed to care less. Blamed it on El Niño and said he couldn't control the weather. Agreed. But he could have had the courtesy to return one of my many messages to tell me the crop was short and that I wouldn't be getting grapes. What a disappointing experience!

Harvest wrapped up with my 2 acre "classroom". I was planning on picking it October 24th but the night of the 22nd they were forecasting (confidently) that it would be raining that day (and it did). Borrowed a neighboring grower's crew the next day and picked (and fermented) each variety separately. There was precious little crop. The year before, I felt I over-sulfured. So, in '98, I decided to cut back. It wasn't the year to go lightly on fungicides. The vineyard was looking in great shape up until about mid-June. I had noticed that some of the neighboring vineyards were showing signs of mildew though. Then, literally overnight, mildew hit. At first it was just on the windward side along the perimeter but over the next few weeks, it marched through a good chunk of the vineyard. I was devastated to think that all my hard work, the leaf-pulling, shoot-thinning, green-thinning, could be wasted. I made numerous passes through the vineyard over the next few months. If I saw a cluster that wasn't perfect, I cut it off. I ended up dropping 50% of the crop. We ended up picking about 1.7 tons. But what a glorious 1.7 tons! I had been inspired by some of the ripe, earthy Australian mourvèdres I had tasted on a recent trip to Barossa Valley and decided to try to do something similar. The mourvèdre was at 27 brix. The other varieties ranged between 24.5 and 26. In the end, I decided to blend the mourvèdre (which was almost too painfully intense) with the petite sirah, valdepeñas, alicante, zin, and syrah. The other components gave the mourvèdre the structure it lacked.

That pretty much brings us to present. I'll be working with a lot of the same vineyards in '99 but am always eager for another source of great zin or petite sirah. My guess is that we'll hold production to about 1000 cases (it was about 700 in '98) and grow to 2000 cases in 2001 with fruit from our new ranch."
Mike Officer
Carlisle Winery & Vineyards
P.O. Box 556
Santa Rosa, CA 95402
(707) 566-7700 - Direct
(707) 566-7200 - Fax
www.carlislewinery.com