By George Heritier (geo t.)
Acorn Winery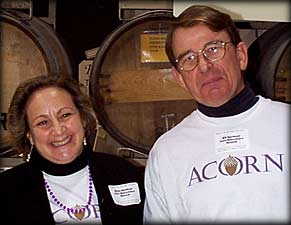 Betsy and Bill Nachbaur
We'd received an email from owner Bill Nachbaur a few weeks before; he and his wife Betsy have been farming their Alegria Vineyard since 1990, and had seen our notes regarding some of the Ridge bottlings made from their fruit. (The Nachbaurs had provided fruit to Ridge for six years; those grapes now go to Rosenblum, which produced it's first Alegria bottling with the '97 vintage.) He looked forward to seeing us at ZAP, and so we made a point of seeking them out. Bill and Betsy are warm, friendly folks, and their 1997 Alegria Vineyards Heritage Vines Zinfandel was my hands down favorite of the Good Eats and Zinfandel Tasting.


The vineyard dates back to the 1890's; it's an inter-planted "field blend," not unlike those that produce the Ridge Geyserville and Pagani bottlings that The Gang are so fond of. This is the first vintage for their Acorn label, and it's a beauty! According to Betsy, "Winemakers like to say that wine is made in the vineyard. So to that extent, Bill is the wine maker of the '97 Zin. But really, the wine was made by the folks at Rosenblum. He selected the grapes and the barrels and decided when to bottle. We are a bonded winery and Bill has made other wine himself, e.g., our 97 Cinsault."
The '97 Acorn Alegria is comprised of 78% Zinfandel, 11% Alicante Bouschet and 9% Petite Sirah, with the remaining 2% including Carignan, Trousseau, Sangiovese, Petit Bouschet, Negrette, Syrah, Muscat Noir, Cinsault, and Grenache, this was aged 1/8 in new Hungarian and American oak barrels, and 7/8 in older French oak barrels. A pink/purple garnet, it shows lovely creamy zinberry/black cherry/spice flavors and aromas, along with a certain aromatic quality that I found hard to describe at the time of tasting, but was nevertheless enchanted with (some fake wine writer I am…). Despite the 15.8% alcohol, there was no heat to speak of.

Only 279 cases were produced, so you might want to move quickly to get some of this; we already have!
Acorn Winery
P.O. Box 2061
Healdsburg, CA 95448-2061
Call toll-free 1-888-ACORN-76 (226-7676)