Recently, I took the opportunity to attend a trade event presented by Niebaum - Coppola, through their regional distributor, Vintage Wine Company, of Roseville, Michigan. The tasting - luncheon, held at Mr. Paul's Chop House in Roseville, was a novel way of promote the release of 2000 vintage of the Niebaum - Coppola flagship wine, Rubicon, by presenting it side - by - side with the 2000 Château Mouton Rothschild Pauillac and the 2000 Château Haut - Brion Pessac - Léognan, pretty heady company indeed. The intent was to show that Rubicon is a world class Cabernet Sauvignon that can hold its own with the best of Bordeaux for considerably fewer dollars. On hand to pass on information about the wines was David Kouzmanoff, Niebaum - Coppola Central Regional Manager.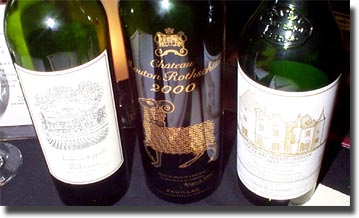 We got things started with a newly released white.

2003 Francis Coppola Napa Sauvignon Blanc Diamond Collection, 13.5% alc.: This saw no oak whatsoever, having been slowly cold fermented in stainless steel. Flavors and aromas show a noticeable dose of cat spray over gooseberry, grapefruit and lime, with good acidity and medium intensity. Good quality here, but I'd like it better for a few less dollars; it retails at about $14 in Michigan.

2002 Niebaum - Coppola Napa Blancaneaux Rutherford, 43% Marsanne, 30% Chardonnay, 16% Roussanne, 11% Viognier, 14.1% alc.: Blancaneaux means "white water" in French, and while Mr. Kouzmanoff and many of the attendees seemed to feel otherwise, I thought in could have been called Blancan - barrique, with all the oak that it showed (12 months in new French barrels). To be fair, it isn't horribly over - oaked, but it certainly is made in a style that I don't care for, with its fairly low acid, creamy vanilla, pear, maple syrup and crème brulee character. It's described as "Conundrum - styled," and while I might like this a little more than the Caymus white blend, that's not saying a whole lot. Served with a green salad, I suppose it's pleasant enough, if not my cup o' tea…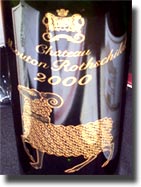 The three reds presented in the main event were served blind, pre - poured before we were seated. We sniffed and sipped some while waiting for the main entrée to be served; I chose a medium rare filet mignon with a side of polenta. The food was excellent, and paired very nicely with all three wines.

Wine #1: This is one of those great "breakfast wines;" it's all coffee and toast on the nose. Flavors echo, very dry and all silky smooth, and it gains some tobacco nuances as it opens. Initially, it seemed the most fruit forward of the three, but that changed as these all evolved in the glass over an hour or so. Still, it was my favorite of the presentation, luscious and opulent, and drinking amazingly well already.

Wine #2: The nose here is less ebullient than the first selection, featuring toasty oak, black fruit and just a hint of a coffee - like nuance. The flavors are more in the sweet black currant, cassis spectrum, and it also gains a little tobacco with air. It continues to sweeten as it opens, with a fairly long finish, and what I first noted as a judicious kiss of oak turning into a big wet smooch, not that that's such a bad thing in this case.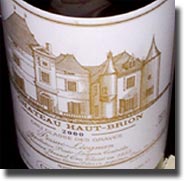 Wine #3: This showed sweet oak, chocolate and cherry on the nose at first, making one wonder if perhaps it might not be from the Napa appellation, but very dry flavors (the driest of the three) of tobacco, black currant and cassis, argued against that, even as it opens more and more. While I wouldn't call it austere, I would call it the most reserved wine here, with a lovely, if less outgoing personality than the others, and a silky smooth texture.

As I tasted through these again and again, it became increasingly obvious which was the Rubicon, and I was able to correctly name the order of these as presented. (I have to admit, my differentiation between the two 1st Growths was based on nothing more than a taste of the '94 Mouton some years ago, which featured a similar "burnt toast and coffee" profile.)

Wine #1: 2000 Château Mouton Rothschild Pauillac
Wine #2: 2000 Niebaum - Coppola Rubicon Napa
Wine #3: 2000 Château Haut - Brion Pessac - Léognan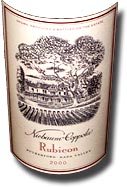 So, did the Rubicon stand up to the big dogs from Bordeaux? I would say that it did, for the most part, although it was increasingly obvious as to which of the three it was. Consisting of 93% Cabernet Sauvignon, 3% Petite Verdot, 2% Merlot and 2% Cabernet Franc, and weighing in at 14.4% alcohol, it saw 28 months in 93% new French oak, but seems to have the fruit to soak it up quite well, all the more impressive considering the vintage. I've seen it priced at $120 at one local retailer hereabouts, and $105 at another, so it doesn't come cheap, and the dollar differential may not mean much to someone who prefers great Bordeaux, come hell or high water. But if you like the big California cabs, this is certainly a very good one, IMNSHO.

I'd sure like to get my tricksy handses on a few more of those Moutons though…
Reporting from Day-twah,
Bastardo