Boisineau International President Jeff Bousineau stopped by my department a few months ago with samples of the wines of Il Borro in tow, and having some little idea of what they are all about, I couldn't wait to give them a try. Il Borro is a medieval village/resort in the heart of Tuscany, owned and restored by the Ferragamo Family, of haut couture renown, and among the many "products" that come out of this stunning project are three wines, two of which I tasted on this occasion. Bousineau is the partner of Salvatore Ferragamo on the wine side of this multi-faceted venture, and I quite enjoyed talking with him, but I must admit, I enjoyed the wines even more.

Unfortunately, Il Borro's local distributor failed to follow up with me, but after a few months, I finally took it upon myself to add these two wines to my Italian section, and immediately brought a bottle of each home to revisit.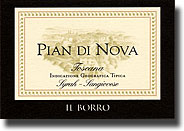 2003 Pian di Nova Toscana IGT, 75% Syrah, 25% Sangiovese, $22.49, 13% alc.: Dark garnet color from rim to rim, with a big international style nose of ripe dark plums and berries with a good dose of oak and some dark chocolate to boot; flavors echo and expand with a note of old wood in the background. Somewhat dense and extracted, well structured, smooth and elegant, this really likes half an hour's air, which allows it to open and come off more like real wine than a manipulated one; extended air actually brings out more old world character, although obviously, there's nothing "traditional" about a Tuscan red that has three quarters Syrah. Fermented in stainless steel for 10 days at 30°C; maceration on the skins continues for 22 days at 28°C, then the wine is racked in Allier oak, undergoing malolactic fermentation, and ageing for 12 months, followed by another six months of bottle-ageing. Find this wine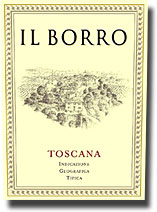 2002 Il Borro Toscana IGT, 50% Merlot, 40% Cabernet Sauvignon, 10% Syrah, $32.99, 13.5% alc.: Dark garnet color from rim to rim, showing a little cola over black currants, berries and plums in both flavor and aroma, with little earthy, "sticksy," leathery notes underneath it all; medium full bodied, elegant and silky smooth, with the structure to improve for at least a few years, but it's already so "more than just approachable," one might argue, "Why wait?" Why indeed? This wine undergoes essentially the same fermentation and aging process as the Pian di Nova. Find this wine

It's so refreshing that these wines have come down significantly in price; I saw the Il Borro priced at $70 about a year and a half ago. (Perhaps their decision had something to do with comments like this from Bob Parker: "The only problem I envision for this wine is that there are a lot of similarly-styled Bordeaux offerings priced significantly less than $80.") Jeff Bousineau admitted that they realized it needed to be reduced in order to move, and they acted accordingly. I like these wines, and will buy more of them at this price. They both paired nicely with grilled lamb and the movie version of "Under the Tuscan Sun."

Imported by Il Borro Imports USA, Sausalito, CA
~~~~~
My friend Paul Mann, Jr. dropped off four wines for me to try recently; three of them were from properties under Lafite Rothschild ownership, but only one came from France; the forth was from a Bodegas Escorihuela-Nicolas Catena partnership in Argentina. Paul had been tasting the wines with other retailers that day, and since I was his last stop, he gave them to me to take home, so that we might get to know them better than 2 ounce snapshots tend to allow. Each bottle had enough wine left to give both Kim and this taster a glass and then some, and we found them all to be very enjoyable.
2004 Don Miguel Gascon Malbec Mendoza, $12.99, 13.9% alc.: This 100% Malbec is a deep, dark garnet in color, and offers a nice perfume of sweet blackberries and currants shaded with some earthy animal and a hint of chocolate. Full bodied, with moderate to medium tannins and a decent finish, this is a nice wine at a good price for drinking now and a few years down the road. A Bodegas Escorihuela-Nicolas Catena partnership project, blended with Malbecs from the Agrelo area (14 year old vines, at 3,100 feet elevation), La Consulta (26 years old, 3,100 feet) and Vistalba (51 years old, 3,000 feet). Find this wine

2003 Château D' Aussières Corbières 'A' d' Aussières, 75% Syrah, 25% Grenache, $19.99, 13% alc.: Deep, dark garnet color, with an attractive nose of dark plums and berries with overtones of violets; on the palate, it offers earthy plums and berries with hints of animal and garrigue. Good rich fruit, structure and complexity, and well worth the price tag. 20% of this wine saw 12 months in oak barrels. Château D' Aussières is operated under a partnership between Domaines Barons de Rothschild (Lafite) and Domaines Listel since 1999. Find this wine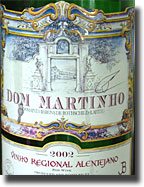 2002 Dom Martinho Alentejano, 40% Aragonez (Tempranillo), 20% Trincadeira, 10% Alicante Bouchet, 10% Castelao, 10% Syrah, 10% Cabernet Sauvignon, $12.49, 13.5% alc.: Dark garnet color, with a pretty perfume featuring black cherries, black berries and some subtle floral overtones that are reminiscent of lavender; the flavors echo nicely, being medium full bodied, not too tannic, and showing nice presence and good length. While not exactly delicate, the wine shows a real sense of finesse, and offers excellent QPR. Aged in stainless steel for 12 months. Find this wine

2001 Quinto do Carmo Alentejano, 40% Aragonez (Tempranillo) 25% Cabernet Sauvignon, 15% Trincadeira, 10% Alicante Bouchet, 10% Syrah, $26.49, 13% alc.: Dark garnet color, fading to pink at the rim, with a deeper, darker personality than the Dom Martinho; the pretty, perfumed bouquet features a nice kiss of oak (all the barrels used are made at Château Lafite) that lends the impression of aquarium over dry black cherry and black currant, and these follow through very nicely on the palate. Rich, yet claret-like at the same time, and not too tannic, it's drinking very nicely right now, but is in no danger of fading any time soon. While it's definitely a step up from the Dom Martinho, both wines show excellent balance, with a refined elegance and finesse that you might expect from a property that Lafite is involved in. Not only did all four of these wine show no ill-effects of the extended air they obviously received from being poured throughout the day, they seemed to have benefited from it, so if you're one of those who believes in aerating wines to allow them to open, I'd advise 30 minutes to an hour in a decanter before pouring each of these. Many thanks to Paul Mann, Jr. for introducing us to these very attractive wines. Find this wine
Imported by Pasternak Wine Imports, Greenwich, CT
~~~~~
3 From Edmunds St. John
Continuing our belated exploration of Steve Emunds wines:

2001 Edmunds St. John California Syrah, $21.99, 14% alc.: Ruby red color; very funky on the nose at first, with tar and barnyard dominating the deep, dark plums and berries, with hints of hibiscus and rosebud emerging as the funk recedes. All earth, iron, dark plums and berries shaded with hints of leather and iodine on the palate, being full bodied, with a good dose of tannins and seeming almost fat, but there's also some deceptive acidity that keeps it lively. Just keeps opening and opening (it was really singing by the last half of the last glass), so give it plenty of air and it'll reward you; give it at least two or three years in the cellar and it'll be even better. Not as nuanced as the 2000 "Wylie-Fenaughty" Syrah we enjoyed a few weeks ago, but it has a lot going for it on its own terms. Click here for more information about this wine. Find this wine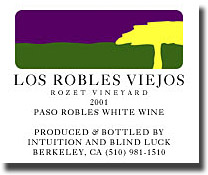 2001 Edmunds St. John Los Robles Viejos Paso Robles White Wine Rozet Vineyard, Roussanne 50%, Viognier 25% & Marsanne 25%, $22.49, 14.1% alc.: Kim, daughter Jessica Rose and Bennett Traub had already gotten started on this slightly cloudy pale gold when I arrived home from tending my flock of wine bottles, and when I asked how it was, the general consensus was that it was a bit strange, but coming around some with air. I found it to be a little funky on the nose at first, showing flavors and aromas of stony bees wax and melon, with fairly low acidity and a decent finish, but while it does get richer and friendlier as it opens and warms in the glass, it never progresses beyond simply being good for our tastes. Click here for more information about this wine. Find this wine

2000 Edmunds St. John Los Robles Viejos Paso Robles White Wine Rozet Vineyard, Roussanne 50%, Viognier 50%, $27.99, 14.1% alc.: Medium straw to pale gold in color, and much more interesting than the '01, being less funky, with brighter fruit and more zip from the good acidity; somewhat oily and slightly earthy, it gives nice yellow and white fruit shaded with some honeycomb and little lanolin. The Roussanne seems to dominate the blend, as any of the floral aspects that one might expect from the Viognier take a back seat, but still, this is a tasty wine, one that we enjoyed quite well. Find this wine
Reporting from Day-twah,
Bastardo

Other Recent Wine Explorations
Bastardo's Best Buys (Or Wines That Don't Suck)
Wines of Domaine Berthet-Rayne
Back to the Underground Index

Back to the Top



© George Heritier September, 2006