A Rare and Special Bonnes-Mares (and Other Earthly Delights)
"...we didn't screw around,
we went right for the good stuff."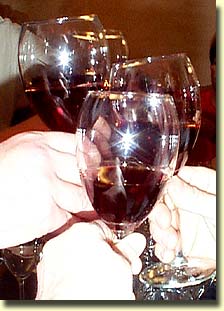 We donít lack for good wines to drink at Gang Central. We maintain a modest collection, of which nothing sucks and we are fortunate to have many friends who are more than generous in sharing delights from their cellars and discoveries from around the world. And every so often, we happen upon something that makes such an impression upon us that the memory lingers for days, weeks, and even years.
Such was the case on Saturday, April 27th, when we paid a visit to Alan Kerr AKA Canadian Zinfan in Byron, Ontario. The plan was to get together with some of our Canadian bredrens, renew acquaintances and have a "Pinot Noir" tasting. As it turned out, the lineup was predominantly Burgundies, which is never a bad thing. After spending the afternoon in London, shopping for gourmet food items, Canadian Ice Wine and Cuban cigars, we returned to Chateau ZinCan, where the festivities were initiated at 5 PM. In attendance were Scott "The Geek" Tobias, who trekked along with us, that rascal Pascal Chambon AKA Mr. Flippy, Marty Freitas and Robin Caverhill, Joe Grygier and Alain Arroyas. We began with two í96 Chassagne-Montrachets that Marty was just itching to taste.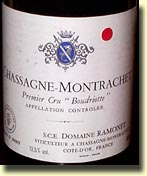 1996 Domaine Ramonet Chassagne-Montrachet Premier Cru "Boudriotte," 13.5% alc.: Scott called this medium straw "the best Chardonnay Iíve ever had," and it was a beauty with its thick viscosity, crisp acidity and complexity of flavor. The core profile of pear and mineral flavors and aromas is accentuated with notes of "almond and cappuccino-like steamed milk" on the nose, and "candied apple in ze mouth," according to Pascal. This last impression may be stretching it a bit for my tastes, because this is a very dry wine, almost Chablis-like, with a certain stony quality to it (dry stones, not wet). Itís a wonderful wine, with a long finish that gains a note of citrus, and was fascinating to compare to the next selection.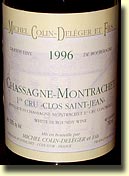 1996 Michel Colin-Deleger Chassagne-Montrachet 1st Cru "Clos Saint-Jean," 13.5% alc.: This one is essentially the same medium straw color as the Ramonet, but thatís where most of the similarities end. It shows considerably more oak, and has more fruit to stand up to it. Fatter in the mouth than the previous wine, and yet with excellent acidity, it is "a little more grassy" than the 1st wine by Martyís standards. CZ noted "that classic white Burgundy aroma to it," adding impressions of "buttery banana, chewy toffee, and caramel when itís lost its sweetness." Pascal added an impression of "ripe pineapple." While some may disagree, I found the oak to be in good proportion to the whole of the presentation. This made a fine pairing with Kimís delicious salmon-arugula ball appetizers and truffle deviled quail eggs.
The Wines

1996 Domaine Ramonet Chassagne-Montrachet Premier Cru "Boudriotte"

1996 Michel Colin-Deleger Chassagne-Montrachet 1st Cru "Clos Saint-Jean"

1952 Domaine Ponnelle Bonnes-Mares
1995 Moillard Echezeaux Grand Cru
1998 Vincent Girardin Volnay 1st Cru "Les Santenots"
1999 Lucien Boillot Pommard 1st Cru "Les Fremiers"
1996 Vincent Mongeard Vosne Romanee
1997 Ken Wright Willamette Pinot Noir McCrone Vineyard
1997 Ken Wright Willamette Pinot Noir Carter Vineyard
1997 Beringer Napa Pinot Noir Los Carneros Stanley Ranch
1999 Rex Hill Willamette Pinot Noir
1999 Lanzerac Stellenbosch Pinotage

When these had evaporated, we retired to the main tasting area in Alanís cellar, and we didnít screw around, we went right for the good stuff.

"Ölike visions of another world."
1952 Domaine Ponnelle Bonnes-Mares: Alan bought this for $55 US 18 years ago at Century Liquor in Rochester, NY, and has been waiting ever since for "just the right opportunity" to open it. Happily, this was it, and the wine was every bit worth the wait and more. "It definitely has zat caramelized color," exclaimed Mr. Flippy," a red caramelized onion color." The bouquet is lovely, not showing the slightest bit of oxidation, but rather smoky black cherry shaded with cooked raspberry, rose petal, balsawood and anise overtones. These follow through on the palate with more smoke and what "The Geek" described as a note of figs. It finishes long, with an earthy mushroom quality to it.
Alan poured this first of the reds; our thinking was that it was liable to be overwhelmed by the younger, more robust selections, but there is nothing delicate or fragile about this wine. It has some size and weight without being the least bit heavy, good acidity and some fine silky tannins still present. There is substantial depth to the flavors, and the beautiful, rich fruit shows no sign of decline whatsoever. There are no secondary characteristics to speak of, as one might expect of a 50 year old Burgundy. As it opened, it constantly evolved; Kim noted some "toast right out of the toaster," and Pascal added "burned coffee," which he described as a positive attribute.
The only negative about this otherwise sublime libation was that there wasnít more of it to go around, as it elicited an almost orgasmic sensory response for every one present, and was a veritable revelation to Scott, who described it as, "Ölike visions of another world." We might better have left this until later, because the rest of the pack, as worthy as they were on their own terms, paled somewhat in comparison to this amazing half-century old wine.
May 2002