For months Chuck Smith of Washington Street Purveyors in Lexington, Va., and I had discussed, in near rapturous terms, what it would be like to visit the ten year old Virginia wines. Since the rebirth of Virginia winemaking in the 1970s, no single year had seen an alignment of the planets like what occurred in 1998. By that year, winemakers had identified some better vineyards, growers had begun to identify better sites, the industry had begun to identify some grape varietals with sites and soils and winemakers knew better how to implement technology to avoid winemaking errors. But most importantly, the Virginia weather that year was most unlike Virginia. Hot, dry, dusty days left corn scorching in the fields and apples shriveled on the limb. Governor Gilmore sought to have the federal government declare much of Virginia an agricultural disaster area and ultimately declared a State of Emergency (Ex. Order 36 (98)). But while farmers clamored for assistance, grape growers grinned. They watched a vintage of unprecedented potential develop in their vineyards and, ultimately, in their cellars. And the fruit was glorious.

The summer of '98 also saw a number of now well known Virginia winemakers come of age: Luca Paschina had been at the helm of Barboursville Vineyards for but 7 years while Michael Shaps (then of Jefferson Vineyards) had been making wine for even less time. For James and Debra Vascik of Valhalla, '98 marked their first estate vintage. None had seen a Virginia vintage like this. Different fruit requires different decisions. Any one of a hundred decisions they might make - beginning with a decision to pick the fruit - could ruin the fruit or ruin the juice that would become wine. Excellent weather and most excellent fruit: but were the winemakers up to the challenge?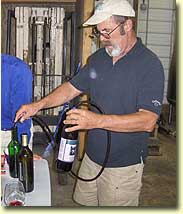 Shep and Jane Rouse, owners of Rockbridge Winery, offered the situs for this retrospective tasting and, as it turned out, the glassware and other tasting accouterments. Aided by Shep, Chuck and I selected eight representative red wines from the vintage. As word of the tasting spread, interest grew; the possibility of a tasting dinner diminished. We settled for a "mere" tasting.

To taste blind or not was our next hurdle. With Cabernet Sauvignon, Cabernet Franc, Merlot, a blended Cab that included a wee bit of Touriga Nacional, as well as Syrah all at the ready, a blind tasting lent itself to a bohemian air of a palate orgy. Just what the hell wine would be in one hand while you cupped another in your mouth? But if not a blind tasting, then would the safety of knowing who was in your glass lend itself to empirically knowing just what the '98s produced? After all, if we know Luca Paschina of Barboursville made wine #2 or Michael Shaps made wine # 6, would we really appreciate the wine for what it was or rate it more for who it was. The palpable regard for both Paschina and Shaps reaches a fevered pitch within some Virginia oeneophile circles. And with Shep and Jane in the room, would their presence color the tasters' analysis of their wines, the Rockbridge Cabernet or the Desheil Merlot, one of the Virginia Governor's Cup winners in the lineup?

We opted for a single blind tasting, knowing the identity of the selected wines, but not knowing the pour order. In retrospect, it worked well. More on that later. With Shep setting out the tasting regimen - no talking, 20 point scoring, etc. - we plowed through eight Virginia reds, ordered as follows: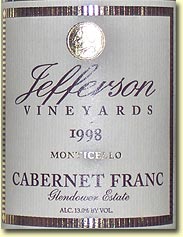 Jefferson Cabernet Franc Glendower Estate Vineyard 1998
The Glendower Estate is known and respected for the quality of its fruit. Michael Shaps was but then a new name on the winemaking scene, and this vintage helped make it one to be remembered.

A brick to garnet rimmed wine. Drying tannins, like dried roses. Bing cherry and eucalyptus notes, but with an acidic bite. The finish is very short. A correct wine, but one that is just past peak. It easily ranks as the group's least favorite and mine as well.
Group Rank:8
BEB: 8
Find Jefferson Vineyard wines


Linden Hardscrabble Red 1998
Jim Law holds a place among Virginia winemakers much like that of his vineyard: remote yet welcoming to those who make the effort, indifferent to trends and regarded higher than most any other. Yet this wine was, as Shep later commented, "a real surprise" insofar as it did not score particularly high with anyone.

A youthful red - probably the youngest looking and displaying the biggest tannins in the group - that offered up leather, mocha, pine resin, and smoky, green bell pepper; at first herbaceous, but then evolving into a meaty wine with notes of molasses and cedar. At first it showed a closed, tight fruit profile with a well-heeled structure. Damn, it's a chameleon of a wine that changes, evolves and improves each time I taste and re-taste it. It's a shame this wasn't decanted longer, for if given time to reach its potential, it would have scored higher.
Group Rank:6
BEB: 5
Find Linden Vineyards wines

A comment here before the next wine: My initial objection to a blind tasting had been premised on the number of different wines: Cabs, Cab Francs, Merlots and Syrah. But as it turned out, the Syrah served as an unintended ringer for all of the other Bordeaux grape-based wines.

Valhalla Syrah 1998
James and Debra Vascik are iconoclasts in the Virginia wine industry. The Vasciks have taken time to train at various California wineries including Dunn. When interviewed by the Wine Spectator (Nov. 30, 2002 issue), Jim Vascik, whose day job is that of a neurosurgeon, remarked, "people who can't keep up should sell out." So much for Southern hospitality. We took Jim at his word to see if he should join those ranks.

Jeezuuuhss, what a funky nose! Some decided brett here and more than what may have been intended. Definite coffee, red currant, dark fruits, smoke, rosemary and pine resin ... and a rear end full of brett. Oh, and maybe some cedar.
Group Rank: 6
BEB: 7
Find Valhalla Vineyards wines

That this wine scored as it did probably reflects more of the fact that it played the role of a defacto spoiler than of its individual quality. Some of us scored it low for a perceived brett problem. Others, it turned out, scored it low due to it being so different from all of the other wines. One taster scored it at the top of the list due to his preference for Syrah. Had we eliminated the taint of his varietal preference, the wine would have sunk lower in the ranking.


Barboursville Cabernet Franc 1998
Luca Paschina has a love affair with Virginia. After assessing the winery for its Italian owners, the Zonin wine empire, he reported that winemaking couldn't be done here, that nothing was right: not the soil, not the weather, nothing. And when then asked what should be done with the enterprise, he responded with, "Send me." He was on a flight back to Virginia the next day.

The rim may be bricked, but the core deepens to a garnet. A great nose bounds from the glass with currant, smoke, leather and sandalwood. A meaty wine with dried rose-like tannins and maybe a bit of that tell tale Virginia pine.
Group Rank: 5 (aw, what the heck does a group know about wine!)
BEB: 1 (I knew from the nose what this was - one damn fine wine!)
Find Barboursville Vineyards wines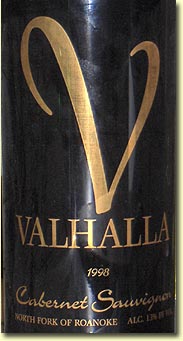 Valhalla Cabernet Sauvignon Reserve 1998
Juxtaposed with the Linden, and perhaps due to its "drink now" readiness, this wine took the collective body's first choice. An orange tinged rim of wine brightened to a ring of garnet, then to a deep red at its very core. Dried, round tannins delivered loads of ripe black cherries, currants, leather and cedar. It's a wine of great length. The depth of cherry vaguely reminded me of Cali Pinot, but that's another story, should I survive the lynching for making such a comparison.
Group Rank: 1
BEB: 4
Rockbridge Winery DeChiel Merlot 1998
Shep has been making wine in Virginia for, well, we'll leave it at "a very long time." He knows his way around a winery. That he insisted on a blind tasting speaks well of his integrity and intellectual curiosity.
This appeared as yet another bricked rimmed wine that might be well past peak as it sat before me. It wasn't. It struck me as somewhat initially bretty in the nose. But fortunately, whatever it was blew off. In its place followed blackberry, smoke, smoked meats, plum, spice (cedar, maybe), pine and chocolate. A bit of mint perhaps appeared on the finish. This was not Syrah, but I wasn't sure which other wine it could be. Whatever it was, it floated on the palate with a bit of a lighter mouthfeel that I would have preferred, but I liked it nonetheless.
Group Rank: 4
BEB:3
Find Rockbridge Winery wines


Barboursville Cabernet Sauvignon Reserve 1998
Another fairly young wine with a deep burgundy core shading to orange to brick thinly on the rim. The nose delivers some candy apple while the palate has dusty dry, rose notes, raspberry, then spice - like sandalwood - and black cherry. It finishes with a distinct mocha note. At times an element of pine pops up.
Group Rank: 3
BEB: 2

Rockbridge Winery Red Wine (formerly "Cabernets") 1998
Blind tastings are humbling, as we all learned this evening. But Jane Rouse made the classic comment when asked to assess this wine. "I don't like it! It has that unpleasant green bell pepper thing I dislike about Virginia wines," she said. It turned out to be her own wine: a blend of 72% Cabernet Sauvignon, 15% Cabernet Franc, 10% Merlot and 3% Touriga Nacional.

I found it to be a solid burgundy color from its rim to its core. Initially, the nose is a bit funky, as in "off," as in "put off" or "off putting." It seems to clean itself up, however, opening into a chewy wine with cherry, raspberry, leather, sandalwood, smoke and pine resin. I never quite forgave it for its first impression.
Group Rank: 2
BEB: 6

Each year the Virginia Department of Agriculture hosts a blind tasting of Virginia wines, awarding the top wine the Virginia "Governor's Cup." It is no mistake that three of the last seven Governor's Cup awards hail from the '98 vintage. We had the good fortune to include all three in this tasting: Barboursville Cabernet Sauvignon Reserve ('07 winner), Rockbridge DeChiel Merlot ('01 winner) and the Valhalla Syrah ('00 winner). What it says of the wines .... or of the judges awarding the distinction .... that none of the Governor Cup winners took first or second in this tasting (the B'ville Cabernet Reserve did score a third place ranking by the group and 2 of the 3 made it into my top 3 wines), I cannot say. It could mean any one of a number of things that might best be left to those more discerning than myself.

After pulling off the blinders, we decided we to lighten the evening with some food and less formal discussion, and perhaps see how badly some Virginia Chardonnays from the '98 vintage might have oxidized. We tasted each of the Chards with eyes, if not mouths, wide open. To describe most of us as skeptical would not begin to scratch our sentiment. But after the first sip, we took a second look in amazement.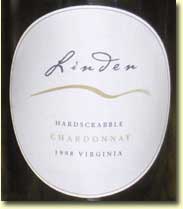 Linden Hardscrabble White (100% Chardonnay) 1998
Undoubtedly and easily, the surprise wine of the night. People kept picking up the bottle to look and see if it really listed itself as a '98. It did. And it was delectable. An excellent wine with crisp acidity, yet great length and great depth. An attack of apple, butter, butterscotch and an etching of hazelnut. The finish is long and clean with acidity that strips out the butterscotch. This tastes much like an aged Grand Cru Chablis or lighter Puligny Montrechet.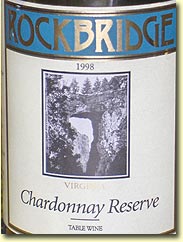 Rockbridge Winery Chardonnay Reserve 1998
Oxidized. Very oaky and toasty .... and thoroughly, completely and utterly oxidized.

Rockbridge Winery Reserve Chardonnay 1996
Oh my freaking, geeky self! A white '96 ... from Virginia .... that's drinkable? This was beyond merely "drinkable." It was delicious. A good wine with apple fruit and lemon and citrus flavors. But it lacked the depth and nuance of the Linden Hardscrabble White.

But what did this all mean? What did this tasting accomplish? After all, any arbitrary selection of thirteen people can plop themselves down, fill up glasses and proceed to swill wine and pontificate in sozzled voices. And any collection of Virginia wine chauvinists can gather to celebrate a wine made in Virginia. The meaning of this tasting is simply this: wine geeks are not known for being shy about opinions. They often take painful pleasure in parsing distinctions that rarely have the diameter of ... a yeast cell. If you have ever lurked about a wine board on the web, you know full well how painful the parsing can be. At times, bulletin board wine geeks make lawyers look noble.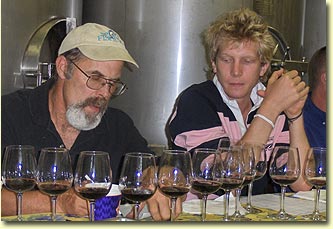 The absence of endless, individual parsing over distinctions without a difference pleasantly marked the evening. The collective, general uniformity from the tasting group's comments, individual wine rankings aside, made the event that much more remarkable. A French wine intern working for Rockbridge Winery, Vincent Benezit, best summed up the consensus, "These are some excellent wines." The weight of his comment came not so much from what Benezit said, but what he did not say. He never qualified the wines by saying, as is sometimes heard from the national wine press, "good for a Virginia wine" with the backhanded compliment fully intended to insult. The absence of any qualifier emphasized the wines' quality. The wines represent not just good wines from Virginia. They represent excellent wines. Period.

Boyce (BEB)
Contact Boyce


Link to Gang of Pour Home Page

Link to Gang of Pour Site Index (Table of Contents)