L-R: Richard Betts, John Lancaster, Robert Perkins, Cris Cherry, Paul Lato, John Alban
As if confirming the rumors of the weakness of this year's event, the first seminar, "Sommeliers Gone Wild," starts decidedly late, almost reluctantly. The gonzo stories of Richard Betts (Betts & Scholl) and Cris Cherry (Villa Creek) do not inspire "this could be you" excitement, (aside from the puerile admonition of Betts that we all toss our spit cups because "No one came here to spit!"). Fortunately, the single-minded passion of Paul Lato (Paul Lato Wines) and John Lancaster and Robert Perkins (Skylark Wine Company) emerges through both their stories and their wines as they relate their transition from wine pourer to wine maker.
Few people in this audience of winemakers-hawkers-consumers-geeks-and wannabes, however, need reminding of the difficulties that arise from the sometimes ruinous road of wine passions. The first part of their stories - the shut doors, the failed ferments, failure of any sort - has many faces and many permutations. As passionate as Lato, Lancaster and Perkins are, they can be forgiven if their stories provide less inspiration than their wines. Completing their stories, their wines convey a fuller account of their journeys. The Skylark Rodgers Creek Vineyard Syrah Sonoma Coast 2006 Find this wine is a veritable "Pepper Pot" on the nose with pepper, sage, thyme and cherry on the palate producing a hefty mouthfeel ending with notes of tobacco ash. That Lato pours from the one and only barrel he produced of Il Padrino Bien Nacido Syrah 2007, Find this wine a heavy blackberry jam compote of a wine, reflecting his generosity and passion, could not be missed, even if it also reflects a questionable business model. Alban drives home the point to the attendees suggesting that half of Lato's effort has been sacrificed for their edification.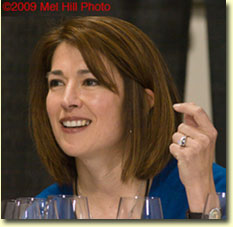 The second seminar entitled "East Side/West Side" appears to want to ride the wave of Central Coast controversy as to whether a distinction exists between fruit harvested from the East Side versus the West Side of the Paso Robles AVA1. However, it is actually a study of the larger, more general debate of warm versus cool climate vineyard fruit characteristics. While the engaging and composed Clarissa Nagy, winemaker at Bonaccorsi, makes her case with three examples of 2006 Syrah, Greg Brewer detours into a discussion of whole cluster versus destemmed fermentations. Brewer's confusion of the topic further contributes to the crowd's sense that the event has lost direction, if not identity, like some androgynous emulsion of HdR's of the past. As if desperate to capture edginess, Brewer titillatingly equates the winemaker's risks in the winery with bedroom daring-do; knowledge of what the vineyard can do is akin to "knowing your partner - allowing you to take more risks." [1] Just one day before the event, the Tobacco Tax and Trade Bureau (TTB) ruled that the proposed "Westside" AVA is not a recognizable area and withdrew the proposal for the designation.  See, Federal Register / Vol. 74, No. 82 / April 30, 2009 / Proposed Rules 19917

While Brewer merely flirts, Nagy caresses the subject in ways that Brewer might only imagine. She showcases a warm climate example, the '06 Star Lane Vineyard Syrah Find this wine from the far eastern edge of Happy Canyon in the Santa Ynez Valley. It sports notes of smoke, blueberry, clove and Asian spice against the cooler '06 Larner Vineyard Syrah, Find this wine with its taut notes of brown sugar, mineral, red currants, herbs and spice. The flavors reflect, in part, the lingering marine effect at Larner compared to the the early fog burn off at Star Lane with its "warm" flavors. A 60/40 seminar blend of these two Santa Ynez Valley wines results in a softer wine showing more blueberry and blackberry notes. Whether Nagy took "risks with her partner" in the winery, the wines do not suggest. But she assuredly knows both how they perform as well as she knows how to present them.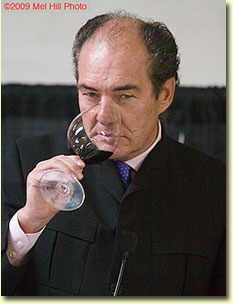 If HdR needed more swagger and interface, Day Two pours it on with both seminars giving wine geeks large doses of what they crave: unabashed opportunities to get geeky with all things wine. Beginning with "What's in Your Cabinet?" Georg Riedel leads the largest seminar crowd of the event with a style that teetered between the Barnumesque and the professorial. Before each participant sits five pours of Guigal St. Joseph 2005 in a plastic cup and four Riedel examples of glassware. Riedel offers glassware made for Oregon Pinot Noir (Restaurant series), Hermitage (Sommeliers Series
), Syrah (Vinum Extreme Series) and Syrah (Flow Series). After a short course on the four components of wine: the juice, the fruit, the yeast and the barrel, Riedel encourages the crowd to follow him through the bouquet of the wine in each vessel then tasting each wine. He never misses an opportunity to suggest what the participants smell or taste, leading much like a law school professor, to the conclusion he prefers. Once the precept is accepted that the correct glass "combines the harmonious blend" of the four components of wine, it follows that the wine enthusiast must search out - and buy - such glassware.
As if the first wine example was not enough to convince everyone of the need for specific glassware, participants then sample two more wines, the Elderton Ashmead Family Shiraz Barossa Valley 2005 Find this wine and the Miner Family la Diligence Stagecoach Vineyard Napa 2007 Find this wine (made with the assistance of Francois Villard). And in each case, Riedel leads, sometimes with humor ("the difference between the smell of rose petals and chicken shit is the size of the molecule") and sometimes with Austrian authority ("you there, in the front row, yes, you madam, I asked you to pick up the first glass; the plastic cup doesn't count!"). Not surprisingly, the majority of participants come away convinced that Riedel is, as he proclaims, "a toolmaker of finely tuned instruments." That he gifts every participant each of the four glasses in front of them including the $100 Sommeliers Hermitage glass (plus carry bag - filled with promotional material) does not hurt that perception either. A standing ovation ensues. For good measure, HdR proclaims Riedel as its Person of the Year.
Energized and flush with crystal, the crowd settles in for serious science: "Beyond the Yellow Brick Road," a discussion between Sashi Moorman (Stolpman Vineyards) and Justin Smith (Saxum Vineyards) of how vine density and barrel treatment affect wine. If ever a wine geek could glimpse into vineyard choices and winery decisions, this is it.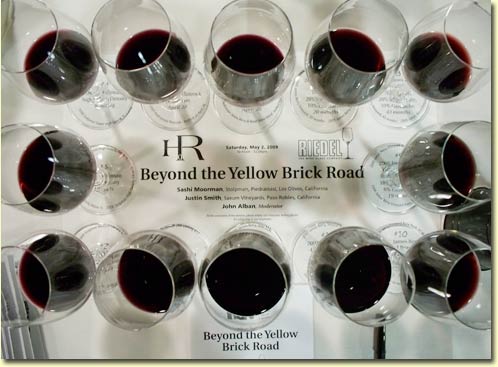 The comments of Justin Smith, the Jagger-like persona among these mere mortals, and Sashi Moorman, a diminutive George Harrisonesque (think "quiet Beatle") persona, are worth the price of admission alone. Tasting through six GSM blends from the James Berry Vineyard or specific blocks from within that vineyard, Smith demonstrates how the same wine reacts differently to various exposure to oak. The '05 GSM James Berry with 20 months of oak and now in bottle is ripe, sweet and rather primary. The same vintage of GSM still in barrel (43 months) is very toasty with a load of vanilla, but softer and showing more layers. Smith opines that the wine is losing its fruit. The group concurs that James Berry does not benefit from extended oak treatment. Yet, from within the vineyard, the Bone Rock Block GSM '06 took to wood differently. The extended treatment (31 months compared to 19 months) showed an elegance that the limited oak-exposed wine did not, causing Smith to muse whether future Bone Rock bottlings might be changed up a bit. Alban sums Smith's comments with the observation that some wines, like people, "need no adornment, [while] some should not be naked around others." Find James Berry Vineyard Wines Find Saxum Bone Rock Wines
But the geeks get jiggy when Moorman details the rehabilitation of the Stolpman Vineyard as it converted from contract vineyard to estate worthy fruit. Tasting through four separate lots of wines made from vine placement ranging from "Low Density" and progressing through "Medium Density," High Density" and Super High Density," Moorman traced the difference between wine made from 860 vines per acre to wine made from 6000 vines per acre. Each of the four wines reflected different and distinct characteristics; the layers and complexity of flavor piling on with each increase in density progression. While the vine clones used were not identical in each example, the "clonal selection was decided by density health and not volume of output." Any geekier and the attendees could expect course credit. But there is something in the way Moorman makes it all seem easy as he gently co-related growing decisions and the tangible results in the tasters' glasses.
Each day following the theme lunches (Rosé on Friday and the auction to support HdR on Saturday), the larger, walk around, pour-all-you-dare-drink tastings are held: the Rhone Rendevous and the Grand Tasting. Between the two tastings 231 wineries and importers (representing several wineries ) present wines for tasting. Amazingly, representatives hail from five continents. Thirteen of the 22 varieties of Rhone grape varietals are individually bottled. Throw in the blended Red Rhones and the blended White Rhones and a passel of wine comes to mind.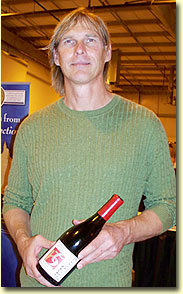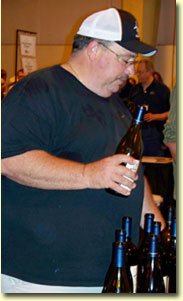 The Rhone Rendevous format allows for more intimate interaction with the wineries represented. Fewer purveyors with only two wines (officially) poured and a smaller crowd allows for both tasting the wines and discussing them with winery reps. Wines of particular interest include: Terry Hoage Vineyards 2007 Syrah Paso Robles Find this wine - a blackberry and mineral driven wine made by Terry (Univ/Ga) Hoage (left) that showed more elegance and depth than the Terry Hoage 2003 Syrah Find this wine (made for THV by none less than Justin Smith) which showed power on the attack and little else. The Hug Cellars 2007 Santa Barbara Highlands Vineyard 100% Mourvedre Find this wine is one of the most unique tasting American made Mourvedre with orange zest, smoked meats and rose hips. Attendee Brad Harrington, owner of the West Coast Wine Network wine bulletin board, is seen corralling people to the Hug Cellars table with the comment, "You gotta taste this." (Augie Hug, right)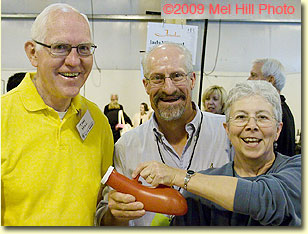 Foxen Winery offered its 2007 Cuvee Jeanne Marie Find this wine from the Williamson-Doré Vineyard, a blend of 60% Grenache, 33% Syrah and 7% Mourvedre that captures spice, smoked meats, tobacco, blackberry in what appears to be a medium bodied wine when tasted alongside the 100% Syrah (2006) Find this wine from the same vineyard delivering a rich, blackberry jam and brown sugar layer along a backbone of iodine; a full bodied wine indeed. Over at the Lagier Meredith table, Steve Lagier and Carole Meredith (at right holding Tom Hill's special spittoon) poured wines from their Mount Veeder vineyard. The 2004 Syrah Find this wine is fruit forward with brown sugar notes, while the 2001 Syrah, Find this wine with its robust, rich blackberry, violets, mocha and mineral, reflected the extent of bottle sweetness these wines acquire.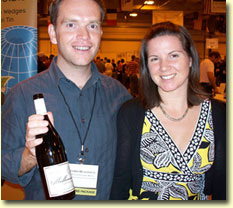 Of particular note is Mullineux Family Wines who attended this, their second HdR event. While HdR bills itself as the largest Rhone varietal gathering in the world, it can also claim "the best" such gathering due to the passionate producers it attracts. When smaller family wineries travel half way around the world to show their wines, they may be determined, but do they have have something to show? Chris and Andrea Mullineux do. The 2008 Syrah Find this wine from Swartland consists of Syrah kissed by 2% Mourvedre; a pleasingly floral wine etched with distinct mineral, thyme and sage notes. Closer to home, but equally passionate to deliver the goods is VIE Winery, a project spearheaded by Bryan Kane. Kane makes the 2006 L'Intruse Find this wine from Santa Barbara County. Powered with 76% Mourvedre, it tastes of tobacco ash and orange blossom, while VIE's seamless 2005 Las Madres Vineyard (Carneros) Syrah Find this wine defines elegance with a mineral core wrapped in blueberries and blackberries.
Pax Mahle appears unflappable from the flap aired last year on wine boards, wine publications and court concerning the inter-workings of Pax Wines and his separation from his namesake brand. The lawsuit settlement permitted him to launch Wind Gap Wines, where the 2006 Sonoma Coast Syrah, Find this wine made by whole cluster fermentation in neutral barrels, packs layers of cigar ash, mineral, cassis and red currants in a beautiful, near seamless package.
After two days of tannic red Rhone varietals, a less astringent affair appealed and the Grand Tasting Saturday afternoon provided an opportunity to focus on well crafted white Rhones. Eschewing the reds amply offered by most every vintner, for a concentration on white Rhone varietals might just be the way to delicately back away from the hedonistic events of the past two days. But with more producers present and pouring more wines for more tasters, thinking so came easier than doing so as every producer anxiously offered their red wares.
No producer's red wines are more difficult to walk past than those of E. Guigal, but its Viognier bottles beckon. The 2007 Condrieu Find this wine is clean, even if a touch light, with some smoke, mineral and peach. Its 2007 La Doriane Find this wine is rich with honey and milk, peach and anise, but still delivers a mineral filled mid-palate and finish of vanilla. Both wines look west to the New World in style. Foxen's 2007 Viognier Find this wine from the Vogelzang Vineyard (Santa Ynez Valley) is elegant with lean peach and white flowers.
Sashi Moorman fortunately enjoys considerable leeway to help carve out a name for Stolpman Vineyards. A stunning example of his work is the '07 L'Avion, Find this wine a blend of Roussanne and Sauvignon Blanc fruit from Santa Ynez Valley. A wine of great length, it is both rich while retaining its acidity, showing anise and toast flavors on the finish. Also of note are the whites of Sans Liege (meaning: without allegiance). Both the '07 Cotes-du-Coast, Find this wine a blend of Viognier, Roussanne and Marsanne from Paso Robles Derby Vineyard and it's '07 Sancha Find this wine 100% Marsanne (also from Derby) are worth the effort to find. The Cotes-du-Coast is simple, but delicious. The Sancha struts its 100% barrel fermentation with a rich mouthfeel and flavors of citrus, creamed corn and lychee nut.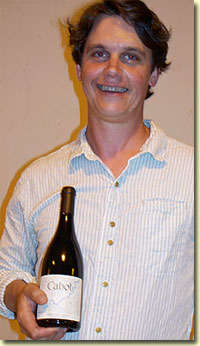 Perhaps the most unforgettable example of Viognier comes from newbie Fausse Piste; both new to the event and new winemaker from Oregon. If ever a wine expresses the purity of Viognier fruit, the '08 C'est la Viognier, Outlook Vineyard Find this wine in Yakima Valley does. Fermented one half in barrel and one half in tank, the wine retains a lively crispness, while showing white peach, lemon grass, anise and cream flavors. If this is not the finest Viognier of the show, it is certainly in the top five.
Making an exception to white wines seems appropriate upon encountering the table of the young and able team of John (left) and Kimberly Cabot. Hailing from Humboldt County, a reefer-like climate if ever there was one, they pour samples of three of their wines. The 2006 Humboldt County Syrah Find this wine is a solid Cali Syrah of good value. However, the show stoppers are both the 2006 Kimberly's Humboldt County Syrah Find this wine and the 2006 Aria's Humboldt County Syrah Find this wine. The Kimberly's is co-fermented with 8% Viognier with sweet fruit on the attack followed by pepper, brown sugar and blackberry ... and a good dose of bacon; "bacon in a bottle" as attendee Ken Zinns describes it. The Aria's is a full throttle Syrah made of 50% whole cluster and co-fermented with about 5% Viognier. It is hugely smokey, but with time, should smooth out. The Cabots' vineyard, dry farmed with self rooted vines, allows them to produce wines well worth the exception to the afternoon's white only tasting.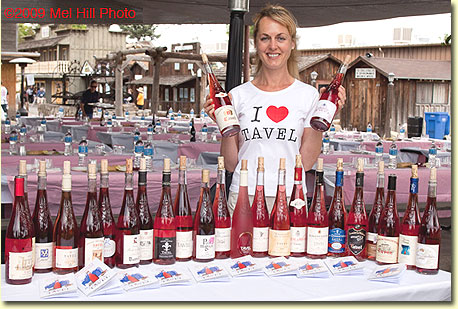 The Grand Tasting of HdR would not be complete without stopping at the table of Tavel for the beguiling smile of hostess Sandra Gay. Among about 26 refreshing rosés, she offers: Chateau de Segries Find this wine (taut and sassy), Domaine de la Moudorée Find this wine(crisp honeydew melon and watermelon) and Domaine La Rocaliere Find this wine (mineral, strawberry and sexy). Delicious, all.
If recurrent, solid producers and worthy new faces bolster the event, chords of HdR's sour notes were heard in the echoes of the names absent from its Grand Tasting. If the obvious downturn in attendance did not make the statement loudly enough, the holes in the list of producers did: none of the Spanish producers from last year or any other year for that matter, fewer French producers and fewer still from Australia. But the loudest dissonance came from the winery whose owner is the face of HdR, John Alban. Alban Vineyards closed its table both afternoons more than an hour prior to the pre-announced closing times. The absence of anyone from Alban Vineyards remaining with the table to discuss its wines made for a near-gratuitous appearance. Nothing says, "thanks for coming, now leave," like the face of the event shuttering his area to those attendees who paid to learn something about his wines. After years of co-producing and organizing HdR, John Alban should know how much wine to lay in for this event.
Whatever organizing difficulties occurred behind the scenes and while producer and attendee turnout declined, HdR retains its well deserved reputation as a hip and edgy Rhonester event, even if a bit more refined. One attendee - obviously a first-timer - looks around incredulously describing the scene over his cell phone as the "oddest confluence of geeks and The Cool," an apt description of the collection of Rhone "rock star" winemakers, bespeckled note takers, photogs sporting fanny packs and casual revelers with trophy babes on their arms. And for one brief weekend, they all feel like rock stars.
Boyce (BEB)
All photographs © Boyce Branock unless otherwise indicated. Special thanks to Mel Hill for allowing use of his photographs. For more Hospice du Rhône photos, please visit Mel Hill.com
Contact Boyce