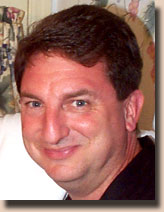 I first "met" Brian Loring on the West Coast Wine Net forums, where we traded good natured barbs regarding our respective favorite hockey teams, he being a devoted Los Angeles Kings fan. Not long after that, we met in person at MoCool 2002, where he was winemaker - in - residence, and then again at MoCool 2003; both of those times, he brought his wines to taste, and both times, Kim and I were most impressed. His Loring Wine Company Pinot Noirs are very well made, in a bright, fruit forward style, and they're designed as much for near term consumption as they are for extended aging. He is a tireless champion of California pinot noir, and of the notion that there is room for a wide range of expressions of the varietal, rather than just one strict model, as some Burgundian adherents would have us believe, and in that, I agree with him completely.

Brian Loring's story has been well told already, not only on his website, but also in a snazzy profile in the Wine Spectator, so it would be redundant to tell it here again. But we can tell you that, while the business continues to grow, Loring still hasn't given up his day job designing rockets and radar, and he still produces his wines at a leased facility, with an eye toward someday owning his own winery. He is also possessed with a boundless passion and enthusiasm for his craft, and is only too happy to discuss it at length with anyone willing to engage him.

Since starting the Loring Wine Company, Brian has expanded production from 150 cases of 1999 Sharon's Vineyard Santa Maria Valley Pinot Noir to 270 cases in 2000 (Garys' and Clos Pepe Vineyards), 440 cases in 2001 (Garys', Clos Pepe and Rancho Ontiveros Vineyards) and 950 cases in 2002 (Garys', Clos Pepe, Rancho Ontiveros, Brosseau and Rosella's Vineyards).

I asked Brian how his 2003 wines were coming along, and he has this to say about that:

"The 2003 vintage caused a lot of concern amongst us pinot guys. The heat wave in August caused sugar levels to soar quickly, without an associated development of flavors. Some people decided to pick early, like in late August. Many of us asked our growers to try to let the fruit hang as long as possible to get riper flavors. In some vineyards that meant that the growers kept watering the vines. In other vineyards, it meant that some of the riper fruit (maybe 10 to 20%) actually raisined and withered. We got a bit of luck in that the weather cooled down a bit in September, so the overall harvest was only a week or so ahead of normal.

Based on what we had to do to get the fruit ripe, we ended up with some very high sugar levels. I added a lot of water to the must, along with some acid. A few vineyards (Clos Pepe and Cargasacchi) actually gave me fruit that I didn't have to add any water or acid to, but they were the exceptions. Yields in general were quite low, some being as low as 0.5 tons per acre.

The wines out of the press were the most tannic I've ever seen with Pinot. I was afraid that the resulting wines would be really tight and hard. But after ML finished, the wines softened out a lot, to a point where they're not that different than normal. Overall, I think the 2003 vintage will be close to the quality of 2002, with a couple wines maybe even being better. I've tried quite a few barrel samples from all over the state, and I think all areas will be good. Nothing seemed to show any "green" characteristics that I think we were all afraid would be the case."

Q: Any projected or actual figures on case production as of yet?

"I should have about 1500 cases of the 2003 vintage pinots. The numbers should be about:

Garys' Santa Lucia Highlands - 400 cases
Rosella's Santa Lucia Highlands - 250 cases
Brosseau Chalone AVA - 200 cases
Naylor Dry Hole Chalone AVA - 25 cases
Rancho Ontiveros Santa Maria Valley - 150 cases
Clos Pepe Santa Rita Hills - 250 cases
Cargasacchi Santa Rita Hills - 125 cases
The Llama, A California Blend - 100 cases"

Q: Where is Naylor Dry Hole? I love the name! And what about The Llama?!

"Naylor Dry Hole is a brand new vineyard next to Brosseau Vineyard in the Chalone AVA. Duncan Naylor planted 1.5 acres of Pinot, and I got all the fruit from the vineyard in 2003 ­ a whopping 0.5 tons! Duncan explained that water was a huge issue for him. He dug quite a few wells that came up dry prior to hitting one that produced any water at all. As a result, he named the vineyard Dry Hole. We added Naylor just because it was fun!

The Llama will be my first ever blend. It's not a reserve wine, nor is it a declassified regional blend. I'm just going to choose 3 or 4 barrels that blend together to make something fun. Each year the name of the blend will change, along with a short story that will be on the back label. It's going to be weird and fun… just like me!!!"

Q: What about 2004? Any chance you'll get some of the Pisoni fruit that you've been lusting after?

"I'm not sure when or if I'll ever get any Pisoni Vineyard fruit. Gary wants to get me fruit, but I'm not going to ask him to kick anyone out to make room for me. Gary has a big heart, but he has a small vineyard. I have added a few new vineyards in 2004.

I'll be getting Pinot from Keefer Ranch Vineyard in the Green Valley AVA (a subset of Russian River Valley) as well as from Durell Vineyard in the Sonoma Coast AVA. I've tasted some amazing pinots made from Keefer Ranch fruit (Siduri, Tandem, etc), so I'm really excited to be getting fruit from Marcy Keefer this year. Durell has been known for their chardonnay made by the likes of Kistler. They've recently planted some of the new Pinot clones, and myself and I think Flowers and maybe Patz and Hall are going to be trying it this year."

Q: So what does the future hold in store for The Loring Wine Company?

"Next year, I'll add another Green Valley vineyard called Graham Vineyard. It's owned by Howard Graham, who's an investor in Testarossa and a partner in
August West Winery (along with Gary Franscioni and Ed Kurtzman). Howard will also be selling to August West (duh), Siduri, and Testarossa (duh, squared).

In 2006, I'll be getting fruit from a new vineyard in Santa Rita Hills called Tank Mesa Vineyard. It's planted on a bench above Santa Rosa Road, fairly close to Sanford's La Rinconada Vineyard.

I figure I'll make about 3,000 cases from the 2004 vintage, and then grow to 5,000 by the 2006 vintage. That's the point where I hope to stop "growing", quit my day job, and actually make a living off the winery. That's the plan right now, but it's subject to change at any moment!"

Brian brought along a few of his 2000s for the group to try. I had expected that they would be opened on Saturday with the multitude of other pinot noirs, so imagine my surprise when, towards the end of the evening on Friday, I found both of them on the table with just enough in each for me to get a good read on what they're showing.

2000 Loring Wine Company Santa Rita Hills Pinot Noir Clos Pepe Vineyard, 14.7% alc.: Ruby garnet, showing black cherry, pomegranate and plum flavors and aromas, accented with a note of coffee and hints of sticks and earth; serious concentration here, with tannins to burn and a little heat.

2000 Loring Wine Company Santa Lucia Highlands Pinot Noir Garys' Vineyard, 14.5% alc.: Pomegranate and black cherry nose, filling out with some plum on the palate; a little smoother than the Clos Pepe.

Both wines, having lost some of the abundant fruit of their youth, need some time to mellow the tannic bite, but seem to have the stuffing to go the distance. Kim and I gave them thumbs up, but it wouldn't hurt to give them at least a few more years, either.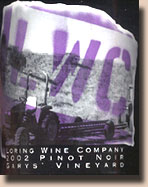 One week after the festivities, we tasted the '02 Loring Garys' Pinot, courtesy of Dan and Carol Myers, and it exemplified what these wines, when young, are all about.

2002 Loring Wine Company Santa Lucia Highlands Pinot Noir Garys' Vineyard, 14.9% alc.: Dark garnet, with big oak, big black cherry, plum, mulberry flavors and aromas that are shaded with some chocolate and sea air. Dense and extracted, this shows some heat and tannins, but it's effusively fruit forward in an unabashed, in - your - face style that we find quite enjoyable. Lots of different things going on here.

Brian Loring has an infectious verve for pinot noir, and he's a ton of fun to hang out and taste with. We've never had a wine he made that we haven't liked, and we'll be most interested in tasting what he comes up with in future vintages.