Marty Freitas setting out the pours for round one


THE

1989 Schlumberger
Gewurztraminer Kessler
1986 Laurel Glen Sonoma
Mountain Cabernet
Sauvignon
1986 Robert Mondavi Napa Valley
Cabernet Sauvignon Reserve
1975 Grand Vin de Leoville du
Marquis Las Cases
1986 Gaja Barbaresco
1988 Castello Banfi Summus
1997 Cline "Los Carneros" Syrah



WINES

1983 Chateau Montelena Napa
Estate Cabernet Sauvignon
1970 Cockburn's Vintage Porto
1978 Chateau Gruaud-Larose
1982 Chateau Gruaud-Larose
1983 Chateau Gruaud-Larose
1985 Chateau Gruaud-Larose
1986 Sarget du Chateau
Gruaud-Larose
1986 Chateau Gruaud-Larose
1988 Chateau Gruaud-Larose
1989 Chateau Gruaud-Larose
It was with great delight and pleasure that a number of the Gang of Pour held a reunion of sorts in the land that brought you ice hockey and Molson, eh. The occasion was a tasting of selected vintages of Chateau Gruaud-Larose, an excellent Second Growth Bordeaux producer from the Saint-Julien region, thanks to the generosity of our tattooed Canadian friend and collector Marty Freitas. Marty is an old friend of Alan Kerr, AKA Canadian Zinfan, and has a particular passion for Bordeaux and Port, though he has been known to swoon over Mr. Ridge from time to time.
Kim Adams and I drove up with the 'deauxnuts, Mark and Teresa Overberg, and their two young munchkins, Gabrielle and Olivia Margaux. We were greeted by Alan, Marty, Marty's partner Robin, and another old friend of Alan's, George Obminski (AKA The Obnoxious One). We were joined shortly thereafter by none other than that Rascal Pascal Chambon AKA Mr. Flippy and Joe Grygier AKA Bordeaux Boy. And later that evening, the delightful Kim Miller AKA Zinchick would also grace us with her presence. We got started with some excellent selections prior to the main event, whilst I sadly watched my beloved Red Wings go down in defeat to the villainous Colorado Rockies.
1989 Schlumberger Gewurztraminer Kessler: This old friend had been sitting in our cellar for some time, and I thought it might be a good idea to try it, in case it might have begun to fade in the past few years. I'm happy to report that, judging by this bottle, not only is it alive and well, but is in no danger of decline any time soon. A rich gold in color, it gives off effusive floral litchi/apricot/peach aromas with hints of petrol and canned peas. Flavors echo and expand with added notes brown sugar and cinnamon; Alan referred to it as "a big honey pot." And indeed, it has a rather sweet note upon entry, but finishes dry. Oily and viscous in the mouth, and very much in the Schlumberger "house style," this was a big hit, and got our tasting off to a grand start. It was a perfect accompaniment to Alan's spring rolls and chicken satay with a peanut sauce. Marty would mention this as one of his favorite wines of the weekend.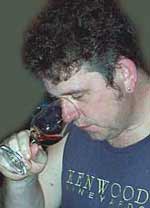 Alan Kerr
Mystery Wine # 1: As is so often the case when the Gang convenes, we blindly tasted a few selections to test our prowess at Naming That Wine. The first selection (courtesy of The Obnoxious One) was a ruby dark garnet, and the nose screamed California Cabernet Sauvignon, in a very good way. Mr. Kerr immediately commented on the "huge mint" quality of the bouquet; I also noted red currant/cherry/chocolate shaded with some cedar and sea air. Flavors generally echo, though they fade a wee bit on the mid-palate; the wine shows no excessive oak whatsoever, and the tannins that are still present are very silky. I hazarded that guess that it was an eight year old Cabernet from Napa, but what do I know, especially when it comes to Cabs? In fact, it was a 1986 Laurel Glen Sonoma Mountain Cabernet Sauvignon, a nice red that should probably be consumed some time in the next couple of years.
Mystery Wine # 2: Another Obnoxio-wine, this dark garnet showed only some mahogany tinges at the rim to indicate its age. It was also rather obviously a Californian Cabernet, with more depth than the previous selection. Flavors and aromas of red currant/cassis show only the subtlest oak, and some cedar and cigar box comes out with air. It has more tannins and body than the Laurel Glen, and keeps pumping out the flavor right on through the long finish. Marty suggested that it was a 12-15 year old Napa Cab, and due to its Bordeaux-like qualities, I opined that it could be a Mondavi. Imagine my surprise when it was shown to indeed be a 1986 Robert Mondavi Napa Valley Cabernet Sauvignon Reserve. An excellent California claret that can continue to develop in the cellar for some time yet, if this bottle is any indication.
1975 Grand Vin de Leoville du Marquis Las Cases: This rusty garnet was brought by Mark and Teresa in anticipation of the Bordeauxs to come, and what a beauty it was. All cedar/sea air and cassis on the nose, which follow through on the palate with added chocolate/cinnamon/ clove/ coffee; Kerr got a lot of vanilla from this, but I didn't. Hmm. Just a lovely claret, round, full and perfectly balanced. A real treat.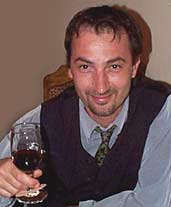 Pascal Chambon
1986 Gaja Barbaresco: Joe brought this along thinking that it might prove interesting, and it was that and more. A ruby garnet with a hint of rust, it exudes big smoky dried cherry/dried plum flavors and aromas, along with a variety of subtler nuances; Marty was reminded of turpentine and peppercorns, while Mr. Flippy found smoked meat and candied cherry on the long, long finish. Rich, round and absolutely delicious. It's hard to single out one or two wines from the many selections we enjoyed, but this was special indeed!
H O M E | S I T E I N D E X | N E X T P A G E | E M A I L U S