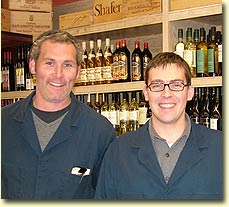 We made arrangements to interview Matt Morgan (in glasses), Zingerman's former retail manager and Tommy York, a partner at Zingerman's for 7 years, in early December, 2005.
GOP: We love this store! How did it all come about?
Tommy: "We were running Zingerman's – they do such a nice job with the food and retail side of things, but you get to a point as connoisseurs and enthusiasts where you want to bring in more aspects of the dining experience. We had a really good grasp of the restaurant side of the business and the retail food side but wanted to continue to develop our passion for wine, which is really a part that is missing from that shop – not missing in that it's defective but it's just not there. And it really is enjoyed everywhere. You wouldn't have cheeses, really, without serving wine or spirits of some sort so we pursued educating ourselves there and traveling to Europe as often as we could. Matt became a sommelier and we wanted to actually put wine into Zingerman's. When we sat down to say 'Hey, we want to go to this next level in the world of food,' they (Zingerman principals) said that they didn't really feel comfortable doing that. 'This works. We don't want to take it apart and redo it.'"
GOP: So you parted amicably from Zingerman's. Besides the wine, what differentiates your store from Zingerman's?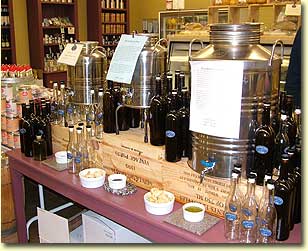 Tommy: "I think the attention to detail. The service. I think the quality of service and the information you will get from us. There's a different spin here. We have the bulk maple syrup, bulk olive oil and bulk vinegars that you won't find at Zingerman's. Zingerman's is a small space and you can't have everything. We have a big space. And so I think we are in a position where we can bring people along where they are beginning to learn about these things. Whereas if you go into Zingerman's and you don't have any experience with, say, anything other than malt vinegar and you walk in there and there's vinegar for $250 and the least expensive one is $30 or $15, you are not going to know what to do and while you are trying to get information you may be swept away by the sandwich crowd. It's good for them because their store is full but not good for the customer looking at vinegar.
They talk internally a lot about selling the Zingerman experience. That's not our style. Here we talk about having the non experience experience, you know, just old-fashioned shop keeping with not a lot of bells and whistles. It's a lot more relaxed here, not hype-filled. I love Zingerman's and I think they do a great job but what you can't get there and you can get here is service and knowledge about all these components."
GOP: What about prices? How do they compare?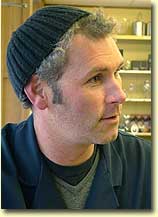 Tommy: "We are not intentionally less expensive than them and if we are it is more by accident than anything else, because unless there's direct importing they might do on some things, they are probably not getting better prices than we are. We bring in some things direct ourselves as well.
Just to get people in the shop, there's all these defenses in that they may not know about these food and wine items. We want people to have this old-fashioned feel when they come in and feel like they would be helped and not judged, and if they didn't know what something was they would be helped without condescension. We want people to feel comfortable."
GOP: That old-fashioned feeling really comes through not only when you walk in here, it comes through on your web site and it comes through on the selection of wine. There's no industrial plonk here. You have real wine, which we find very appealing.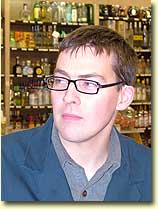 Matt: "The perception people have since we cleaned the store, painted it, put new light bulbs in, that sort of thing, is that the selection has gone upscale and prices are higher than they were under the previous owner. And the interesting thing that people who think that should know is that the average bottle price over the last 4 years has only gone up a dollar in terms of what we sell. We make a deliberate effort to stock what sells. We do mostly imports and the fact that the Euro has gone from 83 cents to $1.40 and now back down to $1.20 and our average price has only gone up a buck speaks to that. It's important to have these authentic wines with regional character with some individuality. It's important to have the kind of wines that end up on people's tables instead of at auction. We have wine with our dinner and I think the selection we have here is geared toward that."
Tommy: "When I was up north, I was in a grocery store in Tawas and thinking about the food in that store. There was nothing real. Nothing. There were no handmade products anywhere. I was thinking what would this have looked like 60 years ago? There would have been a bakery, a this and a that. In a way we are trying to turn the clock back. It's complicated. The story about the bottle prices is important. People think these foods are not for them, but these foods came from all of their roots. They've been sold a bill of goods. Not to sound like a super lefty freak show, but corporate marketing has made people not think critically about their food and what it does to their community, their buying cycle, their bodies."
GOP: This talk kind of makes us feel guilty for shopping at Costco.
Tommy: "We are not going to get anywhere making people feel guilty or bad. I think Costco is perfect for what it does. I don't know of anyone who makes deodorant or toothpaste locally. I think for commodity items, why not Costco? For those items you don't need us."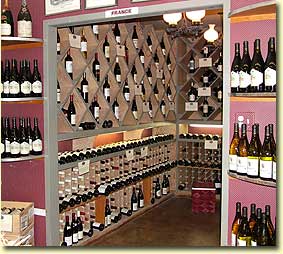 GOP: Are you getting crossover wine customers from Village Corner?
Tommy: "I don't think so. That store is amazing. The selection is amazing. What I think we have over Dick and Rick and Jorge and Rod is service, approachability and physical space."
Matt: "What they have there is institutionalized. For example, there's nobody there after 6 PM to help you select a bottle of wine. You don't want to make the barrier higher than what it already is for appreciating wine and food."
GOP: Do you have plans for expanding the food side of the store, maybe offer more classes?
Tommy: "The thing that's neat about the back of the store (food) that the front of the store (wine) needs is that we can taste people through things. So when we get that resistance we can say, 'you have to taste this.' A customer might say, 'Well I don't know if I like prosciutto' and we'll say, 'Well, just taste it.' If they say 'I don't know if I like Burgundy' we'll say 'alright, well you have to go over to so and so's restaurant where it's marked up 5 fives and of course those wines aren't going to taste that great by themselves so you have to have something to eat with it.' It's just not as accessible so I think we can grow that part of the store by continuing to do tasting and classes. A charcuterie class would be great. We are also putting in a chocolate shop where everything will be made by hand.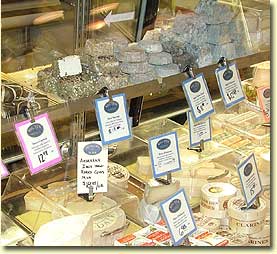 It's funny, trends go up and down. Ten years ago no one was eating red meat; 2 years ago no one was eating carbs, and in the 60s no was eating sugar and saccharin was going to give you cancer. Now we should be drinking wine and eating chocolate. I think our grandparents had it right they had a cocktail every night and ate starch and something green and something meaty and worked hard."
GOP: Tell us about the special cuvee, Domaine du Karantes, you are bringing in and where that's headed.
Matt: "We have a commercial interest in differentiating ourselves in the marketplace and as you know we are interested in working with traditionally made wines. We don't want to work with mass produced products. We try to find wines we can bring in through importers who have affordable products not being brought in either, because no one else is interested or no one else knows about it for whatever the reason. This allows us to create selections of wine that will be different than what's down the street.
Because of Michigan's 3-tier system retailers can't bring in alcohol directly. Sometimes when you work with wholesalers it seems that they sort of have what they have and don't do anything new, so we were looking for somebody who was interested in working with us. We worked with a Michigan-based French importer (Jean-Jacques Fertal of Eagle Eye Imports) to bring in this cuvee. We knew that they recently purchased a winery in the Languedoc and that they share the same winemaker at Château de la Negly in La Clape. Jean-Jacques and one of his partners sent some samples and we tasted through them and decided to go with this particular cuvee, which is 50/50 old vines Grenache and Carignan. We hope to be able to offer more selections from this producer in the future."
GOP: Speaking of the Languedoc connection, it would be a lot of fun if you could sponsor a rustic dinner with wines from the Languedoc to be paired with a cassoulet. With your great selection of wines from the Languedoc and hand-made cured meats, it would surely sell out. There's so much interest now in making cured meat products at home. Michael Ruhlman and Brian Polcyn's new book Charcuterie is all about making these types of products at home.
Tommy: "Yes, that would be fun and we do have that kind of space to do those sorts of things. And to expand upon making home cured meats at home, there were a couple of articles in the New York Times (NYT) recently about the do-it-yourself culture. I think people are starting to think, 'Well, I can make this or I can do this.'"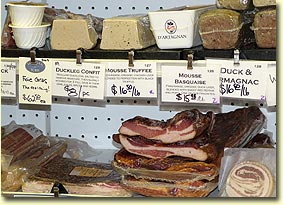 GOP: Yes! NYT also recently ran a story called Pig is Big, talking about pork products and how easy it is to do in the home. That's reinforced with Ruhlman/Polcyn's book.

So tell us, what's Ann Arbor eating? What's really hot right now?

Tommy: "Chocolate is starting to go crazy. I was amazed at the response of the Heritage turkeys. We sold almost 60 turkeys. Considering the price at $8 a pound, that's a lot of money to pay for a turkey."
Matt: "If you buy two tenderloins or a couple of porterhouses, that's $30-$40 right there and you've only fed a couple of people. A turkey may cost $130 but you can feed 10-12 people and get another 2 or 3 meals out of it.
Last year I had this discussion with my grandfather while eating one of these turkeys. He is a volunteer for the Lions Club and participated in their food drive. He said, 'Boy, the turkeys people are donating this year are huge and when I went to the store I saw that turkeys are 39 cents a pound.' Then he asked, 'How much did you pay for this turkey?' I did tell him, which I probably should not have done, because he's going to turn 80 and he almost fell out of his chair. He said, 'Wow! Well, it's a good turkey.' I said, 'Remember that the turkey you paid 39 cents a pound in 1960 is this $8 a pound turkey and not the same 39 cents a pound turkey you saw in the grocery store.'
Between inflation and taking the cost of real farming and industrial agricultural introducing this new basically tank-grown turkey that didn't even exist 40 years ago, they are not really comparable. I think people are starting to understand that and as a society in the US, of all the industrialized countries in the world, we spend the least amount of our disposable income on food. Our food is very cheap. It's very abundant and we also have products here in grocery stores in terms of the sort of level of processing and industrialization that are not even available in other countries.
My wife is Australian and when we go there I've noticed that the food animals are all different breeds because they've been separated and basically under agricultural quarantine and have been for many decades. Chickens are different. They are much fatter, they roast up beautifully. They are much more like the ones (heirloom breed Plymouth Barred Rock chickens) we have in the back of the store. They are not 20 cents a pound. I think people are used to that there. It's the same thing with manufactured consumer goods. My grandparents used to have a hardware store and they sold house wares. They used to sell ECKO spatulas. My grandmother still has those original implements. They have very hard, stiff blades and the gauge is maybe 4 times thicker than what you get if you went into a hardware store to get an ECKO spatula now. They are still $4. They were $4 twenty years ago and that's what all these folks have done in the food business too. People have this idea that milk can't cost more than $2 a gallon. Well the cost of fuel goes up. The cost of feed goes up. Property tax goes up. How do you keep the cost of milk down? Higher yield cows, antibiotics to keep them producing more, control their lactation cycle. It's the same thing with food as with all other manufactured goods. Things are being produced down to a price point instead of up to a quality level. And I guess overall that's what we are trying to do differently here. We are very proud of the direction we have taken in terms of quality."
Tommy: "One thing that's gratifying is that people are cooking more and thinking about what they are eating. It's gratifying to see that people are planting their own gardens, buying eggs from local people. It's sort of what people envisioned in the 60's, and I don't know what happened there in the 70's as we went from the us generation to the me, and now there's little things of the we going on with all the CSA (Community Supported Agriculture) activity.
I do a cooking class every week at school on Mondays for 5-6 graders. We always cook something from scratch and I try to buy stuff from people that I know: Calder buttermilk, Avalon flour. My son asked, 'What do you like about cooking?' I like seeing people feeling proud of what they do. You have these farmers, winemakers…there's real integrity and pride in what's going on. So I think anybody who wants to be a part of something they want to be proud of can just start doing things themselves - start cooking for themselves. What we really wanted to have happen when people come to the store is to think about this place as a food hardware store – much like your favorite neighborhood hardware store, like Stadium Hardware is for me. I go in there and I say 'Mike, I don't know what I did here but this won't go back together,' and he'll say, 'Alright, you did this and that and because you put these three washers in wrong…' or whatever, and then you can go home and do it yourself. I guess my words of wisdom are you should just go home and start cooking and drinking."
GOP: Integrity and pride are good watchwords
Tommy: "Matt and I are not big on buzzwords, it's like what I was trying to explain before, it's the non experience experience. It's not the carnival."
~~~~~~~~~~~~~~~~~~~~~~~~~~~~~~~~~
After we ended our interview, as Tommy gave us a tour through the inner workings of the store, he exuded (buzzwords or not) incredible integrity and pride as he further explained Morgan and York's mission and dreams. It was like watching a kid in the best candy store in the world – his store!
You, too, can be that kid. Do yourself a favor, if you live in Southeastern Michigan, get in the car and visit Morgan and York. If you don't, try to seek out stores in your area that share their philosophy.
Cheers,
Kim Adams

Link to Gang of Pour Home Page

Link to Gang of Pour Site Index (Table of Contents)
© Kim Adams