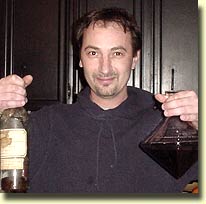 Last year, Mr. Flippy (right) returned from visiting friends and family in France. In his luggage was a bottle of very special wine given to him by a life long friend of his named Jerome. Jerome is a great guy and a talented chef who owns a small restaurant in Rians, a small village in the rolling hills of Provence. I have spent time with Jerome in his restaurant and have had privy to seeing his small but select collection of wines. The wine Pascal returned with was no ordinary bottle. It left France along with strict instructions that it only be opened when the aforementioned prior owner could take time to vacation in Canada. I was happy to allow Mr. Flippy storage space for this sacred symbol of friendship in my cellar. I figured at the time it increased my chances of being there when Flippy would keep his part of the arrangement and open it for the vacationing Jerome.
Last week, I embarked upon my annual "rearrange the cellar and see what should be drunk up" day. As I was in the area of Flippy's bottle, I noticed the capsule had a sticky honey-like coating on the top. I carefully removed it from its resting place and held it up to the light.
Jeepers, it looked to me like the cork had started to slip down into the wine. A flashlight confirmed my very worst fear. I stood it up on the floor and prepared myself to make the call. The call all lovers of wine fear the most. "Pascal call me back," I said warily to his answering machine. "I have some very bad news for you." I knew there was a quiver to my voice as I hung up the phone.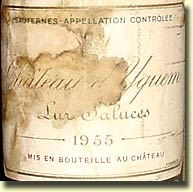 Flippy surprised me; he took the news better than I thought he would and we agreed it should be drunk as soon as possible. After all, how good could a 1955 Chateau d'Yquem be after being exposed to air for who knows how long? Remarkably what had saved the wine from dripping on to the cellar floor was the capsule. It contained none of the customary pinholes one usually finds in the top. Flippy and I decided last Friday night (1/31/03) would be an opportunity to see if in fact the wine still had some life.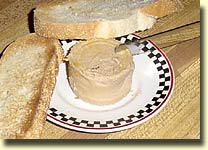 Being positive I stopped downtown at my friend Jill's specialty food shop, fittingly named Jill's Table, and picked up a can of block Foie Gras! My years of Boy Scout-hood trained me to be prepared and who would want to be stuck with a potentially great Yquem and nothing to eat with it. I arrived home and pulled a few stocks and other goodies from the freezer and got to work on dinner.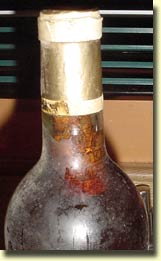 Flippy arrived in the early evening and so did the moment of truth. The top of the cork was sitting at the bottom of the neck of the bottle. One touch from my "ah so" and there it was floating in the wine. All we could do was pour it into a decanter and watch the cork bob haphazardly in the wine. Two glasses were deftly poured and away we went. Its nose was thankfully free of any oxidized aromas and was in fact quite enticing. As soon as the beam of glee appeared on Flippy's face, I knew all was going to be well. We then sipped and savoured a rather large pour of this forty eight year old delight. The next glass was consumed with freshly toasted bread and enough foie gras to clog the veins of even the most serious of gourmands. Although the texture of the creamy liver of the goose coupled so well with the sweet nectar of the Sauternes, the best food paring was yet to come!
Alan Kerr's Home Page and Main Index