Alan's September 2003 Vintages Release Tasting Notes
Release dates September 6th and 20th, 2003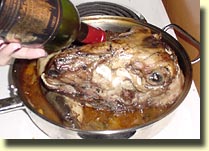 September is upon us, and so soon too. That means back to school for me, which means its back to my usual power hour of sipping, slurping and spitting at the pre release tasting. There were many good wines to be had this month but few that knocked my socks off. I was happy to have the opportunity to taste a couple of Ridge's delicious 2001 wines, both of which were very good. There were a few 2000 Bordeaux on the table but by the time I got to them my palate had ceased to be. Earlier last month I was looking to enjoy a couple of wines, 92 Ridge Geyserville and a 95 Sumus to be precise, with my good friend Gary who lives in Oakville. However, while I was in Toronto, some scum sucking sleaze ball stole my car; yes if you know my car, believe it, someone actually took it. The wines were in the back along with other personal stuff. In the same time it takes to park and run into St Lawrence market and grab some cheese, it was gone. I hope the lowlife that did this dastardly deed drank the wines too fast, became disorientated and fell in front of a street car trolley bus.



Wines released on September 6th.



904110 SAUVIGNON BLANC 2002 $ 18.95, Marlborough, South Island, Lake Chalice.
This was a great wine to start off with. Multidimensional nose offered up nutshell, mineral and lamp oil aromas before a wave of ripe gooseberry and apple took the centre stage. There were also notes of citrus that rendered the wine refreshing without being overly acidic. Mid palate was full, spicy and well balanced. Good length on the finish.

520213 MEURSAULT DU CHÂTEAU 2001 $ 54.45, Meursault, Château de Meursault .
Pale straw coloured Chardonnay that had lots of rich and toasty aromas of baked apple, ripe honeydew melon and clove. It was bold and quite spicy, but the rich vanillin was the prominent point. Pleasant tree fruits and citrus flavours, but this disjointed wine will need time to come together.

903500 RIESLING AUSLESE 2001 $ 28.95, Wehlener Sonnenuhr, Gutsabfüllung, Weingut Studert-Prüm.
Light/pale yellow colour. Intriguing nose of peach, fresh green peas, apple and lime peel. Mid palate appeared to be low in acid and consequently I found it quite cloying in particular on the candy apple finish. Maybe it needs time too, as the Vintage's manual suggests.

900282 RIESLING KABINETT 2001 $ 23.95, Goldtröpfchen, Gutsabfüllung, Weingut Reinhold Haart.
This particular bottle had way too many sulfur notes for me. Beyond this distraction, I found notes of mineral, slate and cat pee. However, even on the palate, I found flavours of damp wet hay that overpowered any fruit that was present. A flawed bottle I assume as this wine took rave reviews from Bob P and his boys.

480517 RIESLING KABINETT 2001 $ 14.95, 'Jean-Baptiste', Gunderloch.
Lots of earthy mineral notes combined with fresh baked cut fruit cake and citrus. The right dosage of malic acid and beautifully round fruit created a sound wine with a long finish of apple sauce and spice. Given the reasonable asking price, this was the best Riesling for me.

332247 POMINO 'BENEFIZIO' 2001 $ 25.95, Pomino, Marchesi de' Frescobaldi.
Nice full yellow almost gold colour. Lovely whiffs of toffee, butter, ripe baked pear and hints of vanilla and coconut. Rich tropical mango and pineapple flavours teased the palate and ran right through to the finish.

222877 CABERNET SAUVIGNON 2000 $ 99.95, Napa Valley, Caymus Vineyards.
Quite a dark garnet and viscous wine packed with dense aromas of spice, sweet cherry, blackcurrant, plum and sage leaves. It was big, very big, pleasantly sweet and well balanced. A nice wine with well tamed oak but is it worth the price?

903252 'CARDINAL ZIN' 2001 $ 27.95, 'Beastly Old Vines', Bonny Doon Vineyard.
A rather subdued nose that struggled to reveal its briar, zinberry and dark fruit aromas. It is medium bodied, capturing a little sweet fruit on the palate, but the finish faded fast. I was disappointed considering the old vine status.

938092 'SANTA CRUZ MOUNTAINS' RED 2000 $ 46.95, Ridge Vineyards.
Put the Caymus back on the shelf and in its place take two of these. You will still have a few bucks left over for lunch. It was dark, dense and inky, featuring heady aromas of dark fruit, blackcurrant, mineral, lavender, cardamom seed and charcoal dust. Despite the tightly wound tannin, that suggested several years in the cellar, the wine was together and compelling.

723361 ZINFANDEL 2001 $ 34.95, 'Sonoma Station' Ridge Vineyards.
Garnet ruby colour. The nose was a ménage at tois of red currant, black cherry and black raspberry. Behind the fruit lay hints of honey, dried mushroom and chocolate Nanaimo bar. Better than the two previous vintages of Sonoma Station, it was quite full bodied on the palate and the slick dusty tannin suggested this will benefit from a year or two of age.

614800 CABERNET SAUVIGNON 2001 $ 25.50, 'Hill of Gold', Mudgee, Rosemount.
Rich and robust, fairly viscous and full of fruit. Rendered a mouthful of spice, currant and blackberry bound with metallic acid and dark chocolate. Good balance and a long finish.

452508 CABERNET/MERLOT 2001 $ 21.95, 'Trinders' Margaret River, Cape Mentelle.
The best OZ contribution on the table. A solid wine full of black toffee, blackcurrant, spearmint and great acidity. I enjoyed this immensely.

951079 CARMENÈRE 2001 $ 16.95, Reserve, Coastal Vineyards, Maule Valley, Calina.
Despite the enticing shimmering ruby red colour, I found this wine to be lackluster and disappointing. Nose offered black fruits, licorice root, plum and chocolate. It was plush on the palate but I found it hard to discern the flavour of the aromas I noted on the nose. When this wine was released last year I raved about it. However, with this vintage I reserve my excitement simply because it came across as being sweet and one dimensional.

903039 CHÂTEAU CAZEAU 2000 $ 17.95, 'Cuvee Prestige', AC Bordeaux.
Very hard to judge given that I got to the newbie Bordeaux wines last and they were indeed tannic. A nice richness to the dark ruby colour, touch of nail varnish on the nose, smoke, blackberry, tea leaves and lead pencil. Really tight on the mid palate as the fruit was buried at this stage but it is a good price and has to be worth a gamble on its ageing potential.

902379 CHÂTEAU LALANDE-BORIE 1995 $ 49.95, Saint-Julien.
Although the rim had a brick red tone, the centre core was still relatively dark which suggested it is still a junior. Interesting nose of dried bay leaves, game, smoked bacon, forest floor, cola and cassis. Several layers of flavours hit the mid palate but the layer of teeth coasting fuzzy tannin politely confirmed to me that more aging time is required.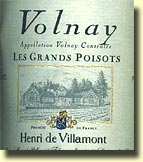 999805 VOLNAY 1999 $ 43.95, 'Les Grands Poisots', Henri de Villamont.
Pure essence of Pinot. Although it was quite light in colour, its nose suggested good things might be lurking. And the good things were sweet red berry, dark cherry, cinnamon and beet, just to name a few. Lovely silky mouth feel. Not a big wine but elegant to say the least.

717454 VACQUEYRAS 2000 $ 21.95, Paul Jaboulet Aîné.
Not as big as previous vintages but well worth getting a bottle or two at this price. Full of bacon fat, ground black pepper, dark fruit, lavender and gentle tannins. I went back to this to try again and I decided it was drinking really well, despite its youthfulness.

708750 MAS DES BRESSADES 2002 $ 17.00, 'Cuvée Excellence' Costières de Nîmes.
This wine always comes through as being a great QPR candidate. It had a thick ruby/garnet colour with sweet aroma of blueberry coulis, and black fruit jam. Lovely balance of fruit, acid and a pleasing touch of herbaceous leaves. Long and creamy finish delivered instantaneous pleasure.

702944 BARBARESCO 1998 $ 36.95, 'Santo Stefano' Castello di Neive.
Light brick red colour, faint aromas of sweet cherry and strawberry. Very little on the mid palate other than drying fruit and plenty of tannin.

702159 VINO NOBILE DI MONTEPULCIANO 1999 $ 23.95, Agr. Poliziano,
Vino Nobile di Montepulciano.
Hey, a wine of the month truly worth buying. Some cigar leaf and tobacco shared the stage with intense blackberry, aniseed, blackcurrant and violet. Mid palate was balanced and rich with the flavour of the fruit. Although tannin was present it was refined and elegant

968164 'MARQUÉS DE VARGAS' RESERVA 1999 $ 33.45.
The initial nose of sweet cherry pie filling blew off to reveal secondary aromas of leather, tar, plum and sweet spice. It had a lovely creamy core that accented the notes of the fruit and added chocolate and dark berry. Very dense and sophisticated wine with a solid and pleasing finish.

243329 'TAJA' RESERVE 1998 $ 13.00, Jumilla, Bodegas Mähler-Besse.
Always a deal, this wine offered aromas of red bell pepper, back pepper, chocolate plum and berries. Lots of plumy and stewed fruit flavours gave a lot of bang for thirteen bucks.




Wine for release September 20th.



356501 CHARDONNAY 'OVERLOOK' 2001 $ 39.50, California, Landmark Vineyards.
What a pleasant surprise. I had braced myself for the anticipated overload of oak yet it never came. Instead I found a mixed bag of butterscotch, liquorish, lime, Japanese pear, a touch of Sonoma soil and wisps of peach lozenge. Great med to full bodied flavour, rich and well balanced, with a finish that featured the citrus of the lime and a touch of vanilla.
While the price of many Californian wines has escalated recently, Overlook has been sitting at its current price for several years.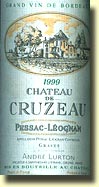 966010 CHÂTEAU DE CRUZEAU 1999 $ 19.95, Pessac-Léognan André Lurton, Vitic.
I think this was my surprise wine of the day. Medium yellow straw colour with aromas of paraffin wax, tangerine, lime leaf/lemongrass and fresh cut grass. Well balanced, med to full bodied, crisp, clean and fruit focused finish. A wonderful bottle of wine.

722413 RIESLING KABINETT 2001 $ 19.50, Hochheimer Hölle, Erzeugerabfüllung Domdechant Werner'sches Weingut.
Apricot and pear were the dominating aromas; little peach acidity tingled the tongue and balanced the sweetness. Lime candy on the finish.

319525 'EQUULEUS' 1998 $ 24.95, Paul Bosc Estate, Niagara, Chateau des Charmes.
Pretty dark garnet/ruby colour. Intriguing combination of mocha, arugula, porcini mushroom, damp hay, apple, cassis and sage. Phew, quite the mix, I know, yet the flavours echoed the vegetal and fruit aromas right through to the finish. Still needs time to fully mature but quite enjoyable in its present condition.

904557 CABERNET SAUVIGNON 2000 $ 25.90, 'Hess Select', Hess Collection.
Lacking body, flavour and complexity that resulted in creating the most uninteresting wine of the day.

905422 PETITE SIRAH 2001 $ 19.95, 'Clay Station', Lodi, Delicato Family Vineyards.
Very dark and intense look to the wine. Stewed plums, white pepper, blueberry, smoked ham, and bacon fat. An unimaginable combination for dinner perhaps, but when partnered together in this wine, it worked. Toffee candy texture on the mid palate, still quite tannic, actually very tannic. Sweet prune texture on the finish. Me thinks me might buy me some of this just to see how it develops!

583146 'GSM' 2000 $ 34.95, Grenache/Syrah/Mourvèdre, McLaren Vale/Barossa Valley, South Australia, Rosemount Estate.
Deep and dense, monster hits of blackberry jam and jelly while Asian spices, cardamom and aniseed lurked in the background. Little notes of lavender, liquorish and plum. Lovely chewy mid palate featured milk chocolate and dark fruit. Good spicy finish.

730085 CHÂTEAU LA CROIX DU CASSE 1999 $ 69.95, Pomerol.
I'm not sure if this was a flawed bottle or what. The nose was a mix of gamey wet fur, bitter chocolate and bacon fat. There was a little red berry but it struggled to surface. It was murky and expressed flavours of bitter tea leaves and drying fruit.

981787 GIGONDAS 2001 $ 28.45, Domaine du Grapillon d'Or E.A.R.L. Bernard Chauvet, Prop.-Récolt.
Oh wow, Freddy vs. Jason of the wine world as the titans of tannin went head to head. It supported a deep/inky dark garnet colour. The principal aromas were what one might expect to ascend from the floor of a very busy barnyard in style, but dark bitter chocolate, tar, blackberry, hits of black pepper, Dutch salt licorice and charcoal were all part of the brew. This was so tannic and disjointed it would take the deft hands of a physiotherapist at least five years to get it in shape. Don't get me wrong, I liked it, I will buy it, I just won't drink it for until the monstrous tannins decide to subside. Much better than the movie by the way!

711077 BAROLO DI SORANO 1998 $ 47.50, Cantine Giacomo Ascheri.
Mint, anise, red currant and cranberry. Candy ball flavours, seemed to be overly tannic and what fruit was left on the finish was drying.

708826 BARBARESCO 1997 $ 29.95, Produttori del Barbaresco.
The colour, almost a mahogany orange, suggested it would be past its peak. However, I found coffee, chocolate, lead pencil all bound together by pretty floral notes. The fruit, red berries mostly, was expressed nicely on the palate. Tannins were silky.

992073 CHIANTI CLASSICO RISERVA 1999 $ 29.95, 'Il Grigio' Az. Agr. San Felice.
Good stuff, tightly packed with dark fruit, backed up with hints of compost, morels and red cherry cola. Initially it was creamy on the tongue but the drying chalky tannin suggested time. A few hours in the decanter should expose that luscious layer of dark fruit.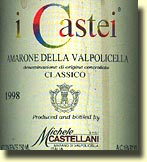 739979 AMARONE DELLA VALPOLICELLA CLASSICO 1998 $ 49.95, 'I Castei', Az. Agr. Michele Castellani.
Oh, I have to be so careful here, as another expensive addiction is not what I need right now. This Amarone was succulent and sensual. No hint of over ripeness, just pure extraction of concentrated fruit. A touch of hazelnut on the nose enhanced the solid core of dark fruit and plum. I was not overly fond of the previous vintage of this wine but this time around, maybe my tastes have changed. I am really starting to appreciate the complexity and addictive merits of a good Amarone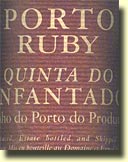 979898 RUBY PORT $ 15.50, Quinta do Infantado.
Dark ruby and quite purple colour, aromas of hay, tobacco, prune and nutshell, and really rich, considering its status in the world of port is on the bottom rung of the ladder. In fact this brawny tawny showed flavours of blueberry and chocolate. The finish was spicy and showed a little heat, but it's a good deal for an after dinner sipper.


Cheers,
CZ

Alan Kerr's Home Page and Main Index