Alan's September 2002 Vintages Release Tasting Notes
Release dates September 7 & 21, 2002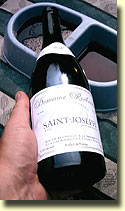 Summer is fading and it's back to school for me to make ready for the onslaught of incoming students. I was able to take a quick break and slip away to see what goodies we have in store for September. It was an hour well spent and although I had to taste in haste, I found several wines that will appear on my shopping list this month, including some stellar cellar stuff for under twenty bucks. The board is back to the two releases per month system the first is slotted for the 7th and the remaining wines will be available on the 21st.
600122 'GUMPRS' BLOCK' SHIRAZ 2000 $ 19.95, McLaren Vale, Oz, Hamilton.
Nice rich aroma laden with lively fruit although a trifle hot. Tons of fresh currant, blackberry and plum on the palate. Nice degree of cleansing acidity, fairly decent length to the finish.
713040 'THE CUSTODIAN' GRENACHE 1999 $ 19.70, McLaren Vale, Oz, d'Arenberg.
Medium body, sweet red fruits, mint and candy, especially in the finish. A respectable wine, but take the Gumprs instead.
611210 SHIRAZ 2000 $ 19.95, 'Thomas Hyland', Oz, Penfolds.
Loads of super ripe fruit, cherry and blackberry with hints of coffee and chocolate exuding from the glass. Sweet and creamy on the palate showing lots of fruit that echoed through the long finish. Although I feel this wine will only be better in a year or two, it is simply delicious right now.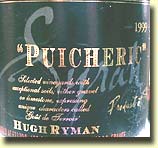 728311 SYRAH 1999 $ 13.40, 'Puicheric', Vin de Pays d'Oc, Hugh Ryman.
Medium body with aromas of white pepper, game, damson, leather, black cherry and plum. The palate showed much the same as the nose. A good example of a well structured and robust wine from an area that produces some of the best value wines that we see in Ontario. It may not be monumental but neither is the price.
971564 CHâTEAUNEUF-DU-PAPE 1999 $ 28.95, Domaine Mathieu.
This offered so little on the nose other than faint and subtle hints of berries and dried fruit. Palate was medium bodied and clean but seemed too soft and gutless. Shut down or just lackluster, I am not sure. Having had several older bottles of Mathieu, all of which were exceptional, I don't think this one will be in the same league.
733923 DOMAINE ROCHEVINE 1998 $ 23.60, Saint-Joseph, Cave Saint-Desirat.
An explosive bouquet of blackberry and crushed peppercorns and just the right amount of funk to wake up taste buds. Beneath the massive fruit structure were layers of wild mushrooms, a gamey note and hints of stone and mineral. This wine had fabulous structure and balance. Just so much black fruit on the mid palate and the finish, wow! Best bet this release for Syrah fanatics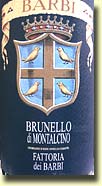 939397 BRUNELLO DI MONTALCINO 1996 $ 39.95, Fattoria dei Barbi.
Full bodied, densely coloured and an attractive and enticing nose of spicy, red fruits, black cherries, liquorish root and cocoa. Very chewy, very dense with big ripe fruit flavours, relatively tannic, needs time.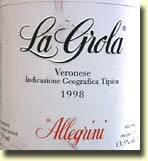 476598 'LA GROLA' 1998 $ 24.40, Veronese, Allegrini.
A "polished" aroma showing walnut shells, cinnamon, coffee, plum and dried fruit. Concentrated and elegant, flavours of blackberry, cherry and plum, leathery texture on the palate. Fruit seemed to fade on the finish leaving a tart black cherry acid taste.
235051 MERLOT 1999 $ 15.95, Niagara Peninsula, Cave Spring Cellars.
Simple aromas of cherry and strawberry on the nose were masked by an over powering sourness. Palate was thin, with noticeable sourness and little fruit. An off bottle I hope!
942151 ZINFANDEL 2000 $ 24.35, Sonoma County, Seghesio.
A decent Zin at a reasonable price considering the gloomy state of the exchange rate. Seghesio has always been one of my favourite Zin producers. The nose was full of earthy minerals coupled with blackberry and raspberry fruit. Lots of vibrant raspberry, blueberry and chocolate, lovely silky mid palate with a long finish.
583146 'GSM' 1999 $ 32.75, McLaren Vale, Oz, Rosemount Estate.
The term 'GSM' stands for a blend of 50% Grenache, 40% Shiraz and 10% Mourvèdre Dark inky colour. Mint, liquorish, pepper and plum poured out from the nose. Underlying gaminess and sweet spice became noticeable as it opened up. Black fruit, chocolate and plum really excelled on the mid palate. Good spicy finish.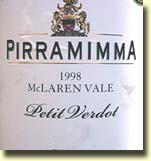 986752 PETIT VERDOT 1998 $ 22.35, Pirramimma, McLaren Vale, Oz, Johnston Pty.
A nice surprise, full and round on the palate, nice balance of fruit and acid, some dusty tannins on the finish along with a nice streak of blackcurrant.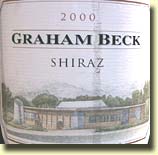 744102 SHIRAZ 2000 $ 16.95, Coastal Cellar',WO Coastal, Graham Beck, South Africa.
Possibly one of my favourites of the hour! Very much Australian in style, full of blackberry coulis, sweet mint, slate and a little funkiness going on in the background. Highly concentrated, huge black fruit flavours, milk chocolate tannin. The finish had the impression of being "plasticy", but nonetheless a great wine.
946574 'CUVÉE SANGLIER' 1999 $ 11.90, Côtes du Roussillon-Villages, Domaine des Schistes.
Mostly perfume, violets, sage and garrique on the nose, although some pretty blueberry notes showed through the vegetal and floral elements. Very pleasant and certainly a candidate for best QPR quaffer. 'Sanglier' translates as 'boar' in English; the Vintages catalogue suggests wild boar as a food match. I'll rush over and check the meat counter in my local A and P store and see if they have any!
945048 VINO NOBILE DI MONTEPULCIANO 1998 $ 27.95, Avignonesi.
An odd wine! Lots of sweet fruit, violets, thyme and chocolate on the nose but there was an underlying and unpleasant mud or swampy component that distracted from the fruit. Reasonably clean flavours on the palate, but the finish was quick to disappear.
715417 AMARONE 'I CASTEI' 1997 $ 32.90, della Valpolicella Classico, Michele Castellani.
At first, very tightly wound revealing little, eventually some bright and fuzzy fruit on the nose, reminiscent of youthful port. Mid palate was sweet and velvety with a viscous texture. So much chocolate on the finish, almost too much, but with a nice berry acid to complement. An unusual but interesting style of Amarone
730879 VALPOLICELLA 1999 $ 12.75, Classico Superiore, Ripasso, Remo Farina.
Lots of dried cherry and sweet cooked fruit aromas. Medium bodied with a good degree of ripeness to the fruit. The raspberry acidity was really detectable, especially on the finish, but food should soften it enough to make it enjoyable.
989129 'TFN' 1998 $ 17.00, Douro, Bright Brothers.
I liked this wine for its pleasing blackcurrant and blueberry fruit aromas until I picked up this musty thing going on in the finish. I tried it again later and it was still there.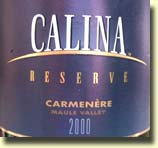 951079 CARMENÈRE reserve 2000 $ 16.95, Maule Valley, Chile, La Viñas de la Calina.
A monster. Inky black, showing heaps of blackberry jam, currants, coffee, damsons and balsamic notes. Huge concentration of flavours, great structure and an ultra long finish. Great stuff, well priced.
Cheers,
CZ
Alan Kerr's Home Page and Main Index