Alan's September 2001 Vintages Release Tasting Notes
Release date September 8, 2001
If you are shopping for back to school bargains, September's release should please you. There are plenty of wines under $20.00 that will pleasure the prudent shopper.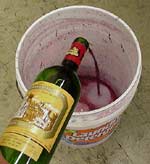 The down side to this month's release was that many of the wines scheduled for release were not shipped for the local London consultants to taste. There was one exception to that statement, the board did send the 97 Chateau Ducru-Beaucaillou 1997. It is drinking beautifully right now with plenty of sweet. Blackcurrant fruit, lead pencil, cedar, and other classic elements found in a fine Bordeaux. It was hard to pour it away! However, the well-rounded price tag of $99.95 means it probably will have been the only time I will taste it.

591305 PINOT GRIS 2000 $ 17.95, Niagara Peninsula, Ontario, Malivoire
This relinquished a beautiful deep copper tone colour. Some lovely enticing pear, peach and apple aromas. Quite full bodied and very long in the finish. Great aperitif.

978445 CHARDONNAY 1999 $ 17.40,Hunter Valley, New South Wales, Scarborough
My friend Mark Handleman stated "you have to taste this wine" I did and I am thankful I did. It is the most non Ozzie style of Chardonnay that I have tasted from Australia. One would swear it was a Burgundy if it was tasted blind. It's complex and stylish, full of mineral, slate and apples. Fruit leaden, beautifully balanced oak. Finish has a kiss of bitter Almond. Great wine and well priced.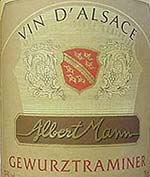 980714 GEWÜRZTRAMINER 1999 $ 18.95 Albert Mann, Alsace
This was a little fat for my tastes. Plenty spicy lychee fruit and honey aromas but it was at the mid palate where fun stopped. I found it fat and really lacking acid enough to make it refreshing. Others present did enjoy it however!

973115 VIOGNIER 2000 $ 11.85, Vin de Pays de la Drôme, Delas Frères
Wines like this make me wonder why I still buy Chardonnay. It has a floral focus nose with hints of peach and citrus. Bold fruit flavours and a lovely refreshing finish. Would still be good at twice the price.

735464 POUILLY-FUISSÉ 1999 $ 28.75 Château de Beauregard, Burgundy
An interesting nose of ripe honeydew melon, apricot, hazelnut and parsley stalks. Dry, very crisp and maybe a touch to much oak, at least for me. Pleasing finish but the price is up there. I'm looking at two and a half bottles of Viognier for the same price!

942243 CHABLIS 1998 $ 17.85, 'Les Vieilles Vignes' La Chablisienne, Burgundy
Very simple and uninspiring, lean but clean fruit and a touch of oak. Just didn't do too much for me!

743070 CHARDONNAY 1999 $ 12.35, 'South Eastern' Australia, Miranda Wines
A pleasant surprise for an Ozzie wine at this price. Canned pineapple, citrus, a touch of mango and creamy coconut are all in the nose. Reminded me of my old Pina Colada days when I first smelt the wine. Nice creamy flavours and a hint of butterscotch in the finish. Good wine at a great price!

959668 CUVÉE DES ANGES 1998 $ 17.50, Domaine Grande-Maison, Monbazillac, Despres et fils
Quite tasty, little hints of botrytisized fruit, good balance of sweetness and acidity.

371799 PETITE SIRAH 1998 $ 26.90 Sonoma County, Foppiano Vineyards
This unfortunately was one of the wines the board neglected to ship to London. However, on my trip to California this summer, I have ot on the best authority that that Foppiano is one of the best reasonably priced Petite Syrah produced. Based on this alone, I am buying some.

931691 CABERNET SAUVIGNON 1999 $ 18.95, Clare Valley, South Australia, Jim Barry
A fabulous glass of juice! The nose offers spearmint, fennel seed and a huge whack of cassis. The palate is loaded Eucalyptus, black fruit and plum. The tannins are chewy and reminiscent of milky chocolate. Stick this away for a year or two and you will be a happy wine drinker when you open it.

226662 CABERNET SAUVIGNON 1998 $ 28.95, 'Show Reserve', Coonawarra, South Australia, Rosemount
Very clean and velvety, lovely depth to the dense dark colour. It is chock full of smooth blueberry and blackcurrant tones. It is gracious yet powerful at the same time. Tannins are silky and ultra smooth. Very impressive and worth cellaring for a few years or what the heck, just enjoy it now.

957225 CABERNET/MERLOT 1999 $ 14.80, Western Australia, Goundrey
Another charming wine, well priced and made for current consumption. It's dense, quite full bodied and the jammy red fruit explodes exposing hints of cinnamon and spice. It is clean and has a lovely crisp flavour on the finish. Good stuff.

942573 'MAD FISH' RED 1999 $ 17.90, Cabernet Sauvignon/Merlot/Cabernet Franc, Western Australia, Howard Park
Lots of cherry cola and red currant linger in the glass. It boasts quite a chewy texture but it is maybe a touch too sweet especially in the after taste for my personal liking. Nonetheless it is an interesting wine that will be fun to pare with certain lively flavoured foods. Spicy smoked back ribs might d the trick.

972919 CABERNET SAUVIGNON 1997 $ 15.65, Elgin W.O. WhaleHaven
This is quite funky. Hints of aquarium, moss and sea air whisper in the nose along with lots of stewed plum and currants. It clings to your mouth and appears years away from drinking. To me there was on odd carbolic soapy taste that over ran the fruit in the finish.

969709 MALBEC N.V. $ 12.30, San Huberto, Menem, Argentina
Blackberry, raspberry and after eight mints dominate the nose. Several layers of licorice, cherry and cedar in the mouth, clean refreshing finish. Worth trying.

162461 CHÂTEAU DUCLA 1998 $ 12.30, Bordeaux
A very simple light to medium bodied wine that offers pleasant blackberry fruit, a hint of terrior and lead pencil. Drinking well in its present state.

950279 DOMAINE DES COMBELLES 1998 $ 10.50, Minervois, Vieilles Vignes,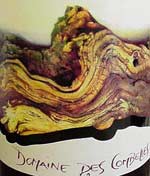 Gilles Chabbert
This is a wine that has power and packs a punch. There is loads of ripe berry, cherry, plum and chocolate to tease. Faint hints of cola spice, coffee and slate echo in the finish, I disagree with the board's recommendation to drink this wine already. Yes it is lovely but I think there is ample tannin to cellar it for a year just to see what happens. One of the best QPR wines of the release.

738237 MOURVÈDRE 'LES JAMELLES' 1999 $ 9.65, Vin de Pays d'Oc, Les Jamelles
This wine was all gone by the time I got around to looking for the bottle but I was told that it is worth checking out especially at this price.

930412 DOMAINE LE GALANTIN 1998 $ 17.95, Bandol, Le Galantin, Pascal, Vign.
A most interesting libation with lots of flowery aromas, hints of mineral and solid fruit in the nose. Good depth of flavour but still immensely tannic! Could be a winner in a few years.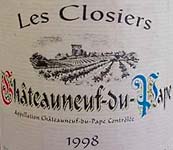 978262 CHÂTEAUNEUF-DU-PAPE 1998 $ 31.50, Les Closiers, Cave des Papes
This is in contention for the title of best wine of the day. Surprisingly little, if any, terrior flavour to it. It is mostly fruit focused. Lots of plum, some white pepper and luscious blackberry fruit. The tannins are tight but chewy and rich.

709014 CÔTES-DU-RHÔNE 1999 $ 11.65, Pont de L'Isle, Etienne Bellicard - Ag. Vinic. Masson
Lots of clean simple red fruit with a dose of pepper, some chocolate and a crisp clean finish. Another really decent value wine!

984880 'CAPITEL SAN ROCCO' 1997 $ 16.55, Ripasso, Vino da Tavola del Veronese, Az. Agric. Tedeschi
Very toasty, dried raisiny fruit aromas that harmonize with cigar, tar and nutmeg. A great multidimensional wine that offers good balance and focused fruit.

413179 AMARONE 1995 $ 38.75, Della Valpolicella Classico, Zenato
Oh wow, layer after layer of walnut, furniture polish, coffee, candied violets, pepper, super concentrated blackberry fruit and creamy oak. It is meaty, muscular, big, chewy, and simply gorgeous. I had to pour a second glass! Wine of the tasting I think for me. This is a great Amarone and plus the price is very reasonable.

947937 CHARDONNAY 1998 $ 21.95, Casablanca, Casa Lapostolle, Chile
Big heady aroma of applesauce and oak equals a Californian style of wine that is uninspiring.

968909 SAUVIGNON BLANC 2000 $ 11.45, Maule Valley, Terranoble, Chile Imagine waking up in the middle of the night to discover your new kitten has peed on your pillow. That is what I derived from this wine. There is also a hint of gooseberry along with the feline juice but the latter overpowers everything else.

938308 CABERNET SAUVIGNON/MERLOT 1999 $ 13.75, Estate Bottled, Limited Release, El Tranque Vineyard, Maipo Valley, Viña Tarapaca, Chile
Lots of lovely upfront plum and black fruit followed by wafts of dried herbs and dark bitter chocolate. All is well until a touch of burnt bitter coffee spoils the finish. Would like to try this again though.

723296 SYRAH RESERVA 1999 $ 24.50, Don Maximiano Estate, Aconcagua Valley, Errazuriz, Chile
This is a dentist's nightmare. The rich chewy chocolate-bolstered tannin just clings to the teeth. Bouquet is full of black fruit, plum, toasty vanilla and freshly ground black pepper. A winner and certainly worth buying.

Cheers
CZ
Alan Kerr's Home Page and Main Index