As the LCBO is now publishing a catalogue every two weeks, I hope to be able to post notes on each of the releases just before they come out.
619510 'CEV' CABERNET SAUVIGNON 2002 $21.95, Barrel Aged, Lake Erie North Shore, Ontario, Colio Estates
The colour denotes a light styled wine. It has a gentle ruby shade with a reflective purple rim. There are whiffs of blackcurrant and plum, but considering the vintage, I find little overall to thrill. It finishes clean with nice acidity, but little else.

500447 'CEV' MERLOT RESERVE 2002 $24.95, Barrel Aged, Lake Erie North Shore, Colio Estates
Here is a total turn around in quality from the same producer in the same vintage. The colour of this Merlot shows off far more in depth and concentration. The nose emits Asian spice, red raspberry, leather and nutmeg. The palate is rich, full of toast, plenty of red fruit and a creamy texture.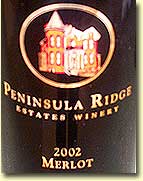 592261 PENINSULA RIDGE MERLOT 2002 $19.95, Niagara Peninsula
A wine with a medium ruby garnet robe and a nose of dark chocolate, coriander seed and cedar accented by blackberry, and black cherry. It is well balanced on the palate; it's medium bodied and finishes with a kick of sweet spice and Szechwan pepper.
925727 BELLE GLOS PINOT NOIR 2002 $38.95, Sonoma Coast
Everything about Chuck Wagner's Belle Glos Pinot starts off in the right direction. Its colour displays a rich deep red brick ruby background. It has lots of pretty Pinot attributes on the nose such as sweet maraschino cherry, prosciutto, cherry and sage. It is a viscous wine. However, once it hits the palate, it just comes across, for me at least, as being far too sweet. It has a solid structure, but I just could not drink a lot of it.
422808 VINELAND ESTATES CABERNET SAUVIGNON 2002 $18.95, Niagara Peninsula
This is a pretty fruit laden wine that shows notes of plum, blackberry, briar and tobacco. Acids are balanced; the red fruit finish is light, but clean and refreshing.
547414 CILENTO CABERNET FRANC 'RESERVE' 2002 $18.95, Niagara Peninsula
When first poured, this funky Cabernet Franc shows signs of compost, earth, bell pepper, stale liquorish and toffee. Its palate reflects more fruit by means of currant and blackberry jam. A layer of tannin is discernable, yet it does not distract. Pleasant stuff.
944827 CUVAISON CABERNET SAUVIGNON 2001 $44.95, Napa Valley
I am always partial to this stuff. The ruby/garnet/purple colour and the beautiful balanced nose of blackberry, currant plum skin, vanilla and red fruit than runs right through to the long silky finish. It is not big, but it is well built and tasty.
346262 SHAFER MERLOT 2003 $59.95, Napa Valley
Notes of sweet raspberry ripple, vanilla crème brulee, currant and framboise dominate the nose. However, it really seems over extracted to me. Although the palate is full of flavoursome fruit and acidity, the concentration of sweet fruit and oak renders it hard to currently enjoy. I hope time will mellow it.
681239 SUMARIDGE PINOTAGE 2004 $21.95, Hemel-en-Aarde Valley, Walker Bay, South Africa
Here's one for the novice. How can one explain to a newbie, the joy of a well-constructed wine that has a nose of dark chocolate, dried doggie deposits and well hung game? Beneath the organic aromas sits a layer of dark fruit, cherry and plum. It is not a wine for everyone, but the fruit does take control to reveal a solid wine with lovely black fruit acidity and a pleasing finish.

971564 DOMAINE MATHIEU CHÂTEAUNEUF-DU-PAPE 2001 $36.95
Despite the fact that I often bitch about the price structure and gouging techniques the board uses to price its goods, this wine is, as are many Rhone wine on the shelf, competitively priced. Clearly my favourite wine today. It is pure, silky and elegant. The nose has intermingling aromas of aniseed ball, raspberry, Thai basil, saddle leather, kirsch, nutmeg and cola. The palate is ripe, full of delicate dark raspberry fruit and the finish has a chewy toffee texture. A treat.
706671 TBILVINO SAPERAVI KAKHETI TBILISI 2003 $16.95, Georgia
Here is a mix of sweet oak, wet fur, furniture polish, prunes and stewed fruit. Lets leave it at that.
912667 CASA SANTOS LIMA 'PALHA-CANAS' VINHO TINTO 2003 $13.95, Portugal
Deal of the day has to be bestowed on this blend of mostly Castelao and Camarate. Its colour is dark and inky. The nose shows notes of blueberry, plum and ripe red fruit. Nicely focused on the palate, the sweet rich flavours taste great on the finish too.
176768 JULIAN CHIVITE GRAN FEUDO, NAVARRA, CRIANZA 2000, $17.95, Spain
Another light bodied, but lightly price wine offering nice ripe cherry, red fruit and tar.
Cheers
CZ
Alan Kerr's Home Page and Main Index