In the first part of October's release, I stated the Muga Reserve, actually the "wine of the month", did not warrant its 92-point rating from Parker. I later received a comment telling me the particular bottle of Muga rated by Parker was their unfiltered rendition, not the same wine offered from Vintages. Consequently, due to the advertised rating, the wine sold out very quickly. The rationale behind promoting a wine as the wine of the month is to ensure an abundant stock to keep it around for a good percentage of the month. Muga was out of stock in several stores just days after the release. Just my rant; here are a few notes from the October 29th, release.



989269 JACKSON-TRIGGS 'DELAINE VINEYARD', CABERNET/MERLOT 2002 $29.95, Niagara Peninsula
Here is an excellent example of a wine that expresses the aromas of Niagara's terroir. It is toasty and ripe, the fruit is dark and enticing. There are notes of mocha, a touch of bell pepper, tar and a streak of superbly concentrated dark blackberry fruit. Although it is drinking well, I would cellar this for a few years to let those chocolaty tannins integrate.

922286 JACKSON-TRIGGS 'DELAINE VINEYARD' PINOT NOIR 2002 $24.95, Niagara Peninsula
I have been impressed with Jackson Triggs Pinot since the first time I tasted it at the winery. Its aroma is pure silky unabashed Pinot. The palate is full of rich cherry and red fruits. I think this is drinking really nicely in its present state of maturity.
922294 JACKSON-TRIGGS 'DELAINE VINEYARD' MERLOT 2002 $24.95, Niagara Peninsula
This stellar Merlot emits aromas of dried mushroom, milk chocolate, tobacco leaf, red berry and plum. The palate is silky and fruit laden. The balance is evident on the finish. It needs time to settle down, as the tannin is still quite severe.

452508 CAPE MENTELLE 'TRINDERS' CABERNET/MERLOT 2003 $24.95, Margaret River, Australia
This Aussie blend has a sleek smooth nose of dark fruit, mint, shoe polish and currant. First impression on the palate; it appears as being clumsy and rather full-blown. However, the balance is on track and it shows floral flavours, a touch of spice, good fruit and some herbaceous flavours. The finish is sweet and creamy.

660910 ST HALLETT 'GST' GRENACHE-SHIRAZ-TOURIGA 2004 $23.95, Barossa Valley, Australia
GST to most Canadians is a tax on consumption. This is one GST that will be easier to consume than the one administered by the Feds. GST refers to the blend of 50% Grenache, 45% Shiraz and 5% Touriga Nacional. On the nose, I detect a minty character along with tobacco, red berry and a meaty leathery aroma. The palate has plenty of the sweet fruit as it bounces around flavours of lime Jell-O and mint syrup that leads into a finish that, unlike the Fed's interpretation, is too sweet for me.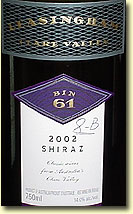 448241 LEASINGHAM 'BIN 61' SHIRAZ 2002 $24.95, Clare Valley, Australia
This Shiraz has some funky notes of carbolic soap, lavender, sweet perfume, plum and red fruit. It is well balanced in the mouth where the layer of blackberry fruit takes control. The acids are clean and the finish has good length and plenty of guts.

943399 D'ARENBERG 'THE COPPERMINE ROAD' CABERNET SAUVIGNON 2002 $49.95, McLaren Vale, Australia
An inky and dark opaque with a rich, sweet nose of crème de cassis, eucalyptus, berry compote, slate, vanilla pod and maraschino cherry. It is so decadent and ripe on the palate and the fruit flavours are intensely awesome. Don't be in a rush to open it as judging from the tight and tingly finish, it could use many moons tucked away.

611210 PENFOLDS 'THOMAS HYLAND 'SHIRAZ $19.95, South Australia
This fruit driven and well-priced Ozzie offers a clean fruit forward plate of ripe red raspberry, red currant, and dark chocolate.

433912 CONCHA Y TORO 'TRIO', CABERNET SAUVIGNON / SHIRAZ / CABERNET FRANC 2003 $14.95, Maipo Valley, Chile
Coffee, vanilla, oak and dark fruit are the main focus points of the nose. There is some decent black currant fruit on the palate. It is a little spicy and sweet on the finish, yet I think it might just settle down.

971820 HUGEL PINOT NOIR 2001 $20.95, Alsace
Here is a syrupy and perfumed nose showing some light elements of red fruit with little else. It shows good balance on the palate, but the finish is light and soon fades.

659912 CHATEAU CARONNE STE-GEMME 1996 $31.95, Haut-Médoc
Classic Bordeaux aromas of leather, lead pencil, treacle, coffee and dark fruit ooze from my glass. The rim shows a touch of mahogany and the fruit on the palate tastes mature. There is still a hint of chocolate tannin on the finish, but worry not, the fruit is still lively. A fair asking price for a little taste of what can happen to Bordeaux after time in the bottle.

660605 DOMAINE DE L'AMEILLAUD CAIRANNE 2003 $14.95, Côtes-du-Rhône Villages
A nice mix of earthy notes, coffee crisp candy bar, plum and blackberry. It shows as a well balanced wine with solid fruit and silky tannins.

727503 E. GUIGAL CHATEAUNEUF-DU-PAPE 2001 $55.95
This takes so long to open up and show its potential. There are notes of white pepper, red currant, star anise and toffee on the nose. A second sniff, an hour or so later, shows a little whiff of barnyard, porcini powder, coal dust and leathery elements. The palate is elegant, full of red fruit, Asian spice and a sweetness that projects though the finish. It is quite backward right now, I believe it will be a good wine, but never will it be a great one.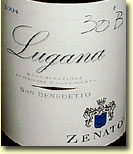 707158 ZENATO LUGANA 'SAN BENEDETTO' 2004 $13.95, LOMBARDY, Italy
The Lugana region produces its white wines exclusively from Trebbiano grapes. The crispness and full citrus flavours, mostly grapefruit, render it a fine alternative to Chardonnay as a tasty treat before dinner.
Cheers
CZ
Alan Kerr's Home Page and Main Index