Even at that age, I realized a challenge from a Scot is something an Englishman can not refuse. I grabbed the glass and swallowed the generous measure straight back in one shot. "Not bad" said I, managing to cover up the fact that I could barely breath, "but have you nothing stronger"?

That did it, that comment volleyed right into the heart of Scottish pride. Sadly for me at least, their vengeance was to be quick and merciless. Another, only much larger, pour was thrust into my hand.

Although I sipped this glass a little slower, it was difficult to resist the urge to bolt through the nearest door and hurl the burning spirit from my body. The hair on my arms and neck, recent additions I might add, stood on end. I started to gasp and shudder as beads of sweat appeared on my brow.

I knew I had to suppress those inner feelings of nausea and show these Northerners I meant business.

In the space of fifteen minutes I had sunk my third glass. It took all the will power I could muster not to admit this would prove to be one of the worst experiences I had ever undertaken. I felt giddy and weak. The deep-fried Scotch eggs, the smoked haddock pie and treacle pudding that sat in my belly from lunch, had already started plans to evacuate.

Without any acknowledgment of defeat I laid down on the couch. Soon the couch started to move in a clockwise direction while the ceiling rotated in another. I tried to stand, but my legs were inoperable. I never did have any recollection of anything that took place for at least the next hour. I came to looking like a younger version of Marty Feldman after enduring a full-blown blood letting. My sole consolation was witnessing the grief my two mentors received once the ladies returned from their evening stroll.

Since that day, I never touched a single drop of Scotch again.

As October 15th sees a release of a couple of dozen of Scotland's finest, I figured it was high time I buried these frightful childhood memories and try a few Single Malts to see what the hype is all about.

Malt whisky is made from malted barley in three principal regions of Scotland, Highland, Lowland and the Islands. Highland is the home to the highly touted Speyside region, the source of my teenage trauma. The Islands are Islay, Jura, Orkney, Skye, Mull and Arran.

To be so designated as Single Malt, the whisky must come from one distillery. Many of these are bottled at a range of ages. Some are aged in barrels previously filled with Bordeaux, Sherry or Port.

Please note, based on what you have just read, my neophyte opinions are purely based on the sensations I felt. This is expensive stuff; some push the $425.00 price range, so I strongly suggest a consultation with someone in the know would be a smart thing to do.

As I tasted the following Scotch, I toasted the loving memory of my dad William Kerr, who incidentally, I did finally forgive!

Highland Malts

923326 FETTERCAIRN '1824' 12 YEAR OLD HIGHLAND SINGLE MALT $59.95, Whyte & Mackay
Aromas of oat based cereal, toast and almonds. This is a lighter style Scotch that has a ripe fat finish.

658054 TULLIBARDINE HIGHLAND SINGLE MALT $69.95
This Scotch has a lighter colour than most of the others. It has some snow pea, light treacle and burnt coffee aromas. I find it cloying rather than filling my palate with flavour. The finish, if that is a term one uses when tasting such wares, lacks the intensity of others.

Lowland Whiskies

660431 DUN BHEAGAN 'LITTLEMILL' 21 YEAR OLD LOWLAND
SINGLE MALT $129.95, Sherry Finish, Btld 2005
Apparently the stocks of Scotch from Littlemill are almost depleted. The distillery is no longer in business. Too bad, I do like this Scotch, the golden amber colour is enticing. The aromas focus on dried fruit, smoke, peat and spice. It really coats the teeth and packs a punch on the finish.

Islay Malts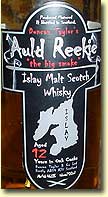 660068 DUNCAN TAYLOR 'AULD REEKIE' 12 YEAR OLD, ISLAY SINGLE MALT $79.95
Auld Reekie' was the name bestowed upon the smoke-covered city of Edinburgh during the 18th century. It is believed over 400 illegal stills were producing alcohol all over the city. Having spent time in Edinburgh, I find the number surprisingly low! It has a light yellow colour and a sweeter nose showing citrus peel, toffee and smoke. It offers a nicely balanced mid palate with flavours of oat and roasted almond.
THE SCOTCH MAKER'S SCOTCH MAKER
It is said Morrison Bowmore's whiskies are what Lafite is to Bordeaux and Mr. Ridge is to California.
Vintages catalogue states:
The company owns major distilleries in the three most important producing regions, the Highlands, Lowlands and Islay.
They insist upon each distillery making whiskies that respect the traditions and distinct styles of their regions at prices that represent excellent value for money. At Bowmore, four factors are essential in determining the final character of the product: the distillery's close proximity to the sea (the damp cellars are right on the ocean and below sea level); the waters sourced from nearby Laggan River; the burning of local peat bricks in the malt drying kilns; and the ageing of the whiskies in bourbon and sherry casks.
Over at Glen Garioch, some of the finest barley fields in the world surround the distillery. They have long combined this superb barley with local peat bricks and the waters to create a whisky that is lightly peaty, flowery, fragrant and spicy, many of the hallmarks of the Highland malts.
And last, but not least, Auchentoshan is the only Scotch distillery that still triple distills its whisky (an almost-lost Lowlands tradition), which helps create delicate and elegant whiskies, all indicative of the classic Lowlands style.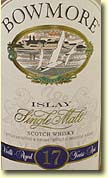 368209 BOWMORE 17 YEAR OLD ISLAY SINGLE MALT $89.95
A lovely amber colour gives way to a nutty iodine laced nose. The palate is smooth, but powerful featuring flavours of toasted oat cereal, treacle and balanced caramel.
714113 BOWMORE 25 YEAR OLD ISLAY SINGLE MALT $249.95
This Scotch has a noticeable darker richer colour than the 17 year old. Its nose offers up notes of honey, malt, caramel, dried tangerine peel and hickory sticks. It is thick and rich on the tongue. I detect flavours of lavender honey and pea shoots. Its finish is creamy and long. Holy cow very long.
964288 BOWMORE 'DAWN' ISLAY SINGLE MALT $89.95, 'Port Casked', Ruby Port Cask
This is pleasant. It is lighter in both colour and texture with flavours of earth, chocolate and toffee. As a novice, I really can't detect the flavours infused from using the Port barrels for aging.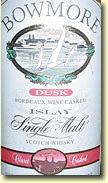 964056 BOWMORE 'DUSK' ISLAY SINGLE MALT $89.95, 'Claret Casked', Bordeaux Wine Finished
If one Scotch is my least favorite, this is it. I find the texture cloying and thick. It is slightly tannic, a little astringent and it has quite the burn to the finish.
446310 GLEN GARIOCH 15 YEAR OLD HIGHLAND SINGLE MALT $64.95 Morrison's Glen Garioch Distillery
The sweeter scented aromas of spice, caramel and chocolate malt soon give way to a slightly leathery palate and a smoky creamy finish. I like the balance and sweeter notes to the close.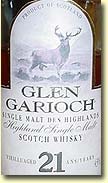 446302 GLEN GARIOCH 21 YEAR OLD HIGHLAND SINGLE MALT $169.95 Morrison's Glen Garioch Distillery
It is really tough finding words to describe these malts. I think I like this one best of all. The nose is leafy and smoky. The palate gives a blast of refreshing honey, toffee and clay. It too, is rich and fat, but not overpowering in the least.
Although I never swallowed a single drop of any of the Scotches I just tasted, I have a head that feels like I just came face-to-face with a Mack Truck, no pun intended!
This is serious stuff. I don't think I will ever be obsessed with it as some people I know, (hi Gary), but I now have total respect for a product that took away four hours of my life.
447441 CAVE SPRING RIESLING ICEWINE 2002 $59.95, Niagara Peninsula
I have not been drinking too many Ice Wines recently as I tend to find better value in Late Harvest and Special Select Late Harvest wines. However, this is one of the best Ice Wines I can recall having for a long time. It has a power packed nose of Tart au Citron, biscotti, canned tangerine and grapefruit peel. The palate is full of lemon, buttery lemon curd and dried apple. The balance is spot on. The finish is endless.
660340 CAVE SPRING SYRAH 2002 $24.95, Niagara Peninsula
A Rhone style wine that offers aromas of cracked peeper, red fruit and Dutch liquorish. It is medium bodied, the acids are fine and the finish is in balance. A nice wine, but it does lack the power one expects from this varietal. I imagine, as the young vines mature, Cave Springs will do well with their Syrah.
342451 COLIO 'CEV' GAMAY NOIR 2002 $13.95, Barrel Aged, Lake Erie North Shore
Light fruity and floral with notes of toffee, plum, geranium and clove. The mid palate is clean and pleasant with gentle flavours of sweet red currant and cherry.
355784 IRONSTONE 'OBSESSION' SYMPHONY 2004 $14.95, California
This does not show the intensity of fruit as the 2003 vintage offered. Its nose is pretty, showing sweet honeydew melon, peach and daffodil. However, it is quite sweet on the palate and it finishes with a sugar syrup note that lacks fruit. It was the best Ironstone wine at the tasting!
657601 BENMARCO MALBEC 2002 $19.95, Mendoza, Dominio del Plata, Argentina
At first, I get whiffs of earth, potato, and a vegetal aroma. This subsides to show black raspberry and blackberry perfume. It has spice on the palate, the fruit is forward and the finish is sound showing lots of red fruit acidity.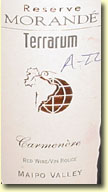 938720 MORANDÉ 'TERRARUM' RESERVE CARMENÈRE 2003 $13.95, Maipo Valley, Chile
Alright, here we go. This ripe rich wine exudes aromas of wet sweaty animal fur, compost, moss, mushroom, green peppercorn, wet wood and freshly deposited animal poo. The palate, on the other hand, has a lovely layer of dark fruit, mineral flavours and mushroom. At this price it is worth trying. The bottle had been open some five hours when I tried it and the organic aromas were apparently not as discernable at that time.
658005 ST HALLETT SEMILLON 2002 $18.95, Barossa Valley, South Australia
A great wine for an aperitif or possibly to serve with foods that have a degree of butter or cream in their preparation. It offers a perception of sweetness on the palate. There are flavours of citrus, lime zest and roasted pear. There is oak on the finish, but the acids do control it.
927632 CERAVOLO SHIRAZ 2003 $19.95, Adelaide Plains, South Australia
This ruby garnet robed wine has a nose of balsa, caramel, blackberry cream and blackcurrant. It initially feels thick on the palate; yet the finish is crisp and flavourful. There are tannins present, but they do not interfere.
660480 ELDERTON 'FRIENDS' SHIRAZ 2003 $19.95, 'Vineyard Series', Barossa Valley, South Australia
This opaque ruby rimmed wine is one of the wines of the month. It has nice aromas of hay, mineral, plum and tons of dark black fruit. The palate is chewy and it finishes with fruit, toffee and liquorish.
990580 FAIRHALL DOWNS SAUVIGNON BLANC 2004 $19.95, Marlborough, South Island, NZ
It is hard to say a bad thing about this wine as it has all the attributes of good Sauvignon Blanc. There's plenty of high acid fruit, a rich ripe palate and a clean crisp finish. I enjoy this year after year.

659961 ALPHA DOMUS PINOT NOIR 2002 $21.95, Hawkes Bay, North Island, NZ
There is a lovely depth of colour to this garnet Pinot. It gives out aromas of mushroom, leafy earth, leather, green pepper and cigar leaf. Fruit on the palate in the guise of stewed plum and black cherry. Good Pinot for this price.

656702 FAIRHALL DOWNS PINOT NOIR 2002 $34.95, Marlborough, South Island, NZ
Another well constructed Pinot, although construction costs were apparently higher! It is full of blackberry, plum and earth and white mushrooms. The palate shows deft employment of oak and the balance is really very good. Tasty indeed.
657692 MISCHA 'EVENTIDE CELLARS' CABERNET SAUVIGNON 2003 $19.95, Wellington. South Africa
This is fruit driven to the point where the crème de cassis aromas are almost over the top. Beneath the blackcurrant I find notes of blueberry coulis, black raspberry and toasty oak. The palate echoes the fruit; the finish is sweet and creamy. The catalogue states that Pierre Rovani of The Wine Advocate awarded the 2002 vintage with 92. I really would be surprised if this followed suit.
657684 MISCHA 'EVENTIDE CELLARS' SHIRAZ 2003 $19.95, Wellington, South Africa
The Shiraz is toned down somewhat from the Cabernet. It has a creamy sweet, mint, violet and black fruit nose. The palate is pretty showing subtle fruit that soon fades on the finish.
984427 CHÂTEAU DU TAILLAN 2000 $23.95, Cru Bourgeois, Bordeaux
A nice dark red garnet colour with a nose of muddy waters, blackberry, arugula and spice. The fruit is pleasant, but tannins control the finish. I have tasted better 2000's at this price.
973727 CHÂTEAU LES CABANNES 2002 $27.95, St-Émilion Grand Cru
$28.00 for a St Emilion Grand Cru seems a fair price. It has pleasant aromas of chocolate, black cherry and spice. The mouth feel shows mocha, raspberry and plum. Nice creamy touch to the finish.
658153 GUY CHEVALIER 'L'ÉGLISE' 2002 $12.95, Corbières, France
A quaffer that offers plenty of fruit, black olive, a touch of terroir, nice balance and a sweet pretty finish.
177345 MUGA RESERVA 2001 $19.95, Rioja, Spain
As good as this wine is, I would question the 92 points bestowed upon it by the eminent Mr. P. It has aromas of plum, shoe polish, red fruit and kirsch. The palate is different from the nose; it tastes of chocolate, raspberry, a touch of mocha and balsa. It is good, the price is fair and as it is the other wine of the month, there will be lots on hand to grab.

Cheers
CZ
Alan Kerr's Home Page and Main Index