Alan's October 2003 Vintages Release Tasting Notes
Release dates October 4th and 18th, 2003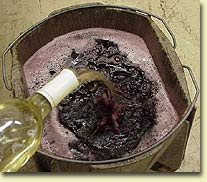 October's release is full of all sorts of goodies, and were it not for the kindness of the consultants present who took the time to put wines aside for me to taste, I would not be posting these notes. I literally made it to the venue as the first few wines were being introduced to London's water treatment system. My observations on the white wines were literally just that, observations. There were many great wines being showcased, including several high-end wines from California, Australia and Italy. Those of us on tighter budgets, or simply frugal minded, will also find plenty to appease our palates.

329235 GEWURZTRAMINER 2000 $ 28.90, Tradition 'Hugel', AC Alsace, Hugel & Fils.
A classic and well structured Gewurz. It was rich and immensely spicy, with a bold nose of sweet lychee, Asian spice and ultra ripe pear. Long and chewy texture to the finish.

901207 BEAUNE DU CHÂTEAU 2000 $ 39.95, Premier Cru, Domaine Bouchard Père et Fils .
Clearly a treat, as the toasty oak was subtle enough to allow the apple and pear aromas to be prominent. It was clean and well balanced.

723916 VIOGNIER 2002 $ 14.85, Vin de Pays d'Oc, Domaine de La Baume.
Screw top or not, a few bottles of this will make it downstairs to welcome the spring. Lively aroma of canned peaches, lime cordial and baked apples. It was creamy and ripe on the palate, and the crisp acidity held it all together nicely.

728857 RIESLING SPÄTLESE 1999 $ 23.95, QmP, Kaseler Nies'chen, Weingut Reichsgraf von Kesselstatt.
Ordinarily this would not be a wine I would select, but as it was suggested I should, I did. There was a highly concentrated and upfront floral nose, with a backdrop of citrus, slate and honey. The mid-palate was full and zesty.


727008 GRüNER VELTLINER 2001 $ 17.80, Smaragd, Achleiten, Wachau, Freie Weingärtener Wachau, Austria.
As I quickly sipped this multidimensional and enticing wine, I remember thinking to myself that this might just be the first Austrian wine I will have ever purchased. It had lovely floral, fruit and spice notes. Although it was dry, it contained enough fruit to give the perception of a little sweetness. The balance was superb.



Red wines from the October 4th release



985408 CABERNET SAUVIGNON 1999 $ 69.95, Sonoma County, Arrowood Vineyards.
Beneath the well-extracted aroma of upfront blackcurrant, I made mention of chestnut, thyme, mocha, mushroom and plum. The mid-palate was tight and quite spicy, but the concentrated fruit did show well on the finish. Last years rendition was tight and overly tannic for my tastes, whereas with this vintage, Dick is back on form.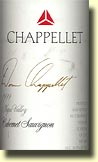 704254 CABERNET SAUVIGNON 1999 $ 69.90, 'Signature', Napa Valley, Chappellet Vineyard.
Although this was another big and highly structured wine, I noted a little green tea and herbaceous tones under the rich layer of blackberry fruit. Nonetheless, the palate offered lots of creamy black fruit, vanilla, chocolate and mint. Good stuff that maybe needs a year or two to settle.


947341 CABERNET SAUVIGNON RESERVE 1999 $ 179.00, Unfiltered, Napa Valley, Robert Mondavi.
I hope that with the asking price for this wine, time will prove me wrong, but I found little here to get excited about. Initially I noted pleasing aromas of cherry, dark chocolate, mocha, nutmeg and black fruit. However, they were soon shut down by an aggressive veil of tannin. The mid-palate was also tight, but it expressed some plum and blackcurrant fruit. What concerned me the most was how fast the fruit faded on the finish to render an unpleasant bitter after taste.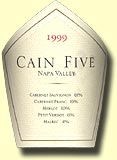 727925 'CAIN FIVE' 1999 $ 97.95, Napa Valley, Cain Vineyard.
This wine just rocked my world and had I had the chance to lock myself away and finish it, I would have. It could have been the aromas of coffee grounds, chanterelle mushroom, vanilla bean, red liquorish or mustard seeds that best enhanced the rich deep layer of rich dark black fruit, I don't know, but it was a wonderful bouquet. There were plenty of tannins, but they harmonized so effortlessly with the leathery texture on the palate. It proved to have excellent length and balance that combined the fruit and other flavours together.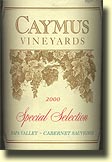 711663 CABERNET SAUVIGNON 'SPECIAL SELECTION' 2000 $ 174.90, Napa Valley, Caymus.
I was surprised to find traces of barnyard and manure as I swirled my glass, but those aromas soon subsided as the blackberry, stewed rhubarb, red currant and cassis aromas took control. Those flavours hit the palate hard, but at the same time the sweet and creamy tannin introduced itself into the blend. The tannin was by no means offensive or restricting; in fact it tied the fruit and spice flavours together. Quite the long, long finish too.

723072 'GEYSERVILLE' 2001 $ 49.95, California, Ridge Vineyards.
It was hard for me to admit, but I was disappointed with this wine. Having tasted many great older vintages, I wondered if it would pale in comparison when it reaches maturity. I found what little fruit there was to be locked between a rock and a hard place, namely toasty oak and spicy tannin. The fruit I found was mostly blueberry and blackberry; actually it was more like blackberry pie. I recently had the privilege of tasting the Ridge's Lytton Spring Zinfandel from the same vintage and I clearly found it to be the better wine. However, two, somewhat reliable sources that I have on the West coast, both very close to Ridge's home base, swear blind I am wrong here. One even went as far as to tell me Paul Draper crafted this baby from start to finish, and is immensely happy with his toils. Be patient they both said. Have I ever had a disappointing Geyserville? Well yes, the 94 did little for me, but everything else has been majestic. Although I do trust their words of wisdom, I have a problem spending this much money on the wine. A year or so ago, when our dollar was pitiful in comparison to the US dollar, Geyserville was $50.00 in the LCBO. Today, our great Canadian Looney is strong and the US dollar continues to plummet, yet the wine is still the exact same price as it was a year ago. Somebody along the trail has forgotten to take the conversion fact into consideration! Who I wonder?
Maybe my two sources will treat me to some when I go out to see them!

359257 ZINFANDEL 2001 $ 19.95, 'Vintners Blend', California, Ravenswood Winery.
There were prickly aromas of smoky sweet plum, raspberry and red fruit. It was a pleasing wine, but showed little to excite me, and the finish was hot.



907584 'THE GALVO GARAGE' 2001 $ 25.55, Cabernet Sauvignon/Merlot, Cabernet Franc, McLaren Vale/Adelaide Hills, South Australia, d'Arenberg.
I believe this to be one of the finest wines I tasted from this release. Its nose was packed full of dark fruit and spice with restrained notes of tobacco leaves and liquorish. It was juicy and fleshy, yet creamy and smooth. The acids propelled the long and harmonious finish. Good to the last drop!

484097 'TRADITIONAL' 2000 $ 34.95, Cabernet Sauvignon, Merlot/Petit Verdot, McLaren Vale/Langhorne Creek, South Australia, Rosemount Estate.
Although I was only able to get the last sip of what was left in the bottle, it was still showing as a fruit forward wine style bolstered with sweet oak, blackcurrant and plum. Cloves were noticeable on the finish along with a little too much heat for me, but I attribute that to the fact that this was the last droplet.

985416 SHIRAZ 2000 $ 19.95, Limestone Coast/McLaren Vale, Langhorne Creek, South Australia, Woodstock Wine.
This offered up lots of pretty perfume, lavender and black fruit aromas. It was relatively spicy on the palate, showing white pepper and cinnamon. Its texture was leathery and the finish was solid, not over blown and nicely balanced.

902957 CHÂTEAU LAMOTHE DE HAUX 2000 $ 22.00, AC Premières Côtes de Bordeaux.
I first got notes of sandalwood and coffee, until the plumy, almost prune aromas came to the surface. It seemed tight at first, but the fruit on the palate, cassis and tart plum, did open up and ran through to the finish. Given the vintage, I would say this is worth investing a buck or two.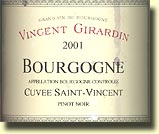 727966 BOURGOGNE 2001 $ 19.95, 'Cuvée Saint-Vincent', Vincent Girardin.
A wine of the month worth buying. It was full of clean aromas of violet, cherry and strawberry. Its texture was full, slightly sweet, but rich and leathery, with a nice balance of acid on the finish.

718924 CHÂTEAU SAINT-GERMAIN 2000 $ 15.95, AC Coteaux du Languedoc, Didier Cabanes.
Maybe it was because I do love wines from this region, especially given the value they offer, but if I was to only make one acquisition from this release, this would be it. The density of the colour was uncanny. Its multidimensional nose presented cola, chocolate, mocha, molasses and wave after wave of red and dark fruits. It was quite the mouthful, a touch tannic, but the coffee, fruit and chocolate flavours dominated the long finish.

971341 'LES GRANDS AUGUSTINS' 2002 $ 18.75, Vin de Pays d'Oc, Tardieu-Laurent.
This is another wine I seem to buy year after year. The nose of lavender, black pepper, beet root, mineral and black fruit was too much to resist. This too was tight on the mid-palate and it came across a little flat due to a noticeable lack of acid. However, due to the strong presence of fruit on the finish, I think a bottle or two will be a good investment.

736876 CHÂTEAU DE NAGES 2000 $ 21.55, 'Cuvée Joseph Torrès', Costières de Nîmes, Michel Gassier.
Dark and earthy aromas mixed nicely with the black raspberry, damson and black olive. This was really tightly wound and showed little, if any fruit on the palate. I had to peel the tannin from my teeth.



Red wines from the October 18th release



944827 CABERNET SAUVIGNON 1999 $ 44.95, Napa Valley, Cuvaison.
Sandalwood, cherry, blackberry and chocolate. It was pleasant, well balanced and carried a nice depth of flavour that finished with elegant chocolaty tannins.

703017 'NAPANOOK' 2000 $ 46.95, Napa Valley, Dominus Estates.
I think I might like to taste this wine again, as I may have totally misjudged it. At the time I found it to be quite green, with bell pepper that took the centre stage. There were nice mint, sage and olive tones as well, and the palate did offer red berry jam flavours. The finish again though, had that stem quality, with drying dusty tannin.

625046 SHIRAZ 2001 $ 19.95, 'Sarnia Farm', Padthaway, South Australia, Angove's.
This was a nicely balanced wine full of sweet ripe fruit, stewed rhubarb and bright red berry. There were lovely mineral and earthy elements too, that gave the wine an interesting character. I found the finish had that sugar syrup texture, but I think time will allow this to come together nicely

903096 CHÂTEAU CORBIN MICHOTTE 2000 $ 79.95, Saint-Émilion Grand Cru Classé.
This was highly aromatic, full of stewed plum, cassis, blueberry, star anise and cigar leaf. It was extremely full-bodied and tightly wound. There were heaps of fruit, liquorish root and dusty cocoa on the finish. A keeper for sure.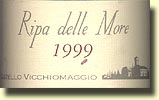 983775 'RIPA DELLE MORE' 1999 $ 44.95, IGT Toscana, Castello Vicchiomaggio.
This weighty aroma combined raisin fruit, cake spice, nutmeg, black olives, green moss and a touch of aquarium. An odd combination yes, however, it was a stellar bottle of wine. The raisin fruit turned in to a splendid finish that echoed chocolate and cassis.

922187 'MARANO' 1995 $ 54.95, Amarone della Valpolicella Classico, Boscaini.
This was clearly an Amarone for current consumption. It was elegant in every sense of the word; in fact it was almost port like, but without being overly sweet. One could not resist the tempting aromas of black fruit, Xmas cake, dark couvature, espresso, molasses, caramel and forest floor.

The following are a few wines that I sipped swirled and spat in a matter of seconds. Consequently there are no notes as such, but I thought they were worth the mention.

992248 MOSCATEL 'EMILIN' $ 16.95, Emilio Lustau, S.A., 375 m.l.
Possibly one of the finest Sherries I ever tried. I am going to buy some.

735753 VINTAGE PORT 1985 $ 92.95, Martinez Gassiot & Co. Ltd.
Ready to drink, rich and cloying.

938407 SAMOS $ 11.95, Samos, Greece.
This used to be a general list wine, and it was one I never bought much, due to the fact I always found it to be fat and flabby. This time around, although it was still very sweet, there were enough acids in the wine to balance it.



Cheers,
CZ

Alan Kerr's Home Page and Main Index