Alan's October 2002 Vintages Release Tasting Notes
Release dates October 5 & 19, 2002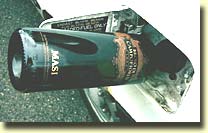 Working for a living can really be fatal to ones wine habit. Due to my timetable this semester, I had to rush out of school, scoot across town giving me barely forty minutes to power taste and put a few notes down onto paper. If it wasn't for the thoughtfulness of a couple of the consultants who took time to set aside a few of the wines they figured I would like, I would not have half the notes I managed to scribe. Trying so much so fast is not the best way to taste so keep that in mind when you read the notes. Even though I spat everything that was in my glass, I still managed to acquire a brutal headache from just inhaling the fumes! Once again, this month my money will be on the Italian wine. Is it just a coincidence that ever since Italy's dismal performance in the world cup (sorry Julio), their wines seem to taste so much better? Well that's just another facet of wine drinking that I love, broadening my horizon and seeing how my tastes and preferences change. Anyway enough drivel, on to the wines.
October 5th Release

433060 SHIRAZ 2000 $ 15.95, Coonawarra, South Australia, Wynns Estate.
My first encounter with this producer happened several years ago at Century Liquor in Rochester New York. George, one of the sales guys, who over the years has been so helpful to us by always recommending good deals to us "Canadians" suggested we try it. He knew how the exchange rate can inflate the cost of a bottle considerably and lets not even talk about what we have to pay when crossing back across the border. Ever since then I always try to tuck a couple of these away for winter stews, juicy grilled steaks and such. The density of the colour of the 2000 suggests time in the cellar would be an asset. Lots of cherry, black fruit, spice and quite a wallop of oak. Goods stuff and really still a bargoon at this price.
985416 SHIRAZ 1999 $ 19.40, 'Woodstock', Limestone Coast/McLaren Vale, OZ, Collett Wines Pty Ltd.
This was the most "in your face" wine I tasted all day. Blueberry, damson, blackberry, eucalyptus and notes of sugar almond candy streamed out of the glass. Excellent balance between the fruit and acids. Really full bodied and totally refreshing. Lovely smooth chocolaty tannin, slightly sweet, but with a spicy finish.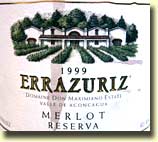 701458 MERLOT 1999 $ 24.90, 'Max Reserva', Aconcagua Valley, Viña Errazuriz, Chile.
I believe this to be my favourite wine of the tasting. Rich shiny dark garnet colour. Layers of spice, cardamom, fresh red and black fruit coulis. Traces of lead pencil, leafy forest floor and chalk all came together nicely on the palate and through into the long fruit laden finish that left a trace of dusty cocoa powder feeling on the tongue and inner cheeks. Stunning! I am really looking forward to opening a bottle and seeing if my impression will be the same.
947127 CHÂTEAU LA VIEILLE CURE 1999 $ 29.95, Fronsac.
Given time this should really show well. Interesting tones of hay, barnyard, sweet cigar box and liquorish. Fruit was tight but an underlying streak of blackcurrant came through on the palate. Quite tannic but the rich berry fruit flavours lingered long on the finish.
937474 SAINT-JOSEPH 2000 $ 29.80, 'Offerus', J.L. Chave Selection.
A major disappointment. There was a nice initial jammy element on the nose backed up nicely by subtle tones of mineral, blackberry, candied cherry and pepper. However, the palate was light and showed little of the promised flavours that teased the nose so very much. Even the finish came across acidic and void of fruit. Too bad. (Get a 2nd opinion of this wine from Dr. Bastardo.)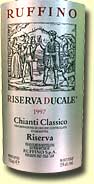 353201 CHIANTI CLASSICO RISERVA 1997 $ 42.80, DOCG, Ducale, 'Gold Label', Ruffino.
I loved this wine but I was surprised when I checked the catalogue and saw the price. The colour displayed just a hint of rust at the rim and had that wonderful red brick tone that showed the wine is on the road to maturity. Amazing aromas of apple, tea, red cherry and candy spice. Although it was a pleasure to drink, the fruit did seem to bow out on the finish to a layer of silky tannin. It is without a doubt a nice wine but the price seemed a little steep.
943613 'ROCCA GUICCIARDA' 1998 $ 22.95, Chianti Classico Riserva, Barone Ricasoli.
Another beautifully coloured wine with traces of red/orange tones at the rim but still very opaque in the centre of the glass. A little plum, cherry, blueberry, pinecone and earthy mushrooms on the nose, Acids were prominent on the mid palate and the finish but the ripe core of fruit played right along through to the close. I will buy some of this. (Get a 2nd opinion of this wine from Dr. Bastardo.)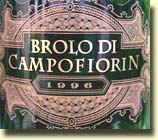 583369 'BROLO DI CAMPOFIORIN' 1996 $ 29.90, Rosso del Veronese.
This showed signs of maturity in the glass and the aromas were wonderful, mostly blackberry, red currant, anise and liquorish. It had that Ripasso thing going on but without being over the top. According to the L.C.B.O catalogue, the wine is produced by a technique known as 'rigoverno' Instead of using pressed skins of 'Amarone' wines, whole grapes are partially dried and added into already fermented must, causing a refermentation, to increase flavour and get the degree of alcohol up a notch or two. It worked, it's high octane stuff. The label states 15.3% alcohol.
October 19th Release

314575 CABERNET SAUVIGNON 1999 $ 27.95, Napa Valley, Sterling Vineyards.
Deep ruby garnet colour. It was nice but…………..agreeable flavours of sweet blackcurrant, plum and chocolate. As I said it was nice but that was all I could say.
704486 SHIRAZ 1999 $ 13.75, 'Onyx', 'West Coast', WO Groenekloof (South Africa), Darling Cellars.
Once I got past the funky barnyard, overstated coffee and leather notes I found a good value wine that offered interesting flavours of blackberry, pepper and game. It was fairly full bodied, quite creamy and supported a long finish. If you want to try something different, or need a ringer at a tasting, this is the wine to use.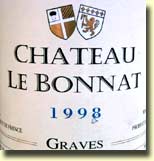 944215 CHÂTEAU LE BONNAT 1998 $ 19.85, Graves.
Lead pencil, sweet red bell pepper, blackcurrant and traces of black peppery spice. Soft and non assertive and drinking well. It was nice to taste decent Bordeaux under twenty bucks.
747972 GIGONDAS 2000 $ 21.40, Jérôme Quiot.
I was fooled by the light ruby colour as this was a chunky and fairly power packed wine. A little volatile on the nose, lots of chocolate, blackberry, clove and a finish of raspberry and discernable tannin. A little clumsy, just needs time to come together.
328997 'RIPAROSSO' 2000 $ 10.85, DOC Montepulciano d'Abruzzo, Dino Illuminati.
This was fun and will not break the pocket book. Good depth of colour, new world structure on the nose, quite oaky, lots of fleshy fruit. I was surprised when I saw the low asking price of this wine. Try it with a pizza as the catalogue suggests.
964221 'LE VOLTE' 1999 $ 19.95, Tucany.
A tasty blend of Cab Sauvignon and Sangiovese. Filled with damson, blackcurrant raspberry and milk chocolate. Good stuff
725564 'MANDRIELLE' 1998 $ 33.65, Merlot, DOC Sant'Antimo, Banfi.
Light ruby garnet, quite fleshy, sweet pureed black raspberry, cherry, sandlewood, caramel, and plum notes. Palate was full and rich echoing the fruit from the nose. Nice acidity and well balanced.
333989 BRUNELLO DI MONTALCINO 1996 $ 48.65, 'Castelgiocondo' Marchesi de'Frescobaldi.
Rich ruby garnet colour showing no sign of its age. Sweet aromas of caramel, balsa, tobacco, black cherry, couvature chocolate and walnut shell. Very creamy on the mid palate, spicy pepper, still tannin and obviously needs time. Only down side was the burning sensation on the finish which could come from the fact it was the last wine I tasted.
933317 CHIANTI CLASSICO 1999 $ 27.95, Fontodi.
A rich sweet, slightly floral nose that also showed bright cherry, anise, lavender and violet aromas. Good structure, good finish of raspberry, blueberry and milk chocolate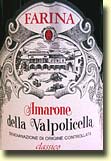 713412 AMARONE DELLA VALPOLICELLA CLASSICO 1998 $ 32.75, Az. Vini. Farina.
I will buy some of this and how often am I willing to spend more than thirty bucks on an Italian wine. Maybe my palate is changing, who knows, but I just loved this. Very full mouth feel, creamy, laden with coffee, red and black fruits, vanilla and cinnamon, just so silky!
That's all folks!
Cheers,
CZ
Alan Kerr's Home Page and Main Index