Alan's November 2002 Vintages Release Tasting Notes
Release date November 16, 2002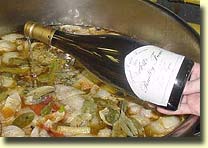 I was lucky enough to run in and quickly and taste, much emphasis on the quickly, some of the products to be released for the second allotment of November. Notes are brief, palate was tired after a tough day, but most of what I tasted was good.
316943 CABERNET/MERLOT 1999 $ 18.95, Niagara Peninsula, Cave Spring Cellars.
Fairly deep ruby colour, lots of fruit, cassis, chocolate and coffee tones. Quite luscious, well priced and drinking nicely now.
704619 MERLOT 1999 $ 48.85, Napa Valley, Cuvaison.
Ouch, lovely wafts of blackberry and chocolate, bold acidity, touch of leather, quite a hefty dose of tannin on the lengthy finish. Ouch simply means do I want to spend $50. 00 on this!
960682 PETITE SIRAH RESERVE 1999 $ 29.90, Paso Robles, Eos Estate Winery.
Holy medicinal compound, Batman! Intense black, inky colour, hints of white pepper, blackberry, creamy toasty toffee, and cherry cough drop. Really dense and full on the mid palate, but it was tight and actually came across as slightly one dimensional at this stage in its development. Finished with rich sweet chocolate driven tannins.
977496 SHIRAZ 1999 $ 15.95, 'Touchwood', Mudgee, New South Wales.
Light to medium body, simple with pretty black and red fruit, not overly extracted, finished clean.
988568 PINOT NOIR 2000 $19.90, Yarra Valley, Yarra Ridge.
Very good depth to colour, sweet liquorish candy, floral, violet, mint and plum aromas. Good concentration of fruit on mid palate, no flabbiness, good acidity, nice kiss of perfumed cherry on the close. Nice recommendation of duck risotto as a food match in the catalogue.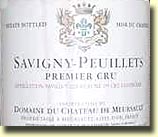 721621 SAVIGNY-PEUILLETS 1ER CRU 1999 $ 32.90, Savigny-lès-Beaune, Chateau de Meursault.
Should have tried this before the Ozzie rendition. Mineral, coal dust, black cherry and strawberry. Pretty tight on the palate and the tea like tannins on the finish were somewhat drying.
745083 SYRAH 2000 $ 12.55, Vin de Pays d'Oc, Antonin Rodet.
Ohhhhhh, compost, mushroom and tar. Quite yummy for the price, blackberry fruit showed through nicely along with a hint of lavender/Herbes de Provence and a splash of black olive on the finish.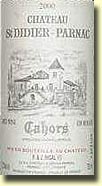 303529 CHâTEAU ST-DIDIER-PARNAC 2000 $ 12.95, Cahors.
Dark dense purple/mauve at rim with an opaque centre. Aromas of blueberry, cedar, leather, forest wood twigs and sage. Quite full bodied and well structured in the mouth. Good stuff, great value and worth acquiring.
732610 'ELOQUENZIA' 1998 $ 12.05, Copertino, Puglia, Cantine Tenuta Monaci.
Maybe not a Mr. Ridge but this Euro Copertino bottle offered decent value with its sweet ripe, cranberry cooler like fruit and pretty clean finish.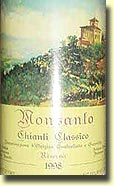 719864 CHIANTI CLASSICO RISERVA 1998 $ 29.75, Fattoria Monsanto.
Swampy, green pond, earthy, vegetal almost truffle like aromas. Very fruit forward on mid palate, not what I expected from the nose. Rich plum and raspberry coupled with some gripping and slightly austere tannin on the finish. Very interesting wine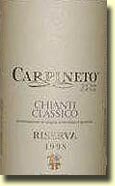 358689 CHIANTI CLASSICO RISERVA 1998 $ 29.95, Casa Vinicola Carpineto.
Rich, ripe blackberry, chocolate and spice. Fruit opens up on the tongue to finish creamy and long.
958595 'ROSSO CA'DEL MERLO' 1995 $ 59.95, Veronese, Giuseppe Quintarelli.
Treat time, lots of pepper, bacon, leathery and cherry, morels and raspberry. Full bodied, layer of sweetness through the palate and dusty tannin on the close.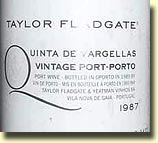 403873 'QUINTA DE VARGELLAS' 1987 $ 67.80, Taylor, Fladgate & Yeatman.
Too tired to take notes other than to say this just rocked. If you want to play Santa and know someone who has been very, very good and truly appreciates fine Port, then get this for them!
721035 BLANC DE BLANCS Brut $ 41.95, 'Cramant', Grand Cru, Champagne Bonnaire.
Toast and nutty, good spritz, clean, finished with apple and citrus peel.
368415 BRUT ROSÉ 1996 $ 68.75, Champagne Louis Roederer.
Very confused, according to the label this was a Rose but according to my eyes the shade of pink was bare, if, noticeable at all. Nonetheless, the flavours were lovely, butterscotch, redcurrant, apple and warm hard crusted bread. Quite full bodied, bracing acidity on the long toasty finish.
Cheers,
CZ
Alan Kerr's Home Page and Main Index