Alan's November 2002 Vintages Release Tasting Notes
Release date November 2, 2002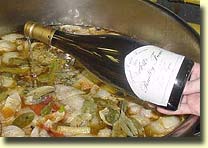 For this month's release, the board decided to ship the wines in two separate allotments. Consequently all the wines I have to report on are for the first consignment, to be released on November 2. I was very late to arrive to the tasting, as normal, so everything I tasted had been open for at least six hours. After conversing with some of the consultants who were there earlier in the day, one or two of the wines I review may have suffered from being open that long. Or maybe they were simply bad! In general though, this appears to be a pretty decent release. Read on……
395855 CABERNET/MERLOT 1999 $ 24.95, Niagara Peninsula, Henry of Pelham.
Deep ruby colour, Aromas were totally different from the palate. The nose was a mix of game, bacon and dill. Very thick textured wine, the palate offered forward fruit flavours of currant and blackberry that overpowered the vegetal and gamey tones. Creamy full finish that faded quickly.
586305 MERLOT 1999 $ 24.95, Schuele Vineyard, Niagara Peninsula, Inniskillin.
Also showing a deep ruby colour, huge wafts of coffee grounds, tobacco leaf and black cherry. Tightly wound, solid core, lovely finish of raspberry, more coffee, chocolate and liquorish root. I preferred this over the Pelham.
932400 CABERNET SAUVIGNON 1999 $ 57.30, Napa Valley, Frog's Leap Winery.
Classic cabernet aromas, fruit laden, so well structured. The ripe currant and berry flavours were powerful but graceful at the same time. No dominating oak to get in the way of the fruit.
438697 PINOT NOIR 1997 $ 39.90, Napa Valley, Robert Mondavi.
Rotting tree fruit, canned peas, nail varnish on the nose. Palate was marginally better. A strange wine that has seen better times, maybe! This was one that was apparently in a better state when first opened.
359257 ZINFANDEL 1999 $ 19.95, 'Vintners Blend', California, Ravenswood.
Concentrated nose of blackberry, black cherry with hints of briar and pepper. Mid palate well rounded. The slightly cloying finish was long and fruity. It maybe needs a little time to come around as it was quite closed when first opened. A tasty Zin, but it bugs me when I know this sits on Costo's wine rack in Detroit bearing a price tag of $9.00 US.
741199 CABERNET 2000 $ 21.15, Clare Valley, South Australia, Pikes Wines.
A sweet and simple wine, a touch medicinal and minty but good body and balance!
511600 CABERNET/SHIRAZ/MERLOT 1999 $ 16.75, Coonawarra, Wynns.
A well priced fruit bomb, silky tannins, texture was soft and forward. Touch of mint and cassis, well priced and styled for current consumption.
388918 'BALMORAL' SYRAH 1999 $ 59.00, McLaren Vale, Australia, Rosemount.
Holy cow! A solid monster that will need time to settle and harmonize all its wonderful nuances. The nose was partly floral with lovely streaks of liquorish, sage, pepper and sweet oak all lurking in the background. Chunky blueberry and red fruit took over the mid palate. The finish was full of drying baker's chocolate/tannin that required a refreshing dose of aqua to cleanse. I would love to taste this in ten years.
700617 CABERNET SAUVIGNON/MERLOT 2000 $ 19.90, Hawkes Bay, North Island, New Zealand, Vidal Estate.
Stemmy, bell pepper and plastic on the nose, palate showed some fruit, but of a cooked sugary nature. Tasted twice, but I just could not get excited about this wine. To note, this was enjoyed by a friend of mine when the cork was first pulled.
932194 MALBEC 2000 $ 14.70, Valle del Rio Negro, Humberto Canale, Argentina.
Deep dark garnet, with aromas of stewed prunes, plum, raspberry and violets. Very ripe but it carried an odd metallic tone. Quite full bodied, multidimensional flavours, low acid and sweet oak on the finish.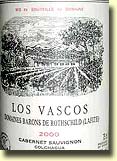 946905 CABERNET SAUVIGNON 2000 $ 23.35, Colchagua Valley (D) 750 mL Viña Los Vascos.
I liked this but the person I tasted it with did not. She believed it to be corked and although I must confess to having a tremendous respect for her palate, I agreed it was funky but, in my humble opinion, I thought it relatively sound. Deep shiny ruby colour with forward aromas of blackcurrant, black raspberry, dark chocolate, a touch of bell pepper and dill. There was a shallow but noticeable vein of funky earthy aromas. This is one wine I will buy just to appease my curiosity!
983494 PELJESAC 2001 $ 7.90, Dalmatia, Winery Potomje, Croatia.
Sweet, light slightly medicinal, cloying sweetness to the finish.
936641 CHÂTEAU BARET 1995 $ 32.85, Pessac-Léognan, Bordeaux.
Showed signs of its age, garnet core with amber rim. Lots of red berry on the nose along with chocolate and pepper. Medium bodied palate, little astringent from tea like tannins, a little sweet cherry, plum but that all faded quickly. Still astringent on finish.
162461 CHÂTEAU DUCLA 2000 $ 12.75, Bordeaux.
Youthful, opaque and purple colour, sweet oak, medium body, loads of fresh plum and currant, touch of varnish scent on the nose. I remember buying inexpensive 82 Bordeauxs from lesser appellations such as this one and being really happy that I did! I believe it could be worth doing the same thing with this wine.
944256 CHÂTEAU DULUC 1996 $ 52.75, St-Julien, Bordeaux.
Solid ruby garnet colour, sweet anise, black olive, black toffee, mint, rhubarb, red berry and cassis. Nice mid palate echoed the nose, with strong acidity; finished tarry and faded surprisingly quickly.
945212 CHÂTEAU SUAU 1999 $ 18.65, Premières Côtes de Bordeaux.
Found little in this, very closed, seemed shut down
726364 GEVREY-CHAMBERTIN 1999 $ 39.90, Domaine J.M. Guillon.
Very plumy, red string liquorish, lavender, sage and damson. An odd combination for a Burgundy especially as the liquorish dominated the mid palate. Herbaceous on the finish.
939553 'DOMAINE DE FLINES' 1995 $ 16.75, Vieilli Sous Bois, Anjou, Loire Valley.
This was fun and worth checking out. One hundred percent Cab Franc, green pepper tobacco bowed to the fruit and chocolate flavours. Ready to drink and I will!
970640 'CUVÉE ANNA' 2000 $ 11.45, 'Château Saint-Cyrgues', Costières de Nîmes.
Red fruit, dry leathery texture, lots of tannin but the fruit showed through nicely although I noted cooked vegetable tones too and the finish was a little green.
730796 BARBERA D'ASTI 2000 $ 14.95, Ca'Bianca, Piedmont.
Dark fruit, plum, little tarry, cherry cola and blackberry. Quite lovely
30952 PRIMITIVO DI MANDURIA 2000 $ 12.55, Puglia, 'Santera'Leone de Castris.
Nose of black fruit, cedar and quite dusty. Bitter tree skin fruit on palate, finished dry.
384552 'BADIA A PASSIGNANO' 1998 $ 45.95, Chianti Classico Riserva, Marchesi Antinori, Tuscany.
Wonderfully balanced and harmonious, blueberry, raspberry, green tea, lead pencil and sweet oak. It was just the price that scared me.
378257 BRUNELLO DI MONTALCINO 1996 $ 51.95, Banfi.
Very thick dark garnet colour, slightly dirty nose, but some sweet cherry, plum, lavender and plum. Seemed light on palate, expected more, possibly shut down.
984401 CHIANTI CLASSICO RISERVA 1999 $ 34.80, Fattoria la Ripa.
Sour cherry, high acid, black and red raspberries, cedar, creamy mouth feel but the bracing acidity was too much for me.
952382 'CATULLO ROSSO' 2000 $ 14.95, Veneto, Bertani.
Simple but pleasing, well balanced nose of blueberry, black cherry, cigar box and a subtle hint of game.
593921 SAUVIGNON BLANC RESERVE 2001 $ 18.95, Niagara Peninsula, Cilento.
Metallic and composted aromas, I hope this was a flawed bottle and not this ladybug scenario that is rumoured to plague this vintage.
993345 CHARDONNAY 2000 $ 14.95, Barrel Fermented, Niagara Peninsula, Featherstone Estate Winery.
Rich, butterscotch, peach, apple, pear and pineapple on the nose. Mouth lacked fruit and substance. The finish was sweet
432948 VIOGNIER 2000 $ 14.95, St. David's Bench Vineyard, Niagara Peninsula, Château des Charmes.
Peach pie aromas, mid palate pleasant but simple, hazelnut and peach on the finish.
954693 CHARDONNAY 1998 $ 25.80, Freixenet Vineyards, Sonoma, Gloria Ferrer.
Earthy potato peel aromas, clear flavours of apple and pear, nice zing of citrus on the finish.
966820 SAUVIGNON BLANC 2001 $ 19.70, Marlborough, South Island, Forrest Estate.
Flinty, lime zest, gooseberry, cheese rinds and them some. Great acidity, fruit lingered long on finish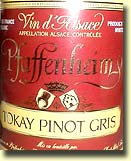 999342 TOKAY (PINOT GRIS) 2000 $ 16.95, 'Cuvée Rabelais', Alsace, Les Vignerons de Pfaffenheim et Gueberschwihr.
Deep gold colour, robust aromas of cloverleaf, banana, ripe pear, orange rind and celery seed. Lovely mid palate, rich and full. Not what I expected from a Pinot Gris but worth trying.
724161 SOAVE CLASSICO SUPERIORE 2001 $ 16.95, 'Colbaraca' Agr. Masi.
This was not your average Soave either, with canned fruit cocktail, honeydew melons, buttery, banana peel, lime cordial and orange peel. Quite luscious on the palate.
732396 MOSCATO D'ASTI 2001 $ 16.75, Az. Giribald.
So lovely, yet better on a summer's eve. Nonetheless, it is worth sipping as an aperitif.
Cheers,
CZ
Alan Kerr's Home Page and Main Index