Although I only took notes on a few wines from the first part of the release, most of what I tasted was decent. However, there are plenty of great wines to be let loose on the 26th, especially some stellar stuff from South America, so stay tuned for more to come.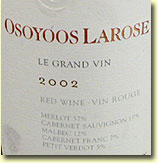 626325 OSOYOOS LAROSE 'LE GRAND VIN' 2002, Okanagan Valley, British Columbia, $35.00
Holy cow, at this stage, this dark inky garnet coloured wine is one tough mean little buggar. At first, it secretes aromas of balsa, currant and dark fruits then notes of spice, clove, lead pipe and tobacco take over. It is actually nasty on the palate due to the degree of astringent and bitter tannins from these four-year-old vines. 2002 produced some dynamic wines in this part of the world. Only time will tell if this will be one of them.

942581 RENWOOD ZINFANDEL 2002, 'Sierra Series', $19.95
A zesty Zinnish Zin, that has notes of cola, sweet cinnamon, red fruit and candy. It is fleshy and low in acid. The finish, redolent of stewed rhubarb shows better balance.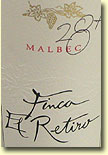 993824 FINCA EL RETIRO MALBEC 2003, Mendoza, Argentina, $11.95
I must confess I was pleasantly surprised once I found out the price of this wine, as it offers a lot for under $12.00. There is some sweet stewed plum aromas followed by mushroom, mineral and iron. The palate is clean, with nice flavours of plum and dark fruit. Herbs de Provence and lavender make a cameo appearance on the finish.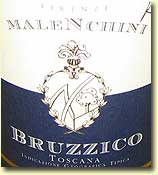 658427 MALENCHINI 'BRUZZICO' 2001, Tuscany, Italy $29.95
A dark wine, full of aromas of balsa, mocha, black fruit, blackberry and plum. It is rich, full of toast and creamy on the palate without being over the top. The finish is a little low on acid, but otherwise this is super good stuff.


476598 ALLEGRINI 'LA GROLA' 2000, Veneto, $29.95
Possibly my favourite wine, at least from the premier part of November's release. It has an alluring nose of pond water, sweaty fur, cured meat, dried morel and black fruit. What more can one want? The palate is not too shabby, showing super ripe fruit, a creamy toffee texture and a long finish.

356220 TOMMASI AMARONE DELLA VALPOLICELLA CLASSICO 2001, Veneto, $49.95
I find a degree of funky underbrush coupled with stewed fruit, sweet kirsch like cherry and milk chocolate. The palate is sweet and candy like without having much complexity. It is nice, but the level of quality does not match the level of its price.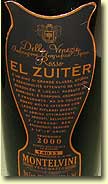 969741 MONTELVINI 'EL ZUITER' ROSSO 2000, Veneto, $19.95
A dark ruby garnet wine that has plenty of plumy fruit, a trace of mineral, a high degree of oak, a whack of chocolate and layers of extracted black fruit. A trifle overdone for my personal taste, but nonetheless it is interesting.

357962 J.M FONSECA QUINTA DE CAMARATE 2001, PORTUGAL, $13.95
Here is wine with a light ruby cloak with an amber rim that has a nose of chocolate, red berry jam, black cherry and balsa. The balance is fine and the dusty chocolate tannins are by no means offensive. Overall, I would say this falls into the rank of quality quaffers.

657445 'CASTELL DE FALSET' TINTO 2000, Spain , $29.95
A funky and complex nose, full of stewed fruit, star anise, chanterelle mushrooms, tea, wet soil and sweet red cherry. There is plenty of fruit to please the palate, a nice bite from the acids and maybe after a year or so to soften, this will be great.

658450 CONDESA DE LEGANZA RESERVA 1995, 'Finca Los Trenzones', Spain $13.95
If you want to buy a ten-year-old wine, but the price has often been a deterrent, well here you go, try this. It hosts a garnet colour that is starting to show traces of amber at the rim. There is red cherry, thyme and red currant jelly on the nose that carries through to the mature, but still lively palate. The finish shows good fruit and a little bite of residual dusty tannin.

Cheers
CZ
Alan Kerr's Home Page and Main Index